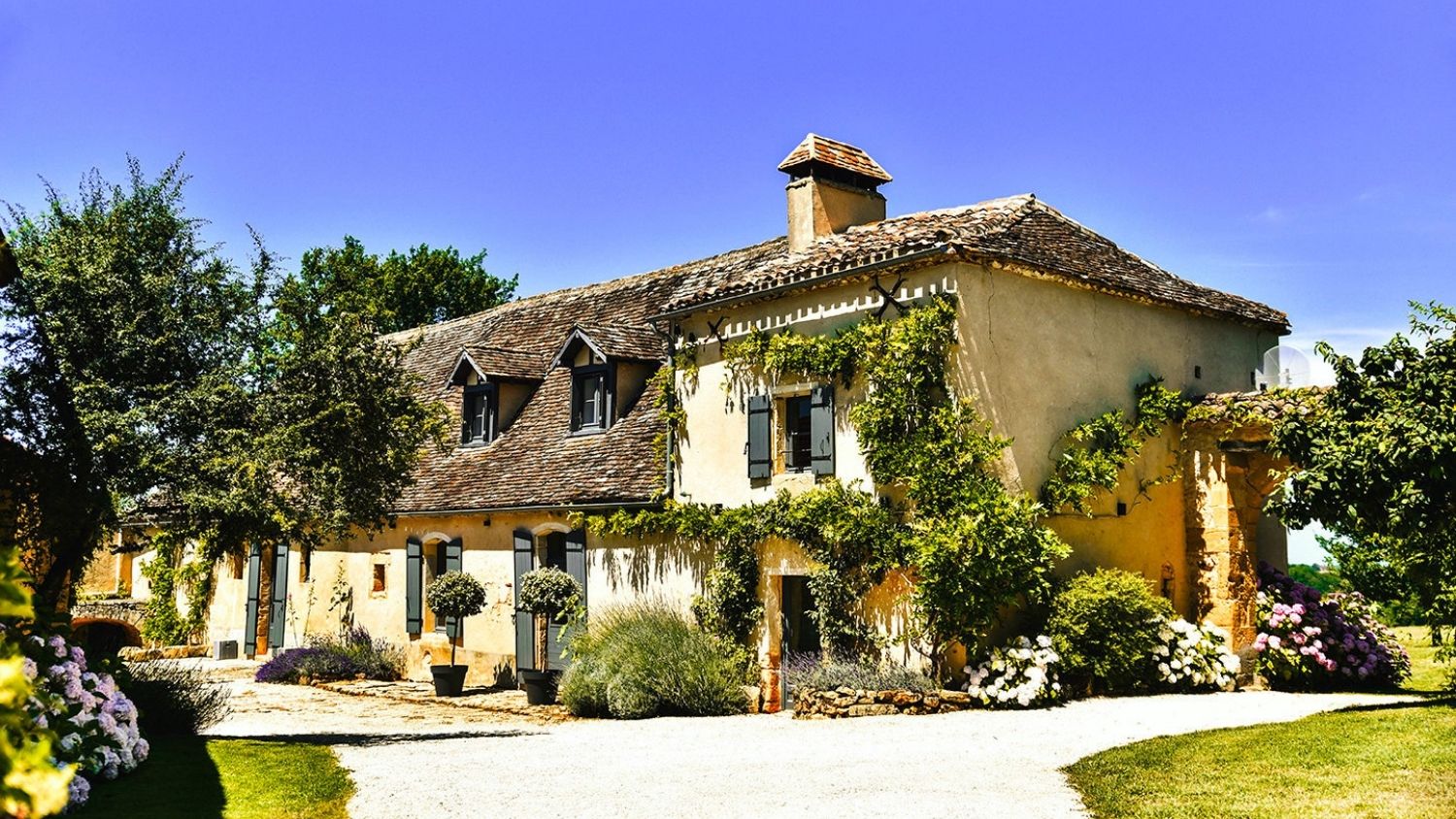 In France's southern Dordogne, two sibling guest houses, provide a gateway to the good life.
Ahh, Dordogne: is there any other region in France so sublimely serene? It is a fairy tale come to life; a tapestry of baroque hilltop towns, rolling vineyards and more than 1,500 castles. Stone-wrought chateaux line the cobblestone streets of medieval towns such as Bergerac and Bourdeilles, framing the ancient bell towers and ramparts that maintain their watch over the region's namesake river. The scent of traditional French cuisine wafts from wooden fireplaces in Sarlat, affirming the commitment to artisan gastronomy that feed the many food markets and wine tours. A breeze guides sailors and kayakers down the river Vézère, home to a host of grottos and caves that offer a compelling glimpse at ancestral life through painstakingly preserved cave drawings.
The 16th-century beauty of Dordogne inspires self-guided immersion. The cobblestone comfort of a countryside cottage, like Le Mas or Le Mazet, can help a visitor feel they're experiencing rural French life just like a local would.
Le Mas is a 16th-century farmhouse with thick stone walls, wooden beams and huge fireplaces with room enough for 10 guests. The well-equipped kitchen features a stone sink, with terracotta floor tiles leading guests to the expansive living room. Each of the five bedrooms has an en suite bathroom and, as a bonus, provides a vantage point for spotting wild boar or deer in the woods beyond. Not far away, Le Mazet is a charming, detached cottage renovated to be the ideal self-catering holiday home for one or two people. There are stunning views across the valley, from the upstairs sitting room and from the private garden. This single bedroom escape is sunny and warm, which is surprising, considering the stone walls.
Both guest houses were renovated in 2016 by the owners, Rupert and Franck, who moved to France from Amsterdam, where Franck was a theatre producer, including for Cirque du Soleil, and Rupert ran an antique shop on the Prinsengracht. They discovered the region a few years ago while on holiday. Although the classic houses have been brought into the 21st century, they certainly haven't lost any of their historical character. Le Mas and Le Mazet can be rented individually or together for groups of up to 12 guests.
What To Do in Dordogne
Visitors don't even have to leave the properties to experience Dordogne's celebrated cuisine. A local baker delivers a fresh baguette to the house each morning. The private chef includes French staples such as black truffles, foie gras and duck on the menu, as well as regional specialties like sweet chocolatines.
The chef is also a master sommelier, and is more than willing to share the best of Dordogne's wines. While vintages from the Dordogne are obviously the most accessible, neighbouring Bergerac is an up-and-coming wine region, known for the sweet wines of Monbazillac.
When visitors decide to venture off the property, both Le Mas and Le Mazet are convenient gateways to beautiful nature and vibrant villages; the area has been dubbed "Dordogneshire" because of its substantial British expat community. The chess-board streets of Monpazier, built by Edward I of England, are only a short walk away. Its characterful town square is the perfect place to enjoy a drink in the afternoon, the prelude to a UNESCO-recognized abbey visit on the nearby Camino de Santiago pilgrimage route. Weekly food markets and fantastic restaurants mark the town as a culinary capital, though it's equally renowned for cycling, horse-riding and canoeing.
Less than an hour's drive away is Les Eyzies-de-Tayac-Sireuil. The stony cliffs and verdant escarpment hide many archeological discoveries; the commune is home to France's National Museum of Prehistory. Remains of the earliest human settlements still sit in the cliffs above the town. It's a solid reminder of how long humans have lived in the region, and why they still love living here. Stays from $130/night at Le Mazet; $580/night at Le Maz. lemasdordogne.com
Sign up for our weekly newsletter and never miss the latest in travel news! 
Saint-Pierre and Miquelon: France's Best-Kept Secret in North America