Bahamas is an archipelago of 700 coral islands and thousands more cays scattered along a stretch of  Caribbean Sea like paint on an abstract blue canvas. Together the archipelago make up the perfect palm-fringed, soft sand, turquoise sea vacation destination. But just because you came to chill on the beach, doesn't mean you should bypass Nassau and all it has to offer. On New Providence Island, spend time in the bustling capital city and you'll get to know a cosmopolitan town with a distinct character that blends British, African and Caribbean cultures, and offers a wealth of nature, historic architecture, fine resorts, and modern restaurants, bars and coffeehouses. All in a city that's easy to get around by foot or ferry and just a short flight away. And with travel restrictions easing, fully vaccinated travellers can enter with a negative antigen test and proof of vaccination.
LAY OF THE LAND
Nassau is an easily navigable city whose different neighbourhoods reflect its multi-faceted face.
Downton
Downtown, easily accessible from the cruise port and popular Paradise Island, is a history-filled collection of banks, shops and pastel-pink government buildings. Bay Street is the main shopping and eating area and home of the famous straw market, the place to go for handmade Bahamian crafts and straw vendors, who make up one of Bahamas' oldest industries. (Stick to the authentic artisans. There's a lot of tourists at the market too.) Spend time downtown and you'll get to know the distinct rhythm of the city. Bustling by day, downtown goes quiet at 5 pm, as if a light switch has been flicked off. That's when cruise goers return to their ships. Then a few hours later, as the sun sets the pace picks up again as locals and overnighters make their way to restaurants and bars. Nature and historical sites are all within walking distance as is Junkanoo beach, the closest beach to downtown.
Cable Beach
On the north shore of New Providence, just a few miles west of Nassau, Cable Beach is the home of many upscale resorts lining its two-and-a-half miles of fabulous white sand beach. This is the Bahamian Riviera, a grown up's playground where you can while away an afternoon drifting on a sailboat, play a round of golf or try your luck at the island's largest casino.
Junkanoo Beach
This beautiful public beach is favoured by locals as well as visitors, and is also a quick and easy walk from the cruise port. Here's where you'll find the tropically colourful painted beach shacks offering island delights to eat and drink, or where you can rent a kayak or treat yourself to a massage. This beach is an instagrammer's delight.
Paradise Island
You can cab it, take a ferry from the cruise port, or walk the 600-foot bridge to this true calling card of the Bahamas, known for its high end condos, estate homes and fabulous, and sometimes famously over the top, resorts. Yes, Atlantis resort, we mean you. (Atlantis is, of course, the home of the enormous waterpark you see in the photos.) Most of all, Paradise Island is a family paradise where you can rent water sport equipment, visit Dolphin Cay or spend the day doing what you know the kids really want to do: enjoying 141-acre Aquaventure Water Park. nassauparadiseisland.com
WHERE TO STAY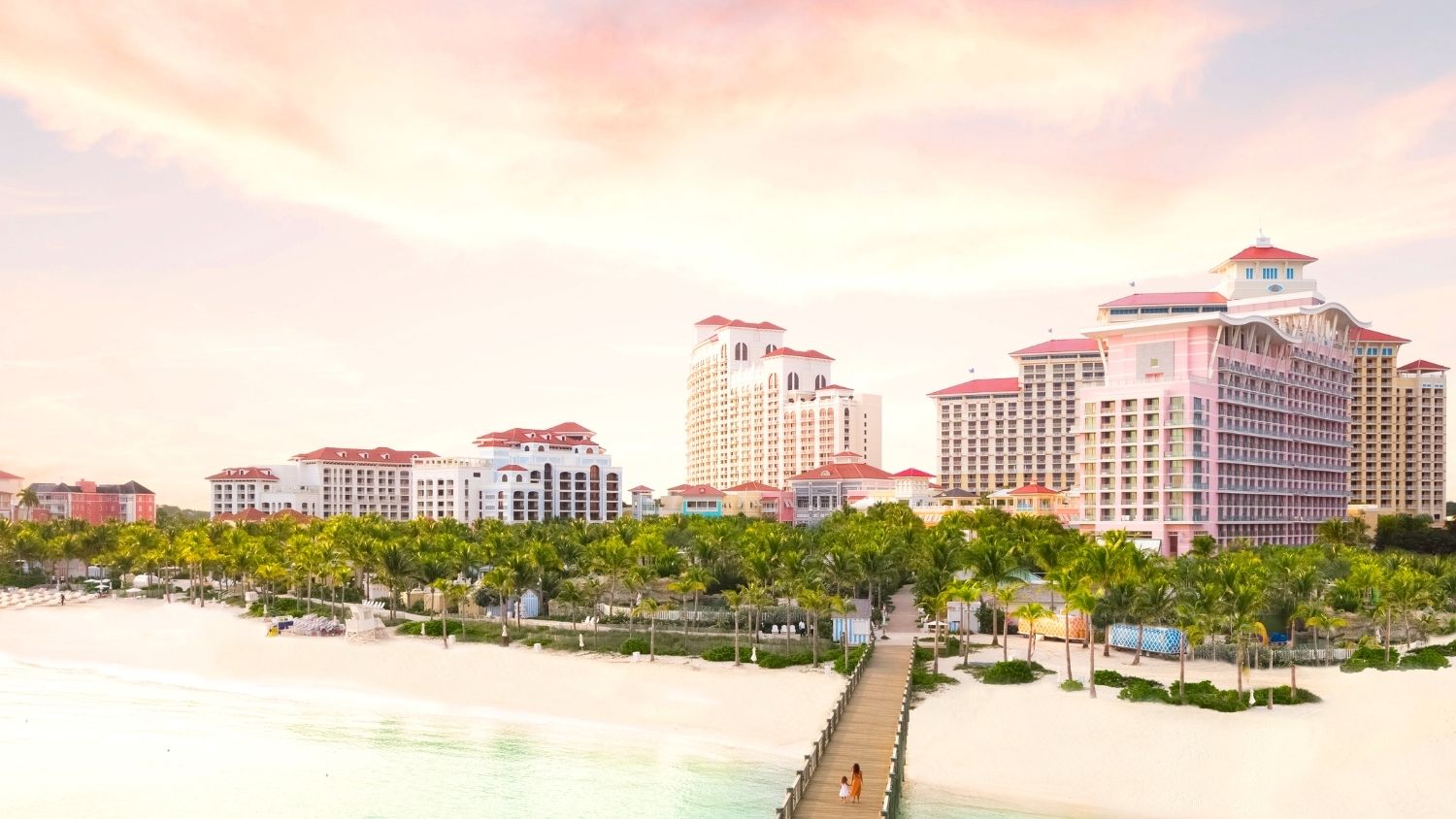 From quiet and secluded beachfront properties to some of the most dazzling resorts situated on the famed beaches of The Bahamas, here are some of our favourites.
SLS is part of the sprawling Baha Mar resort complex, which means guests have the best of both worlds:  a more intimate hotel experience and access to the Baha Mar complex's amenities including all its pools, the massive casino, ESPA spa and the Jack Nicklaus Signature Golf Course. Not to mention the on site pink flamingos. Pull up a glam midcentury-inspired chair at the stylishly decorated bar, or have lunch at the on-site sushi restaurant designed by Philippe Starck. The pool has a slide for two and rooms have  walk-in rainfall showers. 
This boutique hotel is the historic face of Nassau, an estate dating back to 1776, that perches majestically on a limestone hillside overlooking downtown. It's both a charming hotel where the guests such as Sir Winston Churchill, Aristotle Onassis and The Beatles have stayed and a tourist attraction in its own right.  Besides the well-preserved and elegantly furnished Great House, you can tour the 250,000-bottle wine cellar, one of the largest in the world, and the humidor, where you can see master rollers in action. Overnighting guests are booked into colonial style rooms with four poster mahogany beds, and exceptional views. graycliff.com
Compass Point Beach Resort
The budget-minded traveller couldn't do better than Compass Point Beach Resort, not far from the airport. The tropical-coloured, sea-front wooden huts inspired by the vibrants colours of carnival, are air conditioned and come with kitchenettes and private balconies. Staff are also helpful at suggesting and arranging affordable and interesting excursions. compasspointbeachresort.com
3 Nassau Day Trips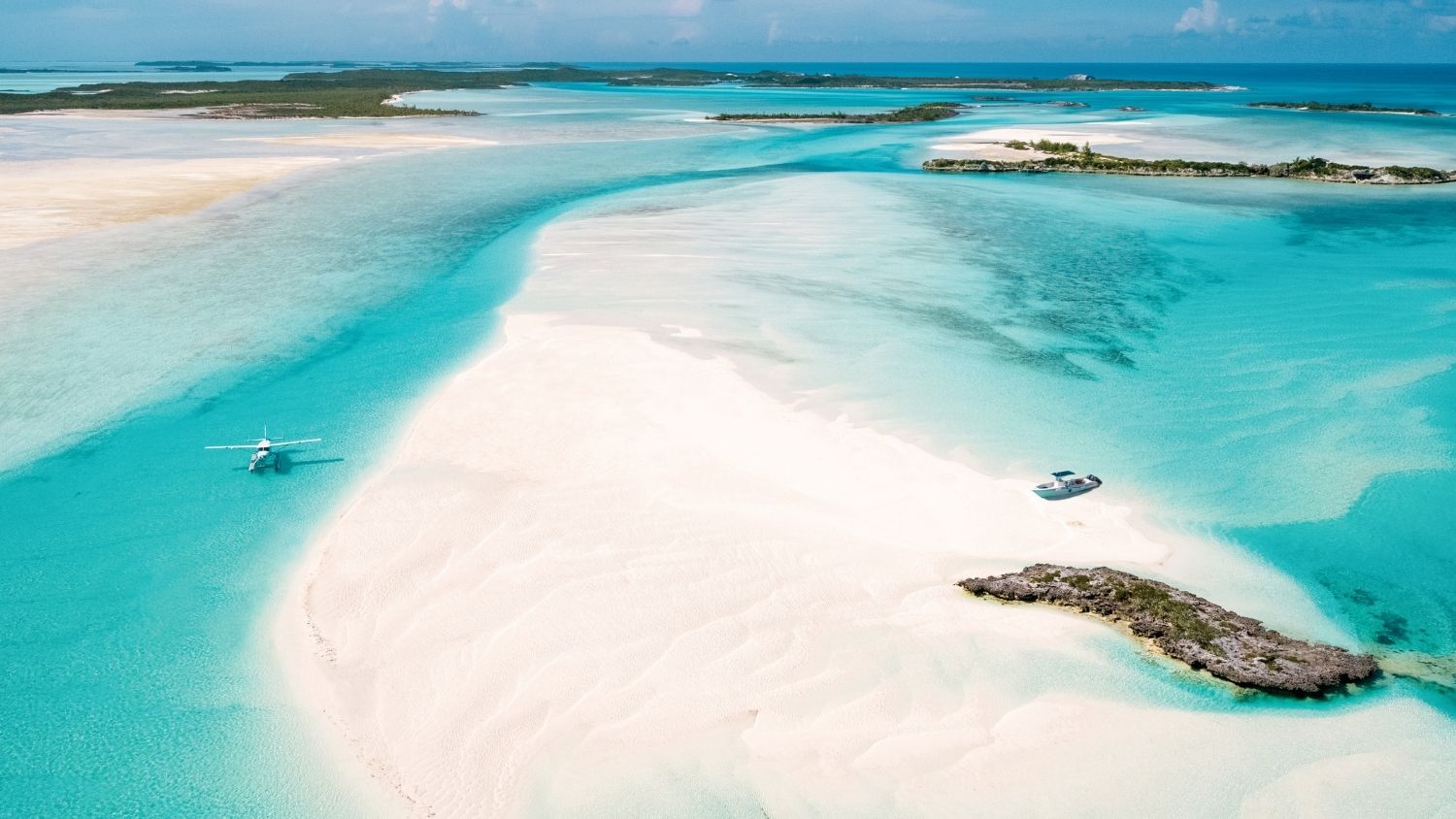 Though Nassau has everything to recommend it, a day trip to one of the country's out islands shouldn't be missed to get the total Bahamian experience. Take a ferry or hop a plane for a quick flight to walk along pink sand beaches or swim with the pigs.
Bimini  Island
Ernest Hemingway liked to come to this westernmost district for deep-sea and bone fishing. How's that for an endorsement? Other offshore fishermen followed suit, and it's become a place to set fishing records. Not into fishing? You might also like to know that this is where Ponce de Leon thought the fountain of youth was located. bahamas.com/islands/bimini
Exuma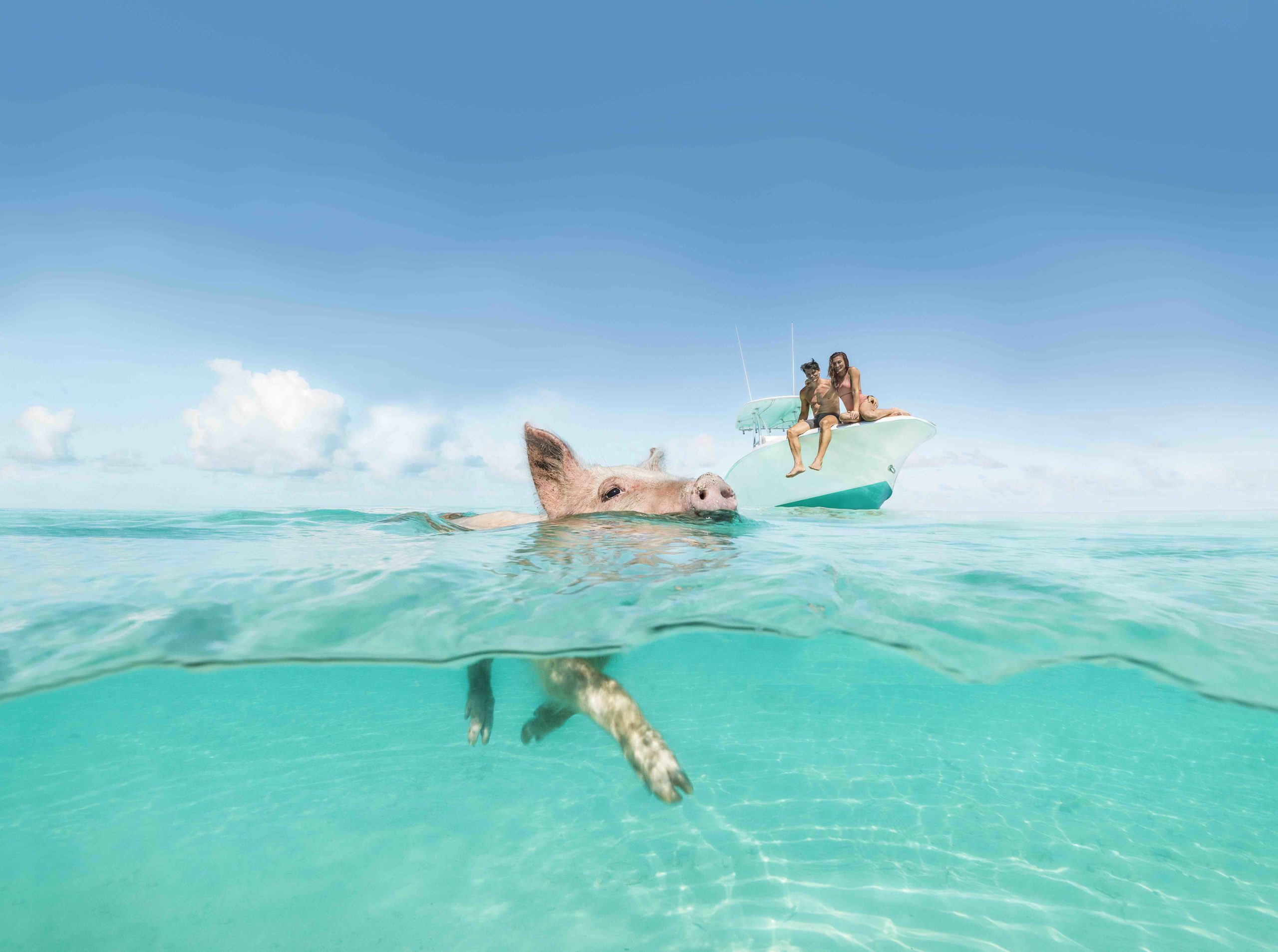 Your trip to the Bahamas really isn't complete without an excursion to Exuma, a collection of 365 islands and cays, sand bars, reefs, grottos, translucent water, and even a huge swing in the middle of the ocean (at Coco Plum beach at low tide). Some of the islands are wild, others are tamed but privately inhabited by the rich and famous (Johnny Depp fell in love with Exuma when filming Pirates of the Caribbean and bought one of them), and others are waiting for you. This includes Big Major Cay, where you'll find the real stars of Exuma: the wild pigs. In fact, Big Major Cay is also known as Pig Island. The porcines will swim up to your ferry waiting for a food handout. And, if they're in a good mood you can swim with them. If you find yourself in the northern Great Guana Cay, make sure to stop at Lorraine's Cafe, a beloved insiders' secret. It's off the beaten path but totally worth the detour for the delectable coconut bread. bahamas.com/islands/the-exumas
Andros
Hop a 20-minute flight from Nassau to Andros,  a seemingly untouched slice of paradise where you can  swim at one of the limestone island's many blue holes, explore the vast underwater cave system, barrier reefs, mangrove flats and secluded pine forest.  bahamas.com/islands/andros