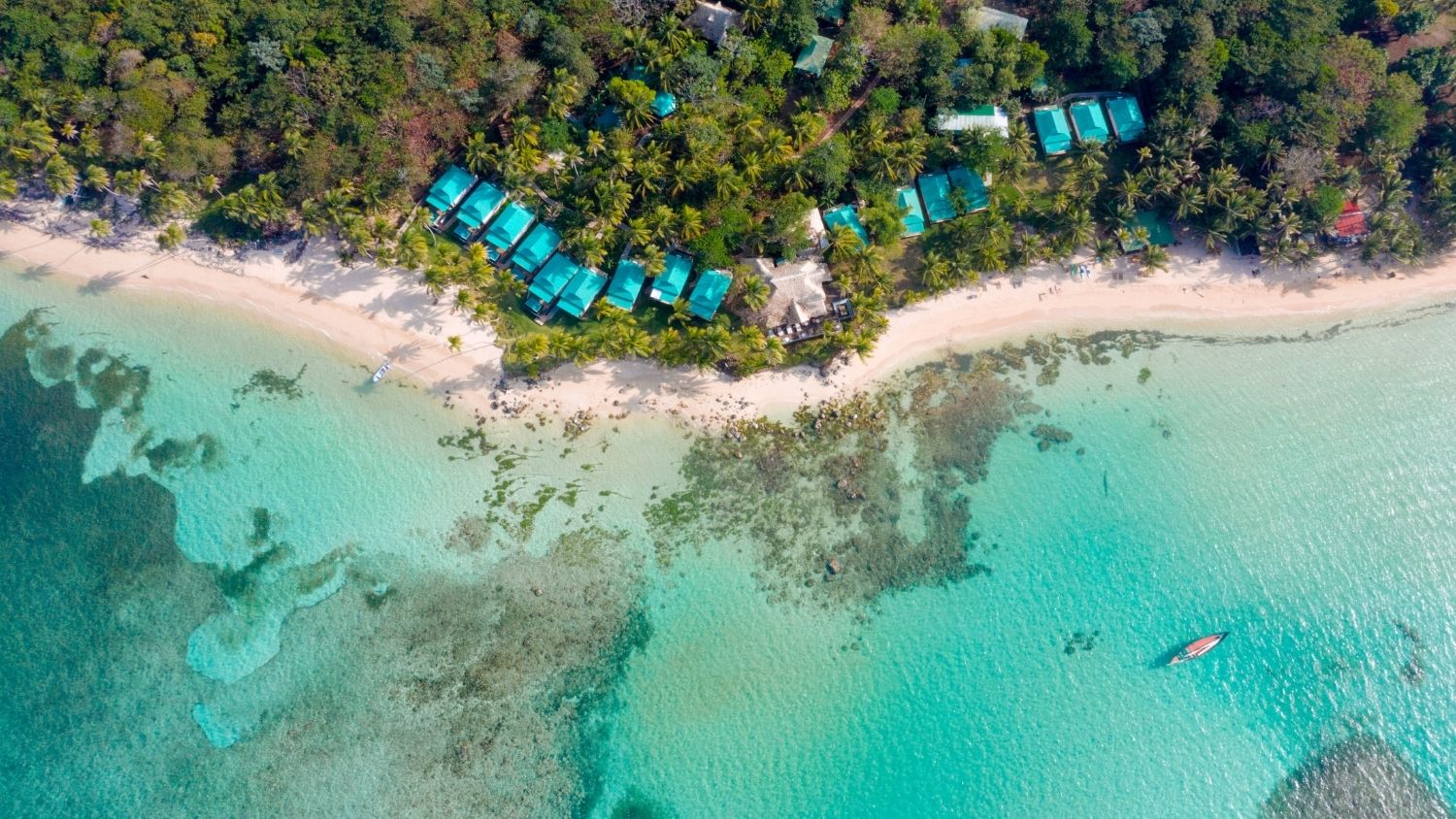 Magic in the Land of Lakes and Volcanos
Sitting at an outdoor table at El Sesteo Restaurant, on the main square of León, Nicaragua, I watch the locals going about their daily lives, some busy, some taking it easy. As a spot for people-watching, the plaza in front of the enormous León Cathedral can't be beat. Plantains and fish tacos, washed down with a cool pineapple smoothie—it's my first day and Nicaragua is already shaping up to be one of my favourite travel adventures.
That flush of excitement carried through my entire journey as I visit Granada, Masaya and, on the opposite side of the country, Big Corn Island. The common thread is the warm welcome everywhere I travel. At the end of each day, I find myself basking in the warm rays of sunset, thinking of all the friendly faces I had encountered in the previous 24 hours.
Over the past few years, Nicaragua has become a highly desired destination for those looking to experience real natural beauty. Known as the "land of lakes and volcanoes," it has also become known for its authentic cultural experiences—some as simple as a meal with a local restaurant owner—and thrilling eco-adventures, like sandboarding (as opposed to snowboarding) down an active volcano or feeding monkeys avocados from a boat.
Although it's the largest country in Central America, about the same size as New York state, Nicaragua is a surprisingly easy country to get around. Many of the key attractions are scattered around the lowlands that stretch along the Pacific coast. Marked by colonial cities, beautiful beaches and more than 20 volcanoes, my tour of the region thrills at each turn in the road. But then I visit the Caribbean coast and discover an entirely new way of looking at the country.
Granada is a city of colonial-era architecture, a wide array of restaurants and a nationally famous nightlife scene. Though it's not one of Nicaragua's biggest cities (the population is a little more than 100,000 people), it might be the best known—and most entrancing. At the Garden Café, I sit among locals and travellers enjoying a bite or a cold drink. I'm hoping my Indio Nuevo—a marinated chicken skewer with rice, grilled cheese, onions and peppers and corn tortillas—will give me more than enough energy to explore the city by foot. Revelling in its relatively flat geography, I wander the colonial streets of one of the oldest cities in the New World. Founded by the Spanish conqueror Francisco Hernandez de Cordoba in 1524, Granada has, in our era, evolved to become something of Nicaragua's cultural capital—where residents of Managua would, for example, launch a stylish new business or spend a relaxing weekend.
I take a tour of the factory of Mombacho Cigars of Nicaragua, one of the top cigar companies in a nation that takes its tobacco very seriously. I watch a torcedor roll a cigar right before my eyes and get a lesson in rolling them myself. Walking around the Casa Favilli mansion, a historic beauty built in 1925 that serves as the company's showroom, I learn about the whole cigar-manufacturing process.
Of course, Mombacho is not the only enterprise with an impressive home base in Granada. Mansion de Chocolate, built by the former president Evaristo Carazo around 1860, is nowadays dedicated to the production and the pleasures of cocoa. At the end of my fascinating tour there, I am given the chance to make my own chocolate bar. For a beginner, I must say I do a pretty good job.
Not everything in Granada is about indulgences. The city is on the shore of Lake Nicaragua, the enormous freshwater lake that defines the country, and so it makes a perfect jumping-off point for aquatic expeditions. That includes Las Isletas de Granda, approximately 365 small islands that were formed after a volcanic eruption. Some visitable, some privately owned (when you're boating around, keep your eye out for mansions), many of the islands are covered in lush vegetation.
After my day's activities in Granada, I investigate the city's famed nightlife. Strolling Calle La Calzada, I enjoy the music from pubs and karaoke. Surveying the many bar patrons relaxing and chatting at tables on the pedestrianized street, I feel welcome and at ease.
As beautiful as Granada is, it has a worthy rival—León. For a while, the two cities took turns as Nicaragua's capital before Managua was made capital in 1852. With a population of more than 200,000 people, and several universities, León is a vibrant, friendly place, full of citizens proud of their city. Stopping at a small shop to try a Nicaraguan elote (grilled corn on the cob), I tell the store owner it's my first time in Nicaragua. Without hesitation, he tells me a list of places I absolutely must visit before I leave.
Probably the biggest point of civic pride is the cathedral, formally known as La Basílica de la Asunción, which opened in 1814 after many years of construction. The largest cathedral in Central America, its scale hints at León's grand ambitions. The cathedral's all-white exterior includes its expansive rooftop—it's a must-do to ascend and take a sock-footed walk up there amid the cupolas. From my perch, I see the cityscape, as well as volcanoes in the distance.
When travelling around Nicaragua, it's hard to ignore the volcanoes dotting the landscape. I find myself imagining the views that might be enjoyed from the tops of them. Sometimes I don't have to imagine. Hiking up Mombacho volcano, which is about 1,344 metres high, is like walking through a forest filled with endless nature and greenery. It's windy up at the top, but the panoramic view of the region, including Masaya volcano, about 25 kilometres away, is incredible. The wide open spaces up this high make me feel so alive.
Some volcano adventures are much less tranquil—and much more thrilling. Cerro Negro, about an hour's drive from León, is one of the youngest and most active of Nicaragua's volcanoes, an ominous charcoal-coloured presence on the landscape. But it's not simply a matter of looking at it. Visitors can hike up the 738 metres of Cerro Negro to take in the surrounding landscape—and, once they've reached the top, they can sandboard down the steep slope of it, trailing a cloud of volcanic ash behind them.
I put on bluejean coveralls to protect me from the volcano rocks and, letting my sandboard tip over the edge of the cliff, I feel the adrenaline rush as I slide down as fast as I possibly can. I lean back to increase my speed, sledding down over the volcanic ash, the cool wind blowing in my face. A group of other travellers behind me cheer me on.
For those who prefer depth rather than altitude, chill rather than rush, there's Laguna de Apoyo, a nature reserve located between Masaya and Granada. The lagoon, actually a crater that formed about 23,000 years, is surrounded by eco-resorts and opportunities to engage in outdoor activities like swimming, kayaking and boating. I spend hours here reading on the shore and swimming in the warm, blue water. Periodically, I look up at the green cliffs around me and can't help but smile at how beautiful and at ease I feel.
From the Pacific lowlands, I make a journey to the other side of the country—an 80-minute flight from Managua to Big Corn Island, located in the Caribbean Sea on the eastern coast of Nicaragua. The island, with a perimeter of just 16 kilometres, is a must-see for those looking for that romantic and idyllic spot. It's so small and free of mass tourism, it's easy to meet locals and find a private escape for a honeymoon.
I spend a couple of hours biking around the island, taking in all the untouched nature. Halfway through my ride, I stop to just walk on the beach and stare out at the sun glistening on the water. I feel I am discovering a new world. Later in my journey, I stop at a cozy restaurant called Comedor Maris, where I order the seafood rondón. I get into a chat with the owner, Maris, about travelling around Nicaragua. She's delighted to know I'm having such a good time.
Unspoiled and less commercial than many other "eco" destinations, Nicaragua won me over with its one-of-a-kind natural experiences. My last day is a sad one, but I also know I am coming back soon.
ESSENTIAL NICARAGUA
STAY
---
View this post on Instagram

Located on one of La Isletas de Granda, Jicaro Island Lodge is a beautiful nature resort for travellers seeking a secluded getaway. This lodge is a member of National Geographic Unique Lodges of the World and was built from local materials with minimal disturbance to the land. Although the lodge has a strong focus on sustainability, it's very well appointed. Stay in a beautiful two-story casita and enjoy the nearby spa, sauna and restaurant, all with stunning views of Lake Nicaragua.
EAT
---
View this post on Instagram

Granada's Garden Café Restaurant, founded and operated by Damien Hopkins and Xiomara Diaz, opened in 2007, dedicates itself to healthy, delicious food. Many of the items are made with organic and locally produced ingredients. The café also provides income to local artists and artisans, who sell their creations at the adjacent gift shop. gardencafegranada.com
DO
---
View this post on Instagram

Spend an afternoon at Laguna de Apoyo, while enjoying food from Posada Ecologica la Abuela. This secluded location is perfect for families or couples looking for a relaxing afternoon, swimming or simply relaxing in a hammock. posadaecologicalaabuela.com.ni