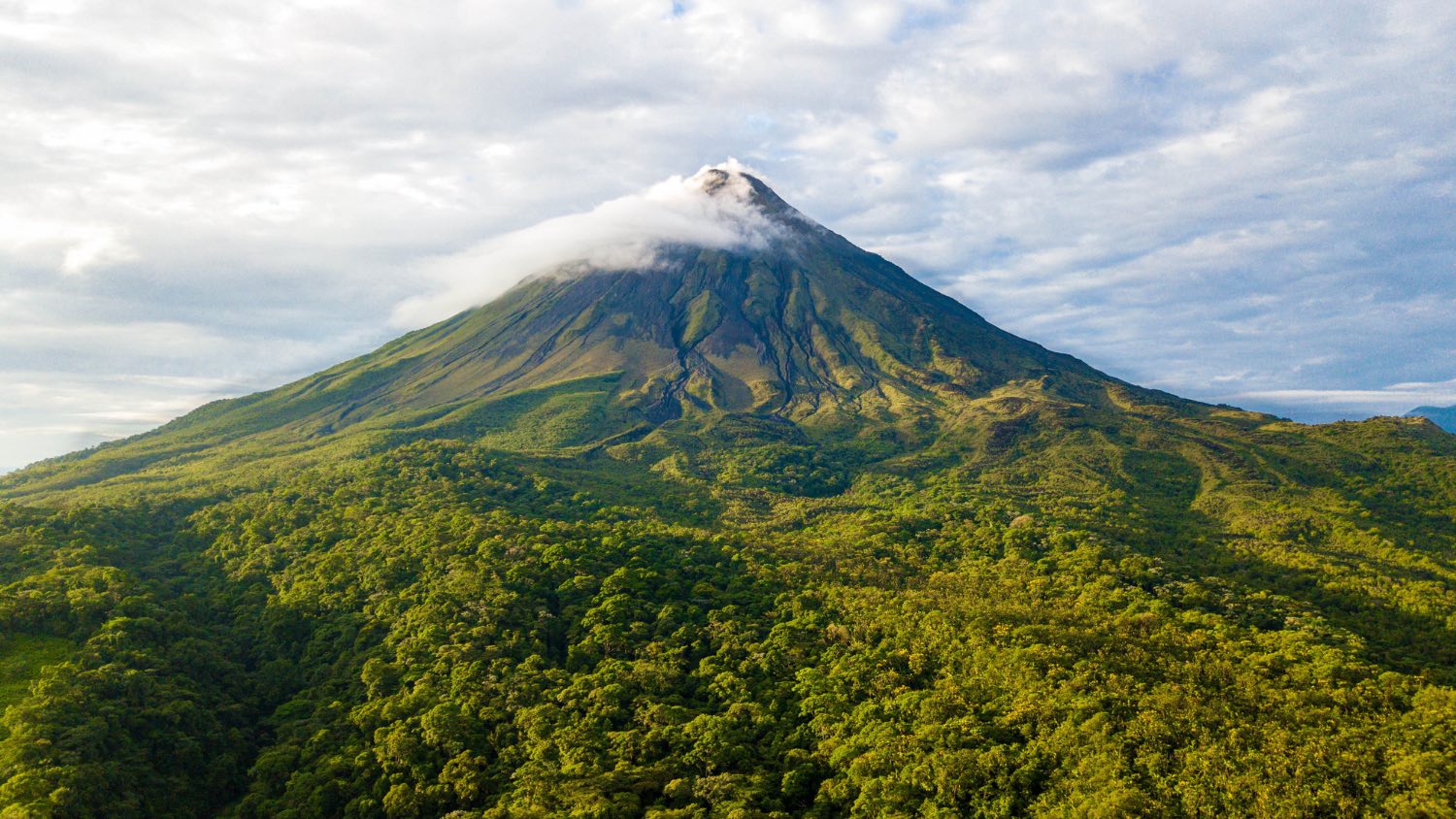 Going with the flow, Darcy Rhyno practices the art of healing in Costa Rica and visits Tabacón Grand Spa Thermal Resort
As my wife and I step into a shallow pool heated by the volcano looming over us, I let out an involuntary sigh.
"It'll wash your worries away," says an older gentleman already in the pool. The water flows slowly and steadily over my weary muscles. We've chosen this, the five-star Tabacón Grand Spa Thermal Resort, because of its renown as one of Costa Rica's first and finest thermal spas. "At least temporarily," concludes our new friend as he reclines on an underwater bench until the current reaches his chin.
We've just returned from a day of horseback riding through a cloud forest of trees laden with orchids and a guided hiking tour over recent lava flows on the slopes of the Arenal Volcano in central Costa Rica. These are just some of the excursions available near La Fortuna, a town named for its survival of the 1968 eruption that buried three other villages. Today, this is the second most popular tourism region in the country with dozens of hot spring resorts, restaurants and activities such as spelunking, waterfall rappelling, rafting, zip lining and kayaking.
Tabacón got its start in the 1980's when Costa Rican architect Jaime Mikowski happened upon the opportunity of a lifetime – the Tabacón River trickling in mineral-enriched rivulets down the side of Arenal. Some of the water was naturally heated. Some flowed cool and refreshing down from the cloud forest. Following his dream, Mikowski built his resort on a wild 350 hectare property, redirecting the waters so the cold and hot streams mixed to form Costa Rica's largest network of thermal mineral springs, pools and currents ranging in temperature from 24C to 37C. These streams meander through lush, tropical gardens and over small falls, all of it beneath a canopy of native forest. Quiet pathways and short, arching bridges criss-cross the streams as they divide, wander and join again to flow into one large pool with a swim-up bar at the edge of the resort.
Some Tabacón visitors are seniors. At the falls closest to the changing rooms, the water flows in a long, narrow ribbon. Bathers sit beneath the falls along a ledge, ducking in and out of the flow for a natural massage. On our first day, I watched as frail, elderly bathers were helped into this pool to benefit from the water's therapeutic effects.
"He had this vision," Mónica Sanabria, spa manager, told me of Mikowski. After he built Tabacón, other thermal resorts sprung up beneath Arenal, but, said Sanabria, "Tabacón was the first with the idea of using the water in treatments." Thermal health spas have been around for thousands of years in other parts of the world, but they're relatively new in Central America. Sanabria herself gained much of her expertise from spas in Spain. "We want to use the waters as they have to be used, in treatments for pathology such as arthritis."
On the other hand, Sanabria told me, "It's also a very romantic place. Most visitors are under 35. People are looking for adventure and natural places, even though it's their honeymoon."
Tabacón is a sensual feast. One reaches a level of calm euphoria that has to be experienced to fully appreciate. The gardens blend with the surrounding jungle so one feels lost and safe at the same time. For some, I'm sure Tabacón evokes the Garden of Eden, but Mikowski had another Earthly paradise in mind. One of the many pathways ends at the back of the property where arched bridges lead to Shangri-la, a sequence of pools and streams around a shaded terrace equipped with a bar and curtained cabanas piled with pillows. A discreet sign reads, "No children allowed."
So for our last Tabacón indulgence, we choose a couple's massage. At the end of an especially remote jungle pathway, we arrive at the spa. Inside, a fountain splashes into a pool set amid decor that evokes Balinese retreats, but with a Buddhist vibe. We slip into billowing bathrobes and wait with avocado smoothies. A Tico woman guides us to an open bungalow in the jungle beside a burbling stream where twin massage tables await. Two more Tico women arrive, both highly trained and much experienced in massage. One introduces herself as Andrea and invites us to remove our robes and take our places face down beneath sheets.
I close my eyes. The stream chuckles past. Birds warble in the distance. The tropical air feels glorious on my bare skin. I catch aromas of cherry, cinnamon and musk. Andrea asks which scent of massage oil I prefer. I choose musk because it blends with the surroundings. I feel a breath of air in my ear, a whisper. "Is there any part of your body I should not touch?"
Throwing caution to the wind, I reply, "Um, no." Perhaps I feel so free to surrender myself to this woman's hands and ignore the faint feeling of infidelity because I can reach out and touch my wife as she sinks into the same sensual experience. Andrea's touch is sure and deft as she places hot towels on my neck, oils my body and massages every muscle right down to my fingers. When she reaches my upper thighs, I understand her earlier question, and I'm glad I consented. My muscles ache in ways and places that surprise me.
An hour later, I resurface as Andrea gently extends my arm until my fingers brush my wife's. We emerge from wherever our minds have flown to greet each other with a lethargic smile. As Andrea presses our hands together, she recites a poem in Maleku, the local indigenous language, then in Spanish and English.
With the power of the volcano,
The warm caress of the river
And the melody of the wind,
Renew your bonds of love.
Capture this feeling for eternity.
Our two masseuses start a Jacuzzi and disappear. The most romantic and physically pleasurable experience of my life has an epilogue. We slip our naked, oiled bodies into the thermal waters. At last, we're revived enough to pour two glasses from a bottle of bubbly and toast Tabacón. Here's to the most romantic experience on the planet, a couple's massage in a jungle hot springs spa at the foot of a tropical volcano.