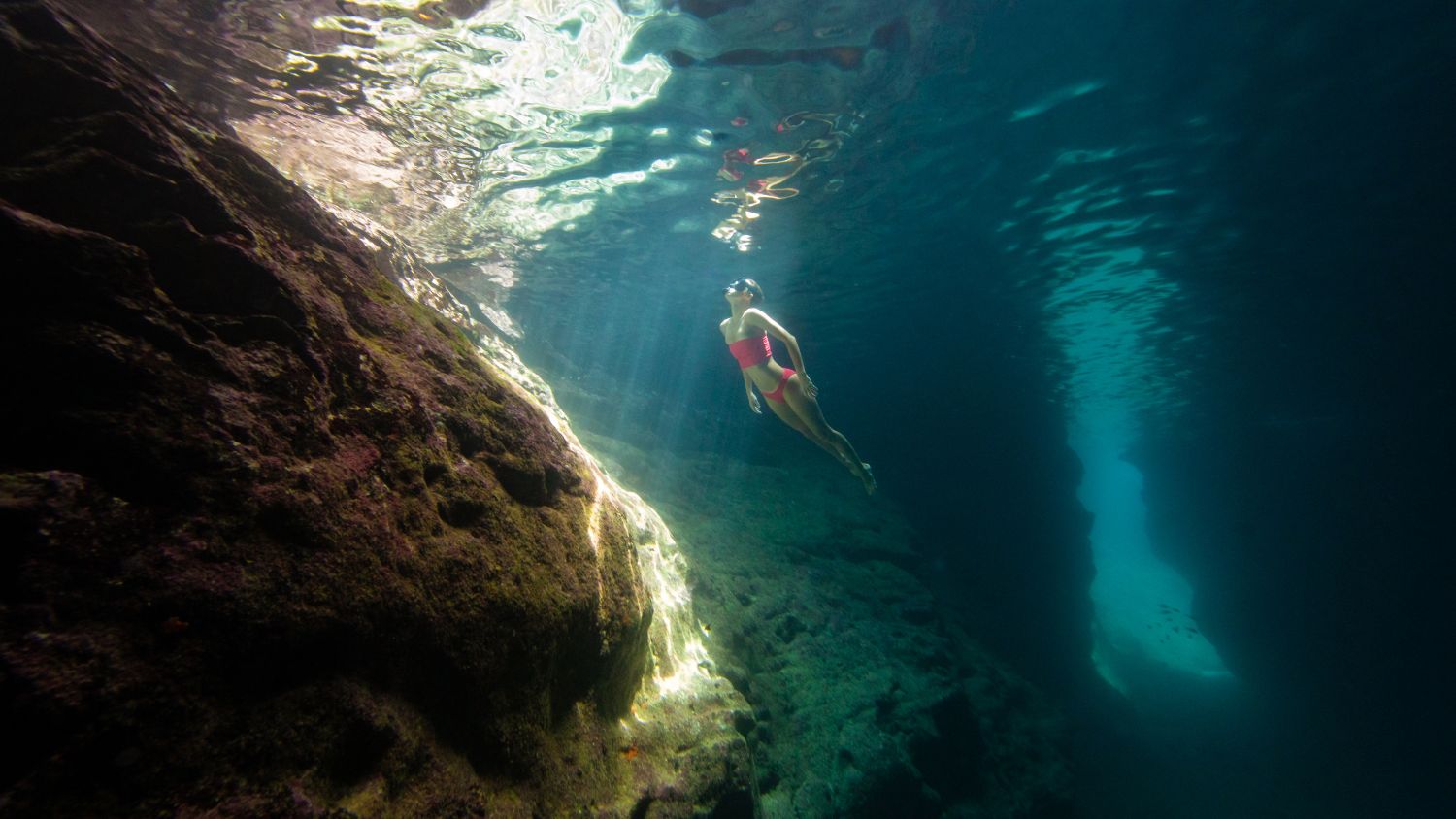 One of the Caribbean's most exclusive experiences, Anguilla promises much more than privacy, reports Vawn Himmelsbach.
When it comes to choosing a sun-and-sand destination to shake off the winter blues, countless Caribbean destinations are in a position to tempt us. Occasional travellers might even forget which island they're on, especially those who don't leave the confines of their resort.  
Looking out at the Caribbean Sea from the edge of an infinity pool atop a craggy limestone cliff, backed by a white-washed villa inspired by the Greek Isles, not another soul in sight, I realize what sets this island apart. Why Anguilla is the Caribbean island that celebrities seek out when they're looking to get away from it all. Why so many visitors to Anguilla feel they can find their own little slice of private paradise. I have this view all to myself—aside from my butler, who checks in every now and then to make sure I always have an icy cocktail in hand. 
Anguilla is perhaps best known for what it's not. "There are no cruise ports, no mass resorts, no casinos and no jet skis," says Chantelle Richardson, Anguilla's Deputy Director of Tourism. I have to ask: "A ban on jet skis?" Yep. The government is fully committed to maintaining the island's low-key vibe.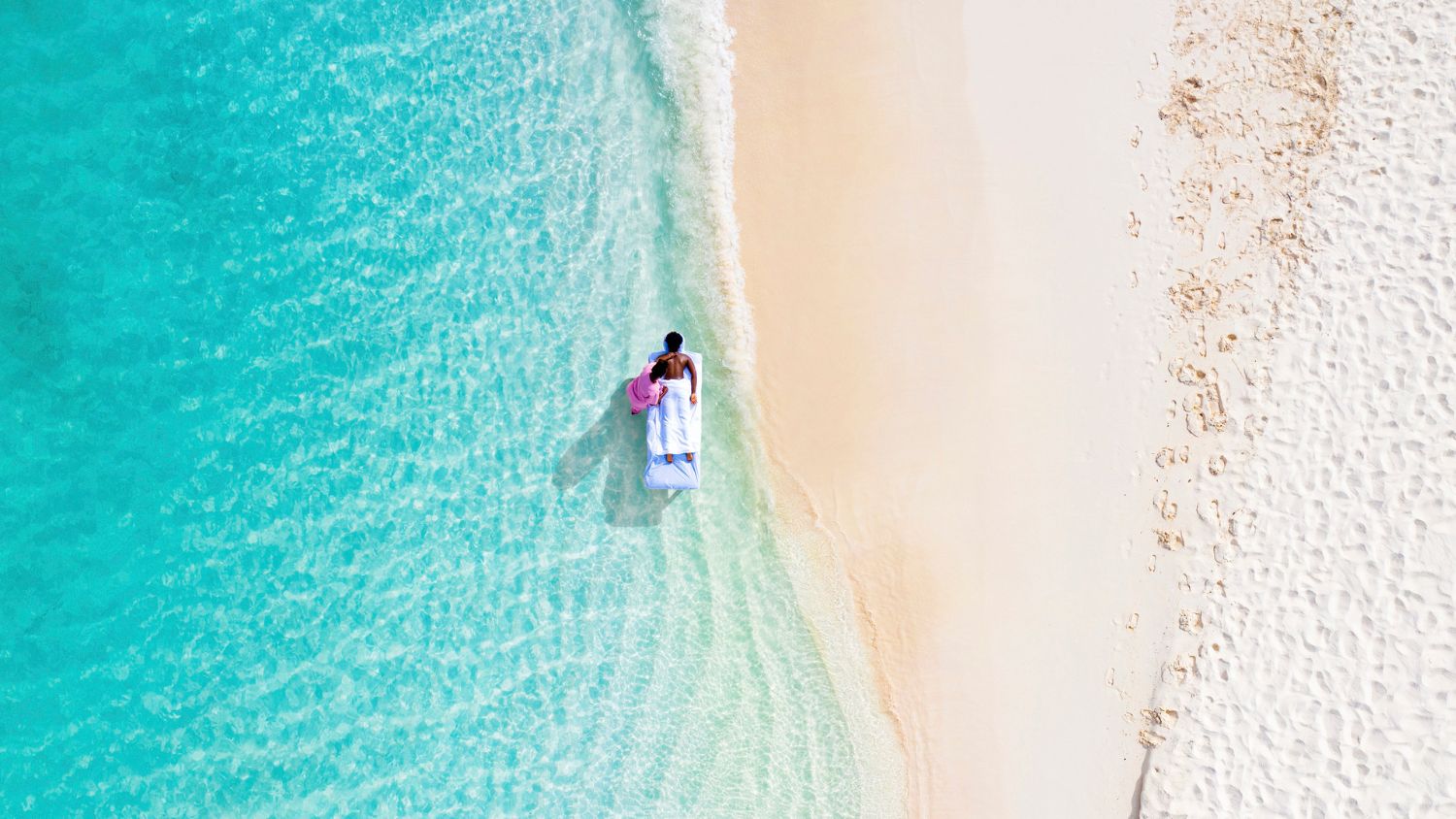 And it works. Whether doing morning yoga on the beach or partaking in a sunset massage on the stretch of sand in front of my villa, there were no interruptions by jet skis—or drunken tourists or screaming toddlers or anything else for that matter. Just the waves. 
That's why celebs like Beyoncé, LeBron James and Justin Bieber have been coming here. "Celebrities go to St. Barth's to party and they come here to rejuvenate," says Richardson. 
At one point, we drive past The Beach House—much grander than a typical beach house, with 1,600 square metres of living space on Meads Bay, one of the best beaches in Anguilla (if one had to choose). Bieber stayed at this villa a few years ago, where he was spotted skateboarding down the street we're now driving on. So even a celebrity can hang out here without hassles.  
There are 33 public beaches, and on many of them you'll find only a handful of people, even in high season. There aren't sprawling all-inclusive resorts here, nor any high-rise buildings. This is an island of villas—more than 300, in fact—and it's known for its secluded, unfussy luxury. 
That doesn't mean there's nothing to do but hole up in your luxury villa, tempting as that is. Anguilla is considered one of the best Caribbean islands for foodies, with more than 100 restaurants. An array of spa and wellness options, as well as several historic sites and outdoor adventure spots, can also inspire a few outings. And while there are no jet skis, there are ATVs, for those who feel the need to rev an engine. 
A speck in the Caribbean Sea, only 91 square kilometres, Anguilla is part of the British West Indies. Although the main island is, geologically speaking, a chunk of limestone jutting out of the water, there's a surprising amount of powdery white sand around, not only on its many beaches, but on the "out" islands, a scattering of uninhabited cays and islets. 
With sand dunes, low-lying shrubs and limestone bluffs, Anguilla is blessed with a dry climate and little rainfall, so sun and clear, blue skies are the default weather setting. Surprisingly, though, the tourism industry is relatively new, kicking into gear about two decades ago. Even as recently as the 1960s, much of the island lacked electricity and telephone service. Yet, it now features some of the most luxe hotels and epicurean eateries in the Caribbean.  
The largest resort here is Four Seasons Resort and Residences, once the Viceroy, set atop bluffs overlooking two beaches on Anguilla's northwest shore, spread out over 14 hectares. Then there's the romantic Belmond Cap Juluca. Opened in 1988, it was one of the first luxury properties to open on the island, standing apart from competitors with white Greco-Moorish arches that give off a Moroccan vibe. And the Malliouhana, part of the Auberge Resorts Collection, is a glamorous hideaway for the international jet set, reopened in 2014 after an extensive three-year renovation. 
Newcomer Zemi Beach House Hotel & Spa is set on two-and-a-half oceanfront hectares of Shoal Bay East, featuring contemporary Caribbean style and a Thai-inspired spa. Also new(ish) is Aurora Anguilla Resort & Golf Club. This is Anguilla's newest sustainable luxury resort, powered by a 1.6-hectare solar field. Oh, and it has a yacht club.  
But the villa lifestyle remains the island's calling card. The top properties excel at merging a private villa experience with resort-like amenities and five-star service. Long Bay Villas is a good example. Located on secluded Long Bay Beach, each of its three villas (dubbed Sand, Sea and Sky) has five bedrooms with newly renovated interiors, and most bedrooms have private terraces and indoor/outdoor en-suite baths. Each villa also comes with the services of a professional butler and personal concierge to book excursions, arrange a tee time or set up a sunset massage on the beach. The effect is close to that offered by a resort, but without waiting your turn. 
You don't have to be a celebrity to feel like one in Anguilla. Paparazzi aren't the only stress worth escaping to the Caribbean for. 
Anguilla Essentials
Getting there
Those who don't own a private jet or yacht can fly to St. Maarten and take a 20-minute ferry or charter boat to Anguilla (accessible directly from the St. Maarten airport). It's necessary to clear customs in St. Maarten and then again in Anguilla, although the process is quick and easy.  
Get around
Anguilla is a small island, but many of the properties are secluded and many roads are unmarked—hence, the need for a rental car or taxi service. Taxis are widely available, and come in handy for those who have had a few too many rum punches.