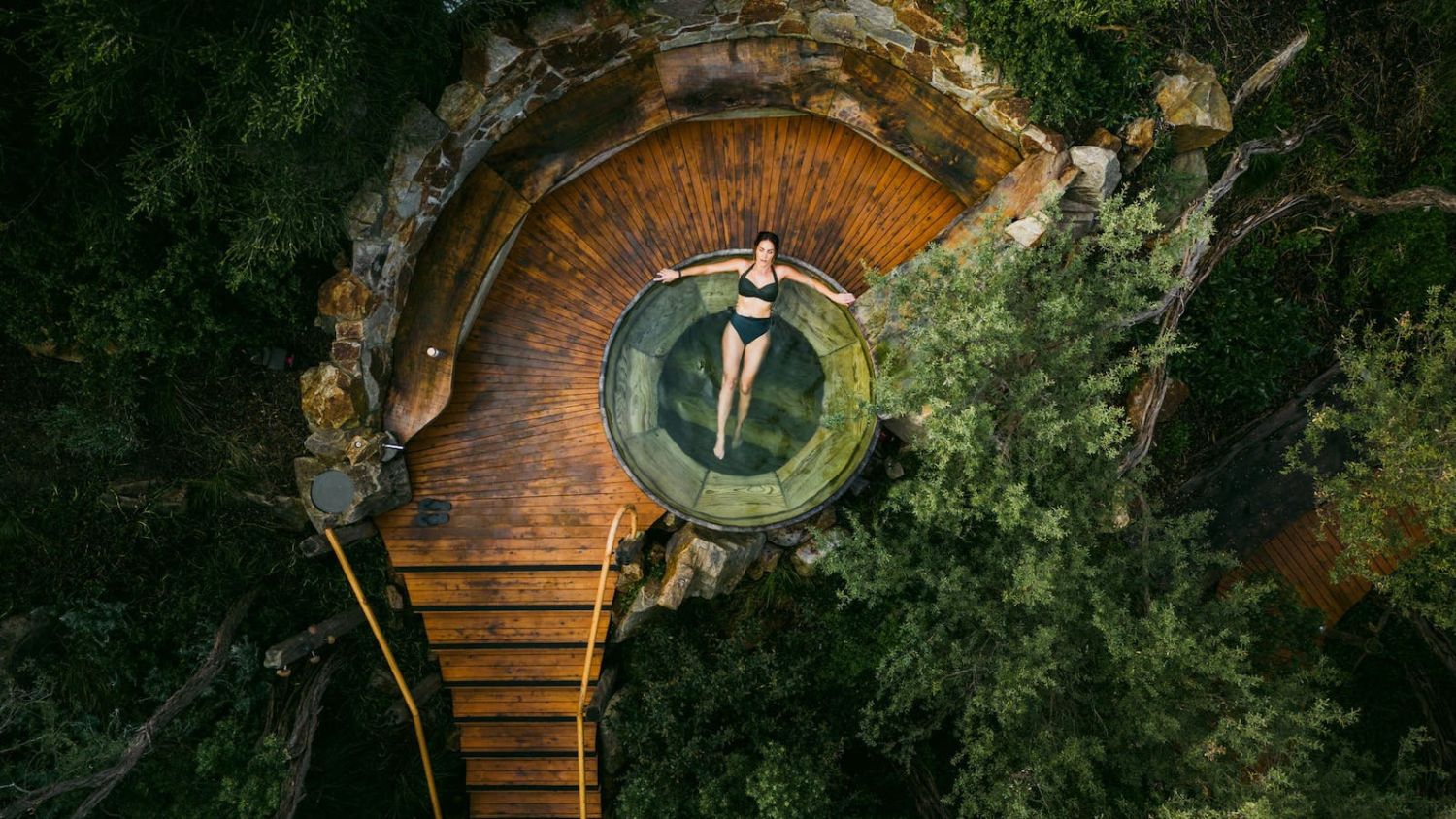 Head down under for a wellness experience – Australia's hot springs are a natural wonder not to be missed. Plus closer to home spots where you can get your soak on
The water is warm – and bubbly. Watching the air-filled spheres bobbing and dancing to the surface makes me giggle, a quick hit of happiness hormone to go with my body reverie. It's mid-day on Australia's Mornington Peninsula, which is in the state of Victoria about an hour from Melbourne, and I'm soaking in one of the dozens of natural geothermal mineral springs for which the area is known.
I move from hot pool to hot pool, testing the temperatures and, moving from the lower pools to the higher soaks, I'm treated to the slow reveal of the surrounding countryside. The view is marvellous, all greens and golds and craggy; trees and brush and grass swaying in a breeze that barely contains the heat of the day. 
The Mornington Peninsula hot springs have been a wellness spot for locals for ages, but now the secret is out. Two new wellness-focused spas on the peninsula are ready for guests to take the waters. 
Alba Thermal Springs & Spa made its debut recently, about a one hour drive from central Melbourne. It's coursing with a series of indoor, open-air and outdoor thermal pools; a spa with services to help get the kinks out and, there's also an onsite restaurant. The dining experience here is driven by local and seasonal ingredients.
Also this spring, the Peninsula Hot Springs is revamped and ready. The resort features three eco-accommodation lodges, three outdoor massage pods, an undercover dining area and a relaxation sleep lounge.
But what's a story about Australia without mentioning the Outback? At two recent events in New York City, including January 2023's IMM/TraveMedia Summit, the media were treated to a snapshot of the country's new "Come and Say G'Day" campaign. It's a genius mashup of animation and live action, and the main characters, Ruby and Louie, voiced by Australian actress Rose Byrne and our favourite Canadian voice, Will Arnett. 
Ruby takes Louie on a journey across Australia, sharing the diversity of the landscape, from sparkling cities to the magic of the Outback. And, when it comes to hot springs, every state in the country has its share. 
Take a road trip starting in Adelaide, South Australia's capital city, which will take travellers into the legendary outback. About 700 miles north of Adelaide – yes, we said 700 miles! – Dalhousie Springs consists of 60 natural springs rising from the depth of cracks in the earth's surface; also known as the Witjira-Dalhousie Springs, and part of the Australian Natural Heritage list because of its strong indigenous ties. But if you need a soak before you arrive, there are two hot springs en-route: Wabman Kadarbu Mound Springs and Coward Springs Campground Natural Spa. This area is home to National Parks, lakes, and indigenous sites – making it the ultimate road trip into the Australian Outback.
The tourism folks in Australia have also created a hot springs and natural pools map of sorts, for the geography buff in all of us travellers, which list all these top wellness spots. Any of these itineraries offer outstanding adventure road trips and natural assets in spades along the way. 
And me, I'm rather partial to the Mornington Peninsula. A flat white in the graffiti alleys of Melbourne first thing; jump in the car for a scenic drive for an hour or so and, then, splash! I'll just soak my troubles away. G'day, indeed.
Get your dose of wellness closer to home
Arkansas
Yes, I said Arkansas. The Natural State, as it's known in these parts, is rich with hot springs. In fact, there's even Hot Springs National Park (hotsprings.org). One of the smallest in the US, this petite park west of Little Rock punches well above its weight in wellness options. It also turned 100 years young in 2021. The main town, which is also called Hot Springs, has been a resort getaway for even longer. From prohibition-era gangsters coming for some R n R in the healing waters, to spring-training baseball stars soothing their aches and pains. Once you've had a dip, take to the road and head further southwest, where you'll find Crater of Diamonds State Park, perhaps the only place in the world where you can grab a pick and dig for glitter. The best part? Whatever you find is yours to keep. Shine on. arkansas.com
Yukon
Most Canadians have heard of Banff's hot springs or Harrison's hot springs, but did you know that Yukon also has a natural source of the healing waters? At Takhini Hot Springs, the only source of hot springs in the province, sits Eclipse Nordic Hot Springs spa. At just under 30 kilometres from Whitehorse, it's a fairly easy road trip. With four rock pools gurgling with good stuff, the spa has adopted the Nordic wellness ritual. You know, those Scandis love their hot/cold/relax repeat soaks. But, being Canadian, the pools are also open year round (some with spectacular views), and with another nod to our proud multi-cultural heritage, the proprietors have also taken Japanese Onsen inspiration as part of the treatment rituals. eclipsenordichotsprings.ca