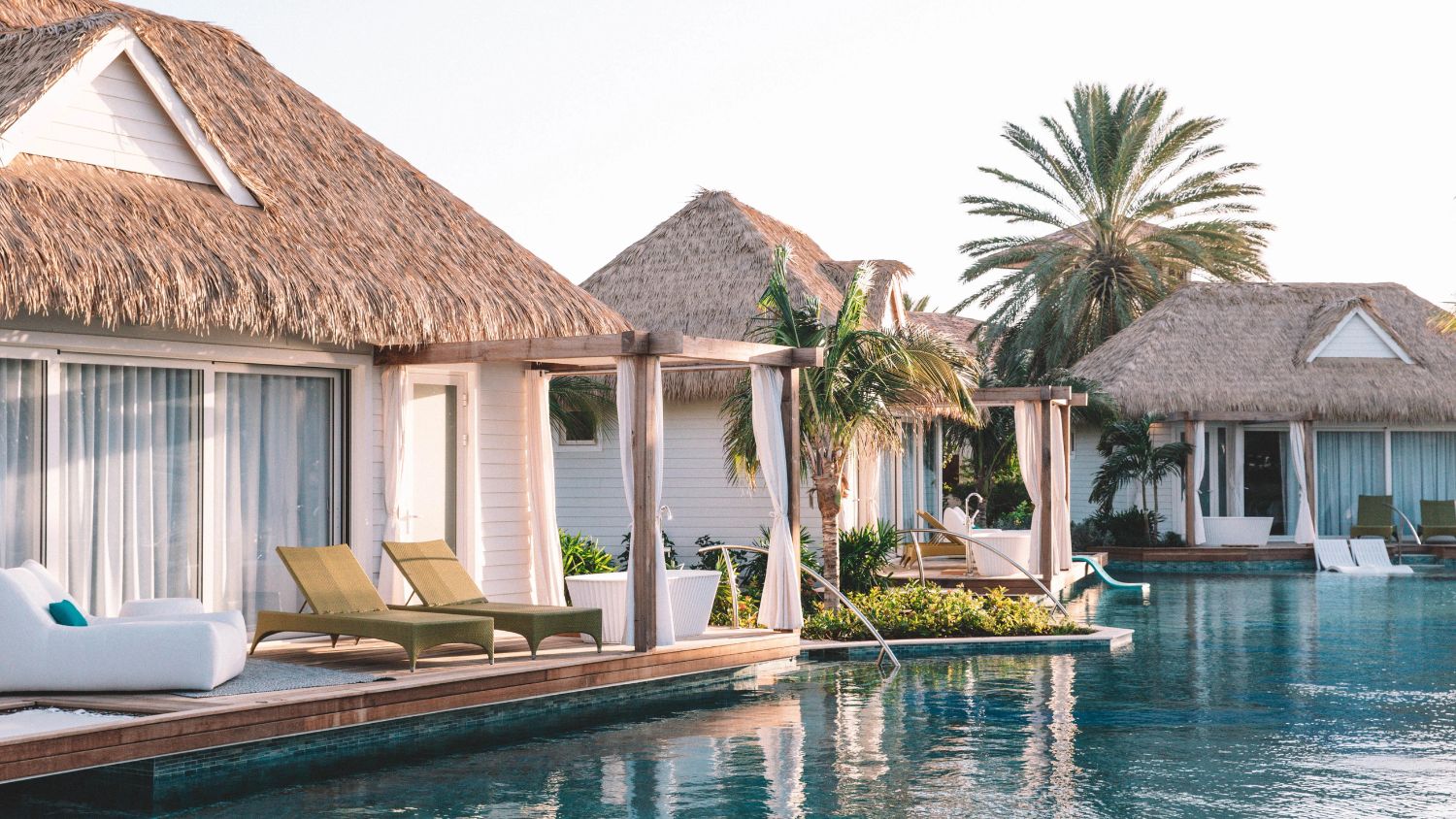 From over-the-top wellness resorts to idyllic private island paradises, adventure camps in the South African bush and farm-to-table culinary escapes, these are 10 of the best all-inclusive honeymoon resorts around the world
When the wedding is over, that's when the magic really starts to happen. The honeymoon is a couple's time to decompress after the energy and stress of a wedding and do something that is, without a doubt, exclusively for them. And since no two couples are the same, it's wonderful to know that there are all-inclusive honeymoon resorts around the world that are designed for each type of couple.
An all-inclusive resort is the perfect setting for a honeymoon because couples can truly click into relaxation mode the minute they arrive. Fortunately, the world is blessed with some truly memorable all-inclusive resorts that are geared toward every type of traveller.
From over-the-top wellness resorts to idyllic private island paradises, adventure camps in the South African bush and farm-to-table culinary escapes, these are 10 of the best all-inclusive honeymoon resorts around the world
1. Sandals Royal Curaçao
When it comes to honeymoons, Sandals Caribbean Resorts is no newcomer. What is new, however, is its latest resort on the island of Curacao. Sandals Royal Curaçao opened in June 2022 and it seems the brand has outdone itself.
The brand-new resort sets the bar for luxury among other Sandals properties. The resort even has two new signature suite categories: Seaside Butler Bungalows and the Kurason Island Poolside Butler Bungalows. Each of these suites has Tranquility Soaking Tubs, private pools, and the signature Sandals butler service.
Sandals Royal Curaçao has eight restaurants to choose from, as well as three beachfront food trucks, all of which are included in the room rate. The list of inclusions at this romantic beach resort are seemingly endless, from PADI-Certified SCUBA equipment to the mini bars, daily and nighttime entertainment and shows, and unlimited Robert Mondavi Twin Oaks Wines.
Couples can spend their days lounging at the brand's first two-level infinity pool, or board a catamaran to sail the turquoise waters around Curacao. It's a resort that encourages couples to choose their own adventure for a honeymoon to remember. sandals.com/royal-curacao
2. Jumby Bay Island, Antigua
Three hundred acres of private island paradise sits flecked in the Caribbean Sea. Jumby Bay Island, a member of the Oetker Collection, is a slice of Antigua that has drawn the likes of A-list celebs, from Paul McCartney to Justin Bieber. Sounds like the right recipe for a perfect honeymoon destination.
Exclusivity meets barefoot elegance at Jumby Bay. The resort is made up of 40 suites, 14 villas, and 22 private residences. All accommodations blend indoor and outdoor spaces, creating airy environments that maximize both the natural environment and chic touches. The resort opened 12 new Ocean view Suites, each of which have exquisite ocean views. Villas have the added perks of swimming pools and the option to add on a private chef.
When you're not dipping your toes into your private pool or blissing out at the ocean-view spa, guests of Jumby Bay can enjoy the spectacular setting of glittering white sand, impossibly clear water, and languidly swaying palms. oetkercollection.com/hotels/jumby-bay-island
3. Waterside Lodge at Royal Malewane, Hoedspruit, South Africa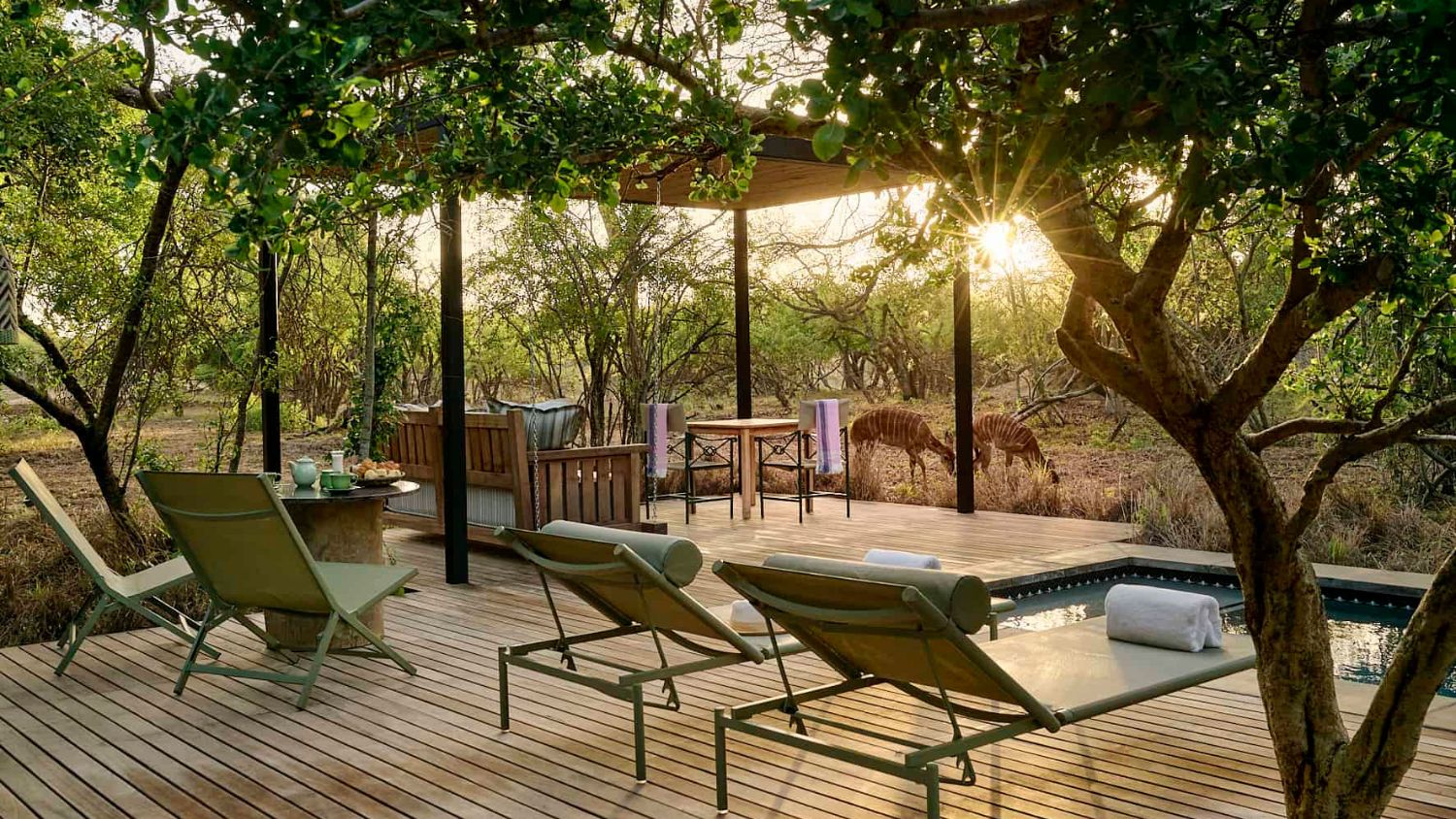 When it comes to romance and adventure, South Africa is all around the perfect honeymoon destination. Home to spectacular beaches, fabulous wine, and electric cities, South Africa has it all. It also happens to have one of the best areas on the continent for safari — Kruger National Park and the surrounding private reserves.
Waterside Lodge at Royal Malewane is a brand-new all-inclusive luxury safari camp nestled in the bush on the Thornybush Game Reserve, adjacent to Kruger National Park. The private park shares its borders with Kruger, meaning that visitors have all the impressive game viewing potential of Kruger, but a fraction of the crowds. Waterside Lodge itself sits perched on the edge of a watering hole, where hippos coyly pop up from time to time to breathe bubbles at couples having lunch by the water. And what could be more romantic than a glass of champagne in the remoteness of the bush, with lions and elephants in the distance, as the sun sinks below the horizon?
The entire camp is a work of art — an explosion of vermillion, chartreuse, and ocre bursts from the sand-and-sage bush. Rooms are festooned with brilliant paintings, glittering chandeliers, and plush, overstuffed sofas. The design of Waterside is the work of Liz Biden, a renowned hotelier in South Africa. Her latest masterpiece is a cut above.
What makes Waterside even more appealing to couples on honeymoon is the all-inclusive arrangement. This comprehensive plan includes all meals and local wines and spirits, twice daily game drives, a fully stocked mini bar, and laundry services. theroyalportfolio.com/royal-malewane/accommodation/waterside/
4. Grand Velas Los Cabos, Los Cabos, Mexico
Mexico is a treasure trove of riches when it comes to romantic all-inclusive resorts. But there is something about Grand Velas Los Cabos that is, quite frankly, dreamy beyond belief. The design of the resort is sleek, chic, and sexy with spectacular suites, all of which have dramatic Pacific Ocean Views.
Couples can steal away to a quiet corner of the pool to enjoy fresh tiradito or shrimp tacos al pastor. Things get a little more sexy and elegant at Cocina de Autor with its 8-course tasting menu, or the decadent tomahawk steak for two at Velas 10. Dress down at the resort's spectacular spa. Of course, the all-inclusive package at the resort is supreme, with inclusions like complimentary bottles of artisanal tequila and replenished bottles of wine. The resort also includes Don Julio 70, one of the most premium tequilas you can find. Dial up the romance with a melty deep tissue massage at the spa, or sip an artfully curated cocktail and watch the sky explode into a burst of colors at sunset.
Tip: The Grand Class Corner Suites are a cut above the rest with oceanfront views and plunge pools on the terrace. loscabos.grandvelas.com
5. Jade Mountain, St. Lucia
No list of romantic all-inclusive resorts is complete without a mention of Jade Mountain in St. Lucia, arguably the most beautiful Caribbean resort. The colorful, clifftop resort is shrouded in jungle foliage and marked by a series of M.C. Escher-esque bridges, creating a posh playground overlooking the iconic Pitons.
Each room, or "Sanctuary," at the resort is specially designed with the fourth wall removed, leaving all rooms exposed with supremely epic views of St. Lucia's Piton mountains. All rooms have gorgeous infinity plunge pools, from which couples can sip champagne and drink in the views.
Color plays a huge role in the aesthetic of Jade Mountain, with multicolored tile pools that shimmer in the sunlight. The sky above the resort is also part of the scenery, especially during sunrise and sunset when it explodes with pinks, oranges, and purples.
Among the top-level amenities include meals designed by a James Beard Award-winning chef, spa treatments, and private dinners for two atop the secluded Celestial Terrace. jademountain.com
6. The Brando, French Polynesia
What sets the scene for a honeymoon better than a sun-bleached private island in French Polynesia? Tahiti's The Brando private island resort is the most idyllic backdrop for fulfilling the ultimate honeymoon fantasy.
Thirty five private villas are scattered across the picturesque swath of sugary sand, surrounded by the swirling turquoise waters of the South Pacific. The remote location of The Brando is all part of the experience, though travelers should know that it does take a bit of effort to get there.
Still, the visuals, combined with the white glove service, impeccable design, and five-star amenities ensure that this honeymoon all-inclusive resort is worth the splurge.
Each villa has its own private pool, terrace, and outdoor soaking tub. As part of the all-inclusive package, guests can choose from the three restaurants on property, as well as private beachfront dinners and 24-hour in-room dining.
It may not be the most convenient resort to get to, but the experience will make memories that will last a lifetime. thebrando.com
7. Twin Farms, Vermont
Not all all-inclusive resorts have to be on picture-perfect tropical islands. In fact, you can find some of the best all-inclusive hotels and resorts tucked in rural parts of the planet. If you're looking for that country farmhouse vibe for your honeymoon, with bucolic landscapes instead of beaches, Twin Farms in Vermont may be exactly what you're looking for.
Nestled amid rolling hills and wreathed in pine forests, Twin Farms is a five-star Relais & Chateaux property known for its provincial landscape, charming cottages, decadent spa, and haute cuisine.
The cottages here are deliciously romantic with fireplaces, jacuzzis, and deep soaking tubs. When couples aren't ensconced in their private suites, they may be experiencing farm-to-table dining at its finest. Think private wine cellar tastings, gourmet picnics, or chef's table dinners. twinfarms.com
8. The Palms, Tanzania
Along the sugary southeastern coast of Zanzibar sits one of the most luxurious and photogenic all-inclusive resorts in the world. The Palms is all about privacy, intimacy, and, of course, all things included.
Seven villas set the scene for the ultimate in romance. Each villa measure sat more than 140 square meters, with a classic color palette of coffee and cream. Think gauzy curtains blowing in that southern African breeze, dark wood floors, and a veranda with a silk-draped four-poster bed that overlooks a plunge pool and views of the Indian Ocean.
If couples can pry themselves away from their secluded quarters, they'll find languidly swaying palm trees that dot a powder soft beach, a PADI Gold Palm and RAID diving center — the only one on Zanzibar — and a menu of educational experiences like Swahili lessons or palm weaving.
Activities can be tailored for couples celebrating their honeymoon, like a private beach sundowner, a lantern-lit dinner for two, couples massages, or a private tour of the palaces in nearby Stone Town. palms-zanzibar.com
9. Four Seasons Tented Camp Golden Triangle, Chiang Rai, Thailand
Few countries are as suited for romance and honeymoons as Thailand. Dramatic landscapes, from epic beaches to towering mountains and thick jungle, set the scene for a beautiful adventure. Up in northern Thailand, Four Seasons Tented Camp Golden Triangle takes romance to the next level, with gorgeous luxury tents, an open-air spa, and plenty of opportunities to view elephants in the wild.
The intimate resort has only 15 luxury tents. Each has its own outdoor shower, sprawling balconies with jungle views, and vintage deep soaking tubs. No two tents are designed alike, either.
Beyond the dreamy glamping accommodations, the resort also features a beautiful outdoor spa. Guests of the resort even have one treatment included with every reservation.
Of course, the main reason couples book this resort is because of its elephant program, which partners with nonprofits to help repopulate the jungles with these majestic creatures. fourseasons.com/goldentriangle
10. Miraval Arizona Resort and Spa, Arizona
For the couple that geeks out on spa treatments, lives for yoga, and thrives on the trails, Miraval Arizona Resort and Spa is the perfect all-inclusive honeymoon resort. This stylish, Southwestern hideaway helps couples to disconnect with the world to reconnect with each other in the rugged and wild landscape of the Sonoran desert.
The pampering starts at check-in. Each couple is given a dossier with the activities of the day, which can range from yoga to rock climbing. Of course, no honeymoon experience at Miraval is complete without an indulgent trip to the stunning spa. The desert energy vibrates at a different frequency, and the Life in Balance Spa has a host of treatments that are only available at Miraval, featuring ingredients like Arizona clay and purple sage. For couples who want a little something extra, the astrological birth chart readings and sound baths are particularly unique.
Rooms are elegant and understated, harnessing that southwestern vibe but with an emphasis on luxury. White linens, exposed beams, stone, and tons of natural light fill the spaces. The Retreats are the most impressive. Couples will love the Reflection Retreat, which has a spa bath with free soaking tub and outdoor shower, full gourmet kitchen, and patio with reflection pool and fire pit. miravalresorts.com/arizona