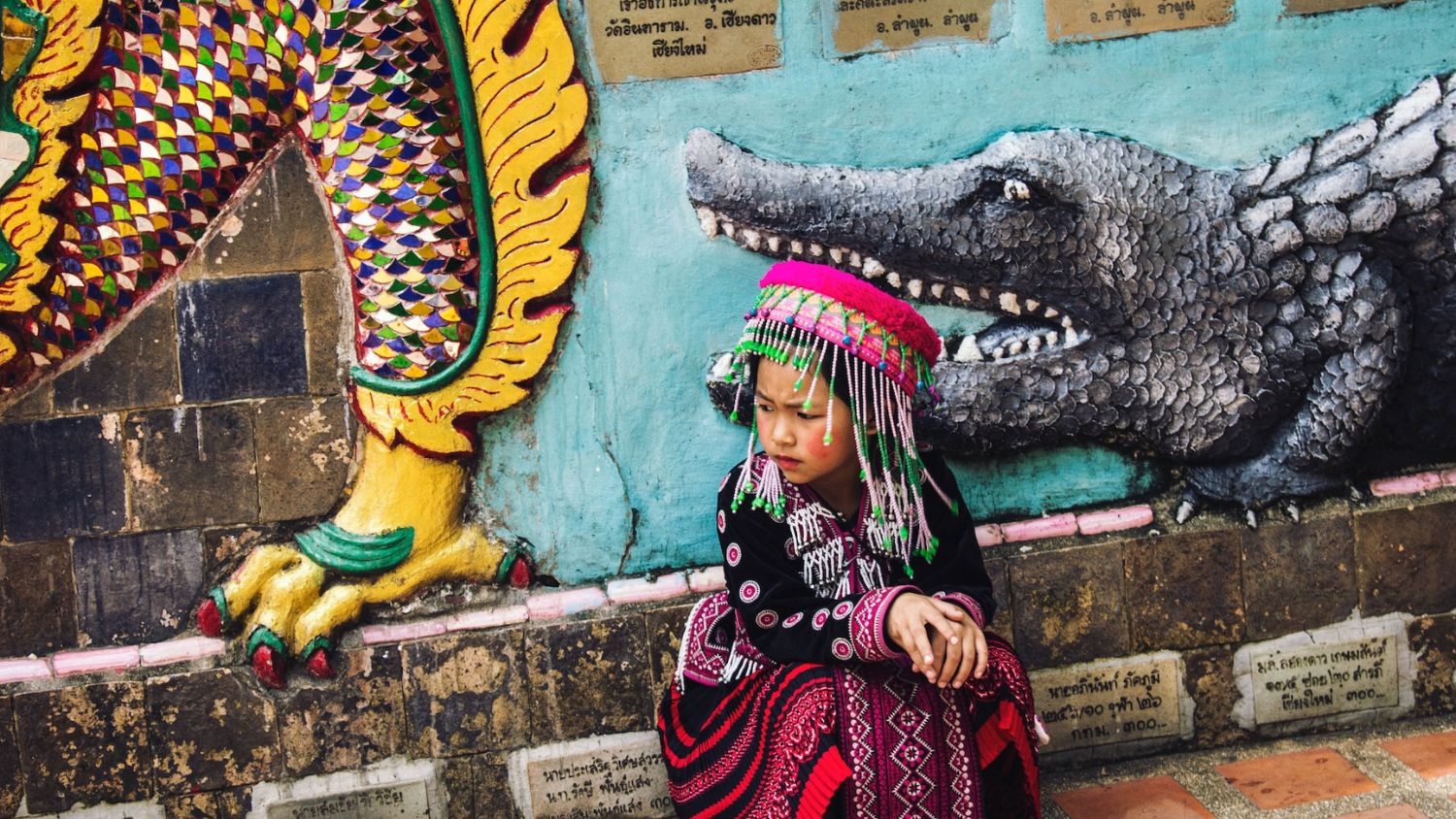 Travelling in the land of smiles beyond Bangkok – from the temples of Chiang Rai and the Hill Tribes
The Thai are a people bound together by two things: a great reverence for their King and a particular outlook on life, an innate sense of acceptance and happiness that has long been the magnet that makes travellers return again and again to this beautiful place.
Their king, Rama X, is known for his sense of adventure. He has years of military training, and pilots his own passenger airliner when he travels. While his father imbued the country with a refined elegance, Rama X's adventurous personality has also trickled down to the culture, with a wealth of experiences beyond a massage on the beach. (Not that that's a bad thing, mind you; Thailand is, after all, a leader in the school of massage therapy.)
And this is Thailand in its duality: a refined elegance matched by a diverse nature – glittering temples and palaces and bustling urban centres balanced by stretches of sun-splashed coastline and riotous green rain forests. Bangkok, the country's largest city, continues to rank as one of the most popular spots on Earth, while Phuket has reclaimed its throne as beach-goers' paradise.
But we want more, to go beyond. Perhaps we'll take a page out of King Rama X's playbook and think outside the box. In English, his name, Vajiralongkorn, translates as "adorned with jewels and thunderbolts." An apt description for Thailand, perhaps, itself.
Refined Elegance With an Edge
In the city of Chiang Rai, in the north of Thailand, there is a temple so white, it is nearly blinding. In the stark midday sun, it reflects, bounces the light back at me. It warms me, but blurs my sight. 
It takes a minute for my eyes to adjust, and when they do, they see. Ornate carvings, demons, Superman – yes, I said Superman – all have their place as part of the architecture and art installation that is Wat Rong Khun, the temple designed by the Thai visual artist Chalermchai Kositpipat. It sits on the same site as the original Wat Rong Khun, a Buddhist temple and a place of worship.
Today, the White Temple is still a place of worship, for those devoted to religion and to art. Classic Thai architecture – take, for example, the tiered roof tops – and Buddhist mythology meld with modernist extremes and symbolism. Part of the temple is on a pond, over which a bridge spans. What seems like thousands of reaching hands fill the "moat" around the bridge, while gargoyle-esque Thai soldiers flank the bridge brandishing their swords. Mirrored mosaics add to the glitter of it all, and if I didn't know better, I may have thought I'd stumbled into Narnia and the White Witch's icy castle. 
Murals on its interiors, painted by Kositpipat, temper the temple's exterior sharpness. Colours swirl and blaze, orange, red, ochre, the antithesis to the purity of the white found outside. Superman flies through a mural, Michael Jackson balances on the tip of an extended tentacle and Kung Fu Panda fends off a blast from a star ship. The Temple's details are as extreme as its façade; a nod to Thai mythology, Buddhist religion, contemporary architecture and pop culture.
The artist is a reverent Buddhist and considers this, his life's work, as proof of his devotion to Buddha. Not unlike the Sagrada Família in Barcelona, the still unfinished masterpiece of Antonio Gaudí, the White Temple is a work in progress: Kositpipat will continue building and adding to the site until its completion, estimated to be sometime in 2070. While at it, he offers the temple as a place of Buddhist teachings and prayer.
In the intense reflection of the Temple, I stumble. I've nearly tripped over the life-size sculpture of Predator (from the films of the same name) emerging from the lawn. I imagine Alien not far behind, rising from the moat of reaching hands, prompting me to soak in a longer second look and just take it all in. In its own way, it's my moment of meditation, just as the artist intended. 
Diverse Nature – and Indigenous Immersion
Rocks, hills, stairs. It's all on the up. Rock climbing in Thailand is world-renowned, particularly in the Krabi region. But I'm not a climber, nor am I in Krabi. Instead, I've decided to take a hike through Hill Tribe country. My guides are two local boys with a smattering of English and very expressive hand gestures.
There's been a lot of rain, so the green of the forest is deep, intense, lush. But the sky is clear now, just a few white puffs inviting us to follow them. We're off to see one of the boy's aunties; she's expecting us for tea. But she's in the next village, which in this case, means a hike through two valleys and two forests, up a hillside and across a brook. We might try a short cut and slip through town first, but everything's so freshly washed from the rain, we skip the concrete and go straight into the jungle.
I am surrounded by life: insects, frogs and birds play their own symphonic cacophony, banana trees set to burst with fruit, bamboo stalks tower and sway in the light breeze. A tree trunk has fallen across the path, and the log has been semi-hollowed. One of my guides points inside the hollowed groove. There we see grubs and other bugs used for food on the trail. By animals and, in a pinch, by humans, should they get lost or need sustenance.
As we cross the brook, my guides explain that these tributaries trickle into something mightier: the Kok River, which then flows to the Mekong. Not too far from where we are, other brooks meet to create the Chao Phraya, the great waterway that cuts its own path through Bangkok.
We cross and are immediately immersed once more in verdant foliage, a canopy that protects us from the sun and keeps us cool. Even though we are in a forest vale, we can spy through the trees to see plateaus of hill tea plantations, similar to vineyards, planted on gradual elevations.
When we arrive at Auntie's, we are welcomed and told to climb the ladder stairs. Auntie's house is also elevated, a dirt-floor cottage on stilts to protect from floodwater and to provide a view over all of her domain. She is spectacular, dressed in traditional hill tribe costume, and displaying an obvious pride in her nephew and her home. I am humbled by her hospitality and her generosity.
On the way back to our hotel, we make a surprise stop at another home. This one is King Rama X's grandmother's palace, Doi Tung Royal Villa. The Princess Mother, as she was known, was a great lover of all things botanical and, when she moved to this palace in the late 1980s (she, too, was in her 80s then), her love came to fruition. She created the Mae Fah Luang Garden, 10 acres of gardens and greenhouses that display indigenous and international annuals and perennials, climbing trellises, trailing greens and lawns of flowering plants.
The vegetation plays off commissioned sculptures and fountains which act as gathering places to provide respite and reflection. I want to play, too, to run barefoot on the lawn, stop and smell the roses, and the magnolias and the phlox. I get lost in the orchid room, not because of its size – it's diminutive at best – but because of the beguiling variety of shapes and colours. 
Architects and designers kept in mind what a conservationist the Princess Mother was when sourcing the materials for the Royal Villa. Repurposed teak and concrete are the main materials of the home's exterior, while recycled pine lines the walls of the principal rooms inside. The only hints of opulence: golden teak lines the floors, while outside, plants are cultivated in sync with the seasons, carpeting the grounds with a constant garden in bloom.
Fitting, I think as I inhale deeply and let nature do its dramatic dance before my eyes. The villa and its garden is a shrine to the spirit of nature, just as the White Temple is to the spirit of Buddhism and art. Elegant and diverse, adventurous and reverent, for King and for country. www.tourismthailand.org 
GET THERE
Breaking a decade-long hiatus, a vital route between North America and one of Asia's busiest hubs has finally been re-established. Beginning this winter, Canadians will be able to fly nonstop to Thailand from Air Canada's base in Vancouver, avoiding long, unnecessary layovers in other countries. The seasonal Air Canada service will operate four times a week between now and March 26, 2023 with Boeing 787 Dreamliner aircraft. Travellers can choose from three cabins — lie-flat seats in Signature Class as well as Premium Economy and Economy Class.
Outbound
Departs YVR at 11 p.m. local time
Lands in BKK at 5:55 p.m. local time (2 calendar days later)
Flight duration: 15h55min
Frequency: Su | M | x | We | x | Fr | x
Return
Departs BKK at 8:30 a.m. local time
Lands back in YVR at 6:35 a.m. local time
Flight duration: 13h05min
Frequency: Su | x | T | We | x | Fr | x