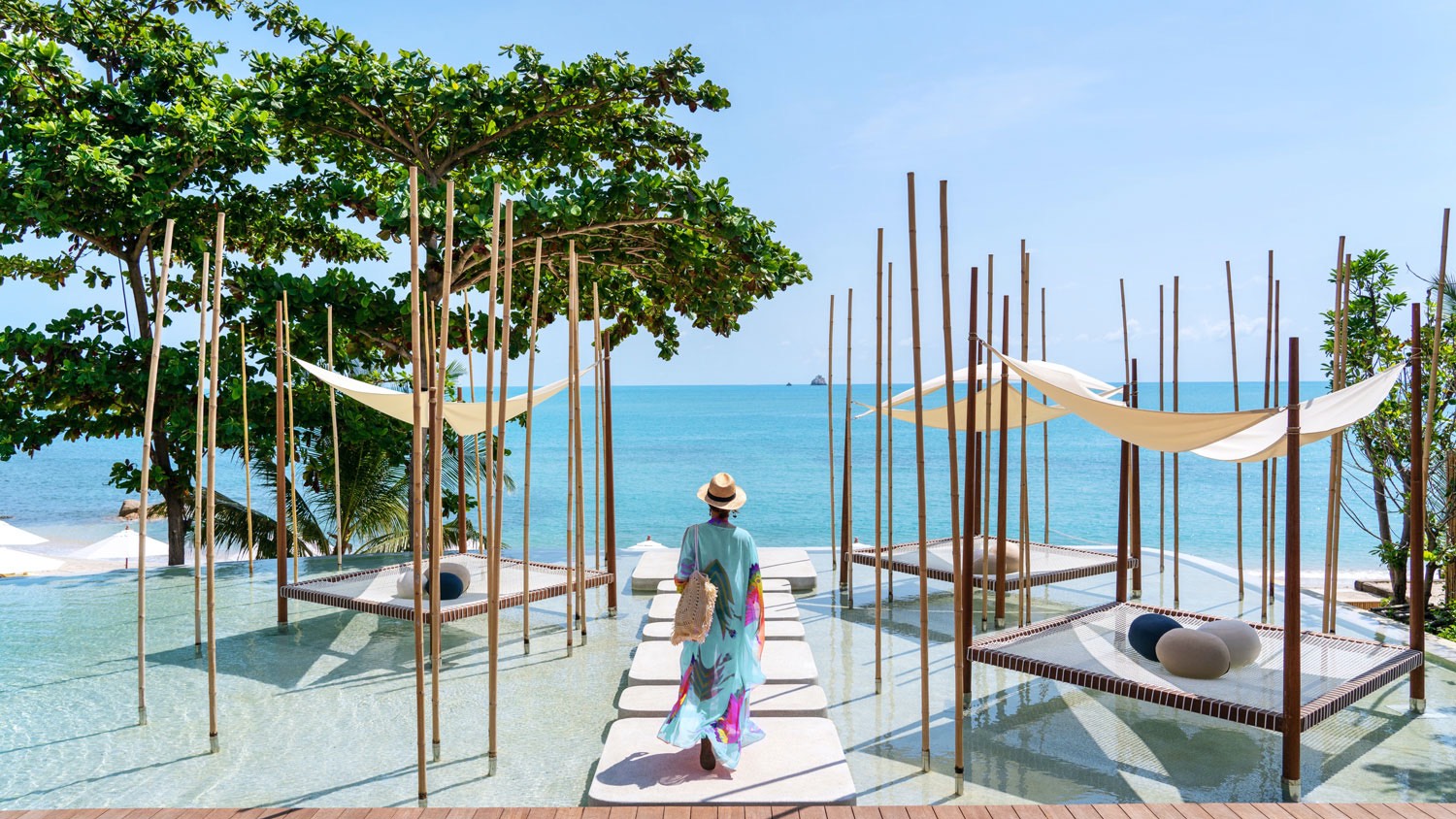 Body and soul, or even animal therapy, Thailand has more ways to wellness than you can imagine.
I am knee-deep in the river, giving a 20-year-old elephant her daily bath. As I gently brush Memei's adorable freckled ears, she seems to be loving the attention. Nu, her mahout—that is, her trainer—informs me that each of the pachyderms here at Patara Elephant Farm, in Chiang Mai in northern Thailand, has his or her own quirks. Memei is afraid of mice! A classic elephant stereotype that turns out to be true.
In Thailand, giving care is a true art, whether it's toward these huge, beautiful creatures or, more typically, for stressed-out humans who need to centre themselves. In my journeys around Thailand, I have experienced some of the world's best wellness strategies—from massage to lessons in healthy cooking—but this time I am glad to be able to provide wellness for another being who needs it.
The elephant, revered in the Buddhist religion as a symbol of protection, has also played an important role in Thailand's history and economy. Centuries ago, royals and warriors rode them in combats against the Burmese. More recently, elephants hauled lumber from Thai jungles. But when the teak exportation business dwindled, many pachyderms and their mahouts became unemployed. Fortunately, they are now finding new careers in "elephant-centric" responsible tourism. Pat Theerapat, founder of the Patara Elephant Farm, is passionate about the health and happiness of his elephant family and eager to teach us "day trainers" as much as possible about their care, including daily feeding and grooming.
Until now, I had only viewed elephants from afar or behind bars. At Patara, I find myself literally face-to-trunk with a small herd. Earlier that morning I had introduced myself to Memei and her daughter Naya. Nu hands me a basket full of sugar cane sticks and bananas and tells me to start feeding Memei. Elephants eat 10 per cent of their weight per day, so feeding is an integral part of the bonding experience. My first reaction to being so close to these creatures is unnerving, especially when Naya playfully winds her trunk around my shoulders in order to swipe a banana. Soon I relax. Elephants may be huge, but they have a great deal of dignity and grace.
After the feeding, Nu gives me a leafy branch and instructs me to dust Memei's coat. Then we ambled down and into a river for bath time. By the time I'd finished scrubbing every inch of Mamei, she thanked me by filling her trunk with water and showering me.
I hope that old adage that "an elephant never forgets" is true. I certainly won't forget the experience. Nor do I forget about Thailand's capacity to take care of humans, too. After Mamei's "spa treatment," it was time for mine. After a short flight from Chiang Mai, I land in Koh Samui, Thailand's third largest island. Backpackers first discovered the beach shacks of Koh Samui in the 1970s. Today, the island is dotted with luxury hotels.
Eschewing artificial glitz for sustainability, the management of Six Senses has created a symbiotic nature/nurture experience for the well-being of guests. Under the direction of Wellness and Spa director, Khun Keerana, you can get more than a massage here. The three-day Vitality Retreat includes yoga on the beach, Pilates, meditation and chakra balancing. Sleep experts, healers and astrologists are part of the holistic team.
Spa treatments are given in thatched roof "salas," cooled by the tropical breezes of the Gulf of Thailand. I began my pampering with a Thai massage, said to have been created by Shivago Komarpaj, a physician who lived more than 2,500 years ago who is said to be the personal doctor to the Buddha.
The two-hour series of contortions and stretching movements is patterned on the Asanas of Hatha Yoga. Your masseuse might hike your legs over your head while she presses her elbow into your hamstrings. Don't be alarmed when she turns you over and tries to twist you into a sitting pretzel. A Thai massage is more revitalizing than relaxing, but at the end you feel like you've had a total body workout. Beware: it can become addictive.
In contrast to the gentle waves and breezes of Koh Samui, landing in Bangkok can be downright frenetic. But arriving at The Siam Hotel via the property's vintage riverboat transported me into a much more tranquil world in the middle of the bustling capital. My debonnaire butler, Paul, escorts me along a path, past a swimming pool, to the antique carved wooden doors of my villa, where I find I have a courtyard with my own plunge pool. While Paul unpacks my bags, I join The Siam's sous chef, Thammarach, for a Thai cooking lesson.
What nourishes body and soul better than a bowl of spicy tom yum soup? In fact, researchers at Thailand's Kasetsart University and Japan's Kyoto and Kinki Universities became interested in the soup's immune-boosting qualities after noticing that the incidence of digestive tract and other cancers was lower in Thailand than in other countries. Many of the ingredients used in tom yum and other Thai cuisine—turmeric, galangal, coriander, lemongrass and fresh chillies— have immune-boosting and disease-fighting properties.
Food is taken so seriously in Thailand that kings have written odes to curries. Once you've tasted the real thing, you will forever crave the complex and mystical mélange.
We start our morning with a tuk-tuk ride to a local market where the chef buys some herbs for our class as we dodge fellow shoppers on motor scooters. Back at The Siam, we don aprons in the private cooking-class kitchen overlooking the river. Chef demonstrates how to tackle each ingredient, from bruising lemongrass to chiffonading kaffir lime leaves. He explains that Thai food contains five major flavours: sweet, sour, spicy, salty, bitter. Each dish should have a least two of those tastes; the key is getting the right balance. Hence the need to keep testing as you cook and add more chillies, more fish sauce, more coconut milk or more palm sugar as your palate dictates.
We concoct tom yum soup, a fiery broth with jumbo shrimps, topped with fresh coriander and drops of chilli oil. Then we take on pork with red curry, a marvellous melange of all of requisite flavours. For our last dish, the green chicken curry, chef teaches me to make curry paste from scratch, pounding the toasted coriander and cumin seeds, garlic, shallots, coriander roots, chillies, galangal and lemongrass with a mortar and pestle.
On my last day in the kingdom, I drift off to sleep pondering this unique and sensual land where one can be nurtured and pampered in the most serendipitous ways. Some experiences are equally pleasing for both the body and the soul.