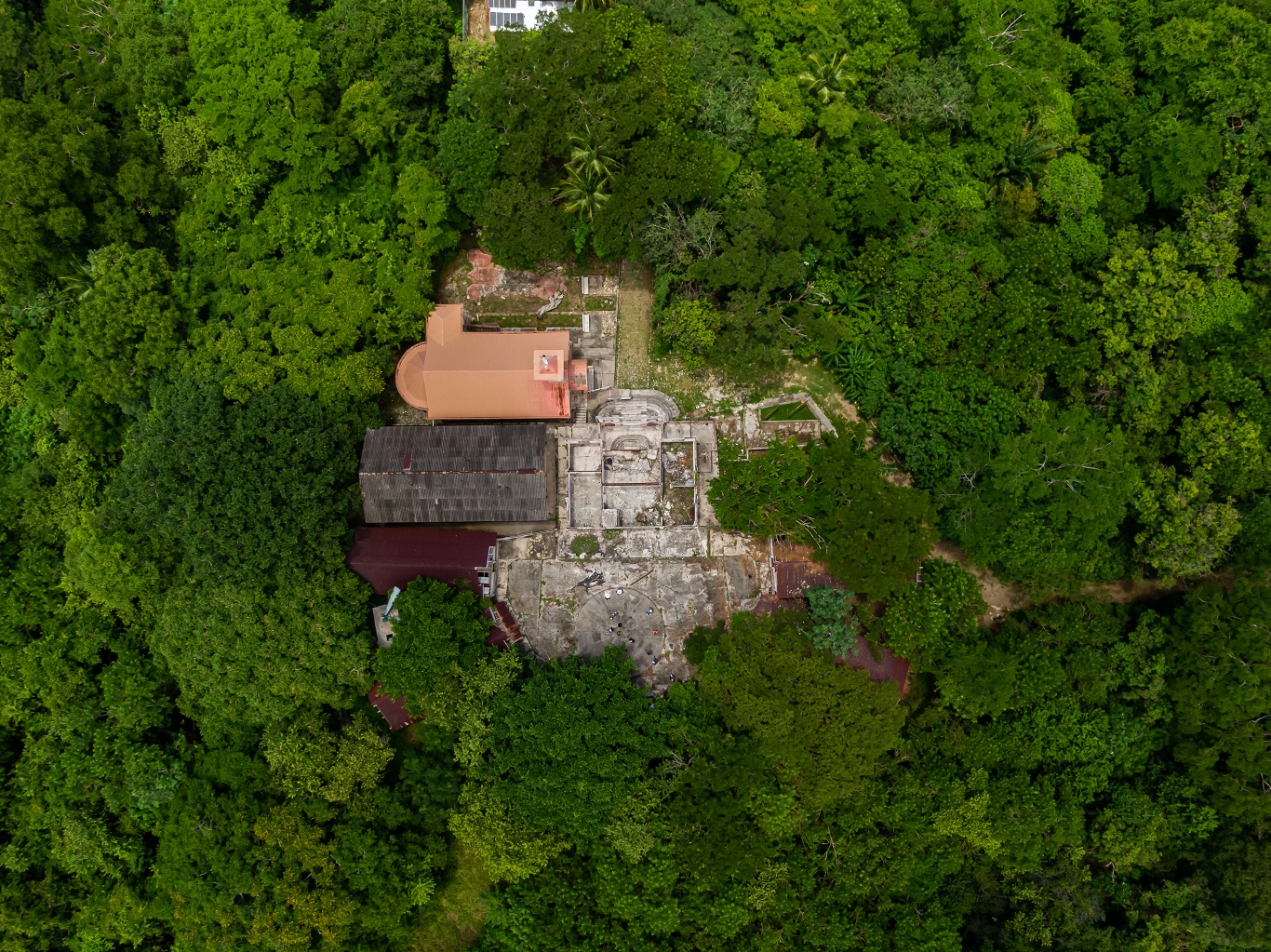 Hike through 100-year old prison remains surrounded by freshwater beaches, mango trees and howler monkeys.
Editor's Note: Travel might be complicated right now, but use our inspirational trip ideas to plan ahead for your next bucket list adventure. 
Located off the Pacific Coast of the Gulf of Nicoya and only a 40-minute boat ride from the city of Puntarenas, wildlife refuge and prison turned National Park, San Lucas Island, is notorious for harbouring a blood-curdling dark and daunting past.
And to celebrate the 50th anniversary of their National Park system, San Lucas the island once famously known to house the most dangerous criminals tortured under previous dictatorship, has been officially declared Costa Rica's 30th National Park. Back in 2003, the Costa Rican Government had initially declined the proposition of turning the island into a National Park due to its horrific historical ties.
In August of 2020, this decision was finally made in part of Costa Rica's First Lady, Claudia Dobles initiative, the "San Lucas Reactivation Route," to rehabilitate the land and shed light on the historical darkness. "We are certain that San Lucas will be able to continue with the preservation of its cultural and historical heritage, as well as the conservation of its natural heritage," Dobles recently stated. 
The island is beautiful and rich in biodiversity therefore, it deserves to have its ecosystem, wildlife, historical buildings, and archeological sites protected – while the past cannot be changed, the future can most certainly be and it is brighter than ever with this sustainable and socioeconomic-focused tourism opportunity.
48th President of Costa Rica, Carlos Alvarez, had signed decree no. 9892 agreeing to make San Lucas Island their 30th National Park. Included in this plan of further reputation re-polishing, the Instituto Costarricense de Turismo is seeking to invest major funds into developing commercial spaces and restaurants on the island in hopes of encouraging visitors to discover the hidden treasures of their country. 
"San Lucas Island is part of Costa Rica's history and heritage, so we are very pleased to reopen it as the country's 30th national park," said Costa Rica's Tourism Minister, Gustavo Segura Sancho. "It will greatly surprise visitors looking for quieter spots when on holiday."
New features for San Lucas National Park are carefully planned and laid out hiking trails, restroom facilities, 24-hour surveillance and systems in place for electricity and water – and no, the old prison did not have water or electricity previously so you can imagine the conditions in which the prisoners were subjected to.
San Lucas had become a penal island in 1873 and remained prison grounds up until 1991, under the dictatorship of Tomas Miguel Guardia Gutierrez. The San Lucas Island prison housed vicious hardened criminals in an underground network where they had been faced with starvation, disease, and inexplicable forms of torture. There were seven cells with seventy prisoners assigned to each cell, made to sleep on the ground and only getting to see and feel the sun for one hour daily. Eerily enough, to this day you can still see the inmates graffiti etched on various parts of the prison walls.
Although to be fair, it had not been all dreariness and dread, San Lucas which has an area spanning 4.6km squared was originally home to several Indigenous groups. There are eight known archeological sites where stone tools and metal objects had been found in the 1970s dating as far back as 1000AD. It is one of only two islands in the Pacific Gulf of Nicoya with natural fresh water.
Cohabiting in the mango, jocote and matapalos trees surrounding old prison cell remains, are howler monkeys, snakes, deer, anteaters, turkeys, pheasants, and eight different species of bat. In the surrounding waters of San Lucas' nineteen beaches (four of which are accessible to tourists) one may spot hammerhead sharks, stingrays, sea turtles, barracudas, and dolphins in the near distance. In 2008, Costa Rica had proclaimed the island was to be listed as part of the national wildlife preserve following the recognition of its wildlife refuge status in 2001.
When it is safe to travel again, and you are ready to explore the former prison buildings which are now cultural heritage sites, there are over fifty guides available and meticulously trained to thoroughly explain and guide guests through the history of San Lucas Island.
Canadians interested in visiting Costa Rica and its newest national park should review the following entry requirements for when visiting the country due to COVID-19 regulations