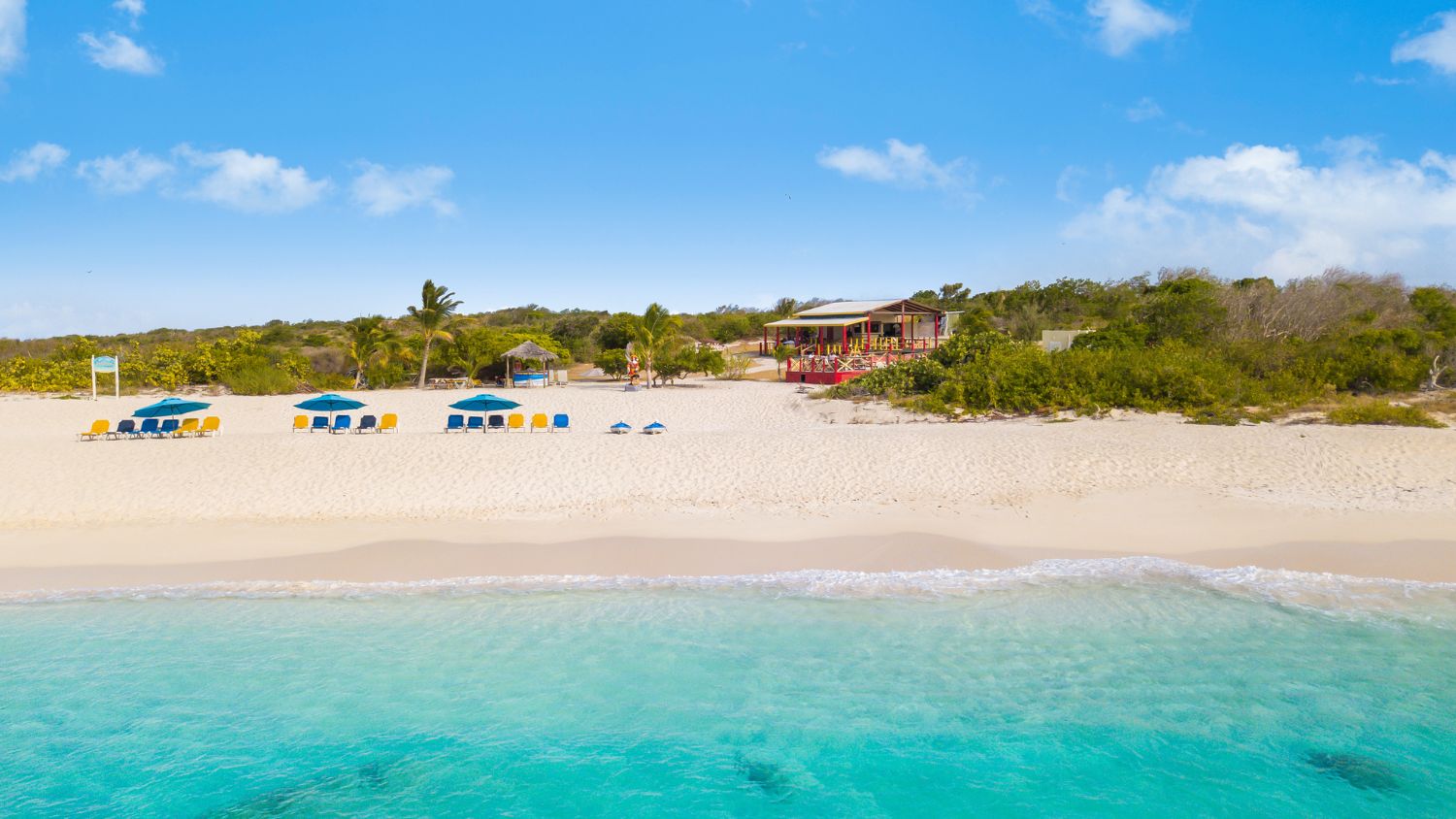 Anguilla is the ultimate Caribbean escape: a stunning island with white-sand beaches, delectable food, aquamarine tides, five-star resorts and gorgeous villas.
This coral and limestone gem in the northern Caribbean may be diminutive, but it's big on chic places to stay, delicious food, a thriving water-sports culture and more than 33 beautiful white sand beaches to explore. You'll wonder why you haven't visited this well-kept beachy secret sooner.
WHERE TO STAY
Long known for that private island feeling – no wonder superstars like Jennifer Aniston are fans – Anguilla is a leader when it comes to living the villa lifestyle. But private doesn't mean remote: many properties are just a short walk away from the action and come with housekeeping, butlers, chef services, and drivers. Alkera, a five-bedroom architect's dream, overlooks Shoal Bay East. Take a dip in the home's infinity pool and enjoy the view.
Other villa properties of note include Cé Blue Luxury Villas, with its eight, five-bedroom villas resplendent with all the bells and whistles, perched high above Crocus Bay, reopened in November under new management. Santosha Estate is living like a local, whether you choose the main house, a guest house or a private apartment; stroll the gardens, hit the surf with a kayak or just sit back and relax.
If a hotel is more your thing, there are plenty of fabulous choices: Quintessence Hotel, one of the island's favourite boutique properties, has added three luxe-for-less guest suites above Long Bay Beach, which they've called Quinn.
Sunny Days and Fairways: If a great round of golf tops your vacation itinerary, Aurora International Golf Club Anguilla has got it covered. Even better, the club, which offers the island's only golf experience, has players who want to hit the links but also still make the most of a Caribbean holiday in mind. With the opening of its nine-hole Avalon Links, a world-class short course designed by Greg Norman Course Design, complete with views of Rendezvous Bay, you can get your game on and still play in the sand and the surf.
WHERE TO EAT AND DRINK IN ANGUILLA
Need another reason to visit Anguilla this year? D Richard's Steakhouse, in the golf club, is serving up steaks for dinner – and cocktails, naturally. That's a hole-in-one in our books. Also of note is Tokyo Bay Japanese restaurant, which opened in December 2022 under the direction of acclaimed Executive Chef Joe Richardson. It features the island's largest collection of Sake!
Get your Limin' (and Dining) On: There are many new ways to experience some of the best food in the Caribbean: Go barefoot on the beach at Sandbar, perched on the beach at Sandy Ground. It's helmed by island restaurateurs Carrie and Jerry Bogar of Veya restaurant fame. Also at Sandy Ground, local fave chef Dale Carty has expanded, adding an al fresco cocktail and dining spot he's called Tasty's POV, a nod to the panoramic vistas from almost every table. Look for laid-back vibes at Vincy on the Beach from chef Vincia "Vincy" Hughes, right next to the iconic Johnno's beach bar.
Mead's Bay will see the relaunch of Ocean Echo, with a menu that focuses on local flavours – mahi mahi, crayfish and conch all make an appearance on the menu. If you're up for a party (and who isn't?) while you're at Mead's Bay, check out Savi Beach, which brings Euro club Nikki Beach to mind; toss in a Japanese-inspired menu, and a location not far from the Four Seasons and Barnes Bay, and let's go.
WHAT TO DO IN ANGUILLA
Go Local: See Anguilla through the eyes of an Anguillian with these locally-led excursions. Book Quest Experiences, run by a pair of Anguillians for an off-the-beaten-path perspective; volunteer to help out with the National Trust's endeavours to conserve the turtle population and Anguillian heritage. Last but certainly not least, there's music everywhere. Bankie Banx, the godfather of the island's scene, is known for his eclectic mix of reggae, folk, jazz and R&B. He launched the annual Moonsplash reggae festival in 1991 at his bar The Dune Preserve; the festival takes place March 10 – 12 this year.
Get there: Anguilla can be reached from three major gateways – Miami, FL (MIA), Puerto Rico (SJU), and St. Martin, (SXM), and by private air. www.ivisitAnguilla.com