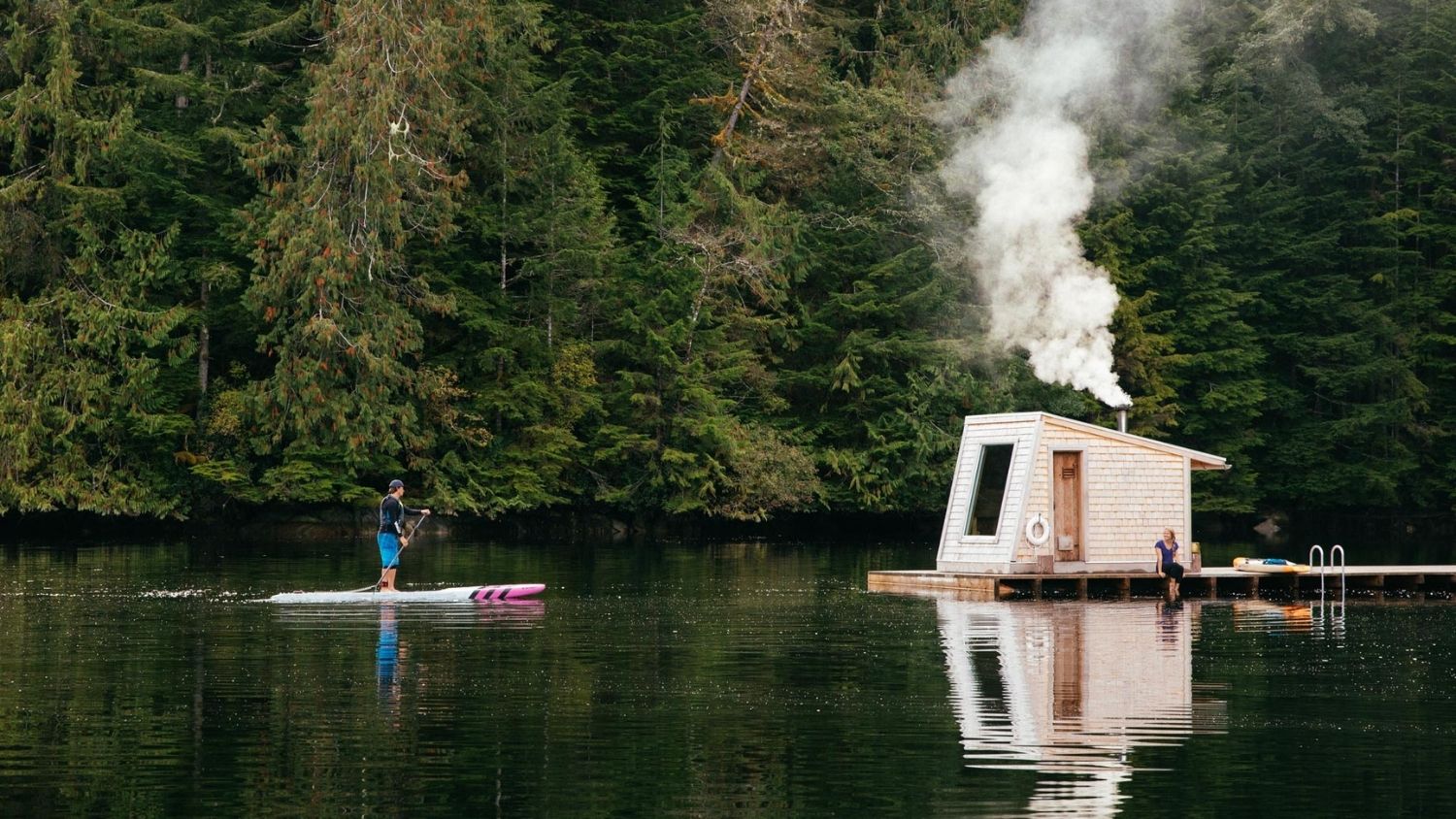 Finding wellness within the remoteness of British Columbia's Great Bear Rainforest
Nimmo Bay Wilderness Resort is the very definition of a secret hideaway, a safe haven nestled into the old growth forests of British Columbia's Great Bear Rainforest. Its remote location informs an all-inclusive luxury retreat that offers highly personalized, purposeful experiences far from the bustle and uncertainty of a post-pandemic world. Another luxury: the resort's proximity to 50,000 square miles of sprawling coastal wilderness provides a plethora of opportunities for both adventure and relaxation seekers. And with a floating sauna, the resort provides customized luxury experiences.
Imagine a resort so secluded and inseparable from nature that simply reaching it makes one feel like the protagonist of a classical odyssey. From the moment you step off the plane, you'll immediately take in the freshness of the crisp mountain air and taste the salinity of the ocean breeze on your tongue. You'll witness eagles soaring overhead and revel in the refreshing scent of nearby cedar trees. Feel the weight of the world seemingly start to evaporate off your shoulders.
Family-owned Nimmo Bay humbly started off as a quaint fishing lodge in 1981, established by Craig and Deborah Murray – two life-long lovers of nature. Since then, it has expanded through the years to eventually become what it is today: a sustainable, eco-friendly, adventure and relaxation resort in a truly incomparable location. It is currently managed by their oldest son, Fraser Murray and his wife Becky. 
Nine cabins in tranquil settings fit couples, families, or groups with the choice of equally exquisite ocean or forest facing views. Accommodations can sleep up to 18 people, with each cabin featuring two bedrooms, one bathroom, one lounge area and an outdoor seating space. Every guest is allocated two team members who stand by to provide undivided attention. As an added bonus, cabins have been stocked with homemade cookies and snacks, quality coffee and teas, local red and white wines, a complimentary mini-bar and two stainless steel Nimmo Bay water bottles to take home. 
The resort encourages guests to take advantage of all the property has to offer – in alignment with their mantra that life is meant to be lived and enjoyed to the fullest. Treat yourself to their custom-built Finnish-style floating sauna, accessible by your choice of either kayak or paddleboard. Indulge in a massage while being serenaded by the staccato of birdsong and rushing waterfalls. Get a full body eucalyptus and sea salt scrub from one of their holistic wellness experts. Relax and soak your bones in cedar hot tubs located at the base of a cascading waterfall. Immerse yourself and feel at one with nature under the outdoor rain shower. Wellness activities such as yoga and meditation are also included to round out the wellness menu. 
"Visiting the sauna dock is often built into a wellness-themed day. There is the opportunity to picnic on the dock as well, have a bonfire, or take a guided outdoor yoga class. Our guests have really taken to the truly magical experience of being so immersed in the wilderness, while allowing them a chance to focus on their wellbeing," Nimmo Bay's spokesperson, Beth Mosby, told Lonely Planet. 
Perhaps you may find yourself drawn to a hike along the famous Big Nimmo Trail. Or, if you are looking for something more vigorous, try tackling a hike up Mount Stevens where, at 5,500 feet, you will be rewarded with views of snow-capped peaks and old-growth forests. Guided helicopter tours reveal the raw beauty of 10,000-year-old glaciers. Ethically fly-fish with the catch and release program. Stand-up paddleboard with friendly frolicking seals. Whale-watch and kayak as a day trip with a gourmet picnic in tow. Catch glimpses of black bears and grizzlies in their natural habitats. Further experience the culture by booking a Coastal Safari day trip to nearby Echo Bay and Telegraph Cove. 
Palates that appreciate the finer tastes in life will be swept away by Nimmo Bay's world-class culinary offerings. Feast on wild vegetation, wild pacific salmon, spot prawns, dungeness and uni crabs. And polish up and improve your cooking and mixology skills: Book a full-day culinary experience taught by leading food experts on how to dive for sea urchins and forage for salal berries, mushrooms and seaweed.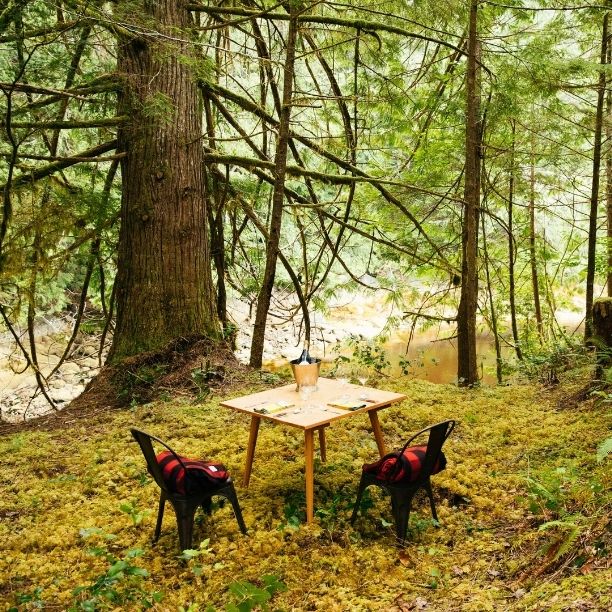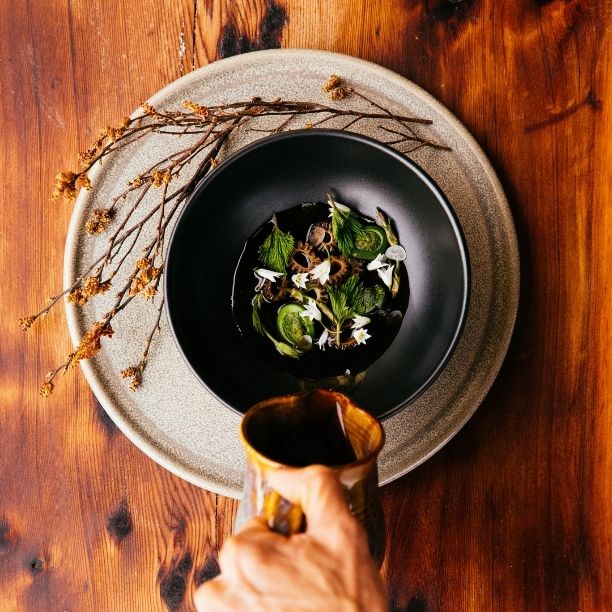 Nimmo Bay prides itself on being consciously sustainable and environmentally proactive, leaving a very minimal footprint. Having received notable awards from the province due to the resort managers' efforts, it depends on water powered electricity systems and solar energy to run over 80 percent of the establishment. In its operations, the resort team supports local farms, uses local products, compost, recycle and cut out excess waste, reduces greenhouse gas emissions, promotes renewable energy, and is involved with fin-fishing activism and funding pivotal wildlife research. Most recently, resort management assisted in B.C.'s decision to finally ban the hunting of grizzly bears as a trophy sport by offering hunters trips for two to their resort in exchange for their coveted license. Now that's what we call a wellness win-win.
DETAILS:
Open from May to October, Nimmo Bay offers the choice of 3, 4, or 7 night stays with arrivals and departures slated on Mondays and Thursdays. Daily rates vary depending on the season, however, they start from $1,495 per adult and $1,120 per child. Are you ready to "dive, climb, soar, and reset?" Visit www.nimmobay.com to start planning.