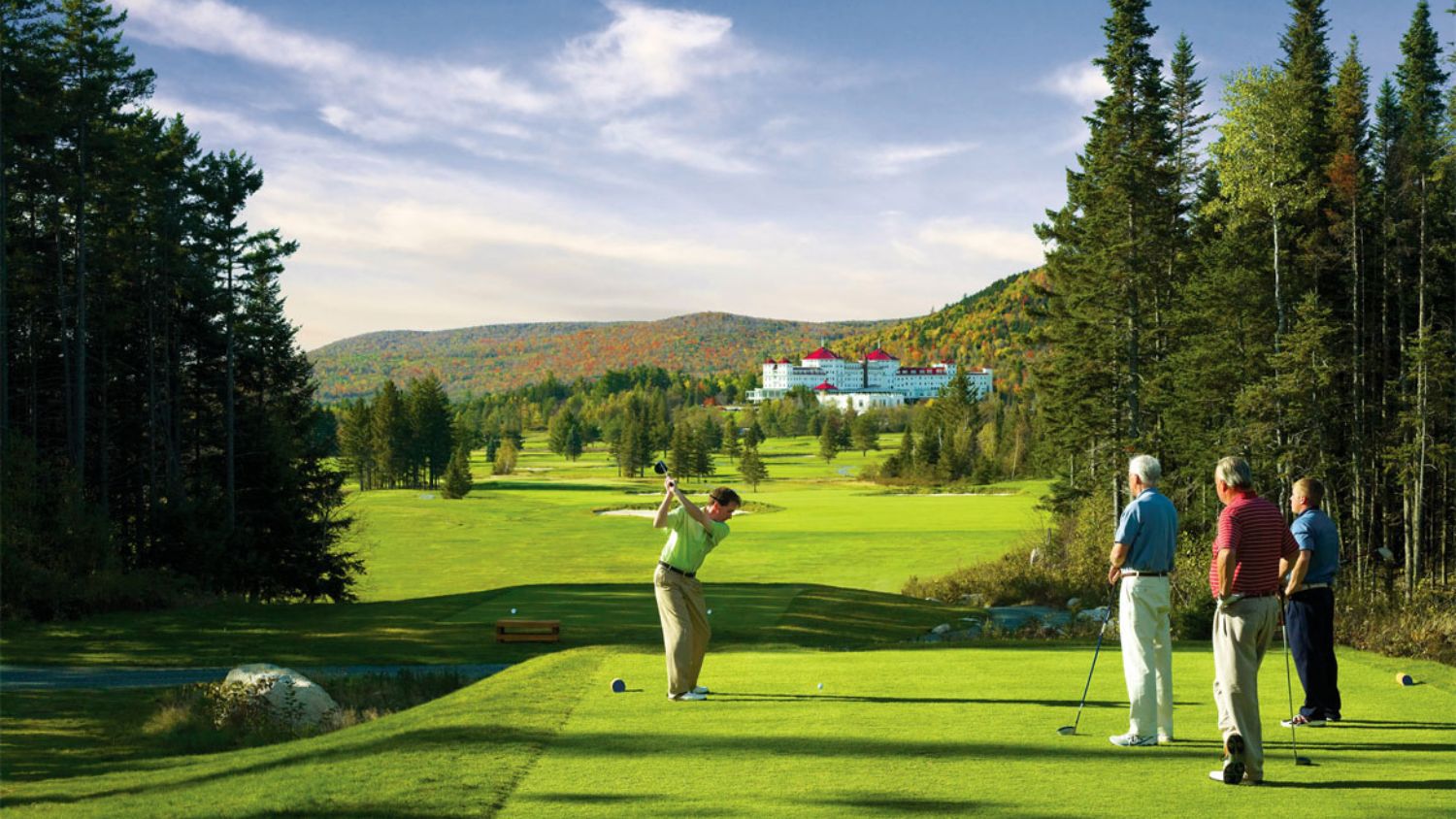 Our intrepid editors booked a room at one of New England's grandest hotels, steeped in glamorous history and a nod to the past but with all the modern bells and whistles, and why you should too.
Hotel check in/check up – our intrepid editors booked a room at one of New England's grandest hotels, steeped in glamorous history and a nod to the past but with all the modern bells and whistles, and why you should too.
The last of New Hampshire's grand hotels and a symbol of the Gilded Age, the Omni Mount Washington Hotel stands proudly, surrounded by the peaks of the White Mountains. With elegance and grandeur, the timeless property has welcomed world leaders and celebrities, including John F. Kennedy, Princess Margaret, Thomas Edison, F. Scotts Fitzgerald and Babe Ruth. Stories of extravagant parties and political intrigue still echo through its halls.
But if you think this glamour is all in the past or it's the type of historic property that has you tiptoeing and whispering around creaky rooms, you'd be very much mistaken. Extensive renovations, modern amenities, abundant activity options and a friendly vibe combined to make our stay here a joy for every member of our family. 
The Property
The Omni Mount Washington Hotel, New Hampshire
So what exactly is its history?
In the early 1900s, wealthy urbanites journeyed north via train to spend their summers in the fresh mountain air. Luxurious hotels were erected to accommodate them, including Mount Washington, built by New Hampshire native Joseph Stickney who spared no expense in its construction. Architect Charles Alling Gifford designed the hotel in a Spanish Renaissance style, complete with red-roof turrets (particularly eye-catching set against the natural backdrop of the mountains) and a sprawling wraparound verandah. The interior exudes timeless elegance with lavish furnishings, crystal chandeliers and intricate woodwork. 
The grandest of the grand hotels, it has played host to high-society parties and monumental gatherings. Particularly notable was the Bretton Woods International Monetary Conference in 1944, when delegates from 44 nations convened, establishing the World Bank and International Monetary Fund. The Gold Room, where the formal documents were signed, is now preserved as a historic site. 
What brought your family here?
Road tripping into the great outdoors is a favourite way to vacation, and the White Mountains of New Hampshire were a natural choice in every sense of the word. Part of the Appalachians, these jagged, granite mountains are the most ruggedly beautiful in eastern North America. They encompass 86 peaks, 48 of which are more than 4,000 feet, with the iconic Mount Washington towering over them all at 6,288 feet. The Omni, along with its ski resort, sit at the base of this highest peak, sporting incredible views of Agiocochook, the Native American name for the mountain, which translates to "home of the great spirit."
Did you say ski resort? Tell me more.
The on-property ski resort, Bretton Woods, has the state's largest ski area with more than 400 acres of skiing and snowboarding on 63 trails and 35 glades. Its eight-passenger Skyway Gondola is a smooth and comfortable way to reach the summit in all seasons. Skiers, hikers and anyone who enjoys a mountain view can ride it to traverse its slopes, snap some pics or lunch at Rosebrook Lodge. 
Any other activities?
Plenty. Golfers will appreciate the hotel's exceptional 18-hole championship golf course, providing panoramic views and challenging fairways. Other hotel amenities include outdoor  and indoor pools, full-service spa, fitness centre, tennis courts and a stable, where horse lovers can take the reins on scenic trail rides. Off property, the 800,000 acres that form the White Mountain National Forest, a federally protected park, is your nearby playground. The road through the park is a feast for the eyes with multiple lookout points and trailheads for hiking (there are more than 1,200 miles of hiking trails, including one of the most rugged and challenging sections of the famed Appalachian Trail).
Thrill seekers can fly through the forest on a two-hour zip lining adventure with Alpine Adventures. Other classic area attractions include Mount Washington Cog Railway, Santa's Village, Flume Gorge, Storyland, Crawford Notch State Park and Mount Washington Auto Road.
All this activity is making me hungry. How's the food?
Fantastic. Multiple dining options tantalize the taste buds of every member of the family. Stickney's Restaurant serves up succulent steaks in a cozy pub-like atmosphere; the Main Dining Room offers international cuisine in a bright, elegant space with phenomenal views; and the Cave crafts cocktails and appetizers in an authentic speak-easy atmosphere. During Prohibition, guests would sip libations out of teacups while a watchman kept an eye out for authorities. 
Now I'm tired, what about the rooms?
The hotel has 27 room types, ranging from family suites with multiple bedrooms and ADA accessible rooms to a variety of more traditional rooms and suites, many of which are adjoining. The new presidential wing is designed to be a "boutique hotel within a hotel." Each of the wing's 67 suites features a private balcony perfect for enjoying a latte in a spa robe with a mountain view. All the hotel's rooms blend classic charm with modern comforts, like plush bedding, spacious bathrooms and in-room amenities. 
What you loved:
I've always been a sucker for a verandah and the one at the Omni Mount Washington is as romantic and inviting as they come. At more than 900 feet, it's the longest in New England, and decorated with cushioned wicker furniture, stately columns and eye-candy views of the mountains.
Certainly, the resort's glamour and pedigree were impressive, but its comfort and small joys, like relaxing on a grand porch, were equally appealing. 
omnihotels.com/hotels/bretton-woods-mount-washington