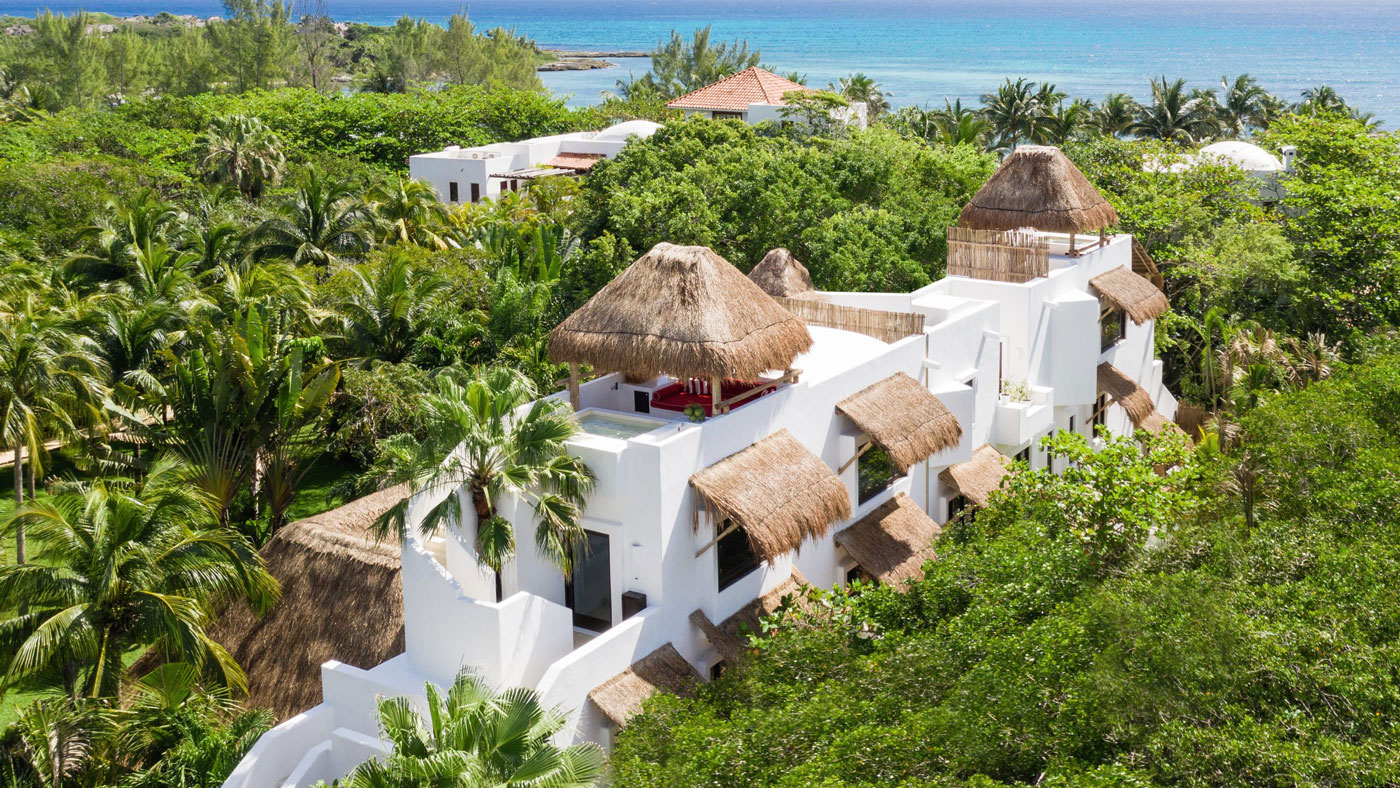 Esencia, the design-minded Tulum paradise and adored by Hollywood celebrities, actors and the world's most in-demand - offers the perfect combination of style and simplicity with spotless service.
Nestled in the breathtaking bay between Playa del Carmen and Tulum on the eastern coast of Yucatán, lies the palatial Hotel Esencia, a boutique bolthole offering sophisticated seclusion that has become a firm favourite among the A-list celebrities (think Bella Hadid, Diane Kruger, Lupita Nyong'o, Suki Waterhouse, Kate Bosworth and Gwen Stefan and for those looking for something more refined. 
Swaddled by the dense jungle, this exclusive resort is further hidden behind the traditional Maya house that first greets guests. The room's dirt floor and soft candle light give little hint of the luxurious gems awaiting further up the path. Crossing this threshold one sheds the concerns of the outside world for the indulgent luxury of this secluded retreat. The humble exterior quickly gives way to villas of increasing splendor until the jungle yields completely to the pristine sands of Xpu-ha at the water's edge. Here is the ultimate sunrise vista, one of the very last remaining undeveloped shores of the Mayan Riviera.
View this post on Instagram
That this resort was built as the vacation home of an Italian Duchess and now under the ownership of American entrepreneur, Kevin Wendlewill – known for being a Hollywood producer, media entrepreneur and co-founder of Fox Broadcasting, comes as no surprise to those lucky enough to be staying there. This main building is the heart of the hotel. Here, guests congregate for the Duchess' longstanding tradition of afternoon tea and luxuriate in the finely appointed salon. Whitewashed both inside and out, the design is accentuated with lighting that reveals intention and select pieces of furniture in original mid-century style. Though it has long since grown from the original Main House, the entire property retains an effortless elegance and a hominess that permeates every aspect of its stylings and service.
A short walk away, past the pools and through the carefully curated gardens, lies the outbuildings where most patrons stay. While only a select few suites feature seaside views, all are splendidly appointed in keeping with a modern white-sand beachside aesthetic with select, and surprisingly complimentary, colourful pieces in the Dunbar style. The rooms feature private plunge pools, large indoor and outdoor showers, Bluetooth stereos and remote-controlled air conditioners and blinds. Guests revel in the attention to detail in the smaller, more thoughtful, touches like pre-breakfast pastries, which magically appear on your terrace, plugs precisely where you want them, as well as complimentary robes, sandals and beach bags suited to every season. 
But for those who prefer to take seclusion to the next level, the hotel's penthouse is the answer. Perched three levels above the hotel's palm garden, these spectacular two-storey suites feature a large master bedroom with King bed, a separate adjoining living room, a spacious bathroom with double sinks, bathtub and walk-in shower, and an expansive outdoor dining terrace.
Up a short staircase is a private rooftop terrace with a heated plunge pool and Champagne bar, overlooking all 50 acres of Hotel Esencia and the waters of the Caribbean Sea from the highest vista.
The hotel also unveiled two new Master Beach Suites, adding to the collection of suites which debuted at the end of 2017 following Wendle's acquisition of 10 acres of beach.  Mere seconds from the sea and built right on Xpu-Ha beach (pronounced 'shpooo-ha' by those in the know), each suite has been designed for maximum privacy, comfort and relaxation, featuring a King bed, private beachfront terrace, an in-room double bathtub with all of the hotels beautiful signature amenities.  Master Beach Suites also feature individual heated plunge pools. 
When it comes to food, dining at Hotel Esencia is at once a culinary voyage and a coming home. Meals are simple yet sophisticated, drawing as much from Mexico's eclectic range of regional cuisines as from the well-loved comforts of Mediterranean cooking. Ingredients are sourced locally from farmers and artisans in Quintana Roo, or further afield from the places in Mexico known for exemplary delicacies—moles from Oaxaca, fruits from Yucatán, and wines from Baja.
Hotel Esencia's signature restaurant MISTURA – the Caribbean's hottest 'destination dining' restaurant located right on Xpu-Ha beach, showcases a newly revitalised menu featuring the best flavours of Mexican refined dining, including many sea to table options from its roaring new beachside grill. This gastronomic experience opened in early 2018 under a towering thatched palapa with 180° views of the crystal-clear ocean and is open to the general public as well as hotel guests right on Xpu Ha beach.  This is one of the most sought-after locations between Tulum and Playa del Carmen.
Opened in late January 2019 Hotel Esencia introduced its newest and very own Beefbar Esencia – the world-famous, innovative Michelin star concept by Riccardo Giraudi.  A name synonymous with meat lovers since its inception in Monaco in 2005, and with restaurants now in Paris, Cannes, Luxembourg, Mykonos, Hong Kong and Mexico City, Beefbar will bring an exceptional new dining experience to Mexico's Caribbean coast that is exclusive to Hotel Esencia. 
The menu concept is simple, based on the finest high-quality ingredients and centred around three main pillars. First, the 'street food to share' – these small portions are a selection of the best recipes from the four corners of the world. Then, Beefbar's 'great meats', these are cuts selected by Giraudi including Black Angus from the USA, Australian wagyu, and certified Japanese Kobe. Each dish is accompanied with a selection of over fifteen house purées. Finally, Beefbar's 'incredible dishes' include delicious fresh fish, risottos and pastas.
The menu has a contemporary and playful Mexican twist, with specialities including Kobe beef sliders, wagyu quesadillas, and Jasmine tea-smoked wagyu bao buns. The new restaurant also features Beefbar's signature mashed potato and brick oven favourites, such as pizza flatbreads. The design of the restaurant perfectly complements Hotel Esencia's laidback luxury vibe with curated tailor-made artisanal furniture and fixtures.
The staff of the Esencia are well-practiced in the subtle art of hospitality and deliver it effortlessly. Anticipating almost every request before its given, their relaxed manner and genuine smiles go a long way in creating a truly welcoming and tranquil space. Nowhere is this truer than in the circular Mayan palapa, which houses the all-organic Aroma Spa where guests are treated to the ancient holistic treatments with ingredients taken from the nearby jungles and waters. 
In this idyllic paradise, time stands still and worldly woes melt away. The white powder beaches and warm turquoise of the ocean paint a seascape that is intensely rejuvenating and awe-inspiring. If tranquility has a home, then it can probably be found in the blissful seclusion of Hotel Esencia.
DETAILS
Address: Carr. Cancun-Tulum Km . 265 Predio Rústico Xpu-Ha lotes 18 y 19, Xpu-Ha, 77710 Playa del Carmen, Quintana Roo, México, Riviera Maya, Mexico
Phone: +52 984 873 4830