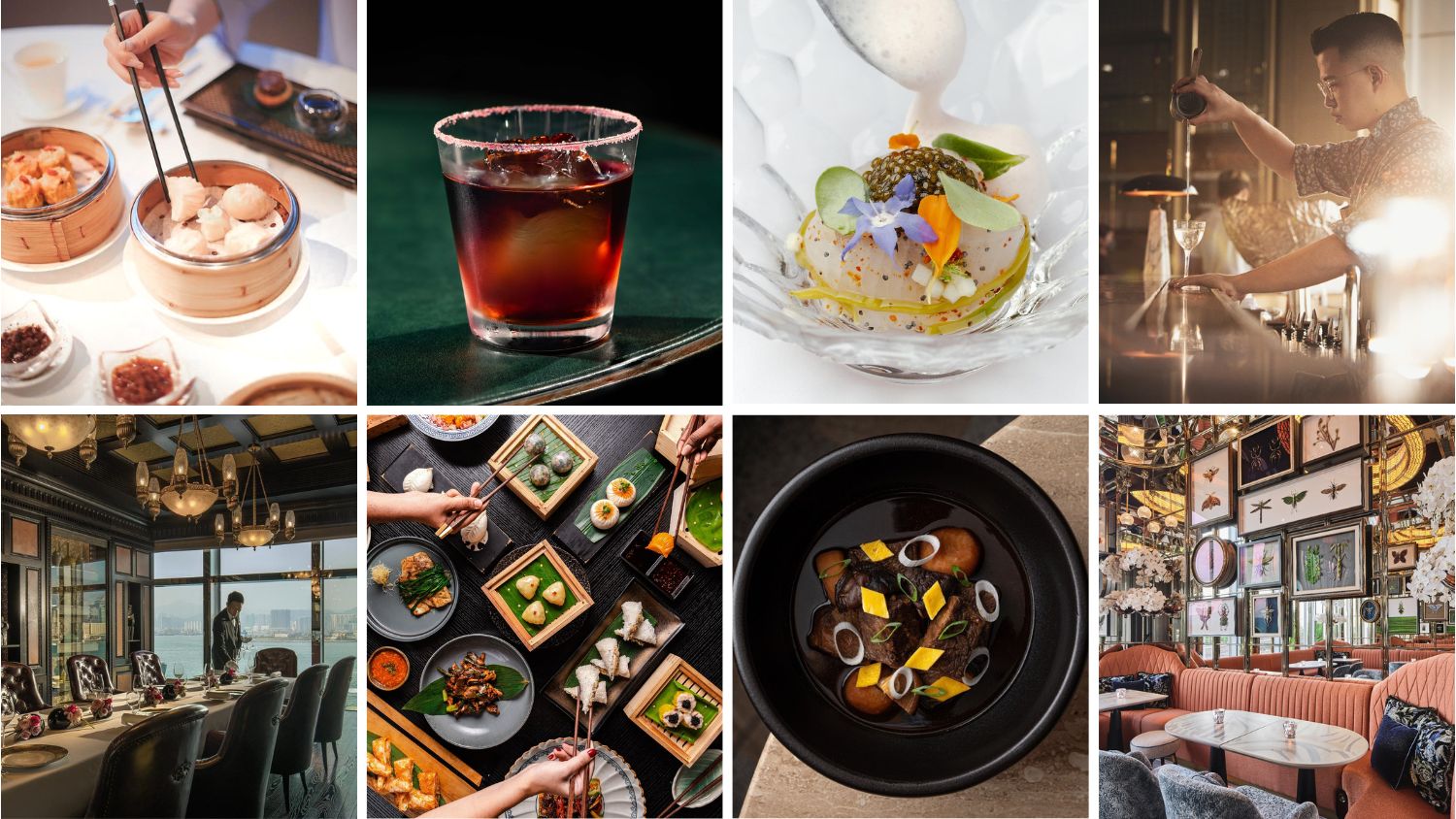 The ultimate guide to the top foodie experiences in Hong Kong, from dim sum to Michelin-starred restaurants.
From the crab meat dumplings with black truffle to the layered silk tofu topped with gold leaf, the food here is almost too beautiful to eat. But it's too delicious not to eat. At the Cordis Hotel in Hong Kong's buzzing Mong Kok neighbourhood, Ming Court—which fuses contemporary Cantonese cuisine with influences from Japan and Europe—lives up to its Michelin star.
It's one of 71 starred restaurants in Michelin's 2022 guide for Hong Kong. And while that's an impressive amount of stars, Hong Kong's street food stalls, dim sum teahouses and Bib Gourmand eateries are equally splendid. In this food-obsessed city, there are more than 17,200 licensed restaurants (as of October 2022) to choose from—up from nine per cent in January 2020.
That means, while many restaurants closed during the pandemic, many more new ones have opened, reshaping the city's food scene. In Sham Shui Po, for example, new artsy cafés have sprung up, and along Victoria Harbour an array of new restaurants, bistros and on-trend bars have opened their doors.
The growing number of restaurants is a testament to Hong Kong's resilience—and love of food. The city also continues to advance culinary trends, such as sustainability and the reinvention of Chinese cuisine. From Michelin-starred restaurants and international fare to dim sum and street food, here's how to experience Hong Kong's diverse culinary fare:
The Michelin Fan
When it comes to fine dining, the options in Hong Kong can be downright overwhelming. In addition to popular stalwarts, there are always noteworthy newcomers—and this year's Michelin Guide adds 11 new restaurants to Hong Kong's roster, including foodie favourites like Chaat, Belon, Mono and Hansik Goo.
But in Hong Kong, a Michelin star doesn't necessarily mean the restaurant is impossible to get into. There are a range of experiences, from three-starred Caprice, featuring contemporary French cuisine in elegant surroundings with harbour views, to Tim Ho Wan, considered the most affordable Michelin-starred restaurant in the world with its authentic—and truly delicious—dim sum.
Bib Gourmand Eats
Hong Kong has a vast selection of Bib Gourmand eateries, a distinction bestowed by the folks at Michelin upon venues that serve high-quality food at moderate prices, as well as street food stalls that reflect authentic culinary traditions. Michelin's 2022 edition includes 64 Bib Gourmand eateries in Hong Kong.
Worth seeking out are Both Street for its gua bao (stuffed buns) with fusion elements like pineapple spicy fried chicken; Ding Ba, which serves Taiwanese street snacks like crispy oyster omelettes and braised minced pork rice; and Kung Wo Beancurd Factory, known for its made-from-scratch tofu (try the tofu faa pudding).
On The Waterfront 
Over the past couple of years, new culinary experiences have emerged along the waterfront, offering views of Victoria Harbour from all angles—day and night. Watch the iconic Star Ferry glide across the harbour over lunch, soak up golden hour in the evening or catch "A Symphony of Lights"—a multimedia light show that takes place at Victoria Harbour every night—after sundown.
Don't miss Hutong—situated on the 18th floor of the H Zentre with floor-to-ceiling views of the harbour—a refined, modern take on northern Chinese dishes and contemporary dim sum paired with cocktails inspired by Chinese botanicals.
Another notable entrant is Chinesology, which offers views of Victoria Harbour and the Tsim Sha Tsui skyline, while it serves up "new elements to reactive Chinese cuisine without deviating from the manifesto of traditional Chinese culinary art." Cocktails like Bamboo Punch and Chinese Apothecary pay homage to traditional Chinese herbology.
Raising The Bar (And The Lounge)
Hong Kong's home-grown talent and world-class mixologists keep breaking boundaries. Opening its doors in July 2021, ARGO—a cocktail bar housed in the Four Seasons Hotel Hong Kong—made an impressive debut in The World's 50 Best Bars 2022 at 28th place, alongside Mexican-inspired craft cocktail bar, Coa, at 17th place.
ARGO, in a prime location by Victoria Harbour, combines Asian-sourced ingredients with forward-thinking concepts—think: AI-produced gin and molecular-aged whiskey. The World's 50 Best Bars made note of the Skynet Old Fashioned, with miso caramel, coconut husks and olive oil.
Then there's the DarkSide cocktail parlour at Rosewood Hong Kong—set above the iconic Avenue of Stars on the Kowloon waterfront. Its terrace offers epic views of the Hong Kong Island skyline while you indulge in rare aged spirits, vintage cigars and classic cocktails to the sounds of sultry live jazz.
Conscious Dining
Sustainability is a growing trend in Hong Kong's culinary scene, and some of the city's top chefs are embracing sustainable concepts in their practice, both on the menu and in the dining experience—from sourcing locally to using seasonal ingredients to creating zero-waste policies.
Chefs like Richard Ekkebus of the Landmark Mandarin Oriental, Ashley Salmon of Roganic and Michael Smith of Moxie source locally and regionally as much as possible to reduce their carbon footprint. Some restaurants like Amber at the Mandarin Oriental source sustainably harvested seafood—caught via line fishing or hand diving—and don't offer seafood vulnerable to overfishing.
These chefs and restaurants are being recognized for their efforts. Roganic, Simon Rogan's one-Michelin-star restaurant that serves trademark British fare with local ingredients, like New Territories pork with tapioca and shrimp—also has a Michelin Green Star for sustainability.
Taking To The Street 
Another can't-miss experience is Hong Kong's street food—notably, Michelin added a street food category to its guide that recognizes exceptional local dishes. A dai pai dong is an open-air street food stall, usually accompanied by foldable tables and chairs set up in the street. In Hong Kong, dai pai dong were introduced (and licensed) by the government after the Second World War in an effort to boost the local economy.
In the Tsim Sha Tsui neighbourhood, the Haiphong Road Temporary Cooked Food Hawker Bazaar has been around for more than 40 years, tucked under a flyover—and though it recently got a makeover, it retains its nostalgic atmosphere with ceiling fans and red lanterns. There are several food stalls to choose from: try Hap Hueng Garden's satay beef noodles, Wah Heung Yuen's secret recipe pork chops and Tak Fat Beef Ball's homemade beef balls.
Dim sum teahouses
Dim sum at a yum cha, or teahouse, is a quintessential Hong Kong experience. Typically a yum cha has an expansive menu with as many as 150 items, including dumpling dishes, steamed buns and other snack-size bites, accompanied by Chinese tea. For a traditional experience, look for a yum cha where waiters wheel carts past your table stacked with dim sum in bamboo baskets.
Popular must-try dishes include siu mai (open-face steamed dumplings with shrimp and pork, garnished with orange crab roe); har gow (shrimp dumplings in a translucent dough wrapper), char siu bao (baked BBQ pork buns) and cheong fun (sheets of glutinous rice wrapped around shrimp, pork or tripe, served with soy sauce).
Plan Your Culinary Journey
Don't know where to start? (There are 17,200 restaurants, after all.) Book yourself on a foodie tour to discover Hongkongers' favourite dishes and neighbourhood gems. Or time your trip with one of the city's many food and wine festivals. To find out more, or plan your own itinerary, visit discoverhongkong.com/ca/explore/dining.html