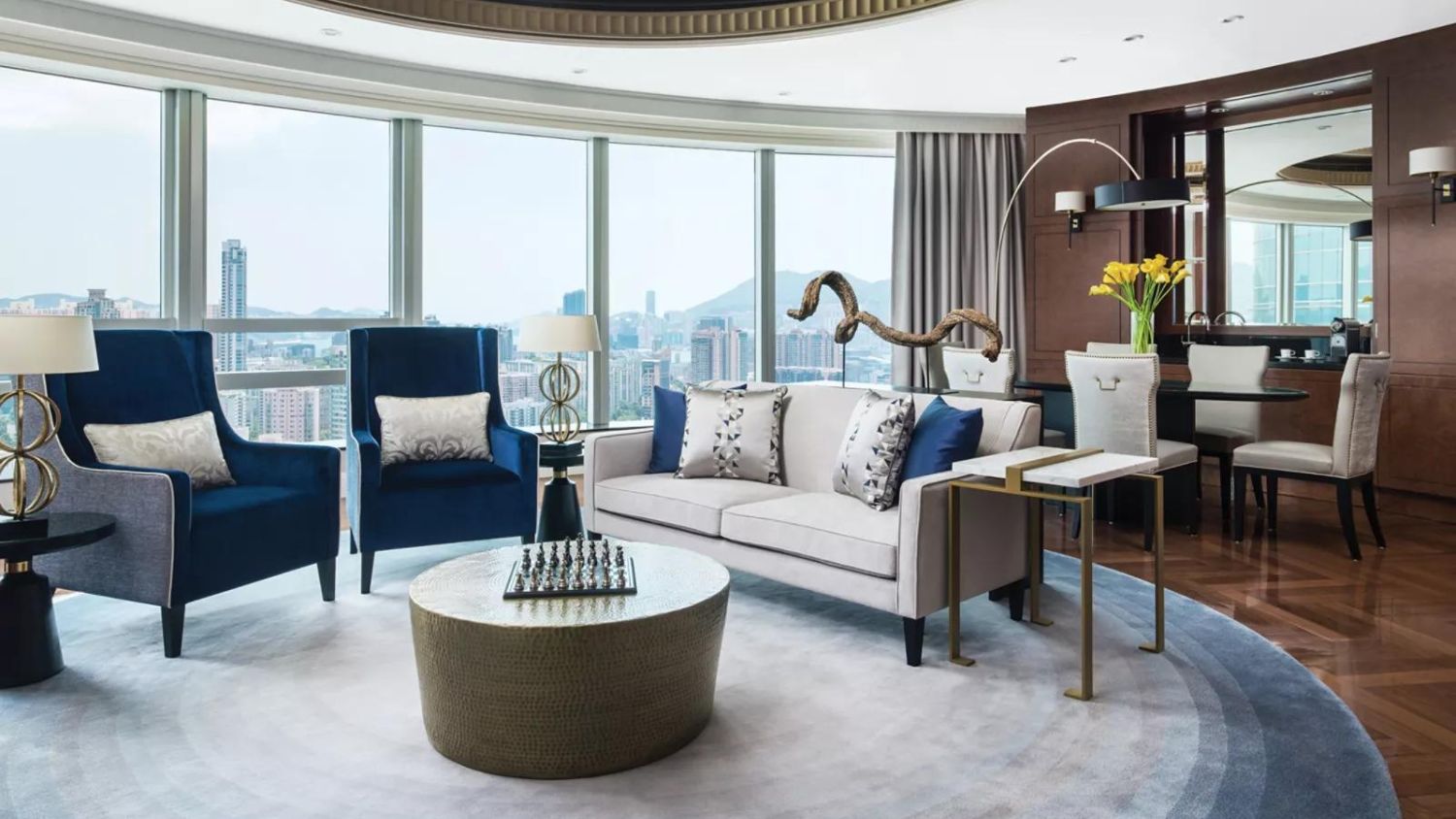 Overlooking the lively markets and fairs of Mongkok neighborhood, with an award-winning Cantonese restaurant, Cordis, Hong Kong is ideal for work, leisure, and family getaways.
Power to the people. I'm standing on the glass enclosed footbridge that links the Cordis Hong Kong hotel entrance to Langham Place, a buzzing luxury shopping centre, and the path to the MRT transit system. The reason the phrase comes to mind at this very moment: A larger-than-life sculpture guards the entrance to the hotel. He's a worker, maybe a farmer or a soldier, part of "The Materialist" series of 12 sculptures by the artist Wang Guangyi, taken from propaganda images. Guangyi's worker is concrete-coloured, thickly built and sporting overalls and newscap, legs spread in mid-stride, one hand curled into a fist, while the other is brandishing a weapon. A paint brush. His feet are lost in the stone base, as if quicksand has swallowed them, slowly holding back his forward progress. Or maybe he's just standing his ground. Either way, you gotta love a grand entrance.
Formerly a Langham Place hotel – it was relaunched as a Cordis, the company's contemporary brand, in August 2015 – its new moniker is derived from the latin word for heart. At the heart of this hotel is the art; a collection that spans more than 1,500 pieces. And, with an estimated value of more than $4.5 million, it would not be far from the truth to describe a stay here as one of living in a gallery devoted to precious finds.
Of course, there are many hotels around the world that feature outstanding public art collections; the Wynn in Las Vegas, the Hamilton Princess in Bermuda and London's 45 Park Lane all come to mind. But what makes this hotel so unique is its singular focus on Chinese contemporary art.
Yue Minjun, whose works have sold at Sothby's for more than any other Chinese contemporary artist, takes his own image, and makes us laugh. Actually, his image is laughing, too. Known for his grinning faces, Minjun mixes self-mockery with a wee bit of thumbing-his-nose at the community at large in his work. In Vancouver, you can catch him smiling many times over with his group of sculptures, "A-maze-ing Laughter." Set in an unruly, almost maze-like circle in the city's Morton Park, their laughing faces definitely invite inspection. At the Cordis, we get the full-on colourful side of Minjun, with his painting, "As Graceful as a Crane." Here the artist strikes a laughable attempt at the crane pose, holding his leg up, all fuchsia pink-hued skin against a bright, blue-sky background, sporting nothing but his shorts and toothy grin. I can't help but laugh, too, as I think about those ill-managed yoga poses I've attempted in the past. It's giggle-inducing therapy.
Perhaps that's the point. A holiday, or a break from the business bustle, surrounded by whimsy and beauty. At the end of the day, you get to sleep in a bed that's been made up for you, then wake up to a view of the Hong Kong harbour, or the skyscrapers of the busy Mong Kok neighbourhood on the Kowloon side of the city. The Ladies' Market, the Goldfish Market and the Flower Market are all just strolls away. Keep it real at the hotel's Garage Bar, an outdoor terrace and ode to the food-truck movement with its two vintage  trucks, and take in the sounds of the city while sipping on a craft beer.
Or go upmarket: Dim sum at the Cantonese restaurant Ming Court is an art form in itself, with two Michelin stars keeping score on the dumplings. It doesn't hurt, either, that en route to the restaurant, is the glass-walled, well-stocked Ming Cellar, where wine tastings are held and a few Champagne corks have been known to be popped. More power to that, I say, and to the people of Hong Kong.
Address:  555 Shanghai St, Mong Kok, Hong Kong
Telephone: +852 3552 3388
Website: cordishotels.com/en/hong-kong/
Price: Doubles from about CAN $210/nigh