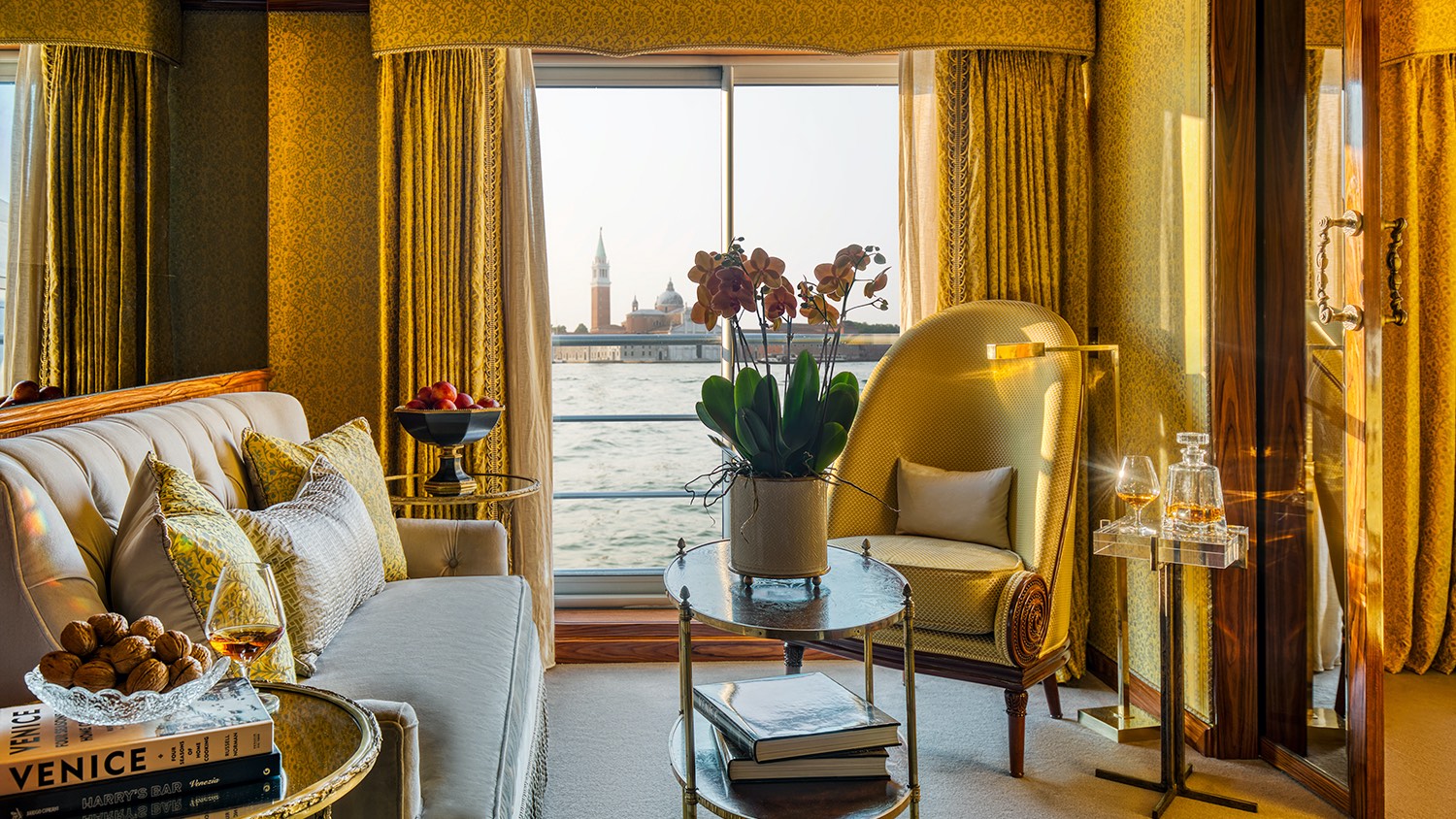 Launching in 2021, the newly unveiled S.S. La Venezia, inspired by Venetian culture with it's historically influenced elegant interiors, is the epitome of all-inclusive river cruises.
Uncover the enchanted beauty and astounding history of Northern Italy, visiting ports, cities and vineyards along the coastline – even stopping in Ferrara and Verona which is the infamous setting for Romeo and Juliet. Uniworld invites you aboard Uniworld's S.S. La Venezia, the newest ship addition to their award-winning luxury fleet, paying homage to a bygone era of Venice and legendary Italian designer and textile powerhouse, Fortuny. 
The 360 ft long, classy S.S. La Venezia, embodies 20th century Italian elegance, transporting their guests to a place of refined nostalgia. This new project undertaking for Uniworld as led by CEO Ellen Bettridge and Artistic Directors, Toni Tollman and Brian Brennan, was joined by famed fabric mastermind, Fortuny. "Mirroring our ships to reflect the destinations they sail is an exclusive Uniworld feature that our discriminating guests have come to know and love. We're certain they will delight in the S.S. Venezia where every space has been crafted to expressly celebrate Venice," said Tollman.
The ship's design was heavily influenced by Fortuny, a local Venetian design house known for making incomparable quality fabrics of timeless beauty. "There is a mystery to the quality and beauty of Fortuny fabrics that are still made in Giudecca," said Tollman. "We appreciate the reverence they bring to their craft that is so much a part of the Venetian way and sought to carry that care and attention to every guest touch point."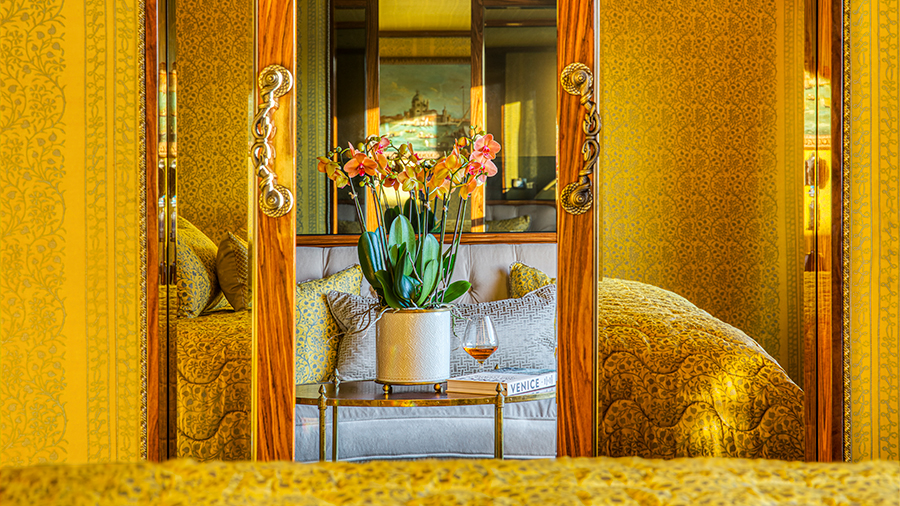 Guests aboard the S.S. La Venezia will even have the exclusive opportunity to visit its private showroom and gardens to learn more about the Venetian legacy of Fortuny. "We are absolutely thrilled to share details of the S.S. La Venezia, inspired by the incredible artistry and vision of Mariano Fortuny," said Bettridge. "Over a century after its founding, Fortuny continues to prize originality, made only possible by artisans deeply committed to their craft. This speaks to the Uniworld philosophy. "For our guests, this means a setting and style of service that is wholly immersive in the enduring fascination and magic that is Venice; and is born from more than 100 years of experience," she continued.
S.S. La Venezia has four decks, three of which have been named after Venice islands, three restaurants, a lounge bar, fitness center, spa and library. Accommodations feature 2 grand suites, 4 riverview suites, 14 French Balcony staterooms, 36 deluxe riverview staterooms and 7 classic riverview staterooms. Every room and suite is equipped with handcrafted Savoir® Beds of England, marble bathrooms which include Asprey bath and body products, flatscreen televisions, individual climate control thermostats, plush bathrobes and slippers. 
"Whether guests stay in a classic stateroom, one of the four junior suites or two grand suites, they will experince the unmistakable essence of the city, beginning in the lobby which strikes a bold resemblance to 1930's Venice," adds Tollman. "Guests will enjoy the artistic touches of the ship as they stroll the marble, or brass-inlaid parquet floors. They will see echoes of the portico of the landmark bridges in the patterns of the fabrics or a reference to the local fish dishes, the basis of classic Venetian cuisine, and enjoy the unmistakable swirls and pops of color of Murano blown glass, another signature craft of Venice."
Onboard restaurants and bars provide gastronomical celebrations incorporating locally sourced ingredients – that's amore! Rialto's is their largest dining venue with warm, charming booth seating, offering up the best in Venetian cuisine. Inspired by the Orient Express, with intricately etched panels, Rialto's decor immerses guests in 1930's Venice. The mouth-watering La Cantinetta is their private dining with expert wine pairing option, and their hand-etched glass walls and polished ebonized wood will take your breath away. Guests are invited to accompany their chef to collect products such as fresh fish, fine Italian cheese, salami, artichokes and asparagus at the famous Rialto food market. Located on the Lido di Venezia deck with fabulous views of Venice, Cielo's Pizzeria is where guests can get their hands on pure Italian comfort food. Woodfired pizzas, hot from the oven tantalizing accompaniments and a fresh salad bar, this is vibrant al fresco dining at its finest. And last but certainly not least, Hari's Bar and Lounge with its impressive champagne list is relaxed, and cozy with its upholstered love seats. They offer live music, delicious cocktails and traditional paninis.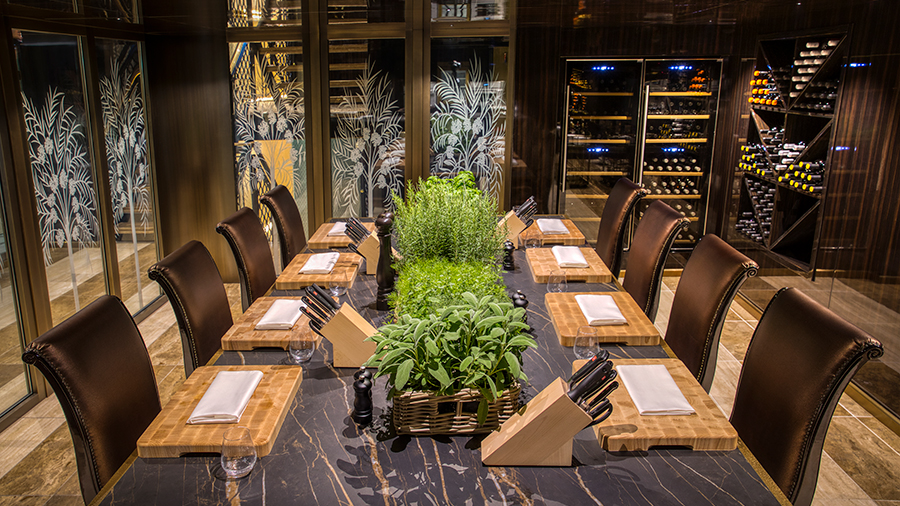 The staff to guest ratio is 42 employees to 126 guests therefore, you're in the best hands with guaranteed personalized attention and world-class service. Not a crowded experience as you would encounter on ocean cruise liners which can hold up to 5000 people. River cruises generally have in and around 60 rooms and suites as opposed to the 2500 of a major cruise ship. Travelling with smaller groups of people is not only a more intimately enjoyable way to travel but it can be viewed as a safer way to experience cruising when it comes to recovering from a virus-related pandemic.
Uniworld is a company based in Los Angeles, California. They are known for their all-inclusive river cruise line with each voyage promising guests special excursions and gourmet cuisines. They also offer cruises in Russia, China, Vietnam, Cambodia, India, Peru and Egypt – a total of 20 rivers in 28 countries worldwide. Uniworld is a part of The Travel Corporation, a member of the CLIA (Cruise Lines International Association), has been named the #1 river cruise line in Travel and Leisure's World Best Awards and rated the top world river cruise line in 2018's Cruise Critic Cruisers Choice awards. 
Their exquisitely unforgettable itineraries offered as of 2021 are as follows; the signature 8 day "Venice and the Gems of Northern Italy," "10 day "Milan, Venice and the Gems of Northern Italy," 12 day "Cruise and Rail: Venice and the Swiss Alps," 14 day "Cruise and Rail: Milan, Venice and the Swiss Alps." La vita è un sogno – life is a dream. And this luxurious dream is within reach. For more information, please visit www.uniworld.com, call 1-800-733-7820 or call your favourite travel agent.