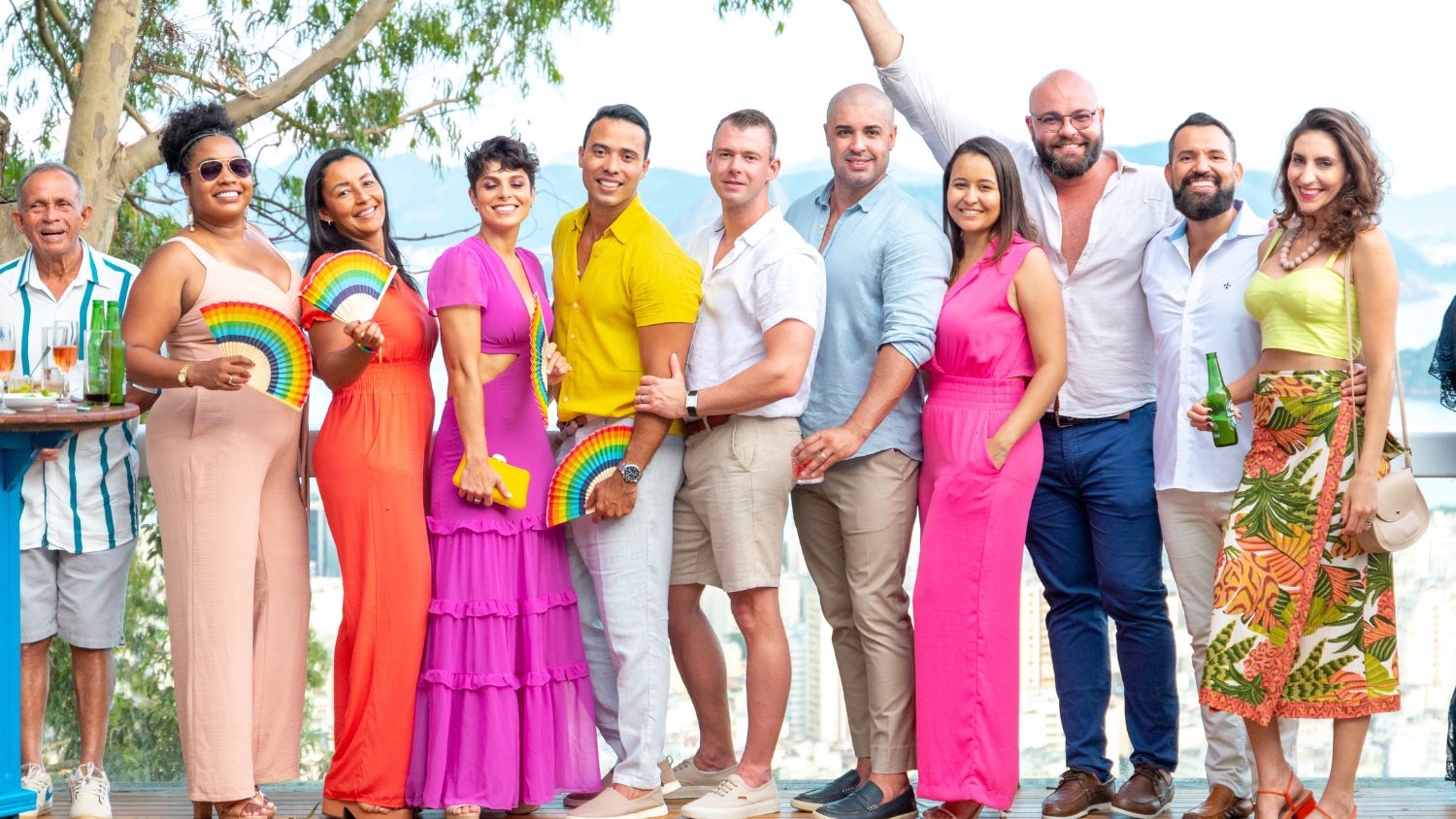 Their love for the sun, the city's vibrancy, and their large diaspora of Brazilian friends living in Canada were all contributing factors for this couple destination wedding.
Louis-Jérôme Barbosa- Doise, 33, area manager – Canada, Whyte & Mackay, and Marco-Aurélio Doise-Barbosa, 33, premium account manager, VGW, wanted a wedding that felt both timeless and chic, so they could "look back at it decades from now and still love every detail without feeling outdated or trendy," says Louis-Jérôme.

Louis-Jérôme, who was born in Vancouver, paid homage to his Franco-German European roots with part of the ceremony spoken in English and French, as was Portuguese, to reflect the destination wedding, which took place in Brazil, where Marco-Aurélio was born, in Corinto in the province of Minas Gerais. And about that destination: "LJBD wanted a destination wedding, and was very adamant about it," says Marco-Aurélio. "We had already been to Rio de Janeiro once before, and he fell in love with the city, the views, the colours,the energy, the people. There was very little making him change his mind." Marco's home country, and Louis' love of the sun, the city's vibrancy, and their large diaspora of Brazilian friends living in Canada were all contributing factors – the couple knew then and there that it would be the perfect city to celebrate their union.
HOW THEY MET
They both spent time out in Toronto's Gay scene, but had never really spoken or officially met. That magical night was in May 2017, at Fly, a gay club that unfortunately no longer exists. "It really was a love at first sight story," recalls Marco-Aurélio. "We were standing at the bar, each ordering drinks, locked eyes, and the deal was done." They left the club, held hands, and walked around the city until the sun came up and the birds started chirping. "It was a truly beautiful and memorable experience that has shaped the last six years of our lives."
WEDDING DAY THEME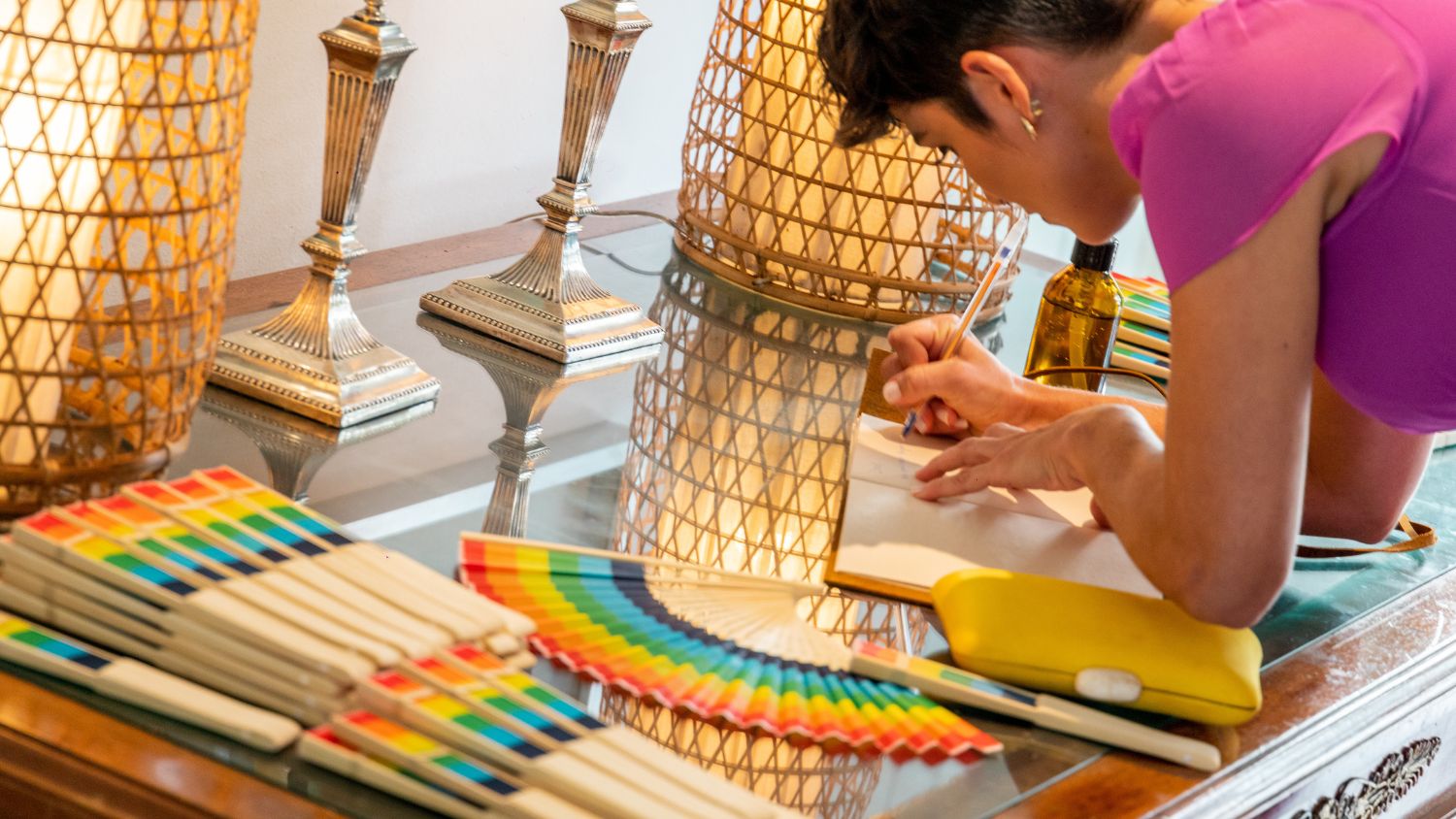 "Love is a Revolution! The wedding was very proudly gay, respecting those who had fought for the right to marry before, so we could do without putting our lives in danger or our jobs in jeopardy for simply loving whom we love and being who we are," says Louis-Jérôme. The colour palette inspiration was pastel rainbow, for the decor and the dress codes. Guests were given rainbow-hued fans to keep cool." 
THE INVITATION
The couple took inspiration from their love of travel. The invitation came in the form of a multi-lingual "boarding pass," which was designed by a friend. These were sent out by mail, and a website with more up-to-date information was shared, as well.
THE VENUE
 "We stumbled across Vila Santa Teresa, which is literally perched on top of the hills of Rio, with splendid views of the Flamengo, the Bay and Sugar Loaf, all watched over by the statue of Christ the Redeemer. This hotel, which  is also featured in the Guide Louis Vuitton and Michelin, took our breath away. With a stunning combination of art-deco architecture and interior finishings, we could not have envisioned a better place to get married, it was truly a magical place to share that day."
THE CEREMONY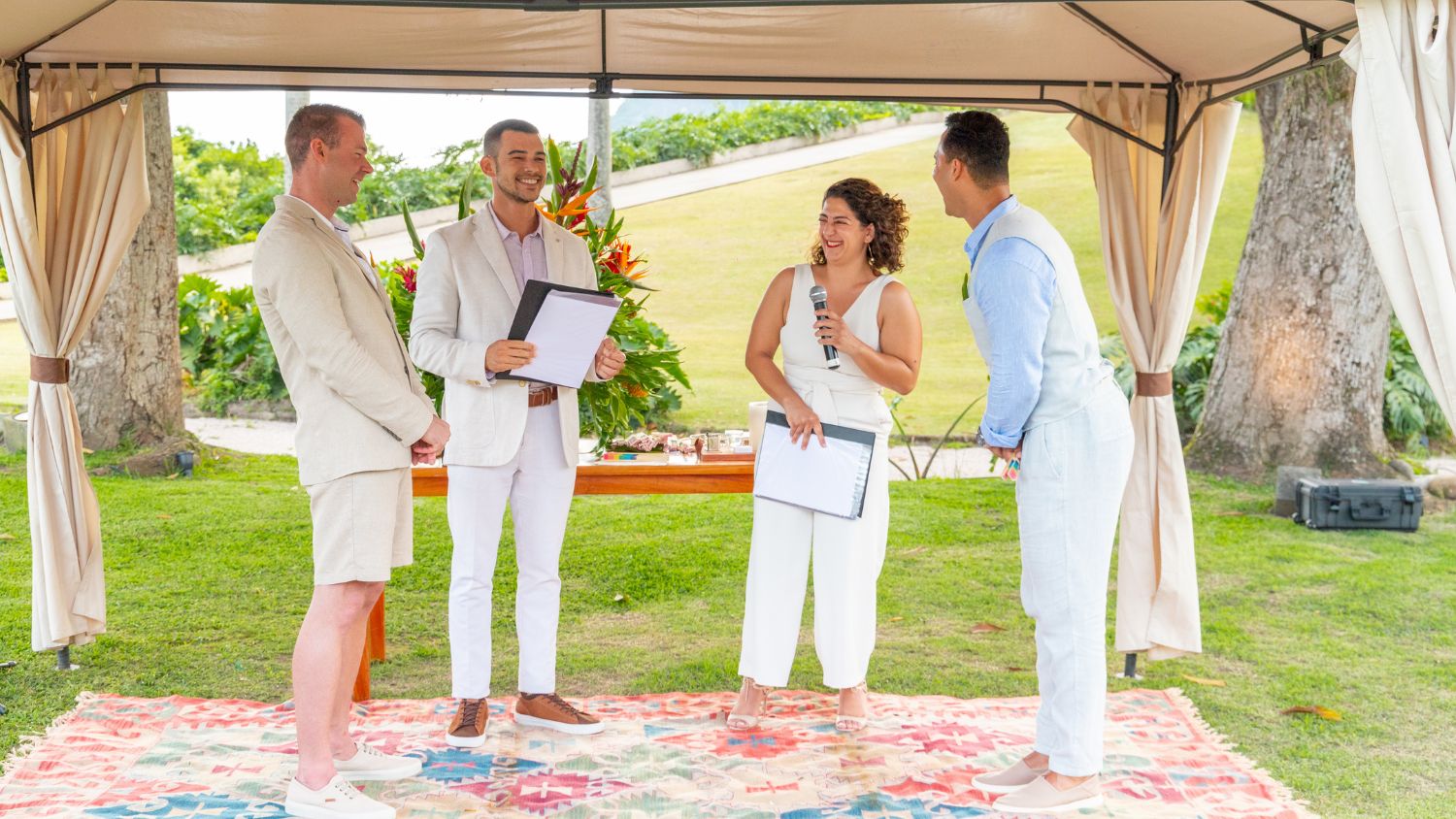 "It was January 4, 2022, and it was very casual, hosted by two of our best friends, Yolaine Ayad and Vitor Costa. Yolaine hosted in French and English and Vitor hosted in English and Portuguese. There were tears of joy all around. They did a tremendous job in bringing an international group of strangers together to join in this celebration of love. The ceremony in itself was short, 20 minutes, sprinkled with anecdotes of our lives before each other, and since we'd met. We also highlighted the ceremony with an intimate blessing of the rings; as we are not religious, but respect the powers of Mother Earth, the blessing involves passing the rings through the four elements."
THE CELEBRATION
"The entire event was standing, no formal, sit-down hour-long banquet tables, all we wanted to do was dance and celebrate our love! Chandon Brut and Rosé along with wine, Caipirinhas, cocktails and beer stations were available all evening long. Dinner was served freestyle, inspired by Carioca and Brazilian foods, such as beef carpaccio, salmon verrines, salmon teriyaki cones, moqueca, picanha, polenta ragu. We were ready to dance, and did not want to be weighed down as we danced the night away!" 
WEDDING STYLE
Chill Copacabana Vibes
COLOUR PALETTE
 Pastel Rainbow A "soothing, calming and peaceful vibe" with soft shades of pink and hints of light baby blue.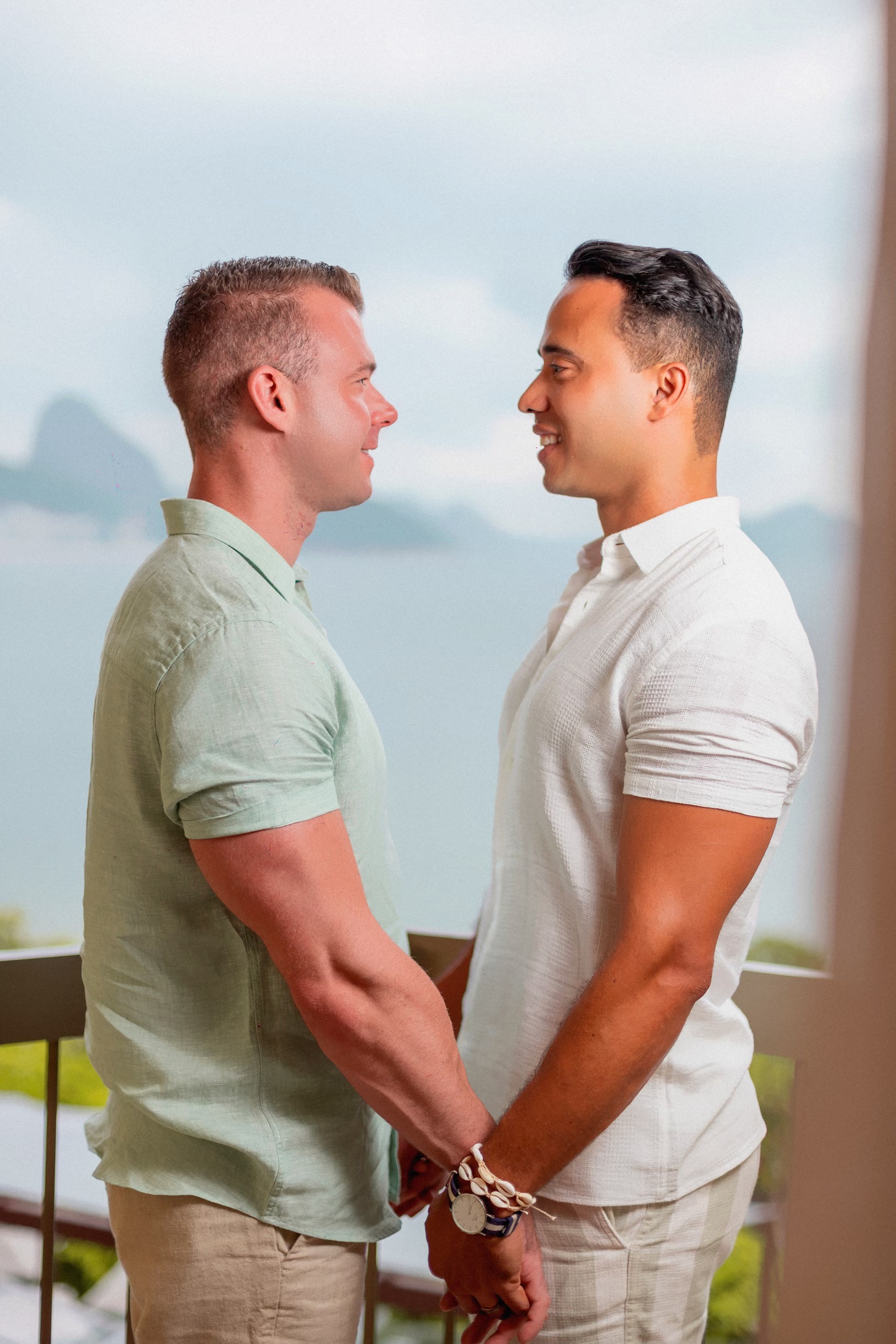 MUST-HAVES
Wellness First: The couple invests in their relationship by combining work and mini vacations. "We both have busy schedules, but we take time for ourselves," says Marco-Aurélio
Memorable Detail: "The marriage tent, set up under a centuries-old Amazonian/Atlantic Forest tree (Mata Atlantica), with Christ the Redeemer standing behind us, giving us our blessing with the iconic Sugarloaf mountain and the Rio harbour below us, a few airplanes taking off from Santos Dumont Airport above us but, most importantly, being surrounded by our loved ones, and being able to say yes to the man I love!" says Louis-Jérôme.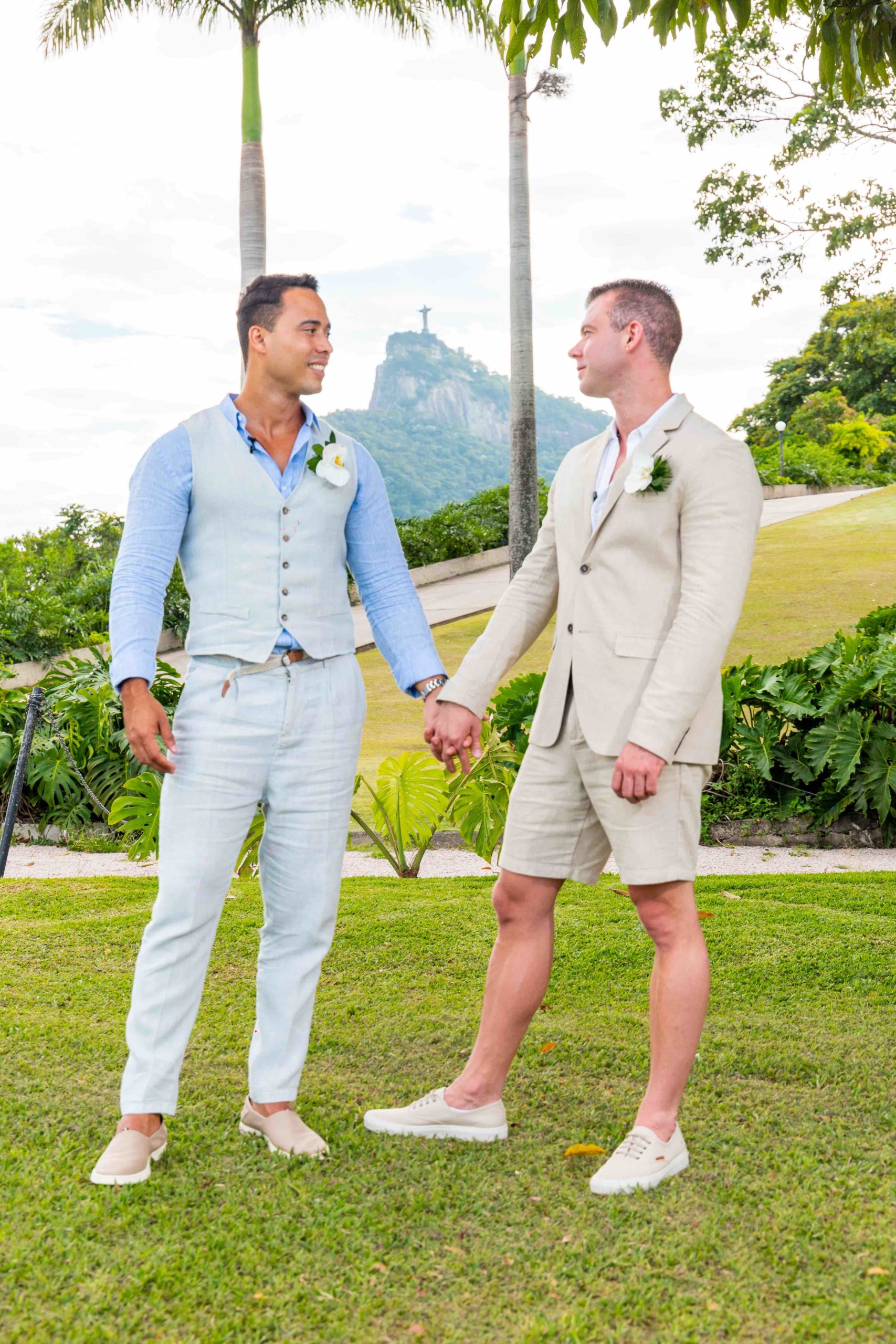 Our life is a honeymoon! Our love of life, passion to travel, and chosen family make every day an adventure
DETAILS AND ELEMENTS
Ceremony, Reception and Catering: Vila Santa Teresa,Rio de Janeiro, Brasil, vilasantateresa.com
Number Of Guests: 80 Photography: Gustavo Bresciani, @barraestudio
Engagement And Wedding Rings: Cartier
Accommodations: Fairmont Rio de Janeiro
Attire: Bossa Nova Chic – inspired by the natural beauty of Rio de Janeiro
Music: Bossa Nova: Thais Macedo (@Thaismacedooficial): A Bossa Nova singer at the Fairmont Rio de Janeiro. "We met her during covid when she was just starting out, now she's a Brazilian celebrity and does TV ads!"
DJ: Mauro Mozart (@mauromozart) and DJ Diego Ramal (@djdiegoalves).