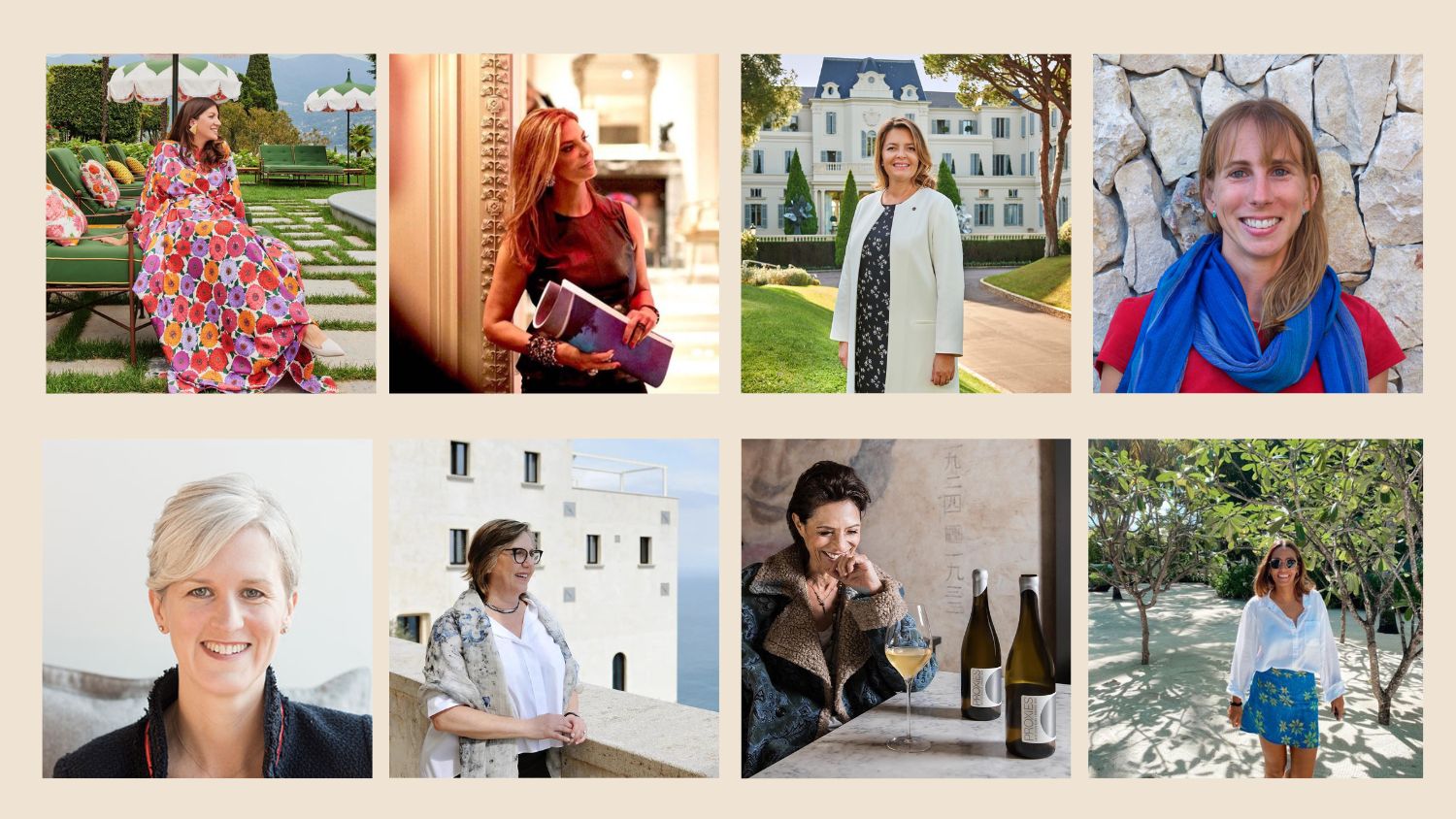 From Marine Biologists, Chefs, and Designers, to Owners, CEOs, and General Managers, on this International Women's Day, we recognise some of the most inspiring female leaders in travel for 2023.
When we think of women in travel, we think beyond travel advisors, but also female leaders in a variety of travel and tourism pursuits, like marine biologists, chefs and designers, but of course, we can't forget the entrepreneurs, the CEOs and the GMs. 
Here, we put the focus on women making a difference in the tourism sphere.
The Hotelier: Valentina De Santis, owner of Passalacqua, Lake Como, Italy
For nearly 50 years, as owners of the Grand Hotel Tremezzo since 1973, Valentina and her family have been an integral part of Lake Como's history and now, the third-generation entrepreneur continues to pave the way for luxury hospitality with the recent opening of the family's latest passion project, Passalacqua, in June 2022. During the centenary year of Grand Hotel Tremezzo in 2010, Valentina began to immerse herself in the family business with a focus on developing the sales & marketing strategy for the hotel. With a fresh and innovative perspective on the hospitality industry, Valentina followed in the footsteps of her parents, honouring tradition and infusing innovation, all with inspiration drawn from Lake Como. In 2019, she was ranked one of the 100 most successful Italian women by Forbes and in 2021, won the Patrizio Cipollini Award as 'Italian Hotelier of the Year' during Duco, a luxury travel show dedicated to Italian excellence. In 2022, global luxury travel network Virtuoso honoured Valentina as 'Hotelier of the Year' in the sought-after Virtuoso Awards. www.passalacqua.it/en
The Chef: Dominique Crenn, Golden Poppy at La Fantaisie, Paris
Originally from Locronan in Northwest France, Dominique was adopted at an early age by a French couple from Versailles and spent many summer months at the family's farm in Brittany. It was this experience on the family farm, alongside her mother's home cooking and her visits to high-profile restaurants with her father and his friend – food critic, Albert Coquil – that inspired Crenn's love of cooking. In 2011, Dominique opened Atelier Crenn in San Francisco, since opening, has been awarded three Michelin stars – the first and only female chef in the US to achieve this. Crenn is also an activist, a champion of women's rights and an icon of both the restaurant and the LGBTQ+ communities. 2023 will see Chef Dominique Crenn's culinary return to France as she launches Golden Poppy at La Fantaisie, the hotly anticipated new hotel opening in Paris's bustling Faubourg-Montmartre neighborhood. Centered wholly around local and sustainable products, Dominique's cuisine at La Fantaisie will adopt a zero plastic and zero waste philosophy. Inspired by an antique garden greenhouse, Golden Poppy's glass roof will connect the restaurant to the natural world outside, creating a relaxed atmosphere synonymous with Crenn's restaurant in San Francisco. www.lafantaisie.com
The GM: Sophie Volant, hotel manager of the legendary Hotel du Cap-Eden-Roc, France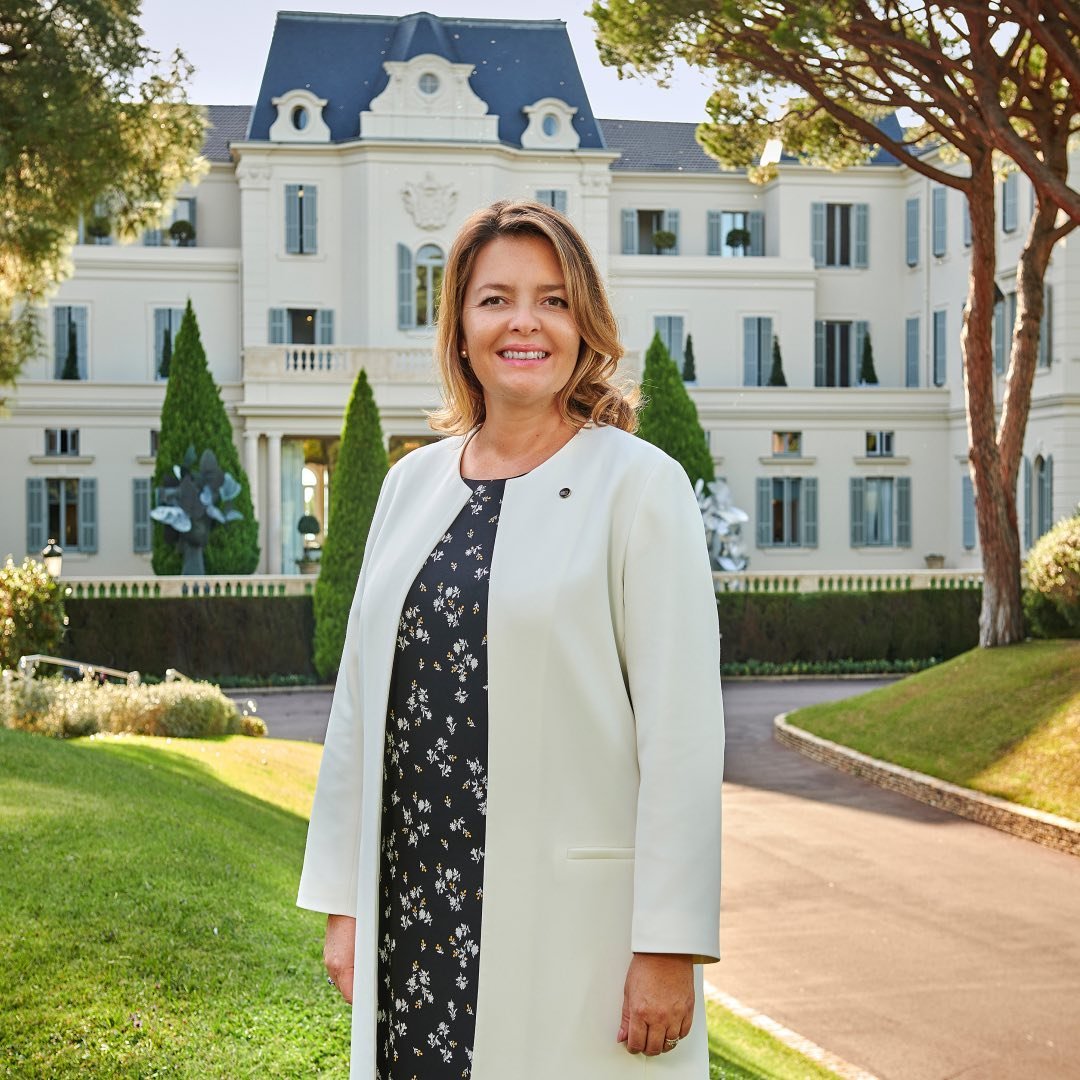 Sophie Volant is the newly appointed Hotel Manager of the iconic Hotel du Cap-Eden-Roc, part of the prestigious Oetker Collection. Hidden away on the southernmost tip of Cap d'Antibes, Hotel du Cap-Eden-Roc has been the setting for deeply glamorous tête-à-têtes and soirées for over 150 years. Over several years, Sophie has consolidated her experience in several prestigious establishments around the world, from the Hôtel du Palais Biarritz to the Hôtel de Crillon in Paris, to The Grand Floridian Resort & Spa, Walt Disney World, Orlando, and the New York Palace Hotel. During this time, Sophie has held positions in departments including catering, accommodation, reservations, events, sales, and marketing. Sophie joined Oetker Collection in 2008 as Sales Director of Hotel du Cap-Eden-Roc and sister property, Château Saint-Martin & Spa. Her new role as Hotel Manager will allow Sophie to continue to showcase the history and heritage of the French Riviera's Grande Dame, whilst upholding the tradition of excellence and service that has made Hotel du Cap-Eden-Roc one of the finest jewels of the international hotel industry. www.oetkercollection.com/hotels/hotel-du-cap-eden-roc
The Marine Biologist: Lisa D'Silva, director at Rascal Voyages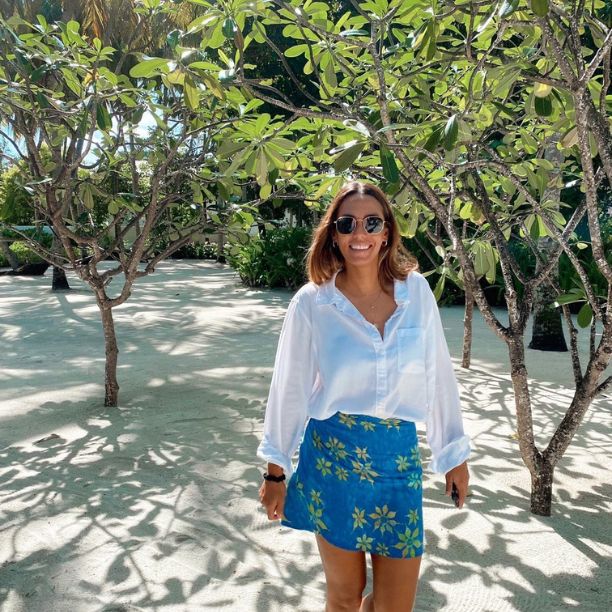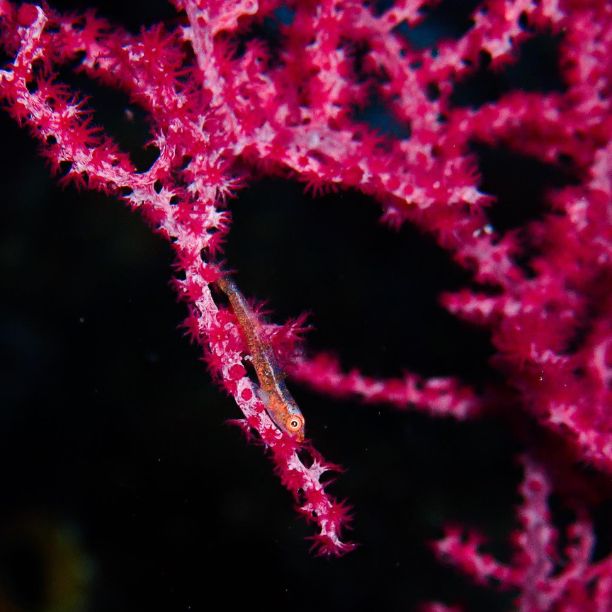 Lisa D'Silva is Marine Biologist and Voyage Director for Rascal Voyages, one of Southeast Asia's finest luxury yacht charters. As a passionate environmentalist and dive fanatic, Lisa is committed to marine conservation and enhances the guest experience by teaching them about the ocean ecosystem and marine life, and how the small choices they make back home can make a big impact on the world to become more eco-friendly. Before her time with Rascal Voyages, Lisa partnered with renowned researchers from ECOCEAN, satellite tagging and photo-identifying whale sharks in the Maldives. Together, they were able to track the endangered species and contribute to global databases on this majestic animal. She also built a successful coral propagation program in the Maldives, building more than 150 coral frames and transplanting over 8,000 individually selected coral fragments to help grow vital habitats for reef fish and invertebrates. www.rascalvoyages.com
The CEO: Sonia Davies, Scott Dunn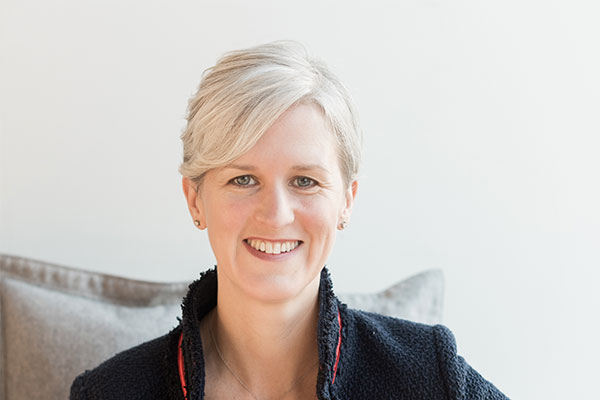 Scott Dunn is passionate about championing women in tourism – and leading the charge is the company's own CEO, Sonia Davies. Sonia Davies joined Luxury Travel Group in January 2018 having worked across a number of different industries, including Chief Commercial Officer at private aviation company, NetJets and most recently as European Change Director at Sysco. These roles, along with eight years in strategy consulting, have given Sonia significant experience leading and working with global teams. She was named one of the 'Women to Watch in Hospitality, Travel and Leisure Index 2019.' Sonia was promoted to CEO in November 2018 overseeing the company's global business operations. Since her appointment, she has focused on building out a world-class leadership team and focusing on the UK strategy of the business. www.scottdunn.com
The Owner: Bianca Sharma, Monastero Santa Rosa Hotel & Spa, Amalfi Coast, Italy
Bianca Sharma is a US entrepreneur and owner of Monastero Santa Rosa Hotel & Spa. A former Montessori nursery teacher, Bianca had no prior experience as a hotelier. Bianca first caught sight of the abandoned monastery in 2000 while on holiday with her sons. Enchanted by what she saw and knowing that the building would make a fabulous hotel, she embarked on a decade-long journey to revive the forgotten building, turning it into the charming boutique hotel and spa it is today. Bianca worked closely with a team of local architects, engineers, and historical authorities to painstakingly maintain the historical beauty and integrity of the property while simultaneously incorporating the intricate modern details of a luxury hotel. The hotel opened in 2012 and Monastero Santa Rosa is now regarded as one of the finest luxury boutique hotels on the Amalfi coast. www.monasterosantarosa.com
The Philanthropist: Elizabeth Ellis, director of the Time + Tide Foundation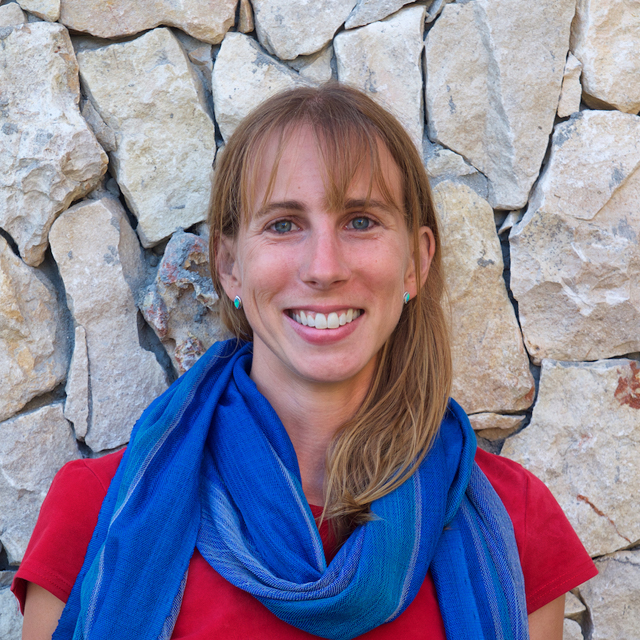 Established in 2015, Time + Tide Foundation is the philanthropic arm of the Time + Tide tourism brand; a collection of the most remote and exclusive properties in Zambia, Madagascar, and soon, Cape Town. The independently governed non-profit foundation invests in the future productivity of wildlife economies through community and school-based learning. Based in Zambia, Elizabeth Ellis leads a team of 70 employees and over 200 volunteers for important work with local communities. The foundation's main focal point is on supporting the most educationally disadvantaged, namely adolescent girls and children with special needs. With over 1.5 million children of primary school age in Madagascar and 500,000 children in Zambia out of school, the foundation continues to create greater inroads to ensure that communities benefit from its presence. www.timeandtidefoundation.org
The Boss: Dina De Luca Chartouni, owner, The Lowell Hotel, New York City
Dina De Luca Chartouni is a stylish, tour de force in her own right, known for her impeccable style and entrepreneurial spirit within the hospitality and lifestyle circles of New York City. She is most widely known as an owner of the Upper East Side's most distinguished address,
The Lowell Hotel
. Her involvement with the property is extensive, incorporating her artistic vision throughout all aspects of the hotel. From redesigning its guest rooms to the renovation of the hotel's restaurants and public spaces, Dina's eye for design has made The Lowell Hotel the most discerning of traveler's favorite New York City home. She is also the name behind the DDC28 brand of bath and beauty products launched in 2013, made exclusively available for guests of the hotel and inspired by travelers who are constantly on the go. From bath and spa to delicious bite-sized treats, Dina continues to expand the brand offering guests something new, delicious and effortlessly chic to enjoy throughout their stay.
lowellhotel.com