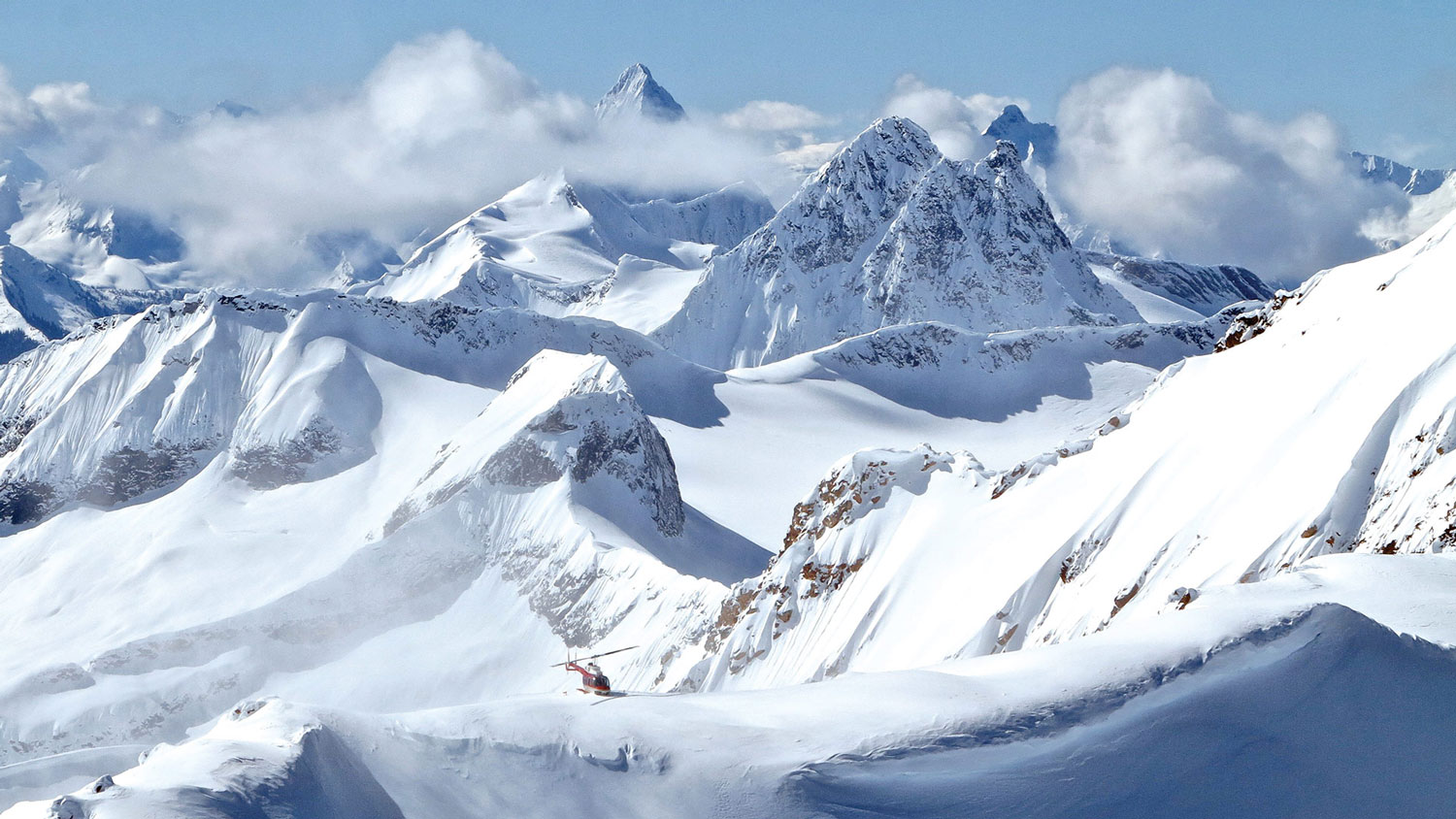 In the remote mountains of eastern British Columbia, a high-latitude lodge promises hiking and haute cuisine for those with a taste of adventure.
Normally I become impatient waiting for a ride, fidgeting whenever I'm uncertain of the ETA of my pick-up, be it a bus, subway train, airport limo or Uber. But not today.
Definitely not today.
I'm waiting it out with unaccustomed patience on a piece of granite, high up in the remote Cariboo Mountains in Eastern British Columbia, mesmerized by the North Canoe Glacier that's dominating the tableau in front of me. The massive expanse of snow and ice dwarfs every other landmark within sight. Even the glacier-carved lake beside it looks miniscule. I shift in my granite seat (a mite cold on the bum) to take a look at Little Matterhorn Peak. Since when did a landmass that towers 2,500 metres qualify as "little"?
Directly behind me is the valley of moss-covered rocks we hiked through to reach our rendez-vous spot for our transport off the mountain top. I squint into the sun and try to make out Mount Carpe and Mount Withers in the distance, but the skies have unexpectedly clouded over.
That's when I hear the chopping sounds of the rotors on the Bell 212 helicopter, just a speck in the sky as it begins to descend out of the clouds. My ride has arrived.
As soon as our merry band of eight heli-hikers has safely boarded, the helicopter lifts off and begins the return trip to CMH Cariboos Lodge, our home-base for this four-day heli-hiking adventure. Our seasoned pilot, Jens Gessner, came on a visit from Germany 19 years ago and never left. He deftly manoeuvres our aircraft up through the clouds, soaring over snow-capped mountain peaks, alpine forests, waterfalls, jagged ridgelines and rushing rivers until Cariboos Lodge comes into view.
Perched on a bluff overlooking Canoe River, surrounded mostly by pine forest, is our 26-room luxury lodge, where an outdoor hot tub, sauna, a peaty scotch (for me, anyways), a soothing massage and gourmet dinner await. Such are the rewards after a day's hike above the clouds.
Austria-born Hans Gmoser, founder of CMH—the company which introduced heli-skiing in the Cariboo Mountains in the 1960s—pioneered heli-hiking at Cariboos Lodge in 1978. Gmoser wanted to make the vast wilderness available to hikers, as well as skiers. CMH eventually expanded the three-, four- and six-day summer heli-hiking trips (for novices and advanced hikers) to two of its sister lodges, Robbie Burns (in the Purcell Mountains) and Bugaboos (near Bugaboo Glacier). Cariboos Lodge put its summer heli-hiking program on hiatus about a decade ago and is bringing it back in September 2018.
The lure of heli-hiking is hard to resist: a helicopter scoops up hikers from the landing pad outside the lodge twice each day (morning and afternoon) and deposits them, along with a qualified alpine guide experienced in back-country hiking, on a mountain peak, near a glacier or in an alpine meadow. There are few marked trails in the remote mountain wilderness, so no one hikes solo.
But the emphasis on safety never gets in the way of luxury. In fact, there are enough creature comforts (sauna, spa treatments, yoga sessions, hot tub, music room, fitness centre and a well-stocked bar) that it's tempting to skip a hike and hang out in the rustic chic lodge, which some guests do. (There's no judgment in the backcountry.)
Guests dine family-style each evening, swapping photos and unforgettable moments of the day's alpine outings. The gourmet meals are equally memorable: Angus beef is sourced from ranches known for their sustainable farming practices; a producer in Salt Spring Island supplies the goat cheese; grain-fed lamb comes from Alberta and certified organic fish from Tofino. The organic olive oil is produced by nuns outside Andalusia, Spain.
It's during the morning meal that veteran mountain guide (and lodge manager) John Mellis outlines each day's outings. At breakfast on our last full day we learn we're going to Milk Punch Ridge, about a 30-minute helicopter ride away.
Milk Punch turns out to be a windswept ridge at about 2,000 metres' elevation. "On a clear day you can see Mount Robson, the highest point in the Rockies," says Mellis, as we exit the helicopter one more time. The trail, used almost exclusively by mountain goats, follows the spine of the ridge and ends in a vertical scramble 500 metres up, where the helicopter will pick us up.
It's a stubborn vegetation that grows on the ridge: heather, subalpine fir, crowberry, moss campion and patches of lichen. But it's the stunted krummholtz that claim my admiration: bent, gnarled trees determined to hold their own against the incessant wind. I take heart knowing that these scrappy, persevering little trees will be here long after we've flown home. There's beauty in that.
HOW TO GET THERE
CMH transports guests in a private luxury coach from Calgary airport to the helicopter pad in Valemont, B.C. along the scenic Icefields Parkway. The Parkway passes by cascading waterfalls, dramatic rock spires, more than 100 glaciers, snow-topped mountain peaks and emerald lakes galore. Expect stops in Banff, Jasper, Vermillion Lakes, Athabasca Falls and Bow Lake.
EDITORIAL NOTE
As the world adapts and evolves in response to COVID-19, we anticipate some of the aspects of your Heli-Skiing trip next winter to change as well. With borders currently closed, regular season may not look like it normally does, but, all bookings are still in place for those who have made one, in the hopes that everything can go ahead as scheduled. While awaiting outcomes that could affect regular season, check current offering trips to Canadian residents.