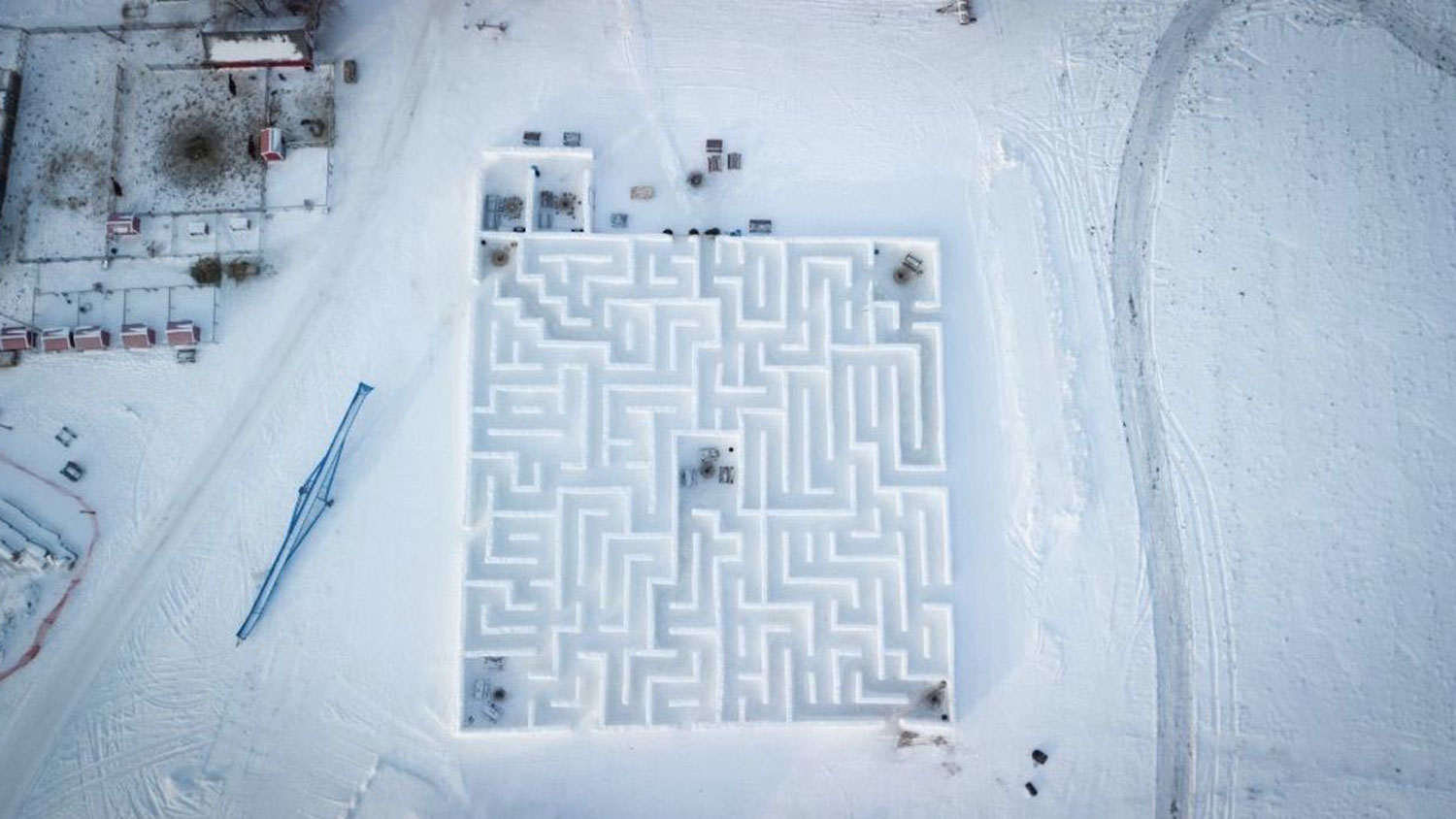 Outdoor corn, garden, wooden and brick wall mazes are fun but how about a gigantic snow maze in the winter? Yes, please!
Guinness World Records has proclaimed "A Maze in Corn" (pun obviously intended), the world's largest snow maze and yes it is in Canada.
Undoubtedly a proud moment for the owner, Clint Masse and his family, this snow maze located in St. Adolphe, Manitoba, had beat out the previous record holder by almost double; a 18,255 square foot maze constructed at Fort William Historical Park in Thunder Bay. 
Located only 10 minutes south of Winnipeg on St. Mary's Road, they had officially commenced maze operation and opened their chilly but amusing attraction to the public back in January of 2019. "It feels good like when people ask, we can actually say Guinness says we're the biggest. We are, in fact, the biggest," business owner Clint Masse told CBC News. "This year, just with COVID, we've got to go larger, so now there's eight-foot wide paths, so there's more than enough room for people to pass safely," he said.
How it started? Masse had called Guinness to alert them of his intent to design and build a record-breaking snow maze. Directly following the design phase, Masse had hired crews to work 10 hour days alongside their concrete forming tools, a snow maker and tractors to construct the walls. "A Maze in Corn, Ltd." had been running for 20 years prior to Masse's ingenious idea to transition his corn field maze into an icy puzzling winter activity reminiscent of the chase scene in The Shining – minus the horror. 
View this post on Instagram

While winters in the northern part of Canada tend to be a bit more brutal, the walls of the winter maze are as thick as medieval castles therefore, the height and density of the attached and conjoined partitions made of pure packed snow help to keep the warmth in. Having taken 300 huge truckloads of mountainous snow piles, the finished walls are approximately 2 metres tall and feature carvings throughout. "It's a little bit whimsical," Masse said.
Believe it or not, the snow maze at 30,000 square feet is still smaller than their corn version – however, the snow maze has seasonal safety requirements such as a slew of additional exits. "The corn maze is so much bigger, because we just mow the corn," he said. "We don't have to put in walls, fill walls, move walls."
View this post on Instagram
Due to its size, it takes in and around 30-45 minutes to complete. Also, the maze is not the sole option to indulge in some fun and entertainment on-site. They have warming areas with adjacent bonfires, a toasty barn to kick back and simply relax in, farm animals to pet, a giant mountain visitors can slide down from, sleigh rides, and an igloo filled with treats like coffee, hot chocolate and hot toddies for the adults. 
A Maze in Corn, Ltd's snow maze is open from January – March, Thursday to Sunday. However, due to the current Covid19 situation, A Maze in Corn is temporarily closed. For more information regarding pricing and their updated hours of operation, please visit their website at https://www.cornmaze.ca/