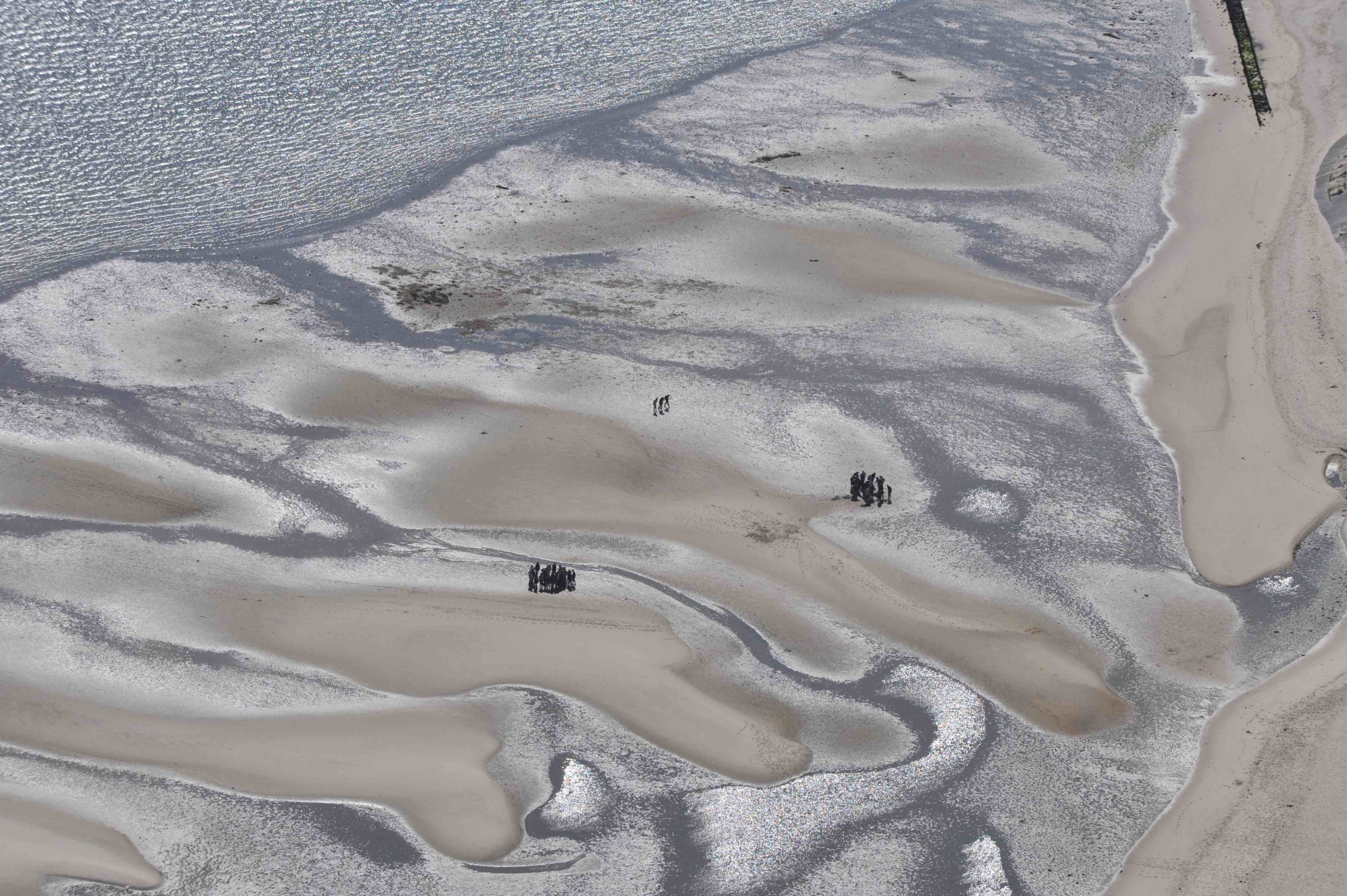 In the far north of Germany, the seaside retreat of Sylt attracts the Deutsch jetset and those in need of rejuvenation and reinvigoration
Stepping off the train at the Westerland station on Germany's Isle of Sylt on an unusually hot evening, I found myself in the midst of a bikers' convention. With Harley Davidson owners from across Germany and Austria in town, my idyllic seaside vacation unexpectedly kicked off with a cacophony of revving motorcycles and revellers alike.
The Westerland promenade was packed, restaurants were booked solid and strandkörbs, the famous German wicker loungers that line the beach by the hundreds, were scarce. The town of about 9,400 residents, midway along the nearly 40-kilometre long west-coast beach, is home to some of Sylt's best restaurants and high-end shops. Though the island can accommodate up to 60,000 visitors, I had arrived when it seemed, at first, precariously close to capacity. 
Sometimes solitude, saunas and spas are just the ticket for a bit of R&R, and Germany's northernmost island, situated in the North Sea, jutting up to Denmark's latitude, usually fits the bill. For those who imagine taking soul-searching walks along the water's edge, waves crashing on near-empty beaches, spring and fall are perfect times to visit. But even during a peak period, I discovered that it only took venturing farther afield, to less-travelled beaches and towns, to find my idyllic Sylt vacation. The pristine, crisp sea air, void of dust and industry smog, is ideally therapeutic. A brisk walk along the water's edge, especially when bracing winds are whipping up a sea spray rich in trace elements such as iodine and minerals, is a prescription for healthy lungs and improved skin.   
Heading out to escape the crowds, I strode the relatively easy six-kilometre loop at Ellenbogen, the private nature reserve and bird sanctuary that occupies a bent-elbow shaped peninsula stretching from the town of List to the northernmost point of the island, encountering few people along its vast white-sand beaches and grassy dunes. I also walked stretches of the busy Westerland strand. I soon found my skin softer and more supple, my allergy symptoms lessened and my sleep deeper.   
Members of the Naturist movement began flocking here in the 1920s, earning the island its reputation as the birthplace of modern nudism. If you want to visit one of these beaches you'll have to start stripping down and find the FKK Strand signs (Freikörperkultur, which translates to Free Body Culture). Today, many Germans still swear by the health benefits of sweating in a hot sauna nakt before jumping into the frigid North Sea.  
Since the 1960s, Germany's business and media elite have been vacationing on Sylt. Sports stars and TV hosts are often spotted in Kampen, where several own homes. But don't expect the locals to divulge any names. They are, however, talking about the international high-profile visitors expected to fly in for detoxing once the latest outpost of Lanserhof, a world renowned, exclusive medical spa, is completed in 2020. Canadian-born Tamara Raffelhüschen, who married into a local bakery family, was quick to point out the site in List.  
At Hotel Stadt Hamburg, general manager Christian Wirsich sees a different kind of visitor: repeat guests tend to be solitary people who arise early for a swim or a beach walk, undeterred by wind or rain. They are also the ones who frequent the hotel and day spas, including the hotel's Quiara Spa. I skipped a morning dip in the North Sea, opting instead for a pampering 85-minute Classic Spa treatment, which began with the Indochine scrub—a combination of lemongrass, mandarin, bergamot and antioxidant-packed moringa powder—being applied from shoulders to toes. It left my skin feeling soft and replenished. After a quick shower, I was treated to a Thai massage that had just the right pressure to heal my travel-weary muscles. My morning treatment, coupled with a bit of sauna time and a swim in the pool, left me ready to face climbing 110 steps to the top of Uwe, Sylt's highest dune at 52 metres above sea level, where I was rewarded with a panoramic view of the island, and a glimpse of Denmark across the shimmering sea. 
Most hotels on Sylt have upscale spas and you don't have to be a guest to book a treatment. Westerland Syltness Center, located at the entrance to the beach, has the widest variety of treatments. Here, you can cocoon in a Cleopatra bath, which leaves your skin soft and supple, and your body and mind relaxed; or breathe easier after Thalassotherapy, a treatment that uses sea salt, algae, thermal baths and silt. Consisting of calcium, potassium, phosphorus and sulfur, the fine silt from the Wadden Sea is said to stimulate blood circulation and increase metabolic rates.   
Pedaling the 20 or so kilometres from Westerland to List and the Ellenbogen, one of the more popular routes, could also have that effect. The Rasende Emma, a narrow-gauge railway that ran the length of the island between 1888 and 1970, is the basis for much of the 200 kilometres of trails here. If you tire, you and your bike can get a lift on public transit.  
A week after my visit, the forecast for Sylt was a cool 17 degrees Celsius, and the bikers had gone home. While a bump in visitors from balmy temperatures is welcomed by businesses, what's not is an increase in harsh North Sea storms brought on by global warming. Despite erecting breakers to weaken the waves' effects and pumping sand from the sea onto the beaches, the island loses between one and four metres a year.  
As for the hundreds of German and Austrian Harley owners, all the money they spend on Sylt during those few days each June can go a long way toward slowing erosion. sylt.de; insel-sylt.de  
ESSENTIAL SYLT
GETTING THERE
Lufthansa operates flights from Frankfurt and Munich to Westerland/Sylt Airport, which can be booked as part of your overseas flight. The island is connected to the mainland by rail and regional trains leave Hamburg-Altona hourly; there's also two car shuttle services that board in Niebüll on the mainland. bahn.com/en; syltshuttle.de; autozug-sylt.de
STAY
Historic Hotel Hamburg Stadt sports Old-World elegance and is a standout for its attention to detail and service. If you want to book a tour, a bicycle, a table for dinner or even catch a ride somewhere, just ask at the front desk. That's also where you pick up and return beach towels.
EAT
Cyclers and hikers are drawn to Die Kupferkanne in Kampen, a Second World War flak bunker turned café, for its artsy vibe. An international selection of coffee beans are roasted and ground daily, served with freshly baked, oversized pieces of cherry and rhubarb cake.
DO
At low tide, visitors can discover the fascinating ecosystem of the Wadden Sea National Park, a UNESCO World Heritage Site since 2009. Be careful. While you're out spotting glasswort and lugworms, and a multitude of bird species, the tide can change turning the narrow tidal channels into treacherous currents. A guided hike or boat tour with Erlebniszentrum Naturgewalten in List is recommended; they even provides rubber boots.