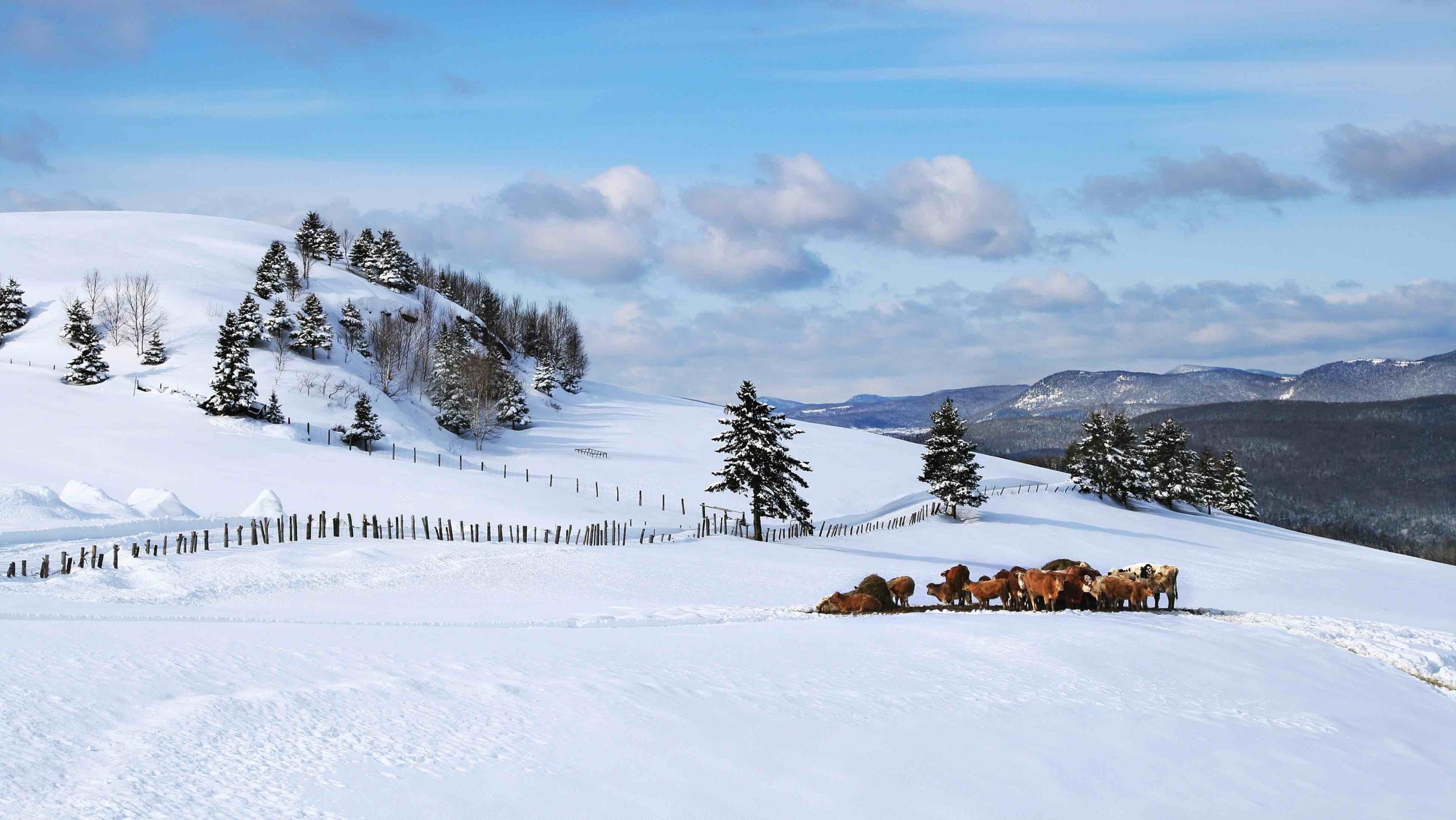 Whether it's an urban adventure in the capital or sledding in the countryside, Quebec has mastered how make the best of Canada's coldest season.
How long does it take to fall in love with a destination? With Quebec, especially in winter, it can be love at first sight. With pretty snow-laced scenes, fun outdoor activities and flavourful locally sourced cuisine, visitors will easily become devotees of Quebec winter during a sojourn to Baie-Saint-Paul and Quebec City. 
Starting in the countryside, about an hour northeast of Quebec City, Baie-Saint-Paul is the heart of Charlevoix. An artist colony for more than a century, Baie-Saint-Paul offers plenty of art galleries and gift shops to tempt visitors to discover paintings, sculpture, textiles, jewellery, photography and mixed-media inspired by the region. The region is a UNESCO World Biosphere Reserve, encompassing the north shore of the St Lawrence River from the Beaupre coast to the Saguenay Fjord and is a southern habitat for arctic caribou and arctic wolf. It's this wild landscape that makes visiting this town and region a must: rolling hills, dense boreal forests and the Parc national de Grand-Jardins, where it's possible to find trails where visitors can snowmobile, dog sled, fat bike, snow scooter and cross country ski.
View this post on Instagram
This provincial park offers snowshoe rental and extensive trails to explore the 310 square kilometres, making it an easy escape from the demands of everyday urban life to find the quiet of Mother Nature. There is more than one ideal time to explore the park. The guided night hike of Mont du Lac des Cygnes offers a four-kilometre illuminated trail, which ends at just the right time to gather around the firepit and stargaze.
For those who want to kick up their adrenaline levels, Le Massif de Charlevoix is the main ski resort in the area. Snow enthusiasts of all levels will find a challenge among the mountain's 55 kilometres of runs, including, at 770 metres, the highest vertical east of the Rockies. Active travellers can try another fast-moving thrill: traversing a seven-kilometre track on Mont Liguori on a wood sled.
When it's time to relax and indulge après-ski, Baie-Saint Paul has a particularly stylish accommodation option, Hotel Le Germain Charlevoix, which is part of the Quebec-based Le Germain hotel group. This four-season resort, located on the site of a former farm, conjures its past in the architecture of its five pavilions, which resemble a barn and silos. The pavilions also feature contemporary art, furniture, textiles and décor sourced from Baie-Saint-Paul, Charlevoix and Quebec artisans. As a bonus, guests can take the Massif de Charlevoix touring train to Le Massif from the hotel's own train station.
The cosy hotel restaurant, Le Bercail, has a simple lounge menu – cider, cheese and charcuterie –while stylish Les Labours on the second floor features a heartier menu with many ingredients sourced locally, including a must-have winter indulgence: foie gras. The hotel ice rink provides a place to channel your inner Moir and Virtue, but there is another reward for a day spent enjoying Charlevoix's winter wonderland. A visit to Spa Nordique Le Germain is a must, with indoor treatment rooms, sauna and an outdoor hot pool, can soothe those well-worked muscles.
View this post on Instagram


Quebec City's winter playground
At 414 years young, Quebec City is the only walled city in North America. The distinctive stone architecture, narrow streets and the most photographed hotel in the world – Fairmont Chateau Frontenac – makes the UNESCO World Heritage site of historic Vieux-Québec a welcome lesson in the early days of Quebec and Canadian history. It's a place where photographers will satiate their need for quintessential Quebec winter scenes.
View this post on Instagram

Well-known for having the largest annual winter carnival in the world, Quebec City doesn't hibernate during Canada's coldest months. Locals and visitors can watch numerous activities to celebrate the season from dog sledding races within the walls, to ice canoeing competitions on the St. Lawrence River. Brave souls who want an urban thrill can try ziplining in winter at the Parc de la Chute-Montmorency.
The annual creation of the Hôtel de Glace is another high point of winter celebrations. The 44-room hotel features themed rooms, an ice chapel and an ice bar that are not as chilly as they might sound. Visitors can check out daily tours and take a turn on the grand slide. For those who want to stay outside, guides in period costumes provide snowshoe tours on the historic battlefield of the Plains of Abraham. Or lace up your skates to glide across the rink of Place d'Youville.
View this post on Instagram
Cosy indoor indulgences can help balance out the cold-weather pastimes. Quebec City obliges gracefully, with experiences like dining under the red roof of the Aux Anciens Canadiens, the oldest restaurant of the city. Serving classic Québécois cuisine, the restaurant indulges guests with hearty favourites such as tourtière and fondue. But the true winter palate-pleasing snack has to be poutine, and this city claims to have originated this indulgent comfort food. The historic Chez Gaston uses traditional fries, cheese curds and gravy, while Le Chic Shack serves up a modern take, made with smoked meat or mushroom stew.
View this post on Instagram
Quebec City has an impressive array of accommodations. Richly decorated with jewel tones, Auberge Saint Antoine offers a contemporary atmosphere with a nod to its 17th-century past. Artefacts and objets d'art discovered during the hotel's construction are displayed throughout the property, including in the Café Bar Artefact and within each of the 94 guest suites.
Auberge Saint-Antoine guests can easily access the nearby Musée de la civilisation and the Quartier Petit Champlain, a perfect neighbourhood for finding Quebec-made souvenirs. Considering the weather, expanding one's wardrobe might be in order. The city's favourite department store is up the hill at La Maison Simons, which retails well-known labels as well as house-designed clothing and accessories. 
Baie-Saint-Paul and Quebec City offer a welcome dose of Québécois culture, even in the darkest days of winter. In fact, that might be the best season to explore the province's natural landscapes and historic places.
WHEN YOU GO
STAY
---
With rooms from $199, Le Germain Charlevoix is an elegant choice. Its clean, modern style has been recognized by the Retail & Leisure Interior Awards. legermainhotels.com
SEE + DO
---
The Parc national des Grands-Jardins offers activities ranging from ice fishing to snowshoe. Winter adventure packages include accommodation in huts or rustic shelters, baggage transportation and hikes of one day or two. sepaq.com
PLAN AHEAD
---
Tourism Charlevoix has several suggested routes to find the best scenery and the best food in the region. tourisme-charlevoix.com