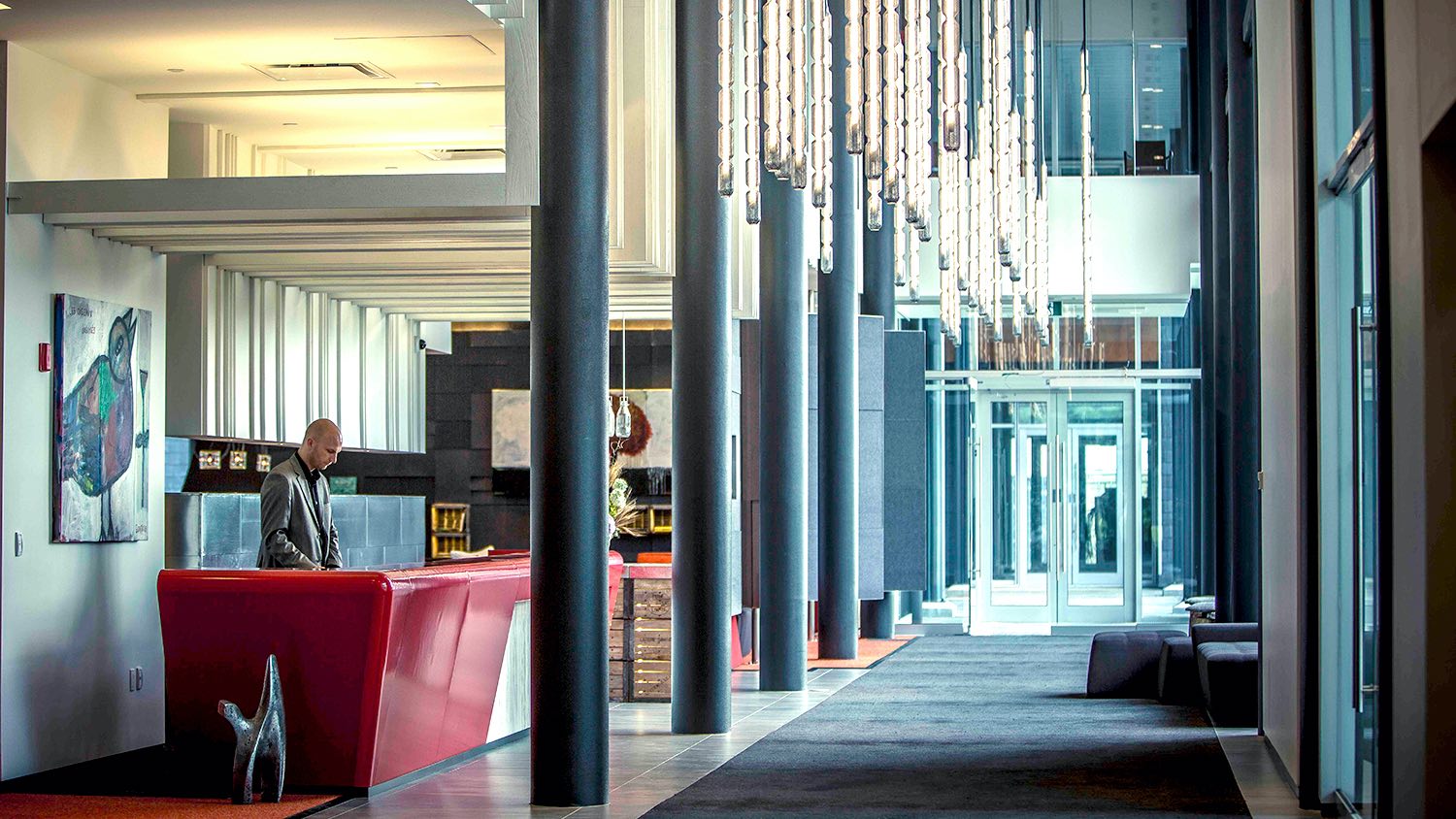 Formerly known as Hotel La Ferme, Le Germain Charlevoix Hotel & Spa is a charming country hotel with an unmistakably urban feel.
Perched between river and mountains, Charlevoix is a spectacular Quebec region that charms in an instant on arrival. The hotel's unique location and enchanting facilities — surrounded by nature – are scattered over several small structures creating a site that stands out completely from typical resorts. When time is short, this historic Canadian destination satisfies every craving.
What to do
Friday
---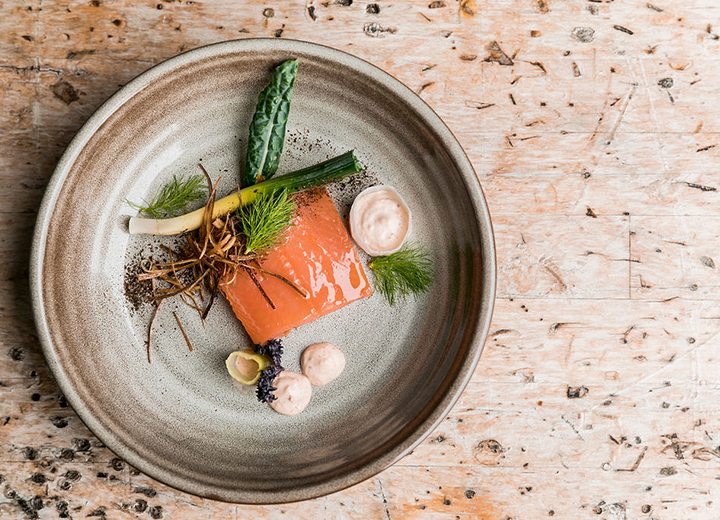 After your check-In, head one of the hotel's restaurants. Charlevoix's complete terroir is the star of the show at Les Labours. Discover a vast kitchen, open on all four sides, where the chef and his team create fresh, seasonal plates before your eyes. Enjoy a gourmet dinner showcasing the best local Charlevoix products at Les Labours restaurant or savour a wood-oven pizza at Le Bercail.
Saturday
---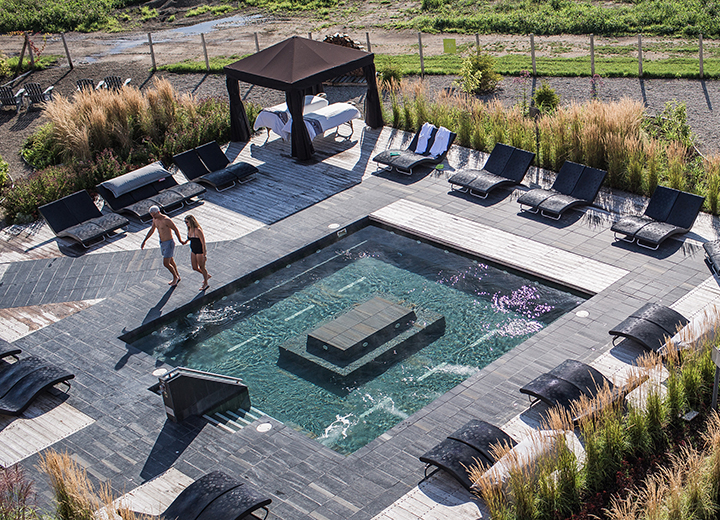 Brunch …
To start the day off right, visit the restaurant Les Labours, which offers a gourmet brunch menu that changes daily. You will have the choice between a sweet, salty or healthy dish!
1pm …
Spoil yourself with a treatment at Spa Nordique Le Germain, located right in the hotel. After a massage, sipping on lemon water while surrounded by the pastoral décor of the calming areas makes the experience even more peaceful. The health and hygiene measures that have been put in place instil trust without detracting from the experience.
3pm …
Feel like stretching your legs? The city of Baie Saint-Paul is just a stone's throw away and invites you to discover the local artisans' boutiques. Be sure to visit the Mousse Café, located inside Maison Mère, a historical site recently revitalized by Atelier Pierre Thibault.
8 pm …
Discover the beautiful, instinctive cuisine of Sylvain Dervieux and Emile Tremblay at restaurant Les Faux Bergers. At this little restaurant, the two chefs prepare food that is fresh, inventive and hyper-local. Savour it all alongside cocktails and wine suggestions from sommelier and co-owner Andréanne Guay. It's unquestionably one of the finest restaurants in the region — and an experience you won't soon forget.
Sunday
---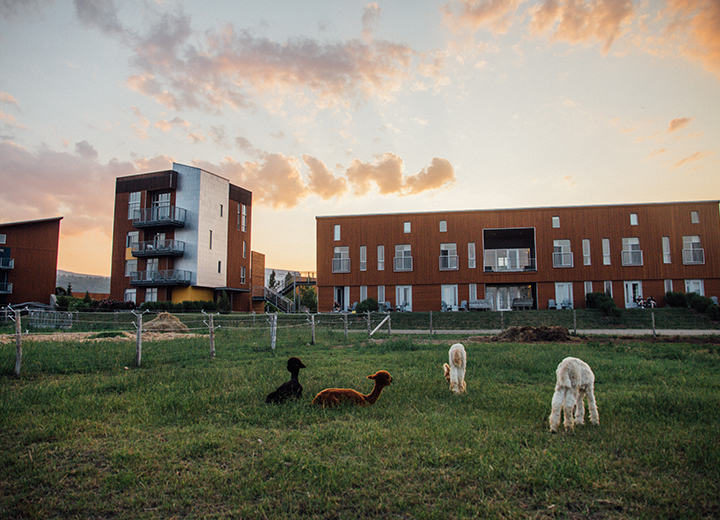 10 am 
A 30-minute drive from the hotel is the Grands-Jardins National Park. We recommend the Mont du Lac des Cygnes trail, with its breathtaking 360° view from the summit. Allow yourself about 1h30 to climb and 45 minutes to descend.
If you're a foodie, the region's best attraction is its delicious Flavour Trail. It's a gourmet route to be explored at your own pace, with friends, family or a partner. Are three favourites stops are:
La Ferme Basque de Charlevoix :
Established in Charlevoix for more than 20 years, they offer duck products that are processed in an artisanal, sustainable way that respects both animal welfare and the environment.
Menaud:
A new distillery and microbrewery in Clermont. Their product is as beautiful to behold as it is excellent to drink.
La laiterie Charlevoix :
We go here to learn more about their eco-responsible initiatives, procure their delicious cheeses and other goodies from the Charlevoix region, and enjoy the BEST soft ice cream around!