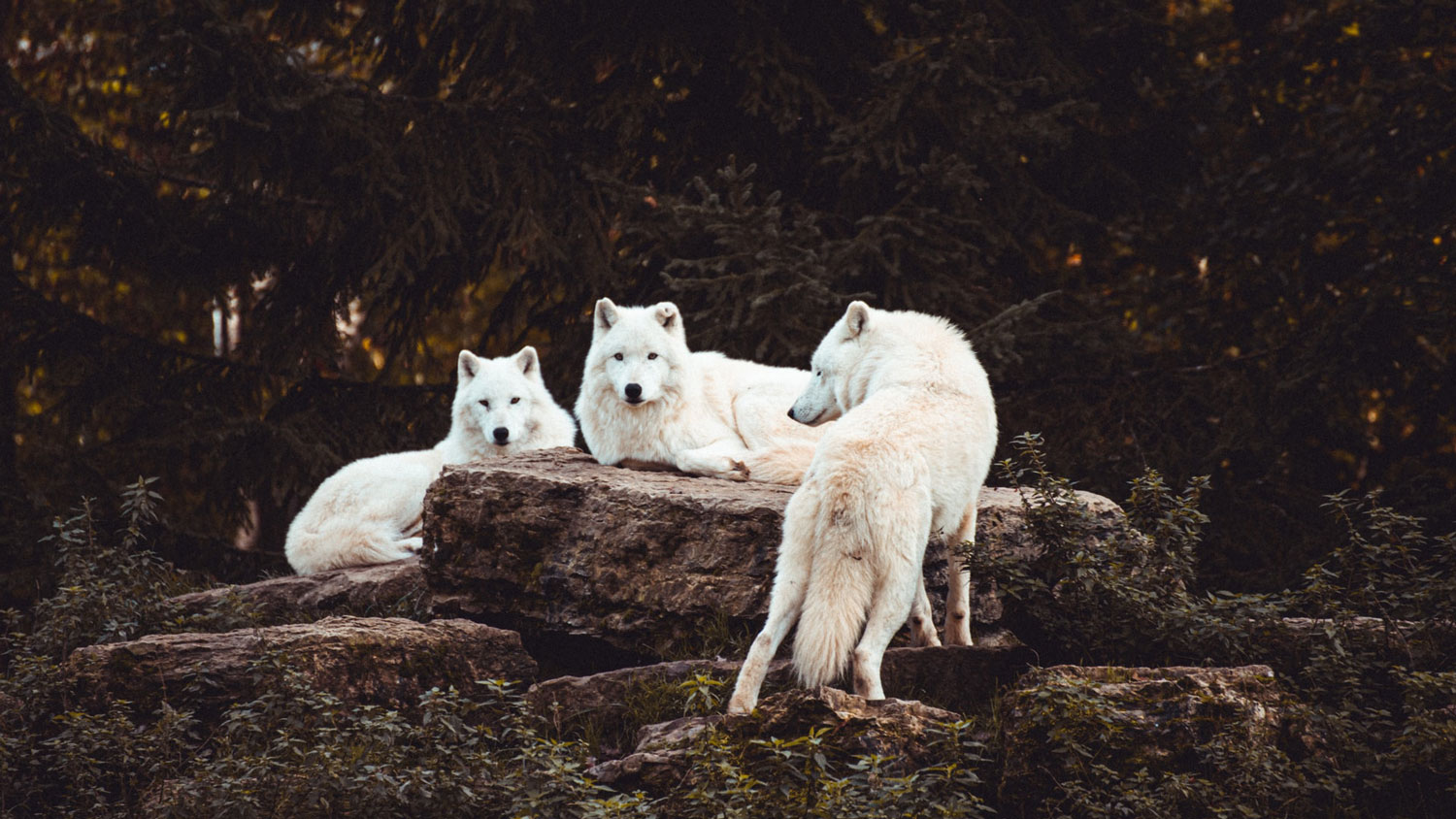 If mingling with wolves isn't on your bucket list, it should be - just don't do it on your own in the wild.
Did you know that many rescue animals cannot be released back into the wild? They need a safe and happy place to live out the rest of their days, and that is why a sanctuary is invaluable for rehoming and rehabilitation purposes. Visiting an ethically operating wildlife preserve is a commendable way to support animal welfare and education as the funds go directly towards helping to save these vulnerable lives. 
A majority of the animals rescued by sanctuaries are from the exotic pet trade, have been abandoned, encountered dangerous situations at the hands of humans or having sustained injuries in their own natural environment. And while wolves may appear to be very dog-like, they are naturally wild creatures and their instincts make it impossible for them to be kept as domestic pets. Wolves are predatory carnivores that mostly survive by persistently hunting down prey. 
Predators of the Heart
Predators of the Heart is located on Fidalgo Island amidst old-growth forests in Anacortes, Washington, which is about a 2 hour drive from Vancouver. They are home to one of the largest wolf packs in the Pacific Northwest. Founded by Dave Coleburn in 1998, this sanctuary is a non-profit strictly focused on animal conservation and educating the public. Their mission is to raise awareness, increase appreciation and respect for these majestical creatures, and to instill a more heightened concern and deeper understanding within the general public. Most importantly, they are licensed and insured by the USDA to ensure the animals in possession are treated and cared for humanely. 
They offer an exclusive 2 hour Wolf Encounter Experience for $275CAD per person. The tour kicks off by getting to meet their two wolf ambassadors of the sanctuary, Max and Kakoa, who will assist in guiding visitors through the 10 acres of their property. Fear not, there will also be an experienced wolf handler and human tour guide tagging along. With every step taken, visitors will learn interesting facts about wolves and their behavioural attributes, as well as their natural habitat and associated ecology. The resident wolves are incredibly friendly as they have been trained to interact with humans so get ready to steal a kiss or two from them – they love to give oodles of face licks. 
View this post on Instagram

Make sure to bring a cell phone or camera to capture memories because there is a part of the tour where the guides allow photos to be taken of the visitors interacting with the wolves. One will also get to see foxes, bobcats, reptiles, alligators, sloths, cougars, reptiles, opossums, skunks, owls, lynx, hawks and vultures as they do not discriminate the type of species and lives saved – they are a safe haven for all creatures and critters.
Predators of the Heart hosts two tours, Monday – Saturday (closed on Sundays) – one at 10:00am and an afternoon option of 1:00pm from mid-April through to December. No walk-ins. Minimum age of 18 required. This unforgettable experience can be booked via their site however, it redirects to Airbnb for the finalization of tour ticket purchasing.
Considering we're still strongly advised against crossing the closed border between the USA and Canada, there is a Canadian wolf sanctuary one can visit should they live near it, or wish to take note for future travel plans. 
Yamnuska Wolfdog Sanctuary
Yamnuska Wolfdog Sanctuary is located east of the Rocky Mountains in Cochrane, Alberta, on 160 acres of land. Founded in June of 2011 by Georgina DeCaigny and Andy Scheibenstock, they are currently known as one of Canada's largest non-profit sanctuaries. They are a knowledgeable and experienced rescue organization prioritizing displaced wolfdogs, and in addition placing emphasis on saving goats from livestock auctions and inevitable slaughter. 
Their interactive tour is much shorter than the one in Washington mentioned above however, they are fairly cheaper at only $58CAD per person. Their tour experience runs about 45-60 minutes in length, with a more personalized feel due to the smaller groups they take on for each time slot. Each group will be assigned a sanctuary guardian to delve into detailed talks regarding wolves, as well as corresponding environmental and habitual facts. Simultaneously, the groups will be allowed to interact with the wolves in two of their enclosures – each enclosure ranges from about one to two acres in size. Get an up-close and intimate look at these soft-fur beauties, as there will be countless photo opportunities. 
Visitors are encouraged to either start with a self-guided sanctuary walk before the interactive experience, or they can do it after – basically, one can freely walk the grounds at their own pace. Yamnuska is home to 25 permanent wolfdogs and 10 ambassador wolfdogs, all waiting to happily greet compassionate humans who are looking to learn more about them. 
Open year round, 5 days a week from 10:00am – 5:00pm (closed on Tuesdays and Wednesdays). The interactive tour is not suitable for individuals under the age of 15, and has four time slots per day; 10:30am, 12:00pm, 2:00pm and 3:30pm. They offer other tour options where you can view the wolves at a distance, and not interact – those options allow younger children to participate. Walk-ins are welcome. For more information on booking, please visit this link – https://yamnuskawolfdogsanctuary.com/interactivetour/