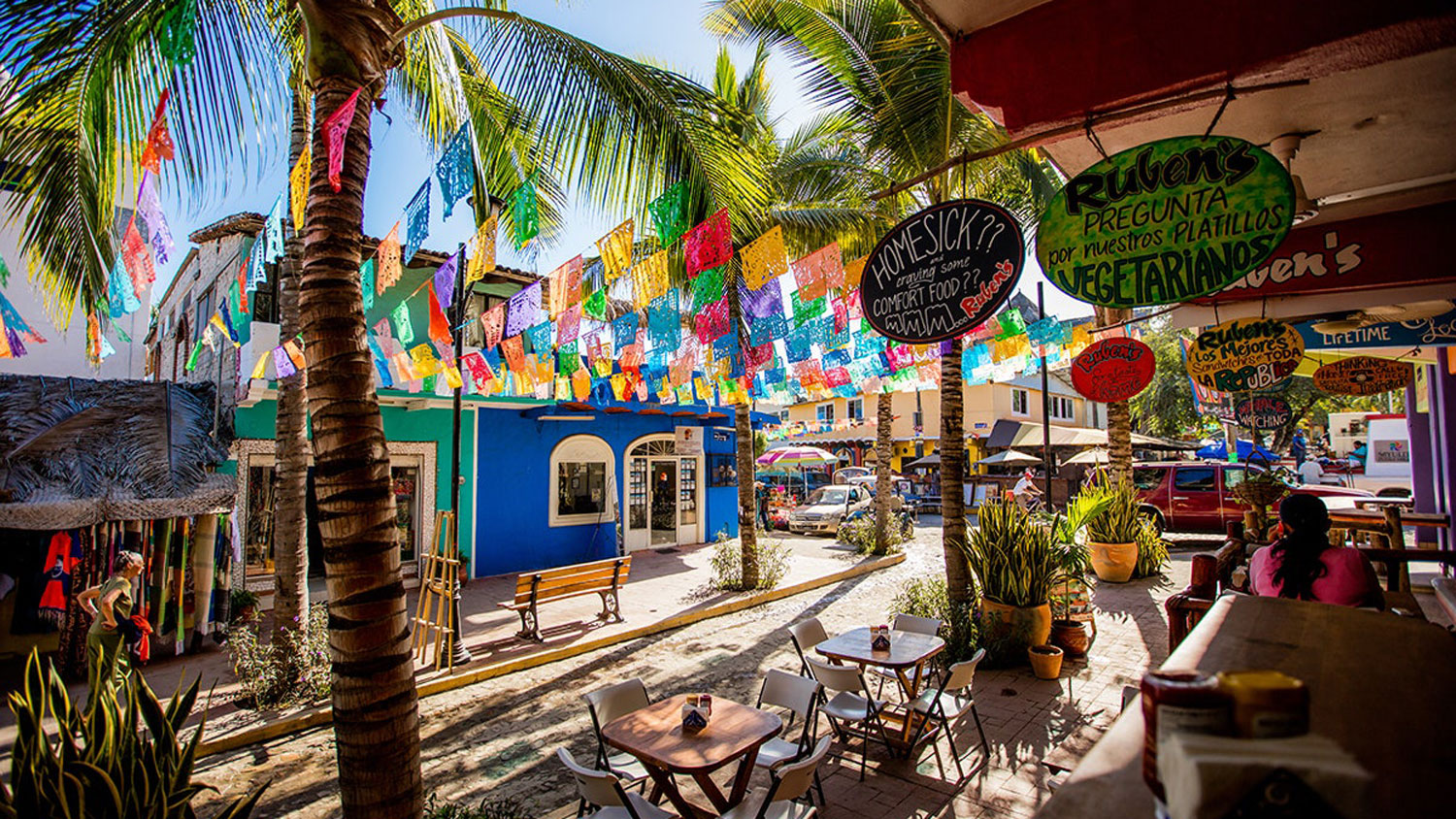 Sayulita, tucked amid swaying palms on a quiet coast of the Pacific, is a haven for surfers and a centre for Mexican Huichol art
The resort-dotted skyline of Puerto Vallarta rolls quickly into the distance as I cruise up the coast into the state of Nayarit. The urban beachscape gives way to lush jungle and winding road as Highway 200 curves north. The destination? Sayulita, a sleepy bohemian beach town splashed with mystical colours and sun worshippers.
Sayulita is, above all else, laid back. Dreadlocked, leathery surfers don stacked wrists of hemp bracelets, sipping cold beers under fringed palapa roofs. A hotspot for surfers and art lovers, the beach, however, is the main draw to Sayulita. But, for the sun shy, the town itself is buzzing with art galleries, coffee shops, restaurants and streets that explode with colour as bright Mexican flags flutter overhead in the breeze.
View this post on Instagram
 But by history's standards, life in Sayulita is smooth sailing. Once upon a time, travellers had to access the shores by traversing dense jungle, only to discover untamed beaches where waves crashed onto barren beaches through the haze. While threads of its wild past remain, Sayulita is, by all means, a luxury destination.
I check into Imanta Resorts Punta de Mita a small luxury eco resort set on a massive 250-acre property in Punta de Mita where the jungle meets the sea. This stylish Relais & Chateaux property offers 10 rooms with private pools and elegant baths in a lush tropical setting and 2 casonas (Villas with three rooms with full kitchen and private pool) designed exclusively to guarantee privacy and comfortA stunning private beach, a unique outdoor spa, two upscale restaurants, and a small gym complete the package.
View this post on Instagram
 For something equally luxurious, consider the indigenous-inspired property, the W Punta de Mita that pays homage to the bold, vivid traditions of the local Huichol natives and bohemian surf culture found throughout Banderas Bay and only about 20 minutes away from Sayulita.
The property features a 4,000 square-foot AWAY Spa, five buzzing bars and restaurants, an onsite WAVE Surf Shop that offers surf lessons and ocean-based excursions, a WET Deck with a swimming pool & DJ booth, and guest rooms with locally inspired touches.
Another hotel to consider is Casa Mis Amores, an oceanfront hotel on its own stretch of beach that oozes backpacker chic, with lazily swinging hammocks, a large main villa and two separate bungalows. Guests can enjoy the spa, infinity pool, hot tub, sauna and tennis courts. Haramara Retreat is yet another magical option set amid idyllic jungle and secluded sea. The retreat is all about wellness, renewing yoga and relaxation, while remaining "at one" with the spirit of the land. Yogis might also want to consider Playa Escondida, a beach-jungle bungalow and spa hideaway known for its tree-house style yoga platform overlooking the ocean.
I head into town. It's July and the heat feels thick and still. During high season, from November to April, Sayulita hums with throngs of tourists. But in July, the stagnant, wet humidity turns the town seemingly back to its original ghost town roots. I don't mind the heat – that's what the ocean is there for. A succulent, fatty steam fills the air along Calle Delfin, one of the main arteries that lead directly to the beach. A few tall tables with wooden chairs sit on the sidewalk, while a woman grills fresh tuna and marlin at The Real Fish Taco stall. Slathered in lime juice and topped with fiery salsa, the fish is folded neatly into tortillas. I devour them.
Sated and sleepy, I meander the beach to find that perfect chaise lounge. The beach restaurants rent the lounge chairs out for the day – perfect for al fresco napping. But my time in Sayulita is limited, and I want to bring a piece of it home with me. Fortunately, Sayulita is one of the best spots in Mexico for gorgeous souvenirs. I make my way to Evoke the Spirit, an airy and beachy shop with handcrafted home goods, jewellery and clothing. The Thousand Prayers necklaces are something to marvel at, handcrafted by the local Huichol tribespeople that are native to Nayarit.
View this post on Instagram
 For gemstones, you can't beat Sayulita Sol Jewelry, specializing in gemstones, vermeil, gold fill and sterling silver. All the jewellery here is made by owner and designer Kimberley Keehn, or someone from her team.
In keeping with the flower child vibe of Sayulita, Pacha Mama is a haven for free spirits. The owners are the Mignot sisters who call from France, and who have opened this boho-chic boutique, brimming with fringed vests and hardbacks, leathery necklaces and hand-embroidered Mexican wedding dresses.
As the sun smears the Sayulita sky in the most vibrant pinks and oranges, it's time for the ultimate cap to the day. Wander to El Patio, the perfect place to watch the ocean, sip a cocktail and listen to the sounds of surfers returning home from their escapes from reality.