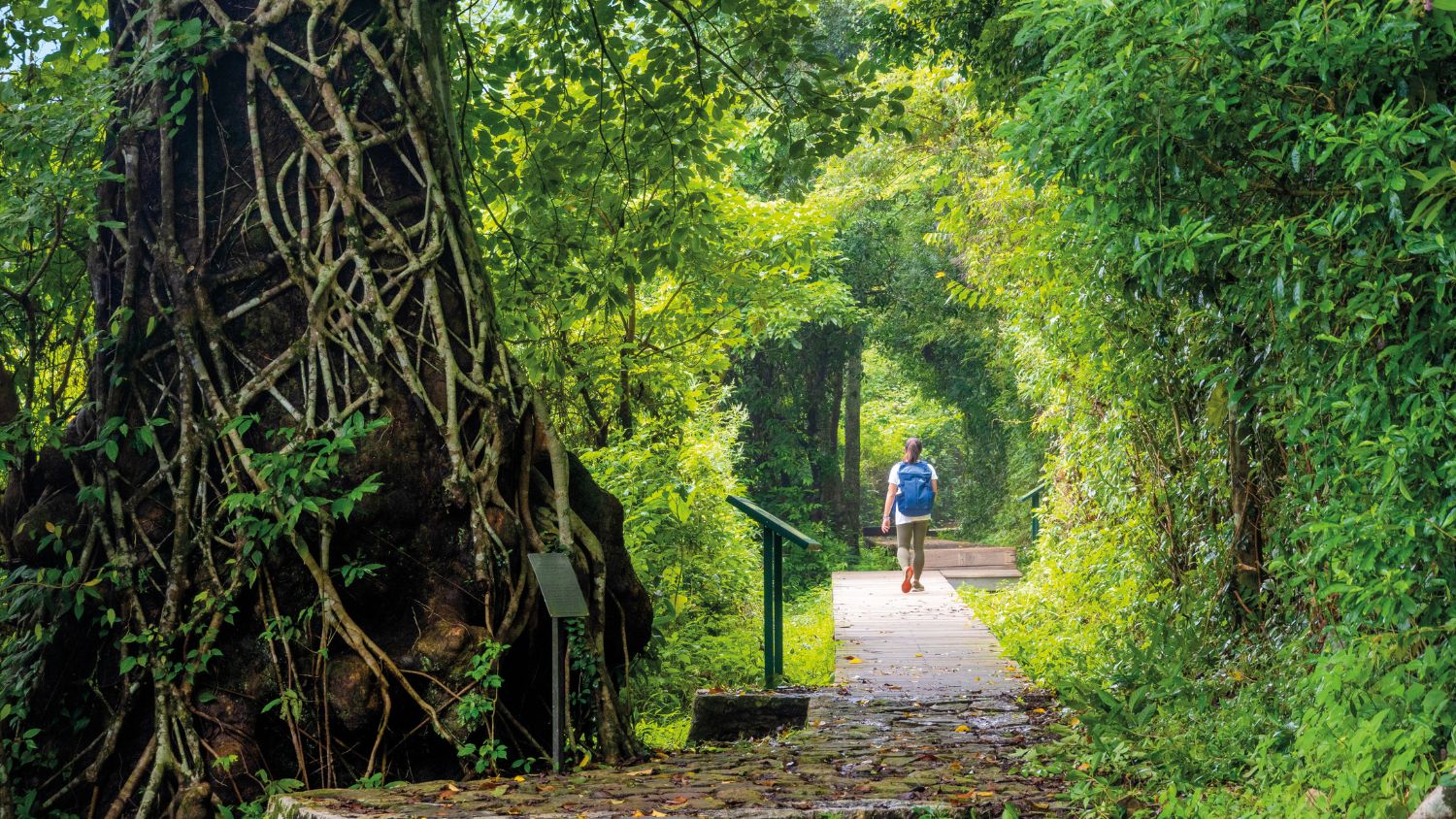 From mountains and beaches, to marine parks, nature reserves and more than 260 outlying islands, here's how to enjoy the great outdoors in Hong Kong.
I'm hiking through the jungle, wiping sweat off my brow even though it's still early morning. It's quiet, except for the sounds of songbirds and buzzing insects. I come across some crumbling ruins and overgrown rice paddies, both of which have succumbed to the jungle, but I only pass a handful of people in a couple of hours—providing a sense of solace where I least expect it.
While this could describe many places, Hong Kong probably isn't the first that comes to mind. But I'm in Plover Cove Country Park in the northeastern New Territories, just a ferry ride away from Hong Kong Island. And this conservation area has a bit of everything: feng shui woodlands, mangrove forests, freshwater wetlands, ancient geological formations and even a ghost town.
What it doesn't have is roads—only a network of trails. My hike takes me to Lai Chi Wo, a 400-year-old walled Hakka village that was largely abandoned in the 1960s. Today, with its 200 hillside homes, Hip Tin Temple and Hok Shan Monastery—arranged auspiciously in rows—it is considered one of Hong Kong's oldest and best preserved rural settlements. In fact, it was awarded UNESCO's prestigious 2020 Special Recognition for Sustainable Development for its cultural heritage conservation.
Flanking the village is a 'feng shui' woodland, which was planted in accordance with the ancient philosophy of living in harmony with nature. There are more than 100 native plant species here, including ancient trees like the century-old hollow maple and giant five-finger camphor tree. It's so quiet, I marvel that I'm actually in Hong Kong.
That's because Hong Kong is known for its dense skyscrapers and bustling markets—not so much for its great outdoors. Yet, more than 70 per cent of its 1,108-square-kilometre territory comprises green spaces and 40 per cent is designated for country parks and nature reserves. Best of all, this outdoor playground is easy to access from the bustling core of Hong Kong via a bus, taxi or ferry ride—with plenty of offerings for tours or DIY adventure.
From mountains and beaches, to marine parks, nature reserves and more than 260 outlying islands, here's how to enjoy the great outdoors in Hong Kong:
Country parks: From hiking and biking to culture and photography
Hong Kong is home to some of the best hiking trails in Asia; its 24 country parks have a vast network of dedicated trails appealing to a wide range of abilities, from short nature trails to challenging mountainous treks. Whether you're seeking out rocky coastlines, dense woodlands or rolling mountains—or even urban hikes—most trails are easily accessible by public transit. They're also well-maintained with regular signposts and distance markers.
One of Hong Kong's most popular hikes, Dragon's Back (in Shek O Country Park) follows a ridge that, like its name suggests, undulates like a dragon's back, offering epic views of southern Hong Kong Island (and you can cool off afterward with a dip in Big Wave Bay). There are also four long-distance hiking routes, ideal for trail running, for a combined 298 kilometres: MacLehose Trail (100 km); Wilson Trail (78 km); Hong Kong Trail (50 km); and Lantau Trail (70 km). And the New Territories Cycle Network, which opened in 2020, offers cyclists 60 km of lush greenery and seaside views.
You can also combine outdoor adventure with a dose of culture. On Peng Chau Island—a short ferry ride from the central business district of Hong Kong—you'll find easy hiking trails while getting a taste of authentic village life. If you're hiking on Lamma Island, you'll come across fishing villages, temples and beaches, and you can stop for lunch at one of the island's many seafood restaurants. While this is Hong Kong's third-largest island, it's known for its hip, laid-back vibe, yet it's still traditional in many ways.
On Lantau Island—the largest of Hong Kong's outlying islands—you can soak up the serene atmosphere on numerous hiking trails or take the cable car for a bird's eye view of the island's verdant mountain terrain. While there, visit the Po Lin Monastery, Wisdom Path and Tian Tan Buddha—the largest outdoor seated bronze Buddha statue in the world. For photography buffs, hiking to Sunset Peak (Hong Kong's third-highest peak) is perfect for capturing the golden hour.
Beaches: From water-sports to lazy beach days
Not far from the bustle of Hong Kong's central business district you'll discover a completely different side to this urban metropolis, with bays of golden sand and water that's swimmable year-round. With plenty of water-sports on offer—from serene stand-up paddle-boarding to adrenaline-pumping kiteboarding—you can rent equipment and even take lessons.
Shek O Beach is one of Hong Kong's most popular beaches, its golden sand surrounded by rocky cliffs, offering rustic charm, beachside bars and barbeque pits. At the other end of the scale is Repulse Bay Beach, with posh beach clubs, chic restaurants and a beach-front mall, The Pulse. There are several under-the-radar spots too, like Chung Hom Kok, where you won't find crowds—or facilities, so you'll need to bring your own snacks.
Some beaches offer big waves or strong winds ideal for water-sports. Just north of Shek O Beach is Big Wave Bay, popular with surfers and windsurfers; above, paragliders ride the lift from Dragon's Back. You can try your hand at kiteboarding at Pui O Beach or Shui Hau Wan; paddle the coastline of Cheung Chau (where you might spot bioluminescent algae); or snorkel and kayak in Sai Kung, Hong Kong's 'back garden.'
Natural wonders: Geoparks, marine parks and nature parks
Hong Kong is surrounded by water and five per cent of these waters are designated or planned to be designated as marine protected areas by 2023. Hoi Ha Wan Marine Park, for example, is a protected area with 60 varieties of coral and 120 species of fish (and it's a great spot for snorkelling, diving and kayaking). Hong Kong's largest marine park, Lung Kwu, encompasses 1,200 hectares and is home to the rare Chinese white dolphin.
Sai Kung, sprinkled with uninhabited islands notable for their white-sand beaches and lush, rolling hills, is also home to the UNESCO Global Geopark—with its caves, cliffs and rock formations dating back to the days of dinosaurs. The Ung Kong and Ninepin Group of Islands lie within the Geopark's Sai Kung Volcanic Rock Region, featuring rare hexagonal rock columns formed by a super-volcano eruption 140 million years ago. While they're of global significance, you don't have to be a geologist to appreciate their beauty.
For wildlife lovers, there's also plenty on offer: Hong Kong Wetland Park, for example, is a 60-hectare outdoor wetland reserve that's home to birds, butterflies, amphibians, reptiles and fish. For birders, the marshes and mudflats of the Mai Po Nature Reserve are a vital stopover for 90,000 migratory birds. And while you'll need to be on an organized tour to visit this protected area, it's a chance to spot the endangered black-faced spoonbill.
A trip to Hong Kong isn't complete without experiencing its natural attractions. For more information on Hong Kong's hidden treasure—the great outdoors—visit
discoverhongkong.com
.