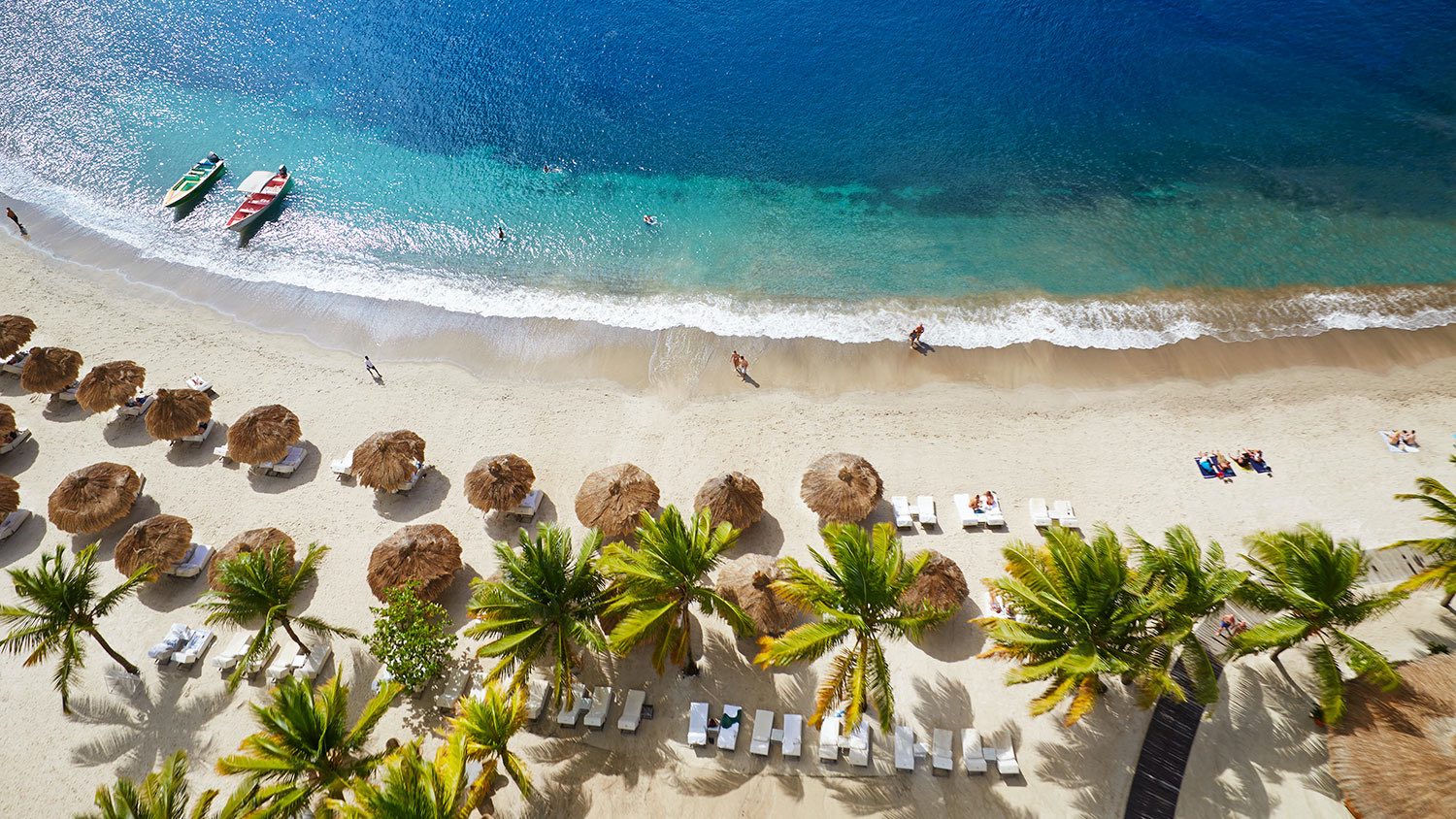 Since rejuvenating their cocoa industry, the idyllic island of Saint Lucia has added chocolate to their list of all-encompassing luxuries.
In the Eastern Caribbean lies a jewel, a unique island with which I have a secret romance. Her luscious green rainforests lead up majestic mountains to breathtaking views of cacao trees, golden beaches and endless sparkling blue sea. From the north to the south, my time exploring stunning Saint Lucia has been a rejuvenating breath of tropical air. I have found paradise and it's made of chocolate.
As I sip my chocolate beer and watch the sun set between the magnificent UNESCO Piton Mountains, the aroma of freshly ground cacao lingers in the air. Today, I took a moment from snorkelling the crystal clear waters of Saint Lucia's picture perfect south coast to explore the island's ever-expanding chocolate making industry.
View this post on Instagram
The lush Saint Lucian rainforest has been home to many cacao trees since the 1700s, but the chocolate-making business has only recently been reinvigorated. Cocoa has long been an important part of the country's history but took a backseat to the banana industry in the country's modern economy. As recently at the 1980s, Saint Lucia was one of the world's largest exporters of bananas. Unfortunately, major changes to the trade agreement between Saint Lucia and Great Britain brought an immense collapse in the island's banana industry. In the early 1990s, the number of banana farmers in Saint Lucia fell from 10,000 to about 1,000, which is where it sits now.
In search of a new and profitable export, Saint Lucia's farmers returned to the country's deep cocoa roots. Growing cocoa requires at least 60 inches (152 centimetres) of rainfall per year. With an annual rainfall of up to 150 inches (381 centimetres), Saint Lucia is the ideal environment for growing, harvesting and making chocolate. With additional interest from overseas, this revitalization has created hundreds of jobs for Saint Lucian locals, from farmers to harvesters, cacao rollers to grinders, to newly trained chocolatiers.
In the late 2000s, British entrepreneurs opened Rabot Hotel (previously known as Boucan (the Creole word for a traditional cacao drying shed), on a Saint Lucian cacao plantation. These hoteliers realized their lifelong dream of making chocolate from bean to bar, while simultaneously opening a boutique hotel and providing unique chocolate experiences to guests from all over the world. It is here, at Boucan by Hotel Chocolat, whether in search of making my own unique chocolate, eating the succulent Cacao Beer Jerked Pork Tenderloin in their award-winning restaurant or indulging in a cacao body exfoliate in the spa, chocolate is on every menu in a variety of forms.
Nearby Fond Doux Plantation & Resort is a 19th-century eco-friendly, chocolate-making property built within a 250-year-old working plantation. A true believer in cultural preservation, Fond Doux boasts lavish greenery lining pathways between restored 100-year-old French Colonial cottages, and winds through aromatic cacao groves. Here, I take part in the Saint Lucian chocolate-making experience: I harvest my own cacao before lying the beans out to dry, grinding, rolling them and adding the ingredients that will turn these magic beans into creamy, rich chocolate. Beside the expansive drying racks, I performed the historical Coco-Rina or "Chocolate Dance," spinning, swooping and sliding barefoot in a large brass vat full of cacao beans. When I finally indulge in my creation, the chocolate is deep, smooth and intense, tasting of pride and ingenuity.
Native Saint Lucian chocolate is prominent at nearly all the island's perfectly unique resorts. I enjoyed a delectable Saint Lucian chocolate bar in the seclusion and calm of Ti Kaye Resort's private cottages before heading to their spa for a hydrating chocolate wrap. The extravagant Ladera Resort in the south, a favourite destination of the famous Oprah Winfrey, highlights Saint Lucian chocolate in their gift shop and on their dinner menu, as does Calabash Cove Resort & Spa, a small, exclusive hotel that also offers chocolate-making tours from their quiet corner on the north of the island. Stonefield Villa Resort, a 26-acre private wellness spa on the south coast, focuses on relaxation, revitalization and a connection to all things Saint Lucia. This, of course, means that Saint Lucian chocolate lives on site, an integral part of this Caribbean escape.
Finally, I toured Emerald Farms at the award-winning Jade Mountain, a green and lush organic farm with more than 2,000 cacao trees. Organic beehives hum alongside rows of fruit and vegetable grown exclusively for Jade Mountain's restaurant, a self-sufficient celebration of Saint Lucia's crop. They pride themselves on creatively utilizing their organic chocolate within their own menu; even select beverages include some sort of chocolate twist.
At their luxurious, mountainside resort, Jade Mountain's signature chocolate lab turns their organic cacao beans into chocolate bars, desserts and mouth-watering truffles, integrating other flavours from their farm, including fresh honey, mint and chili. Inside the lab, the chocolate maker asks my opinion on a new experimental creation. "More honey?" he asks. I nod and he smiles in agreement.
It is from this unparalleled view at Jade Mountain that I watch the setting sun glisten on the Caribbean Sea, illuminating the Pitons and rainforest below. An indulgence of my body, mind and mouth, this magical island is a sweet escape.
ST LUCIA ESSENTIALS
STAY
---
Sugar Beach, A Viceroy Resort
The spectacular Sugar Beach, a Viceroy Resort is set within ovr 100 acres of pristine rainforest on the site of an 18th century sugar plantation and in the embrace of the UNESCO World Heritage-listed Pitons.
View this post on Instagram
Jade Mountain Resort
The Jade Mountain Resort is built into the side of a mountain, a unique combination of modern architecture and natural beauty that has won awards worldwide. From your personal infinity pool in the open-air three-walled sanctuaries, watch the sunset between the breathtaking Piton Mountains while the sun glistens off of the water.
View this post on Instagram
EAT
---
Windsong Restaurant at Calabash Cove
Inspired by Asian Cuisine, the menu here uses only local ingredients to create mouthwatering international fare. The banana flambé is one of life's top five desserts and will leave you gushing for years to come. With unobstructed views of the Caribbean Sea, Calabash Cove is the ideal place to watch a colourful, awe-inspiring sunset with a glass of wine.
View this post on Instagram
ROMANCE ESSENTIALS
---
High in the hills, indulge in a couples massage at Ti Kaye Resort. Massage tables overlook the water and local essential oils will lull you and your partner into the ultimate state of relaxation.
View this post on Instagram
Yoga
Zen out on the yoga platform at Stonefield Villa Resort, a leafy wellness resort in the south of the island. With a trained yoga instructor guiding the session, you and your partner can connect on a spiritual level, taking your romance to new heights. 
View this post on Instagram
Chocolate Tour
Head to Hotel Chocolat for a unique tour of a working cocoa plantation before creating your own homemade chocolate treat. Finish your day with a delicious chocolate-infused dinner or a chocolate body wrap in the spa.
View this post on Instagram