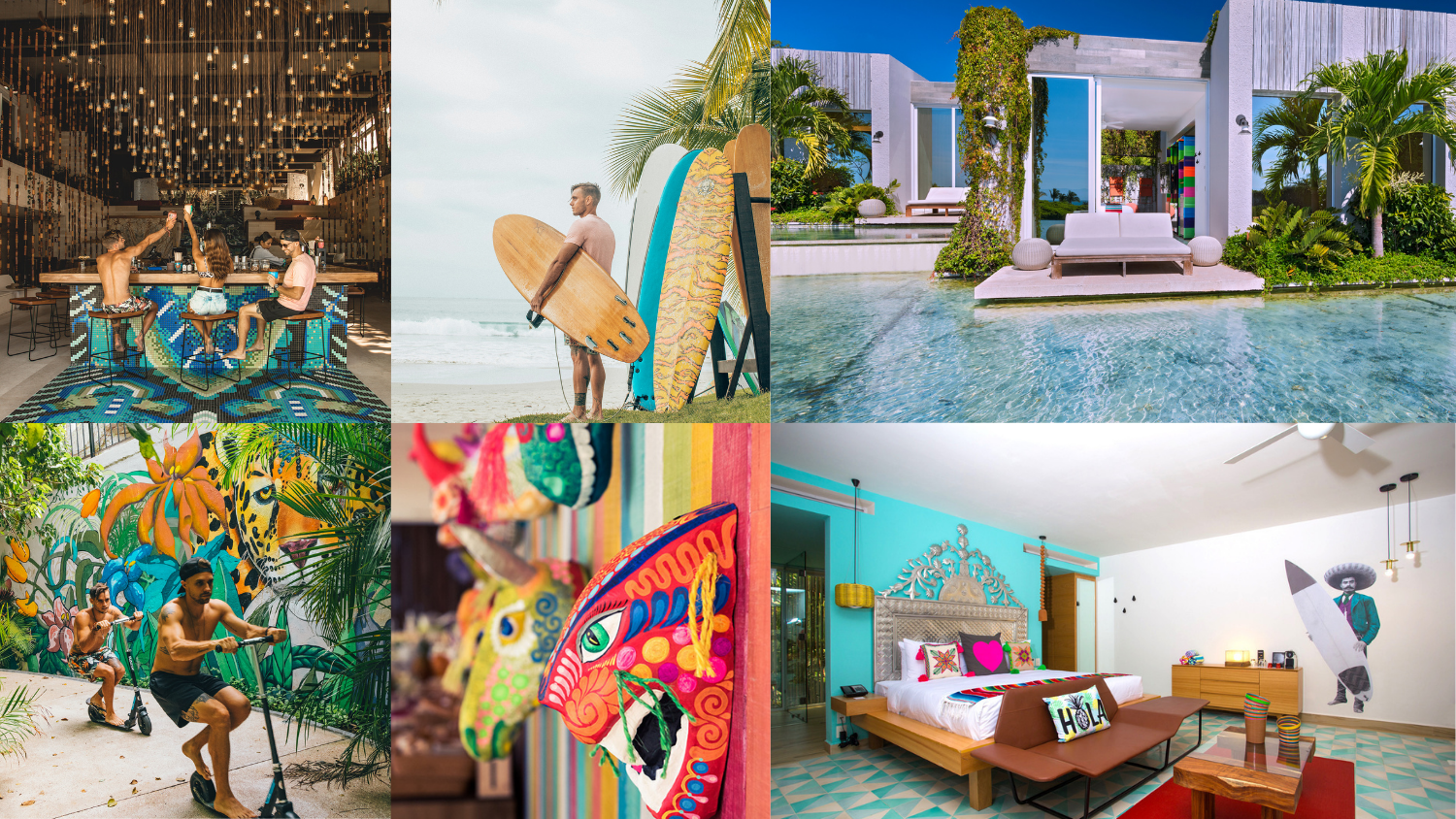 The W Punta de Mita has already made a name for itself in the region and in Mexico. It's a beautiful, thoughtfully built resort combining impeccable hospitality with nods to Indigenous culture.
I am a little—I might confess—dazed lying on my stomach atop of my surfboard out front of W Punta de Mita on Mexico's Riviera Nayarit. I have been plunging into the waves at regular intervals for about 40 minutes now and I'm not sure which way is up.
"Paddle, paddle!" yells Pepe, my surfing instructor, as the next wave coming at me starts to grow its whitecap. Then Pepe is yelling, "Up, up!"
I inch from my stomach onto my knees and then, very carefully, my feet. And finally, I am, for the most part, standing up straight on a surfboard. I enjoy a few seconds of victory before I step off the board onto the warm sand of Bahía de Banderas, the giant bay shared by both Jalisco and Nayarit states.
Though I have visited the Pacific coast of Mexico a few times, this is my first time on the Riviera Nayarit, and my first time at a W hotel. As far as tourist areas go, Riviera Nayarit, which starts here in the bay and continues for more than 300 kilometres north, is relatively new, and especially here in Punta de Mita, promises a more upscale, discreet and peaceful retreat than other resort hotspots. It feels secluded despite its proximity to charming towns like Sayulita and San Francisco, as well as Puerto Vallarta's Licenciado Gustavo Díaz Ordaz International Airport, which is about an hour's drive away.
From the moment you enter the lobby to the time you hit the sack, the distinctive décor style never lets you forget where you are—at a W and in Nayarit, Mexico. The property's main shared areas are defined by a single blue, green and yellow tile runway, called Camino Huichol and inspired by local indigenous design. It runs straight from the main entrance (after you're driven in a cart from the parking area), through the lobby, down stairs like a waterfall to the main bar, across the pool deck and then up a set of stairs to a ramp that runs along the pool, providing a spectacular elevated view of the beach and the bay. At various times of day, you'll come across kids scootering down the camino, pool-siders taking refuge from the sun under it and, at sunset, couples taking romantic strolls along it.
The 119 villas, each with a private patio or balcony, are divided into Ocean Front, which run right along the beach, and Ocean View, which circle a lagoon. The vegetation around the villas feels thick and jungly. Guest get around by walking along the winding paths or by calling a driver with a cart. The rooms themselves are a light-hearted melding of chic and kitsch—local art mixes with mashup images of, say, artist Frida Kahlo branding a surfboard and other colourful design touches. Some feel like impeccably modern treehouses; others like groovy beachside apartments.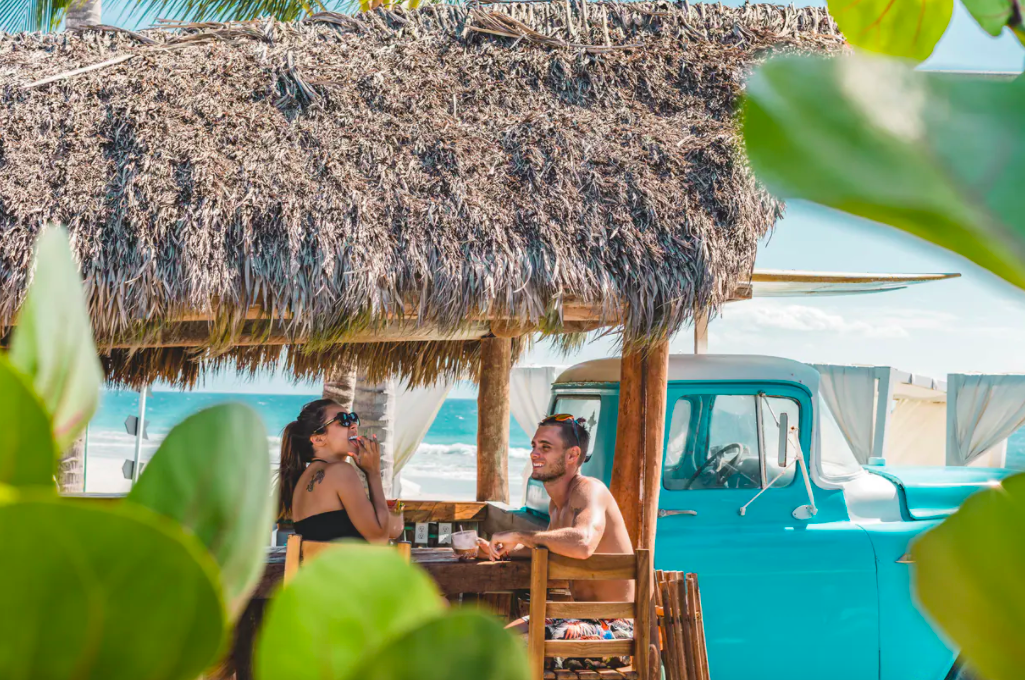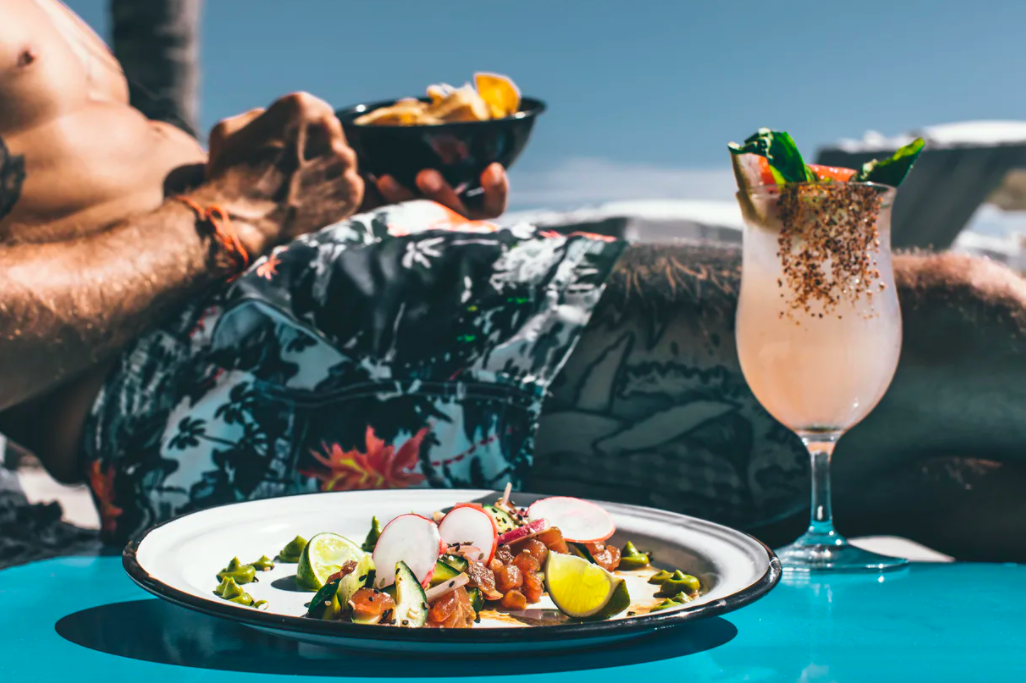 Along with design, the W's other strengths are food and "scene." Of the six dining options, it's a little surprising that chef Jean-Georges Vongerichten's Spice Market, which focuses on Southeast Asian cuisine, is probably the resort's most famous and best loved. Venazú restaurant, which serves a mean taco, has what it takes to carry the banner of Mexican cuisine on its own. Mesa1, the smallest dining venue (a single wooden table hidden in plain sight in the middle of the resort), is available only for small groups who book in advance.
Since W Punta de Mita is a little far from other places—staff advise that renting a car is a good idea—its "scene" is an equally important component. The pool and beach activities, particularly with the help of the WAVE crew, will keep sporty people occupied. I had never so much as laid on a surfboard prior to my visit, but managed to stand up and surf twice within an hour of starting my lesson. But for those who define "active" in a more low-key way, the 370-square-metre AWAY Spa holds all kinds of delights, including a relaxation deck surrounded by trees.
The W's "scene" is also defined by the hotel's connection to culture that's both cutting edge and locally attuned. At the full moon party that took over the sandy poolside area one night while I was there, musical artist Luna Sterling sang to a mix of live instruments and DJ beats provided by a guy called Hologram. It was a lovely, chill show, perfect for a romantic evening on the beach, Asia street food and themed cocktails on hand. But it was a bit trippier than you'd expect at a posh hotel.
That sense of adventurousness and bohemia seems just right for a destination where the fantastic surf may, for some, still be the main attraction.