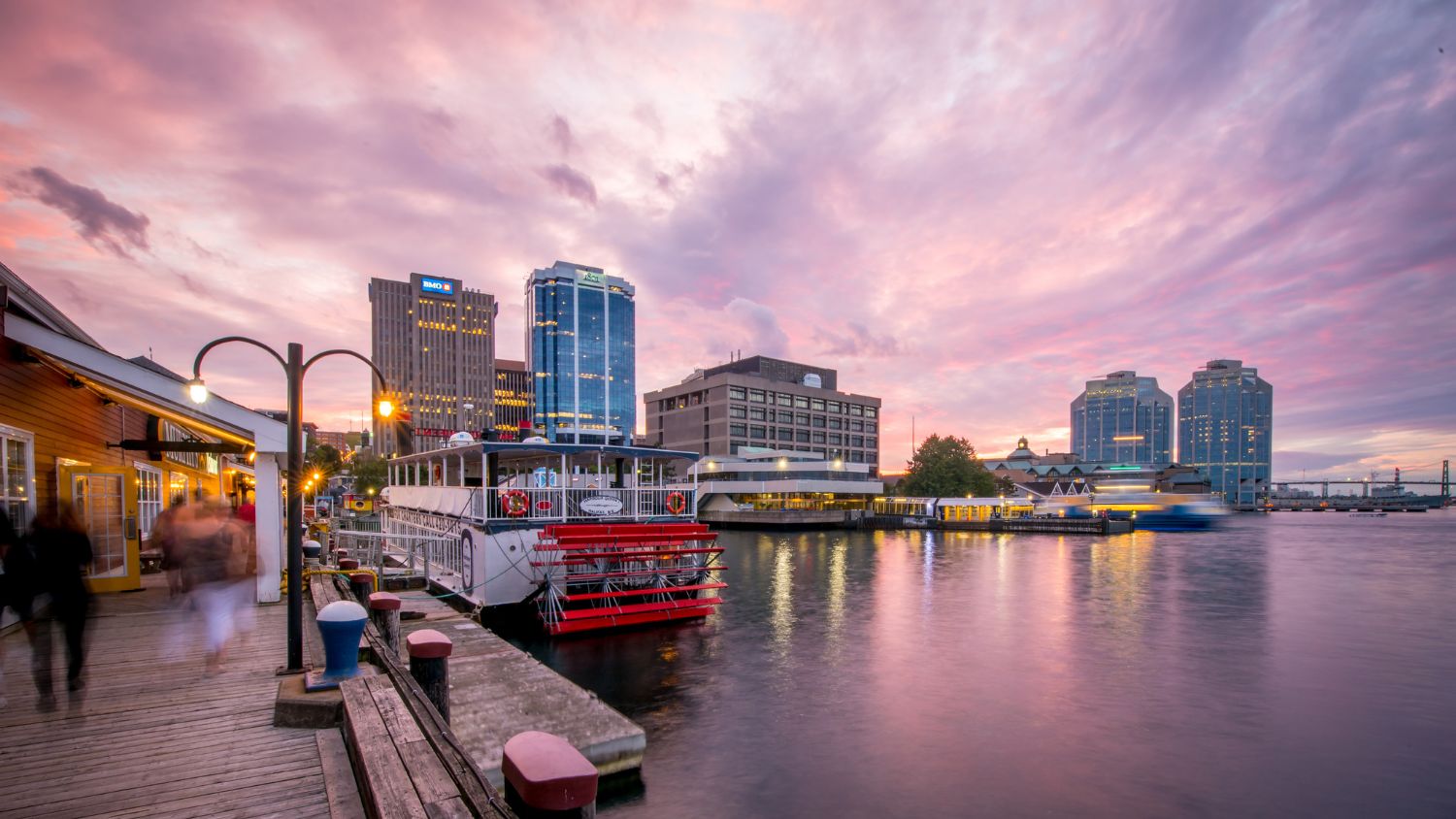 Driving Canada's Atlantic coast along Nova Scotia's – take a road trip from Halifax to the Cabot Trail
Halifax is one of the great cities of Canada, complete with a wonderful waterfront, great restaurants and warm, welcoming locals. A walk along the harbour wall takes you past beautiful boats and shops, not to mention lively pubs. The North End is an increasingly trendy area of town, while Dartmouth also features great restaurants and boutique shopping. Closer to Halifax, take a drive along the quiet Eastern Shore, where you can kayak in beautiful bays, check out funky folk art, and explore small villages such as Ecum Secum. Just outside Halifax, Lawrencetown Beach often has very good surfing.
Historic Lunenburg is a UNESCO heritage site that is home to dozens of wildly colourful buildings. It's also the home of Canada's most famous ship, the Bluenose. Take a drive out to tiny Blue Rocks for a glimpse of a quintessential Nova Scotia fishing village. Further south and west, you'll find tons of beautiful coastline with brilliant white and red lighthouses. Located on the Bay of Fundy, home to the highest tides in the world, the town of Digby is famous for its scallops. Port Royal was Canada's first permanent European settlement, founded by the French in 1605. 
Carry on to the beautiful, quiet Annapolis Valley, where you'll find the town of Wolfville, which is famous for its wines. Just a couple kilometres down the road is the Grand Pre National Historic Site, which traces the sad story of French-speaking Acadians and their expulsion from Canada by the British. 
Cape Breton's Cabot Trail is rightly praised as one of the great drives on the planet. The road surges and rises and falls along towering cliffs and takes you past empty beaches and lovely coastal towns like Mabou and Ingonish. The town of Baddeck is home to the Alexander Graham Bell National Historic Site, where you'll find a fascinating museum.
WHERE TO STAY
The Muir is a posh new addition to the Halifax waterfront, with stunning design from Toronto's Studio Munge and an emphasis on local art. It's a Marriott Autograph Collection hotel.
On Cape Breton, the Cabot golf courses offer sleek and stylish lodge rooms and golf villas overlooking the links and the Atlantic Ocean. 
On the north coast, Fox Harb'r Resort offers luxurious stays and a beautiful golf course. The resort was founded by legendary Canadian businessman Ron Joyce, of Tim Hortons fame.  
WHERE TO EAT
In Halifax's North End, Agricola Street Brasserie has exposed wood ceilings in what feels like an old warehouse. When we were there they had fabulous scallops sprinkled with a bit of smoked seaweed and toasted sesame seeds.
The Press Gang Restaurant and Oyster Bar is a Halifax classic that serves fantastic seafood in a building that dates back more than 250 years.
In Wolfville, Juniper Food + Wine is a small restaurant and wine bar run by the husband and wife who operated Hopgood's Foodliner in Toronto a few years ago.
WHAT TO DO
Take a History Lesson: Many Canadian immigrants made their first Canadian landfall in Halifax. Check out the Canadian Museum of Immigration at Pier 21 to learn some of their stories.
Play a Round: Some of the world's best golf can be found on Cape Breton. Cabot Links got it all started a decade or so ago with an insanely beautiful course on the ocean. Its newer cousin, Cabot Cliffs, has been voted one of the best golf courses in the world.
Take a Sip: The wineries in and around Wolfville are making very good wine these days. Benjamin Bridge has won awards around the world for its sparkling wine.