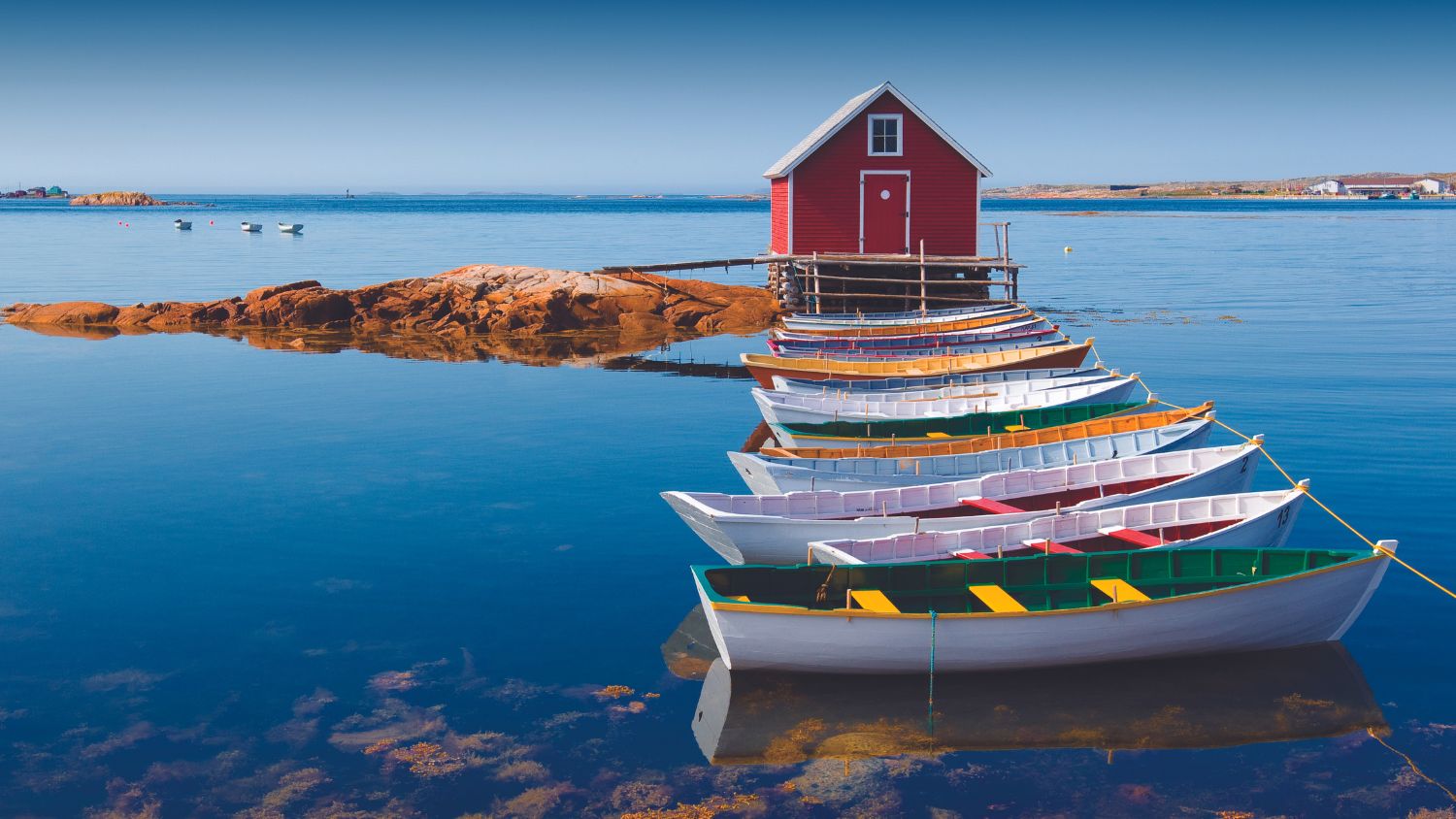 Take a road trip through the island of Newfoundland, from St. John's to Gros Morne National Park
St. John's might be the most unique city in Canada, partly due to its tiny, weather-beaten homes that clutch the side of a dark, rocky cliff in The Battery district, which overlooks the harbour. You'll find a series of hand-painted signs encouraging you to enjoy the walk and point out directions towards Signal Hill via the North Head trail, which actually begins on the front deck of someone's house. Be sure to check out the lively pubs on George Street downtown, and then get in the car and go for a road trip. Start with the fishing village of Quidi Vidi, less than 10 minutes from the city's core. 
Newfoundland is famous for its interesting, and sometimes cheeky, place names. Just a short drive from St. John's are small, oceanfront villages with names like Heart's Delight, Heart's Content and Heart's Desire. And then there's Dildo, which is a popular spot for social media photos. Just outside Port Rexton, the Skerwink Trail is an outstanding hiking area that takes you past towering, craggy rocks that rise straight up out of the ocean. Twillingate is a great spot for iceberg watching in spring and summer. Check out the marvellous views from nearby Long Point Lighthouse. 
Further north is Fogo Island, home to the truly remarkable Fogo Island Inn and also home to quiet fishing villages such as Tilting and Joe Batt's Arm. Stop in Gander to learn more about the airport and the story behind the hit musical "Come From Away," which chronicles how people from around the world were grounded in Gander after 9/11, and how locals took them in until they could fly home. 
Gros Morne National Park offers incredible hiking and a wonderful boat ride on what's basically an inland fjord. Bonne Bay is a wonderful spot in western Newfoundland for sea kayaking or canoeing. If you have time, take the ferry over to Labrador to explore an untamed Canadian wilderness.
WHERE TO STAY
In St. John's, the Alt Hotel is part of the Germain Hotel group, which means stylish, European-feeling rooms. Ask for a room with a view of the harbour.
In Western Newfoundland, Humber Valley Resort has lovely, spacious rooms alongside their highly-rated golf course. It's about 20 minutes from Deer Lake, which has frequent air service to major Eastern Canadian cities.
The Fogo Island Inn is consistently voted one of the best hotels in North America. You'll find locally made blankets and other materials in the rooms. Be sure to have the hotel set up a tour of the area with a local guide.
WHERE TO EAT
Mallard Cottage is a wonderful restaurant in Quidi Vidi, a postcard-perfect fishing village that's just minutes from downtown St. John's.
The Fogo Island Inn serves up exquisite meals, including sustainable, line-caught cod, local vegetables and Fogo Island berries. They operate with regenerative practices and a zero-waste mission. 
WHAT TO DO
Iceberg Spotting: In late spring and summer, Newfoundland sees massive, 12,000 year-old icebergs drifting down from Greenland. Twillingate and St. John's both offer great iceberg tours. Summer also means whale watching season.
Go downtown: George Street in St. John's is populated with great bars offering live music, often rollicking Irish tunes that make every day feel like St. Patricks' Day.
Take in a festival: The Writers at Woody Point is a wonderful event that features some of Canada's best writers and journalists, as well as brilliant musicians such as Jim Cuddy from Blue Rodeo. The CBC's Shelagh Rogers is one of the hosts, slated for mid-August this year. https://www.writersatwoodypoint.com/