Isabel Putinja explores this charming coastal town of heritage villas and gardens of bougainvillea which offers visitors a step back in time and an escape from the hustle and bustle of big Indian cities.
"Do you speak French?" asked the local Tamil man I had stopped for directions. "My French is better than my English," he explained apologetically. This took me aback. I knew French used to once be the lingua franca in Pondicherry, but I couldn't help but be surprised by the lingering French influence on this small seaside city located in South India.
Indeed Pondicherry, renamed Puducherry in 2006 but still referred to by most locals by its French name, has many vestiges of its French colonial past, I discovered as I strolled through this seaside town. Streets have names like Rue du Bazar Saint Laurent and Rue de la Marine displayed on French vintage-style blue and white enamelware signboards. The sign over the doorway of the Public Works Department says Travaux Publics, and the police sport bright red caps called kepis. Also, as I was reminded, French is still spoken by many of the older pondichériens.
The mix of European and Indian influences is revealed in Pondicherry's unique architecture. On the quiet, tree-lined streets of the French quarter, sandwiched between the seafront and the canal, I found colourful colonial-style villas with elaborate gateways and high walls hiding gardens of bougainvillea. Meanwhile in the bustling Tamil quarter beyond the canal, I came across many examples of traditional Tamil houses with their characteristic street verandas, carved doors, ornamental parapets and inner courtyards.
It is this mélange of East and West and heady dose of old-world charm that intrigues foreign visitors and offers its many Indian tourists a completely different ambiance compared to other Indian cities. Pondicherry is a popular weekend destination for overworked out-of-town visitors looking for some down-time, the opportunity to taste some excellent continental food the city's many top-end restaurants are known for, and a chance to hit the bars in a place where liquor is cheap and more easily available compared to neighbouring Indian states.
I found that the best way to explore Pondicherry's rich architectural heritage was on foot: the city's small size makes it ideal for walking. I picked up a heritage map at INTACH (Indian National Trust for Art and Cultural Heritage), located in a beautifully-restored Tamil-style house on Rue Aurobindo. Browsing through their exhibition of old photographs and historical documents, I learned that it is thanks to INTACH's efforts that many of Pondicherry's heritage properties have been restored to their former glory. The handy map lists the buildings which have been renovated and converted into stylish shops, luxury hotels and high-end restaurants. I set off to visit them all.
I quickly discovered that many are located in the French quarter, but I was delighted to also see many stunning examples of a unique Franco-Tamil style of architecture on Rue Calvé Subbraya Chetty in the Tamil quarter, and traditional Tamil row houses on Rue Mulla and Rue Cazy in the Muslim neighbourhood. I learned that INTACH also organises heritage walks during the tourist season from November to February which offer an excellent introduction to Pondicherry's unique cultural heritage and the efforts underway to preserve it. A must-do for my next visit!
Pondicherry's old world charm is best experienced by staying in one of the city's many unique heritage properties which have been converted into luxury guesthouses and hotels. The Hotel de l'Orient, located on leafy Rue Romain Rolland in the French quarter, is one of the city's landmark hotels and one of INTACH's first restoration projects with 14 rooms and two suites in a restored 18th century mansion. Further down the street is Gratitude, a lovingly restored 9-room guesthouse with long pillared balconies offering street views and a charming inner courtyard, which has been tastefully decorated with Anglo-French furnishings. A new addition to the city's growing number of heritage accommodation options is La Villa, an intimate 6-room boutique hotel on Rue Surcouf. Architects Tina Trigala and Yves Lesprit have preserved this 19th century colonial manor's period features like its high ceilings, elegant columns and ceiling beams while successfully incorporating elements of contemporary design.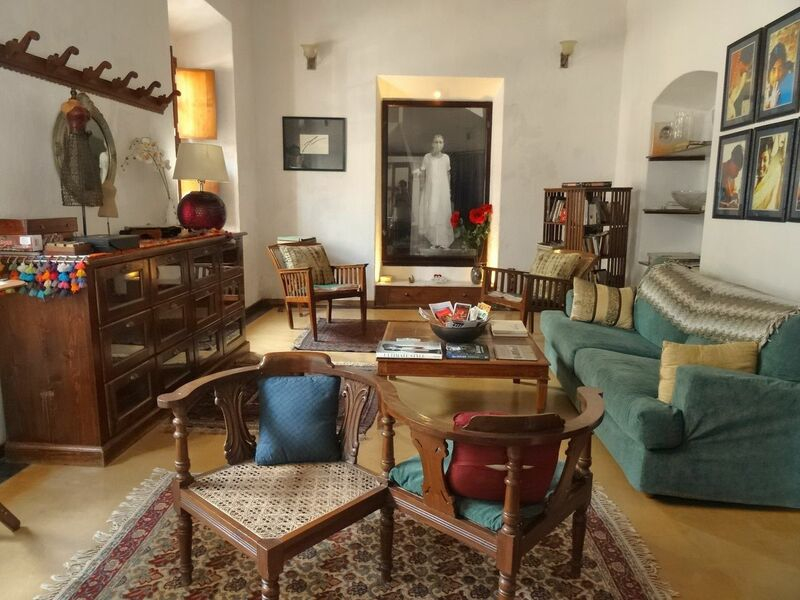 At the end of Rue Romain Rolland I stumbled on the lovely La Maison Rose, another beautifully restored colonial-style mansion with three stylish boutiques offering a true treasure trove of vintage style furniture, antiques, lampshades, glassware and designer clothes, bags and jewellery (especially those Ear cuff earrings).  The shady garden café and restaurant is delightful and one of the most atmospheric places in the city to dine al fresco.
Indeed the only way to dine in style in Pondicherry is under the stars. From traditional South Indian to French nouvelle cuisine to Creole fusion, there's something for every taste in the city's many stylish outdoor restaurants and garden cafés. The courtyard restaurant at heritage hotel Maison Perumal has a menu which changes daily, featuring innovative Franco-Tamil dishes made with fresh local ingredients. Another excellent option for al fresco dining is the elegant courtyard restaurant at stylish Le Dupleix.
Thanks to all these applaudable local conservation efforts, Pondicherry is one of the few cities in India where you can take a step back in time. Its charming colonial villas, tree-lined streets, gardens of bougainvillea, and scenic seaside location make it one of South India's most unique and enchanting destinations and a place I will keep coming back to.