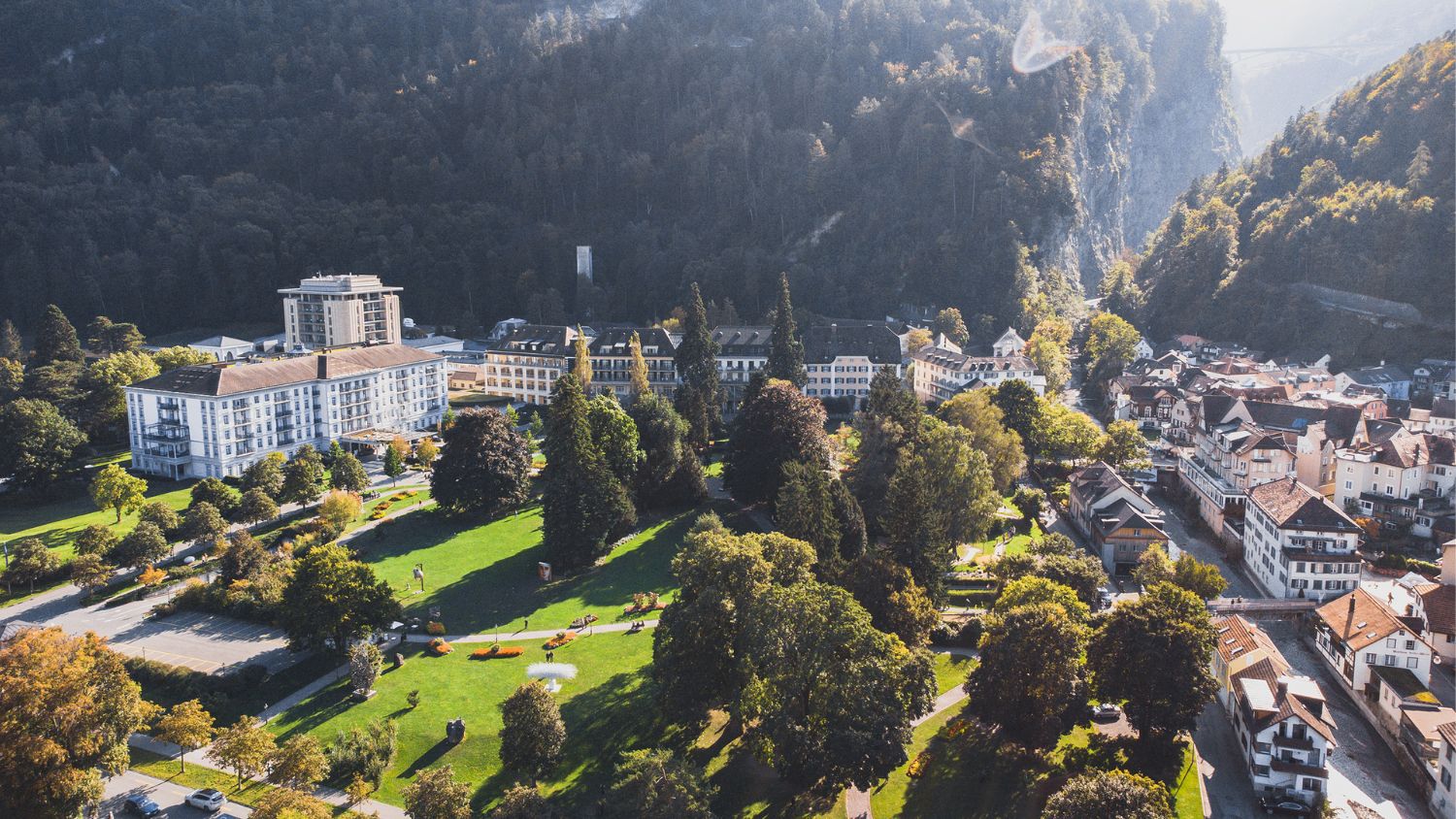 In this small Swiss town, wellness, wine and world-class cuisine take centre stage.
Switzerland stuns as a landlocked locale lauded for its awe-inspiring Alps and decadent indulgences, but beyond the ski culture, chocolates and cheese is a smattering of small towns and villages to discover, each offering their own distinct charm. 
Found a mere hour and a half by train from Zurich is the serene Swiss spa town of Bad Ragaz (Bad being German for "bath"). Well known to Europeans as a sanctuary for its historic and therapeutic thermal waters, the secret spot is less known to visitors from abroad. The thermal springs of the nearby Tamina Gorge have been a source of wellness for centuries, as the mineral composition and temperature of the water (36.5°C) are proven to have powerful healing properties.  
The springs flow into Bad Ragaz, where Europe's first-ever indoor thermal water pool was built in 1872. The site is now home to Tamina Therme, the most abundant aquatic spa in Europe today, offering more than 8,000 square metres of thermal baths, plus several saunas and spa treatments, resulting in an all-around wellness wonderland.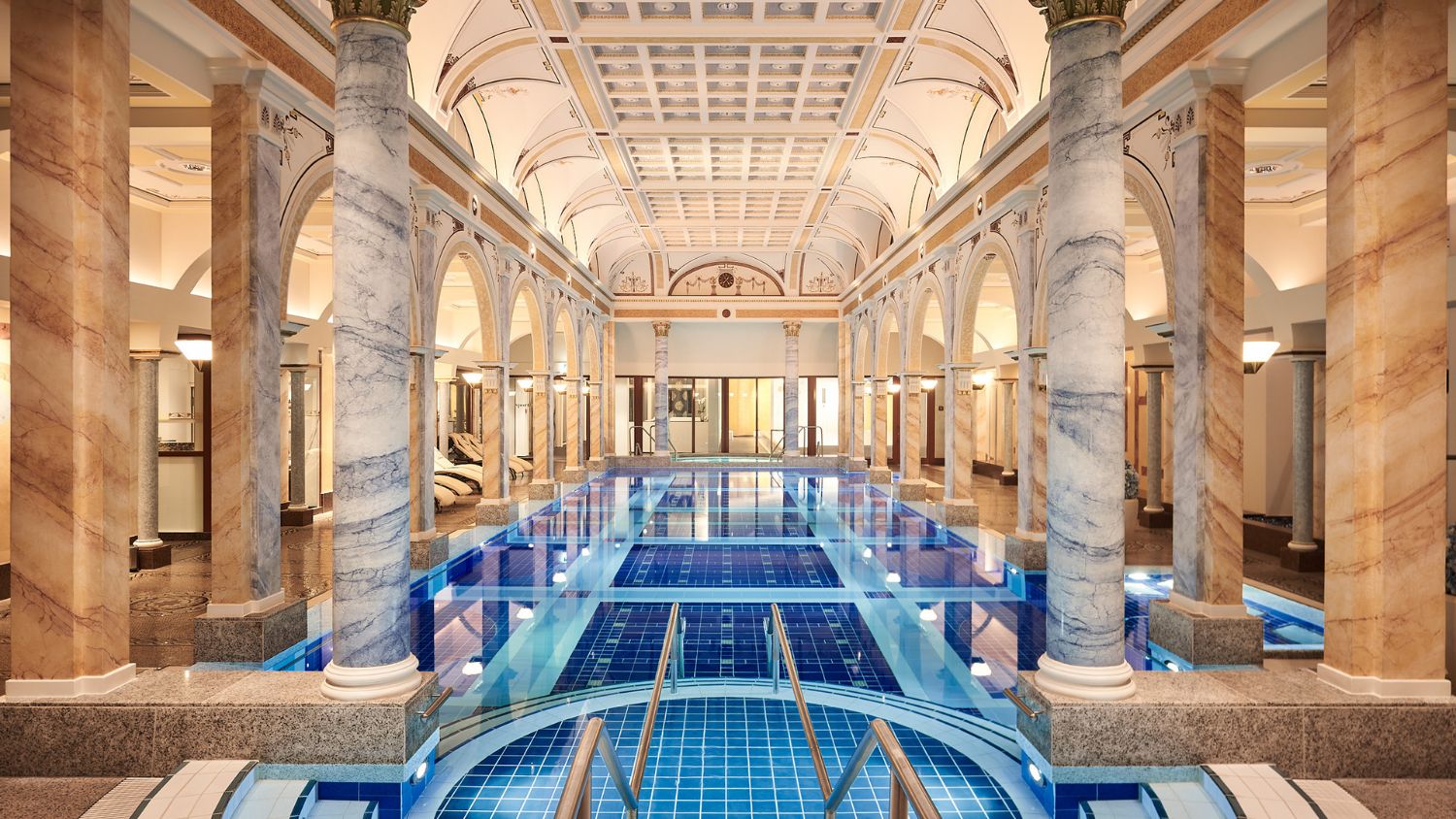 Bad Ragaz is also found within a surprisingly successful wine region. It's minutes from Maenfeld, home to Europe's oldest winery, Schloss Salenegg, which dates back to 1068. The German-speaking Swiss region produces prize-winning Pinot Noirs from the vineyards of Maienfeld, the main city in the Bündner Herrschaft and the largest and best-known wine-growing region in Canton Graubunden.  
And as the perfect culinary complement to the wondrous wine scene, Bad Ragaz has a phenomenal food scene, too. The city has been deemed "the culinary capital of Europe" for its diverse and distinguished dining options. Most notably, you'll find three Michelin-star designated restaurants under one roof. Housed in Grand Resort Bad Ragaz, a trifecta of gastronomic gems awaits.  
With Executive Chef Sven Wassmer at the helm, Memories restaurant recently received three Michelin Stars and a Green Star, recognized for its culinary celebration of the alpine region in all dimensions. Ingredients are sourced locally and presented perfectly on the plate, like Saibling fish (a specialty) sourced from nearby Val Lumnezia served with burnt cream and fir tree. For dessert, an iced bowl of fresh, farm-sourced blackberry sorbet doused in a house made, barrel-aged Negroni excites the taste buds.  
IGNIV – the Romansh word meaning "nest" – is one of three locations based on the concept by Andrea Caminada. Two Michelin stars have been awarded here, recognizing the stunning small-dish sharing experience that takes the meaning of the word "nest" literally, with bite-sized morsels meant for sharing and dishes like the egg royal and vegetable tartlets garnished in greens to mimic the comfort and communal sharing that comes with "nesting" with family or friends. 
Verve by Sven rounds out the trifecta, awarded one Michelin star both for its sophisticated dishes and emphasis on sustainability and fair trade. More than 90 per cent of the produce used is sourced directly from the Swiss Alps. At the entrance, a glass-walled wine cellar stands poised to impress, showing off the substantial stock on offer. Brunch on a waffle and caviar with brown butter egg yolk cream while sipping on a mimosa before heading for a soak at the Tamina Therme – which happens to be right next door. resortragaz.ch/en/