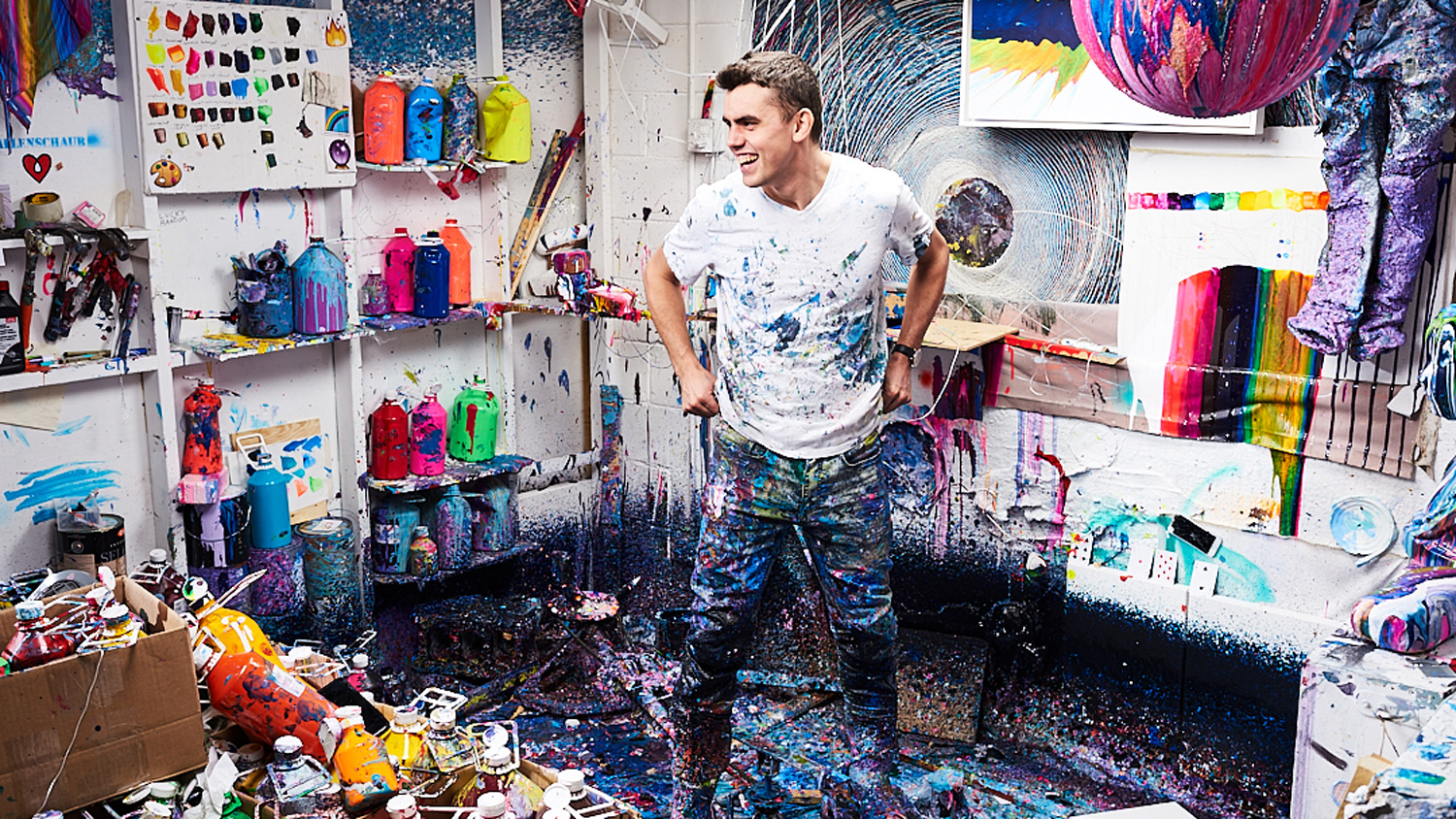 Globetrotter, Creator and Abstract Artist Callen Schaub shares his thoughts for the day and favourite global travel experiences through his own creative lens.
Callen Schaub is a Montreal-Based abstract artist and creator working with paint, natural forces, and machines in an innovative way to produce bold and thought-provoking contemporary work. With more than 684,000 followers on Instagram and 4.4M on TikTok Callen has garnered a popularity usually reserved for rock stars and celebrities. He is recognized for his vibrant paintings using trapezes, pendulums, and spinning machines. Focusing on the rawness of art, Schaub challenges traditional art-to-canvas painting with his bold, engaging and theatrical performances seeking to redefine how people appreciate and interpret 'art'.
Schaub believes social media gives him an interesting opportunity to connect directly with the consumer without the middlemen of a gallery. He has harnessed his fascination to explore a more universal language, through live art demonstration as a medium for self-expression and mental wellness. Through his innovative approach, often performed live, he continues to push the boundaries of artistic expression. He openly shares his painting process with viewers, inspiring fans everywhere to participate in his "Fake Art" movement — a movement that encourages mental wellness, anti-cyber bullying and positivity.
The isolation and quarantining demanded by the current pandemic, have underscored the pressure for the kind of commitment to mental wellness Callen has made. He understood immediately that the most vulnerable individuals would suffer even more than others from the deprivation of social interaction "Staying home for long periods of time can be devastating for those that fight mental illness," he says. To help people cope through the high anxiety 2020 holiday season he launched a 30 "live" art experience throughout December to bring people together and enjoy a moment of human connection.
With paintings hanging in collections around the globe, Schaub continues to make the world a more colourful place one artwork at a time. As part of our Globetrotter series, Callen shares his thoughts for the day and favourite global travel experiences through his own creative lens.
1. How have you been handling the pandemic?
---
Everyone has a role in society and mine is to make the world a more vibrant place. Spreading positivity has been my contribution during the pandemic. I've spent more time connecting with others to help them embrace their connection to art. 
2. What has changed for you?
---
Staying home for long periods of time can be isolating but as an artist, solitude is usually where I create my pieces. In hopes of inspiring others and in support of mental wellness, I've increased my online presence by hosting more live videos than I ever have. By being accessible online and showing my process from start to finish, I hope to inspire others to create their own spaces.
View this post on Instagram
3. What have you learned from the pandemic?
---
Human connection is vital to our survival. If we can reach out to one another – even if it has to be virtual – through zoom or live broadcast – checking in is important.
Kindness is always important but it's especially now more than ever.  

4. First place you wish to to travel as soon as restrictions are lifted and why?
---
I'd love to travel to Portugal when the restrictions are lifted and visit the museums and historical sites.
6. Confession time: name one thing you've taken from a hotel.
---
I really don't take anything from hotels when I leave. But I have nothing against taking a pen or toiletries, etc.
7. What's the one thing you pack for every trip?
---
My hair dye. I usually have a full spectrum of colour on my head to reflect my commitment to my craft.
View this post on Instagram
8. What's the one essential thing for making travel more comfortable?
---
A tensor bandage and therapy ball help me roll or stretch out my back since being in the arena and spinning my canvases or carrying gallons of paint can be physically demanding, physical activity is essential for me.
9. What's your pet travel peeve?

---
10. Who is your favourite travelling companion?
---
Veronika Radolovich, known as Sparkles – the dancer, designer, collaborator, muse.
View this post on Instagram
11. What inspires you to keep exploring this planet?

---
Making it a more colourful place. The world can always use more positivity.

12. What would be your trip of a lifetime?

---
I would love to go to the moon – that would be a trip of a lifetime. Creating art in zero gravity would be a dream but here on earth, a world tour visiting all the cities and meeting fans would be incredible.
13. What essential beauty product would you never leave home without?
---
Coconut oil. It's multipurpose – lip, skin, hair, everything.
14. If you could paint a destination - which would you paint?
---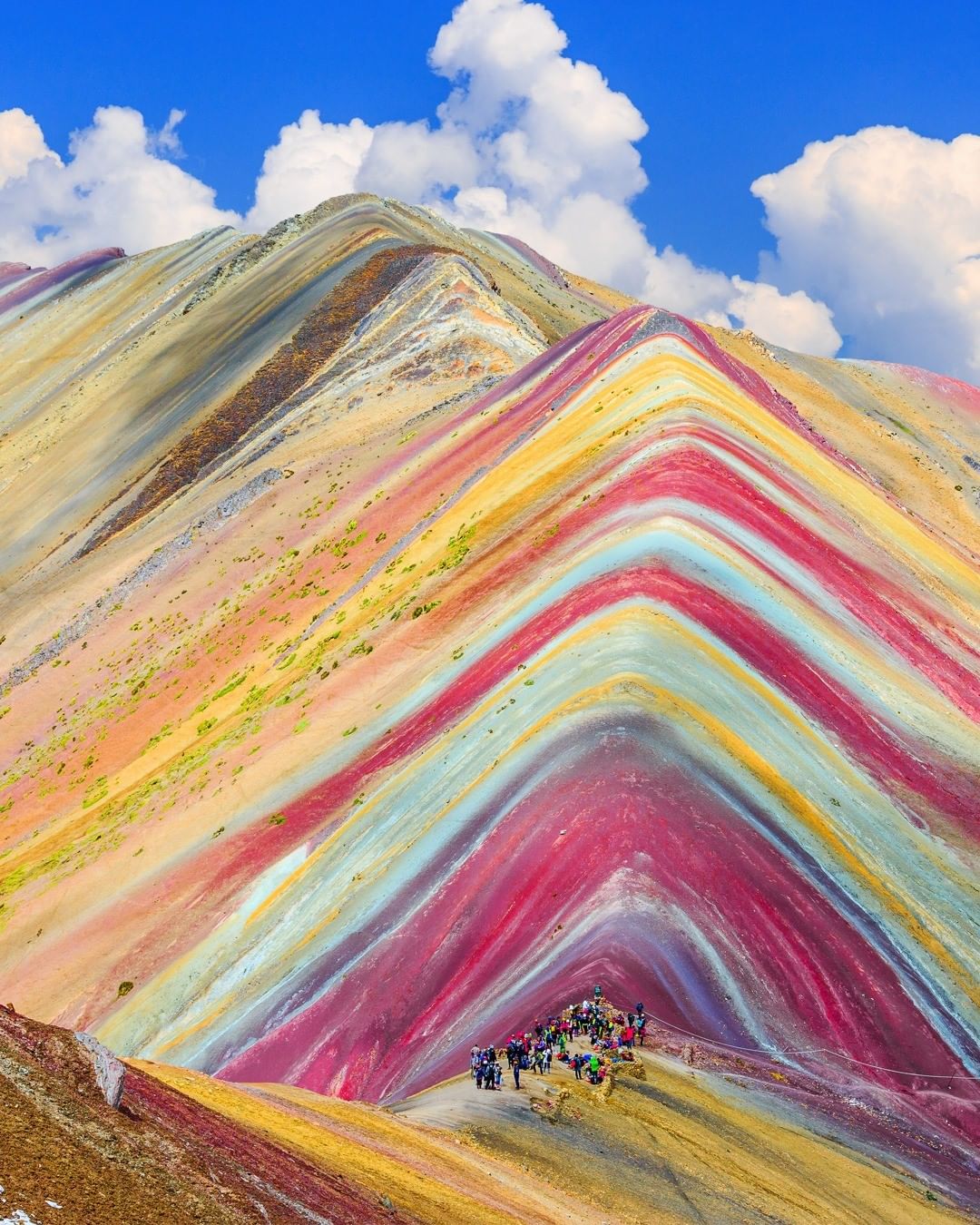 I would paint Vinicunca, Montaña de Siete Colores (Mountain of Seven Colors), located in the Andes in the Cusco region of Peru. 
15. What piece of travel advice do you love to share?
---
Go into the world with zero expectations and keep an open mind. Travel changes you but you have to be open and receptive to the experience.