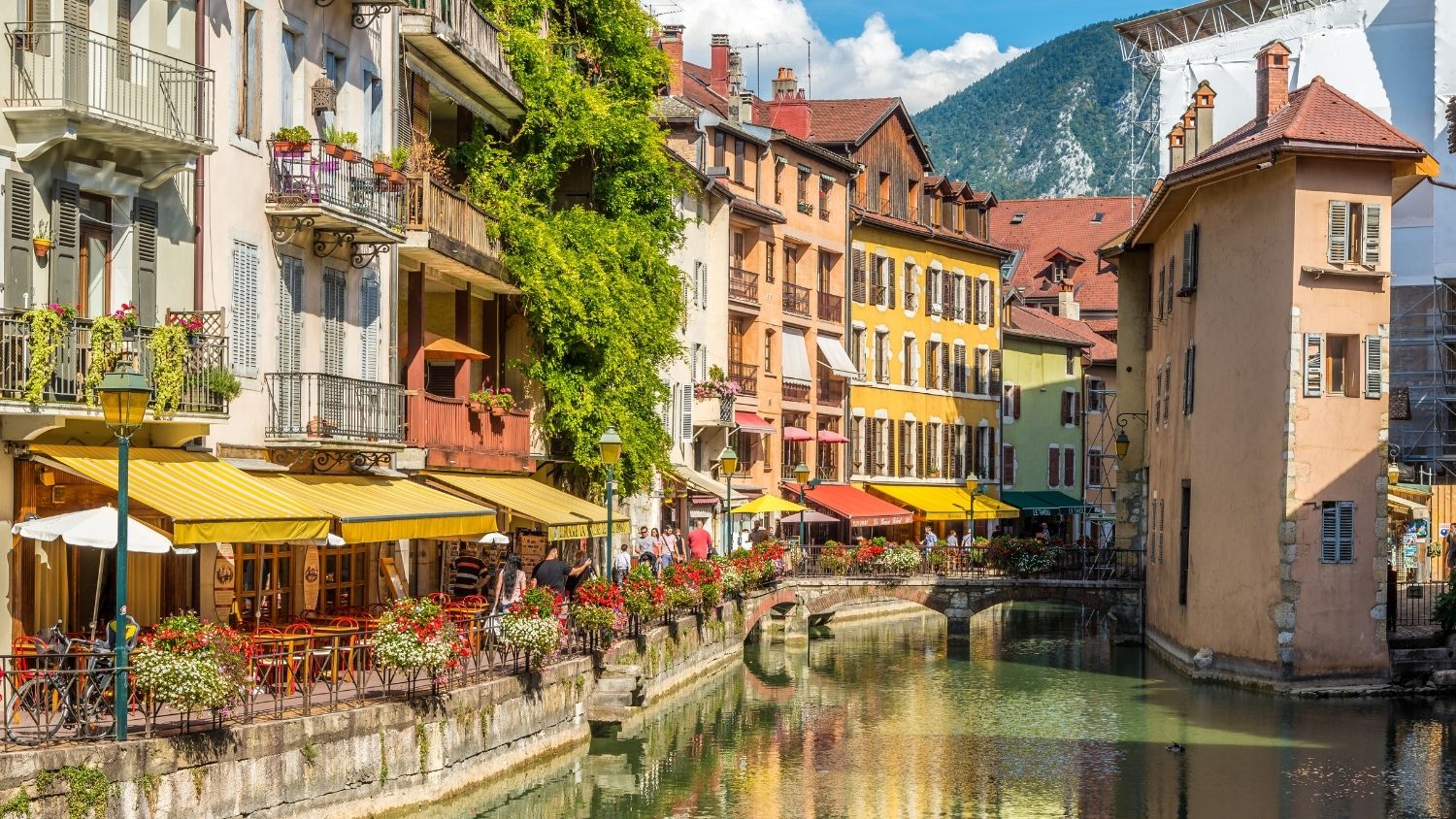 France's Alpine lakes have long provided a refuge for those seeking wellness and the good life; Paul Gallant followed in their footsteps
On the rooftop deck of Logis Hôtel Adelphia in Aix-Les-Bains for a morning meditation session, I'm getting restless. Sure, the view of the slopes of Mont-du-Chat, less than two kilometres straight across Lake Bourget, is spectacular, the lake itself a calming turquoise. But this is a landscape that, in my opinion, demands to be ventured through, not merely gazed upon. In Canada, beyond any given wooded promontory is often another wooded promontory, then another, then another. Visitors to Canada love that it's so untamed. Here in France, when you traverse through a piece of natural splendour, you will, on the other side, most likely find a fascinating patch of humanity—a church, a castle, a charming village with a petit bistro serving local cheese, if we're lucky, and a glass of Savoie wine, if we're luckier.
And so it is with great anticipation and curiosity that I step aboard Régis Lavina's yacht for a sail up the lake. Sure enough, as we whiz north, our scarves and jackets whipping and rattling around us, the pristine beauty of Mont-du-Chat is soon punctuated by the gloriously imposing L'Abbaye d'Hautecombe, built as a home for the Cistercian monks in the 12th century. Now the base for a mixed-sex religious community (I'm told the monks decamped due to modesty; something about sunbathing on the nearby beaches), the abbey has played many different roles over the centuries—a pottery factory, for example, in those anti-religious years after the French Revolution.
The abbey's continual reinvention echoes the many different roles history has assigned this region of France best known to English speakers as Savoy. These days, Pays de Savoie makes up two departments, Savoie and Haut-Savoie, of France's Auvergne-Rhône-Alpes region. Yet for seven centuries, this was an independent state, most famous as a feudal territory of the powerful House of Savoy, a power that partly came from the fact that the region was a key bottleneck for traders and armies wishing to cross the Alps. It didn't become a part of France until 1860.
While all this history was unfolding, the region also developed a decidedly more recreational reputation as a place to ski, hike, bathe and breathe in the fresh Alpine air. Aix-les-Bains has the Bonaparte clan to thank for its reputation as a spa town. "While Napoleon I and his marshals were busy conquering Europe during the summer campaigning seasons," writes John Dormandy in his 2018 book A History of Savoy: Gatekeeper of the Alps, "the women orbiting around them, and there were many, took to the waters in Aix." In Memoirs of Napoleon, His Court and Family, the Duchess D'Abrantés wrote of the 1812 spa season: "Aix was that year exceedingly crowded with company, and it was difficult to obtain houses. I was fortunate enough to find a very good house in the principal square. The Queen of Spain resided opposite to me, and was not so well accommodated."
Aix-Les-Bains remains a fitting base to explore the region. At the top of the lake, a picturesque canal intercepts the Rhône River as it winds its way from Lac Léman (better known to North Americans as Lake Geneva) to Lyon and then south to the Mediterranean. The village of Chanaz, which conveniently sits at the junction, contains everything a charming European village should contain: mountain and river views, adorable bistros, a coffee roaster, a 150-year-old mill still producing hazelnut and walnut products, and a craft brewery. "People said I'm crazy to do it," says Pascal Moreau, talking about his idea to launch Brasserie de Chanaz-Bière du Biez. But the current obsession for artisanal ales seems likely to prove them wrong. The brewery, as I discovered, is a perfect place to take refuge from a sudden afternoon shower.
West of Parc naturel régional du massif des Bauges—another swath of wilderness in an otherwise very civilized terrain—the medieval city of Annecy sits at the top of a lake that shares its name. The lavish castles and chateaus dotted around the lake make for some entertaining real-estate speculation. But Annecy itself, with its canals, ancient city walls and secret streets, has all an avid Instagrammer could wish for.
The capital of Savoy from 1434 to 1659, Annecy was important centuries before and after. When there were rows over religion in Geneva, less than 50 kilometres away, the losers often ended up here—the 12th-century Château d'Annecy, now a museum perched on a hilltop lording over the city, was built for the counts of Geneva when they found themselves expelled by that city's bishops. That proximity to Genevois culture can still be felt in Annency's DNA; raclette, the melted cheese dish that's an essential part of Switzerland's brand, is considered a local dish here.
Also influenced by the proximity to Switzerland is the town of Yvoire, on the banks of Lac Léman. Founded in 1306, three forces have earned it its place on the registry as one of France's most beautiful villages. Firstly—you guessed it—the House of Savoy. The Savoy-adjacent Bouvier d'Yvoire family has occupied the town's castle landmark since the 17th century. Two members of the family still live there now. The family is behind the Le Jardin des Cinq Sens, a swooningly curated garden, established in the 1980s on land adjacent to the castle. The second force was mayor Paul Jacquier, who presided over Yvoire with gusto from 1955 to 1995. By the mid-20th century, the town had become little more than a rundown fishing town, but Jacquier was zealous about transforming it. It won its first prize in the national competition for the best kept villages in 1959. He's the one who insisted on cladding the church's bell tower with stainless steel, so it would shine like the silver belly of the local fera fish.
The third force that's made Yvoire one of France's top places to visit is a contemporary economic one. Yvoire is driving distance from Geneva and boating distance from Lausanne, and so has become an affordable (compared to Switzerland, anyway) and charming suburb for high-salaried Swiss cities—a high percentage of residents cross the border for work each weekday, some by boat.
Though Savoie and Haute-Savoie are, on one hand, quintessentially French, their Savoy spirit lives on to this day. No matter how natural the surroundings, there's always a cosmopolitan pull in every direction.