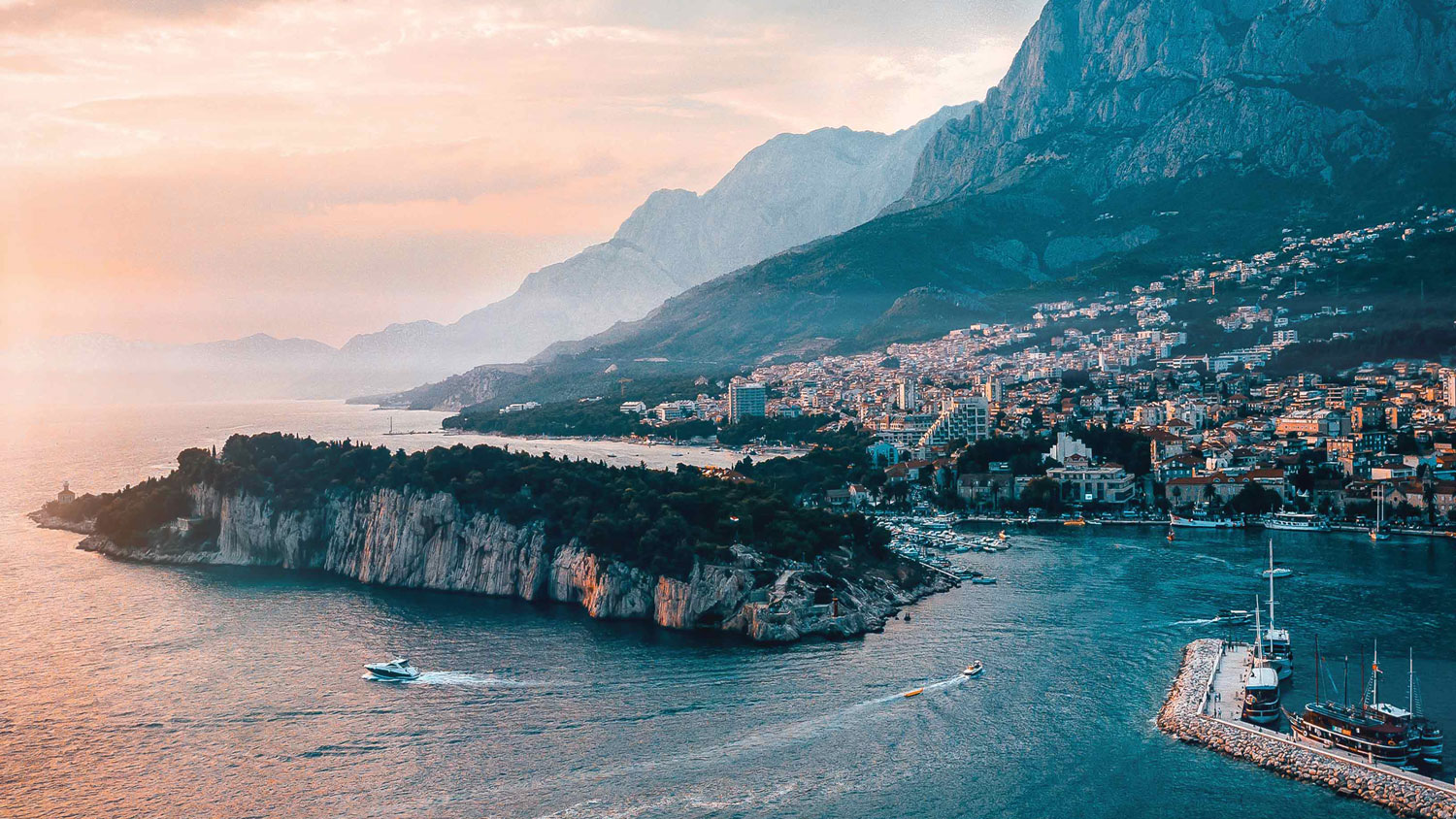 Three sun-dappled spots on Croatia's coast guaranteed to enchant. Vawn Himmelsbach succumbs to their charms.
Medieval towns, seaside olive groves, vineyards on craggy mountains, fields of rosemary—it sounds like France or Italy, but this is Croatia's Dalmatian Coast. And while it's not exactly a 'secret' anymore, I can still find hidden coves and deserted beaches along this string of islands dotting the Adriatic Sea.
After all, there's 1,800 kilometres of coastline and 1,100 islands and islets here—some green and lush, others karst-rock—and more than 80 percent of these islands are uninhabited. Most can be reached by ferry from the mainland, but I chose to island hop on a traditional boat, gleaming of polished wood and brass.
Whether holiday-makers want to be immersed in nature, stroll through centuries-old walled towns or party until the sun comes up, there's a Dalmatian island for that. Here are three ways to experience Croatia's Dalmatian Coast.
Korčula
---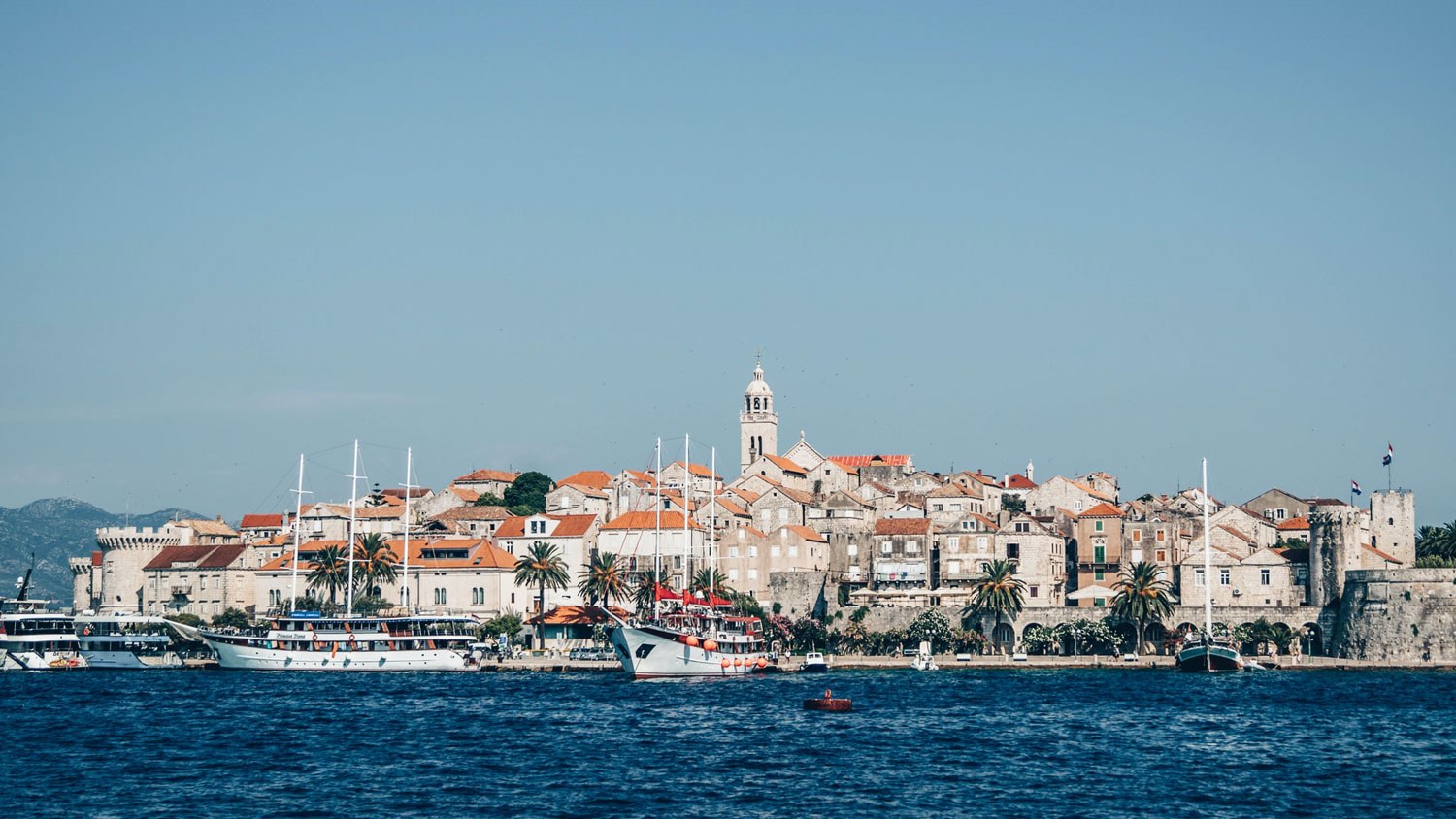 I'm sipping a glass of grk. I don't know exactly how to pronounce it—I mainly ordered it because the word doesn't have a vowel, and I'm fascinated by that. But it's one of the indigenous wines of Croatia, grown in the Korčula region.
The island is dotted with small villages, but most visitors make their way to Korčula Town to see its 13th century walls, medieval squares and stone houses with orange-tiled roofs. It's often referred to as Little Dubrovnik, a smaller (and far less crowded) version of the country's capital.
This walled town has a rich history—it was settled by the Greeks and subsequent conquerors including the Romans, Venetians and Austro-Hungarians. It's also believed explorer Marco Polo was born here (when it was part of the Venetian Empire), though this is much debated.
It's also the place to try Croatian wine. Yep, Croatia has a wine industry—the Greeks were planting vines here as long as 2,500 years ago. But it fell into decline during its occupation during the world wars and post-war communist rule under the Yugoslavian flag, and then again during the Serbo-Croatian war of the early 1990s. Now, small family producers and cooperatives are once again cultivating the land, as their ancestors did.
I sampled grk at a konoba (a family-run restaurant) atop the ancient city walls overlooking the sea. Thanks to its proximity to Italy, Korčula is also known for its homemade goat cheese and melt-in-your-mouth zrnovski makaruni—Croatia's version of macaroni, but better—served with rich beef sauce. They match well with pošip (a white grape varietal indigenous to Korčula) and plavac mali, a red grape varietal grown along the Dalmatian Coast.
Mljet
---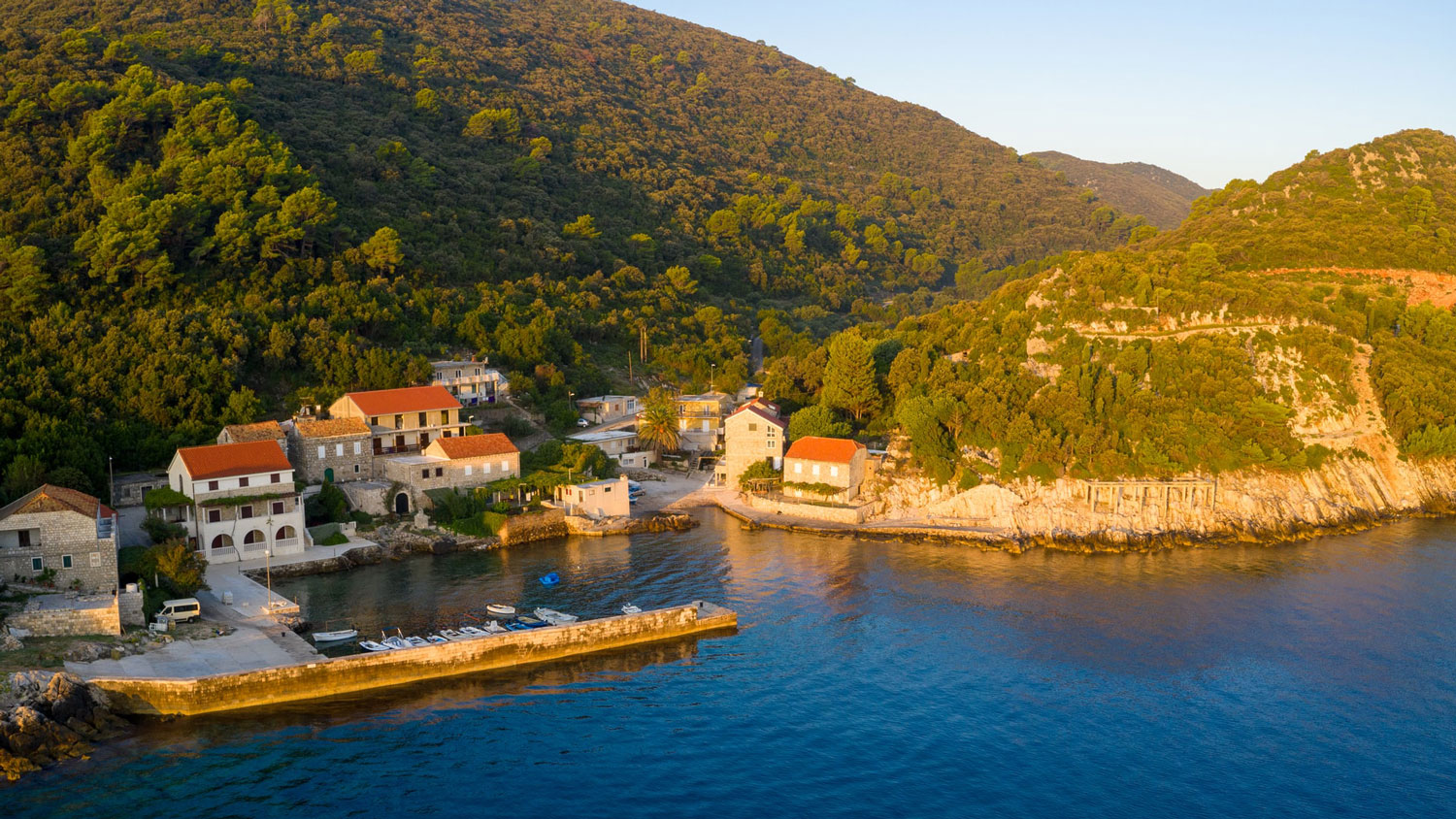 Walking through the pine-scented forest of Mljet as the sun begins to sink low in the sky, I'm starting to wonder if I'd somehow wandered off the main path. I haven't seen another human being for about an hour, which seems odd—considering I'm on a popular island in the middle of summer (and one that many locals consider the country's most beautiful).
Turns out, I wasn't lost. More than 70 per cent of this island is covered in pine forest, and one-third is a designated national park, with no development allowed. So it's not impossible to find a heavenly slice of solitude, even during the busy summer season. But I'm not the only one enchanted by Mljet. Legend has it that Odysseus loved it here so much, he stayed for seven years (there's even an 'Odysseus Cave' on the island).
Mljet National Park covers 5,400 hectares of land, with rugged coastline, forested paths and even ancient ruins. It's Croatia's greenest island, also known for its two saltwater lakes, Veliko Jezero and Malo Jezero, with a surreal blue colour; they're favourite swimming spots for locals.
In the middle of Veliko Jezero is the Benedictine Monastery on St. Mary's Island. This fairy-tale islet dates back to the 12th century, and the monastery—designed in the style of a Renaissance villa and garden—still retains its original fortification walls and towers (built to protect it from pirate attacks). There's also Roman ruins, olive trees, swimming spots and a café.
Hvar
---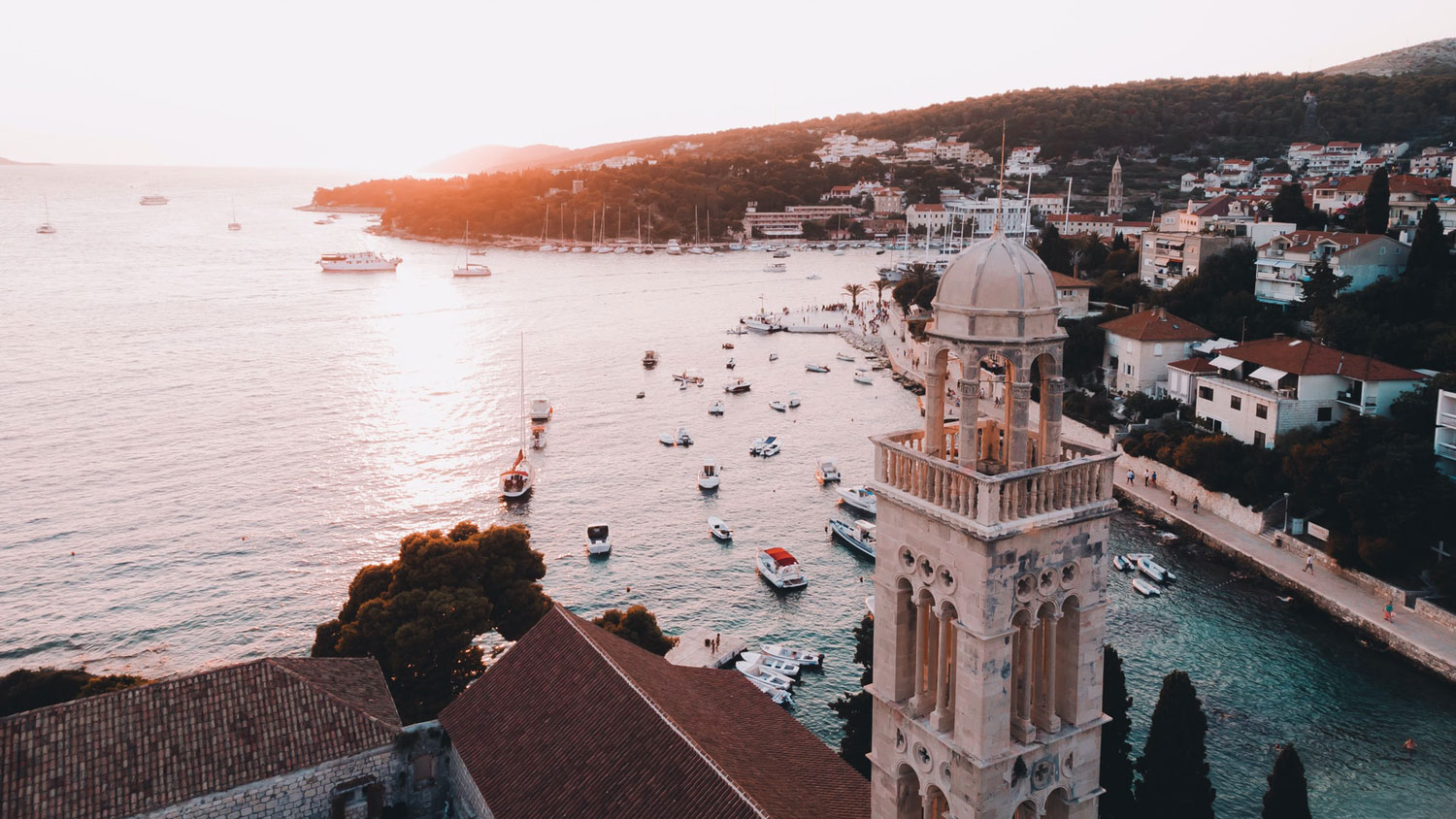 There's something about Hvar Town that calls for a mid-afternoon Aperol Spritz. While the summery aperitif hails from Italy, it suits the Mediterranean vibe of Hvar's sidewalk cafés, palm-lined marble promenade and yacht-filled harbour. The island of Hvar is known as the sunniest spot in Croatia, and chic Hvar Town is where the well-heeled come for gelato and cocktails.
During the day, yachties explore the nearby Pakleni Islands, a series of bays and beaches with clear blue waters. Or they stroll a short distance from town to find some of the best coves for swimming, snorkelling and suntanning—like Dubovica Beach, a pebble beach about 8 km east of town, in a secluded bay surrounded by olive groves and pine trees.
At night, Hvar comes to life. The town is an architectural gem, with winding cobblestone streets, a piazza bordered by palaces and a cathedral, and an ancient hilltop fortress with 13th century walls towering above town. And it's jam-packed with restaurants, cafés, bars and clubs—so many, it's hard to settle on just one.
I eventually discover a konoba tucked away at the end of a stone alleyway overlooking the cathedral, for the island's signature dish of gregada, a fish stew with garlic, onions and potatoes, all washed down with the family's homemade wine. Watching the sun set over this ancient seaside town, it seems Hvar is just like the wine: intoxicating.