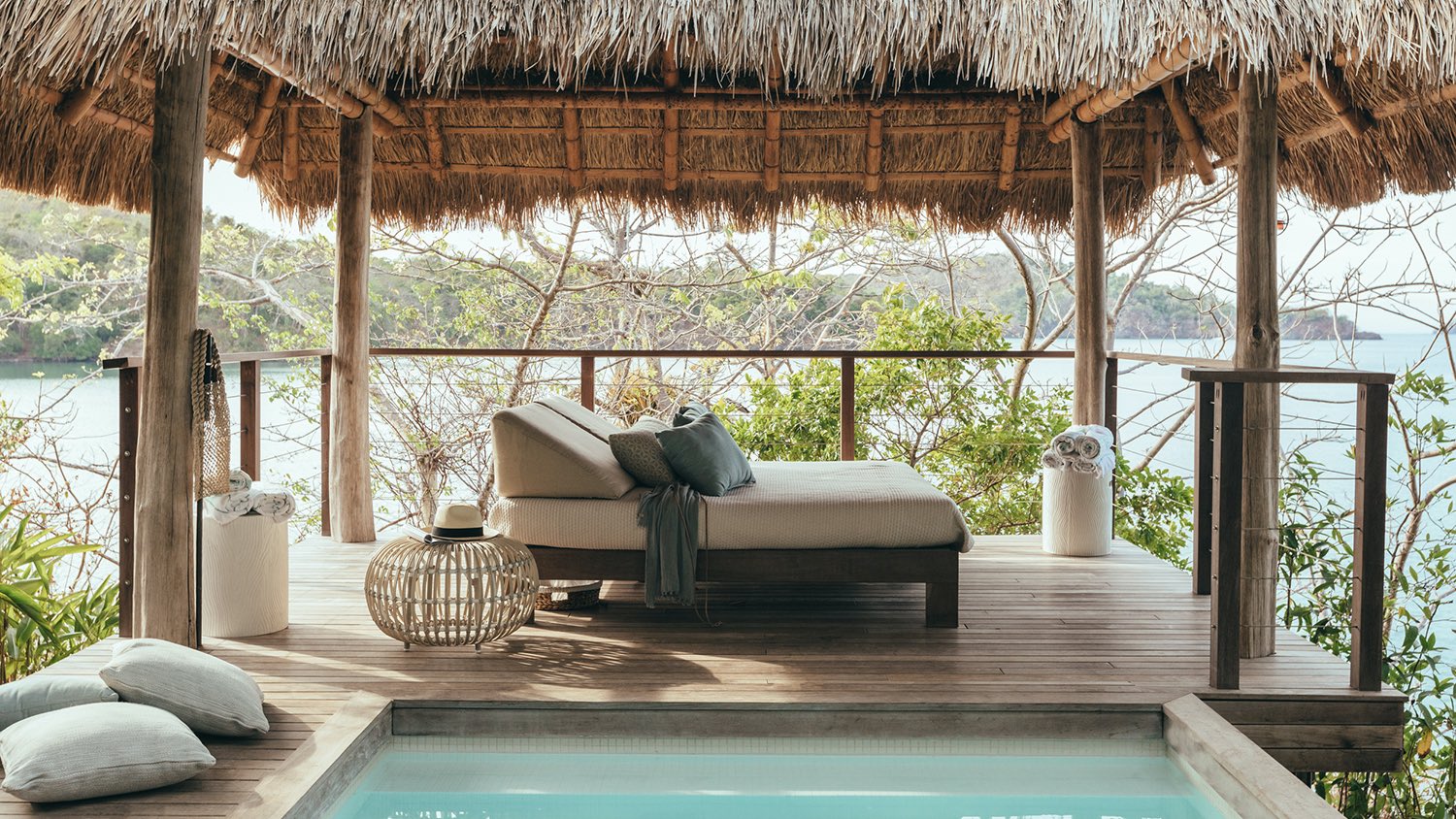 At this pristine, private archipelago, a new luxury lodge combines sustainability with total seclusion
Those seeking a remote commune with nature should direct their attention to the warm waters of the Gulf of Chiriqui. There, about 32 kilometres off the Pacific coast of Panama, they'll find the 14-island archipelago called Islas Secas. Once known as Panama's "Lost Coast," it's the perfect place to get truly, deeply, intimately, swooningly lost.
Along with various rays, turtles, dolphins, whales, tropical fish, birds of prey and Rufous-tailed hummingbirds, the archipelago is home to Islas Secas Reserve & Lodge. First founded as a no-frills fishing lodge, the property was reinvented and reopened in 2019 as a luxury property with room for just 18 guests in nine thatched-roof casitas. 
Islas Secas is all inclusive and guests certainly won't want to be going anywhere else to eat. Terraza restaurant, designed by award-winning Colombian architect Simón Vélez, serves sophisticated sea-to-table cuisine. "Islas secas provides the chance to cook with the freshest fish from Eastern Pacific. I love discovering the local and endemic ingredients like – Darian Rice, heart of palm and guandu bean" says culinary director, chef Saul Umaña.
The luxury is concertedly off-the-grid, targeting the eco-conscious and marine-focused traveller. Think solar power, sustainable wood and other materials, reclaimed water and 100 per cent food composting. Billionaire conservationist Louis Bacon, the man behind Tordrillo's Mountain Lodge in Alaska, has set aside 75 per cent of Islas Secas for conservation in perpetuity in order to safeguard the diverse marine ecosystem.
How to pass the time when not merely luxuriating? Islas Secas offers an array of marine safaris and immersive natural experiences on land and sea. You don't have to be an expert to try your hand at scuba diving, snorkelling, fishing or whale watching. islassecas.com
BEAUTY TRAVEL ESSENTIAL
StriVectin's Peptight Tightening & Brightening Face Serum 
View this post on Instagram
This lightweight yet powerful serum with hexapeptides, vitamin C-rich Australian Kakadu Plum extract and naturally-derived brighteners delivers a potent dose of instant toning. See more lift with StriVectin's exclusive Three-Tiered Technology that works from within, first by tightening the skin's surface, then by fortifying the skin matrix. Finally, NIA-114 strengthens the skin's ability to hold natural collagen. Skin looks lifted, firmer, more youthful. $109, Sephora.ca