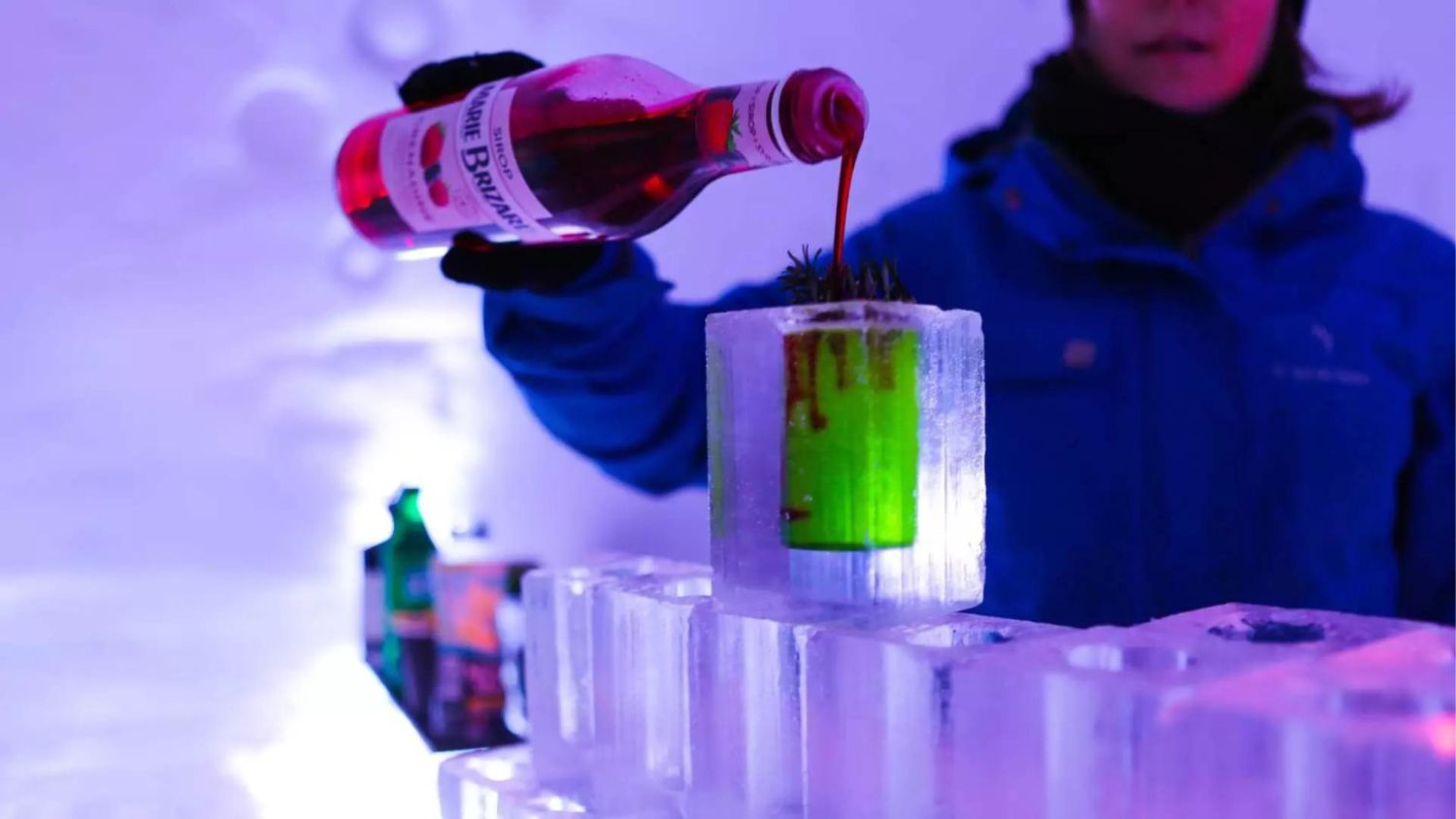 And You Can Grab A Drink & Spend The Night.
Socializing in a parka and toque is nothing new to Canadians, but sipping Champagne from an ice glass in an ice hotel is a whole different hockey game. Such is the case at Hôtel de Glace, built entirely of ice at the Hôtel Valcartier winter playground, just 20 minutes north of Quebec City. This is the only ice hotel in North America which reopened in full on January 16 with the reveal of a glacial grand slide that completes the site made entirely of unconventional materials — 2,300 blocks of ice and 15,000 tons of snow – and it has hot tub and saunas under the stars.
About 50 artists and sculptors work through December to custom-create a different 40-room Hôtel de Glace each year, open from early January to late March when it melts. During last year's incarnation, we check in at the usual 4pm and wander through the rooms. It's like a rich friend has invited us over to their igloo mansion, all artfully carved ice furniture, dramatically lit ice bars, glistening ice sculptures, glowing fireplaces and hide-covered seating.
We fully embrace the Nicolas Feuillatte Champagne (cocktail recipe below) lounging in a cozy nook in the corner. I expect the cast from Frozen to wander in any second and pull up a stump. And while James Bond has his Vesper, a martini mix of vodka and gin, our Champagne and gin cocktail is so much more glamorous. The gin supplies the welcome kick, its botanicals wholeheartedly embracing the bold lemon, with the Champagne both softening and opening up the flavours. The bubbles go right to my head.
After hitting the tubing slopes and skating rink, we grab dinner inside Hôtel Valcartier, then sink into the outdoor hot tubs. By 9:30, we've stashed our stuff in lockers and we're back in the ice lounges socializing with the other overnighters, the novelty of the experience breaking the ice, as it were. The staff has kitted out the rooms with polar-proof sleeping bags, but everyone is putting off going to bed until they're good and tired. We keep busy by chiselling our own glasses at a DIY ice-sculpting workshop session. Indeed, the best Champagne martini is the one you enjoy in a glass you make yourself. And we need all the courage we can get.
When bedtime comes, the drill is simple. The ice bed is a faux fur-covered mattress set inside a wooden frame. There is an ice night table, too, but we've been warned that things have a tendency to melt into it. Some of the fancier rooms have more elaborate wall carvings and fireplaces.
View this post on Instagram

With all the fresh air and bar fun, and still hot from the hot tub, we doff most of our clothes and slip into nylon cocoons, phones tucked under our arms so they won't freeze. Yes, sleeping in full ski underwear is pretty Canadian, all right. 
Every overnight booking at the Hôtel de Glace includes a room for the same night at the Hôtel Valcartier (think of it as your Plan B), a welcome cocktail, and full access to the hot tubs, sauna, and ice skating path. Rates start at $400. You can also visit the ice hotel for the day with a pass that starts at $25 and have a drink even if they aren't staying overnight.
Contact information
2280, boul. Valcartier, Saint-Gabriel-de-Valcartier,
Québec, Canada, G0A 4S0
418 844-22001 888 384-5524
https://www.valcartier.com
Signature Hôtel de Glace Cocktail
---
INGREDIENTS
½ oz gin
1 oz limoncello
1 ½ oz Champagne
DIRECTIONS
1. Add gin and limoncello to a martini glass or ice glass.
2. Top with Champagne.
3. Garnish with a frozen strawberry.