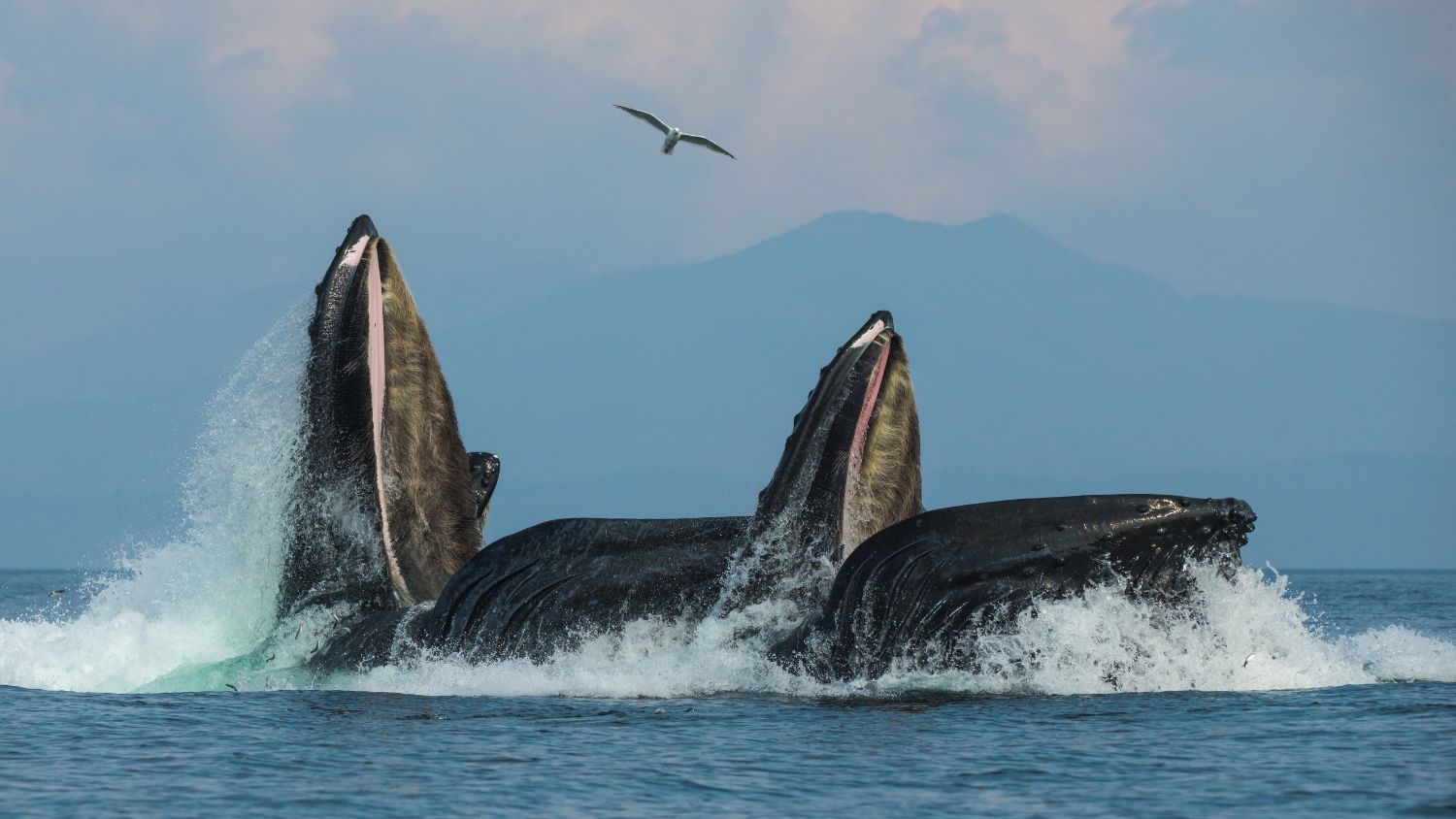 A safari at sea nourishes the mind and the body
Whales at 1 o'clock!
Someone shouts excitedly. A dozen heads swivel, binoculars raised, to focus on a pod of orcas breaking the surface close to where we've just spotted a humpback whale and calf. Since boarding the 138-foot catamaran Cascadia a few days earlier we've all become fluent in mariner's shorthand for giving directions on the water.
We're off the northwest coast of Vancouver Island, where spotting whales, sea lions and sea otters is just part of the fun on a week-long safari-at-sea. But this time, something's different. "It's my educated guess they're hunting the humpback," says ship's mate Sarah Powell, referring to the half-dozen orcas. "Trying to separate the calf from its mother."
The drama ratchets up a notch when expedition leader Kevin Smith adds that the lone sea otter we saw moments earlier "might try and take shelter on the ship." Even though otters aren't a target food of orcas, the whales could use him "as an instructional tool" while teaching younger orcas about predation.
Thankfully, perhaps, we don't learn how the orca hunt ends, nor the fate of the sea otter. Such is nature. But what we do learn, from the moment we weigh anchor in Port Hardy near the northern tip of Vancouver Island our first morning, to when we sail into Coal Harbour on our final day, is that the island's northwest coast is remarkably wild and wonderfully remote. It's as far as you can get – in every respect – from, say, Butchart Gardens at the very southern end of Vancouver Island, with its manicured flower beds and busloads of visitors fresh off a cruise ship from Alaska.
"We're going to the true West coast," Kevin emphasized earlier, where "we put ourselves in the path of magic." With no scheduled ports of call and no roads, when weather and wildlife sightings determine what we do and where we go, and with an expedition leader who knows this coast like the back of his sun-freckled hand and says things like, "you can't hold me to an itinerary, ever," magic seems entirely possible.
After driving to Port Hardy from Victoria (you can also fly), we're welcomed aboard Cascadia, the newest – and most luxurious – addition to Victoria-based Maple Leaf Adventures' small fleet of expedition-style ships. Accommodating 24 guests in 12 comfortable cabins, each with ensuite, it feels like we're on our own private yacht with friends.
When one of the ship's two chefs appears to tell us what's for lunch the first day (Salt Spring Island mussels and chorizo with pasta), I'm delighted to see it's Mara Jernigan. Mara founded the first field-to-table cooking school in western Canada and became a leader in the slow food movement in North America.
Vancouver Island's Wild Side is Maple Leaf Adventures' newest itinerary. And true to the style of expedition cruising, every day is filled with new experiences. Sometimes we explore quiet inlets by tender or paddle kayaks along shorelines studded with starfish. We walk wild, windswept beaches with not another soul in sight. Come evening, we enjoy dinner paired with BC wines, followed by lectures in the lounge, games or reading.
For most of us, wildlife is a daily highlight and before this trip is over one of us will have spotted coastal wolves on a beach while enjoying the hot tub at sunrise, and we'll all be thrilled to see a Black-footed albatross.
Kevin and the captain pick a calm day to round Cape Scott, one of the most feared capes for its often-stormy weather. On this day, a Minke whale feeds in the shallow water, while a flock of rhinoceros auklets takes flight before us. The naturalist on board gives us a tip for spotting whales. "Watch the birds," says Dave, who's paddled this whole coast by kayak.
One night we anchor off Mquqwin/Brooks Peninsula Provincial Park, then continue south, past Cape Cook and Solander Island, where raucous sea lions and stubby winged puffins compete for our attention.
Later, deep inside Nesparti Inlet, we marvel at the calm and quiet. "That's classic Marbled Murrelet habitat," says Kevin, pointing to mossy, old-growth Sitka spruce the seabird prefers when we go ashore. "This is as far away as you can get from roads," he adds. "It's just wild, wild, wild."
So wild, in fact, that we don't see another person until we reach the First Nations community of Kyuquot, once a nation of whalers. After European explorers introduced smallpox the population of about 1,700 plummeted to probably fewer than 100 people.
We meet four generations of one family on Spring Island, where we go ashore for a salmon roast. While Lana cleans two fresh Chinook, Lucy demonstrates how to weave strips of cedar, Christine tells us stories about her life, and Tessie teaches us how to pronounce words in Nuu-chah-nulth, a language spoken by so few people that it's likely to become extinct.
Sea otters nearly suffered that fate already after being over hunted during the frenzied fur trade that began with Captain Cook's expedition here in 1778. But the otters have rebounded. A few decades ago, 89 were brought down from Alaska and released in Checleset Bay. Today, they number about 7,000, enough that kelp forests are recovering, providing nurseries for fish and preventing coastal erosion.
On our last evening, a rainy one, we're anchored in Quatsino Sound when a few of us decide to go explore by tender. Soon we spot a mother otter and pup. The mother is diving for food, likely sea urchins, while the pup floats on its back, padded paws sticking up in typical otter style. When the mother surfaces again, she senses danger – us!
We're still far enough away to need binoculars, but she swims to her pup, grabs it and hugs it to her chest. It's otterly endearing. Knowing it can't get any better than this, we turn to head back to our mother ship and – wow! A rainbow has appeared, framing Cascadia perfectly under it.
Pure luck or magic? Either way, it's been a trip.