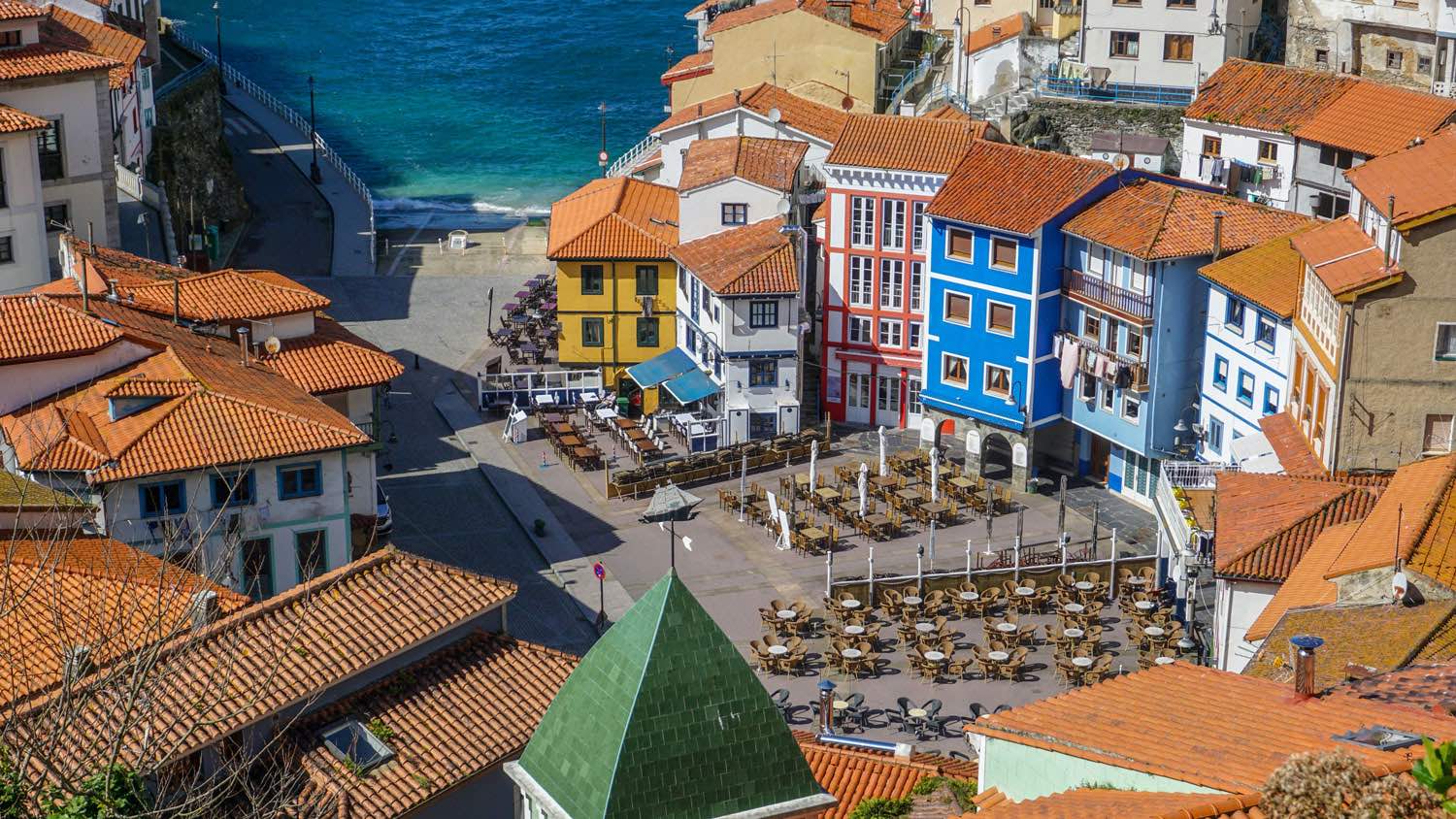 How to spend a weekend in Cudillero, Spain's most colourful seaside town.
A living and breathing postcard, Spain's most vibrant little port, Cudillero, is a quaint and colourful nook of oceanfront paradise amidst towering mountainous cliffs, pink hydrangeas and mossy paths. A town of cobblestone crannies, secret alleys and tucked hideaways, walls and balconies draped with fish, brown cork-adorned nautical nets, and inhabitant clothing blowing in the sea breeze.
Cudillero's sloped residential homes, buildings and businesses had been placed in a curved and tiered way, giving off the enchanting appearance of a time-honoured amphitheatre. The town of colourful homes with red-tiled roofs, narrow designs and long entrance corridors for oar storage, had been built around it's picturesque square, Plaza de la Marina.
It's beauty encompassed by colossal mountainous bluffs, and forested hills of eucalyptus and pine, harbourside cafes, restaurants serving sidra (Asturian cider), strong Cabrales cheese and monkfish soup, and a charming fresh fish market, Longo de Pescado, in the lower valley.
Centuries endured of isolation from inland Spain and with a population of 5000, it has been said that Cudillero was founded by the vikings in the earlier part of the 16th century. Their Nordic-influenced dialect, pixueto, is further proof of confirming this local legend built on trickled down generational hearsay.
They're the last place in Spain with a small scale hand fishing industry which continues to contribute to their minimalistic livelihood and economy. Fishermen along this portion of the Asturian Coast only use hooks to capture fish instead of nets as to avoid the pitfalls of overfishing. These regulations had been set-out by Salvador Fernández, head of Cudillero's Cofradía de Pescadores, having 40 years of fishing experience under his belt.
Cudillero is as vibrant as its pastel-coloured façades; here, we break down our favorite way to spend a weekend in one of Spain's prettiest (undiscovered) ports.
When to Go
---
View this post on Instagram
High season in Cudillero runs from June to August, when the town fills with seasonal Spaniards and vacationers looking to escape the hustle and bustle of the big cities bringing the plazas and sardine-can tapas bars to life. The cold-weather months are comparatively crowdless and laid-back, a blessing for travellers looking to decompress.
Cudillero can be accessed by train, bus or road – the train station is located only 2 kms from the town center.
What to Do
---
View this post on Instagram
Historical and popular sites amongst visitors to explore are as follows; the Cudillero Lighthouse Cabo Vidio, the 16th century church of San Pedro with it's baroque carvings, 13th century Humilladero Chapel which is the oldest building in town, and the three lookout points (miradores) La Garita, La Atalaya and El Pico. Swim in the Cantabrian Sea and check out the pebbled beach of El Silencio as well as the sandy beaches of Oleiros, San Pedro and La Caeva.
Where to Stay

---
A former country manor house from the 19th century, this hotel is nestled perfectly between the mountain and magical blue sea. Known for their warm and friendly personnel providing around the clock attentive service.
View this post on Instagram
This endearing rustic establishment is located conveniently 100 metres away from the sea and is within walking distance to everything delightful in the heart of Cudillero. Their accommodations feature private hot tubs – a wonderful treat.
Where to Eat

---
Restaurante Cabo Vidio: relaxed yet formal atmosphere with their tables adorned with the finest of white cloth. Indulge in Asturian delicacies like the clams a la marinera and fabada, crab cakes, bean stew and ox meat casserole. +34628842315
View this post on Instagram
Take one look at the menu and you'll see why La Taberna del Puerto offers "the best regional and seafood cuisine"  in the area: from fresh grilled lobster to see food paella to sea food stew – this place is a seafood lover's paradise.