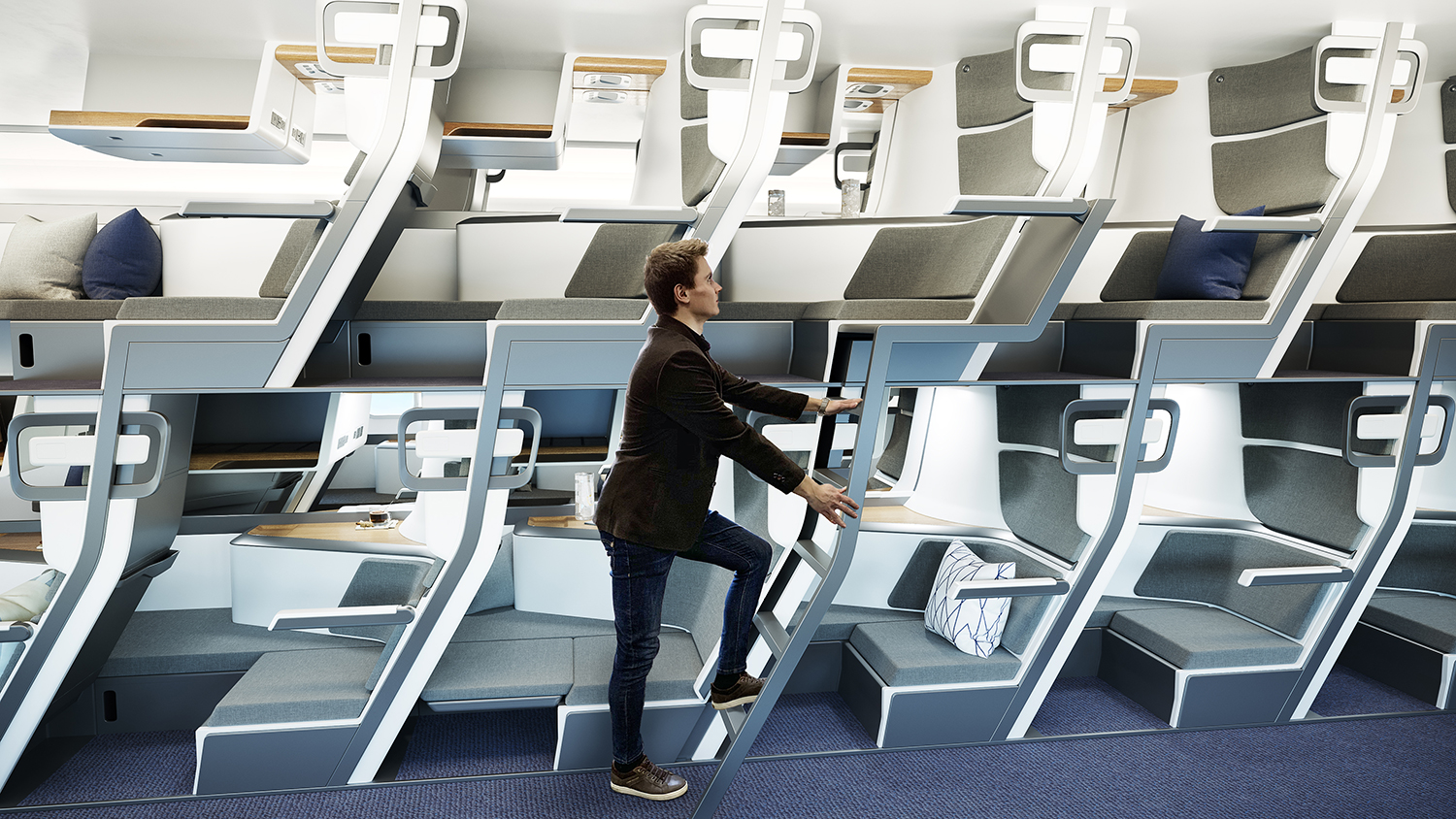 "The future of flying should not only be about comfort and space, rather an implementation of changes within an aircraft layout which puts the priority of passenger health and safety first" says Jeffrey O'Neill the designer behind the double-decker, lie-flat Zephyr airline seats
Jeffrey O'Neill, the founder and CEO of Zephyr Aerospace, has designed a ground-breaking double-decker seat concept that will allow passengers in economy to fly safely with more space, and the ability to lie flat. It also addresses and pacifies growing passenger concerns surrounding the uncertainties for their well-being when it comes to future travel. "We're customers who are paying for seats," O'Neill said. This could very well be the start of executing a new industry standard that could benefit both the airlines' bottom lines as well as sustaining customer health and comfort.
Demands for air travel have changed, and for the time being airlines must continue to impose temporary solutions such as blocking out seats, enforcing face masks, frequent hand washing and sanitizing. More people are looking to socially distance themselves on flights however, the way present-day aircraft seating is structured, it currently does not allow for this. Passengers and airlines are taking more of a stance on agreeance when it comes to the need for serious changes over and above current mandates to prevent the risk of catching COVID-19.
The genius idea started as a rough sketch on the back of a napkin after a sleepless flight from New York to Singapore years prior to the COVID-19 outbreak. Only since the pandemic hit and social requirements had been put into place that there had been keen renewed interest in O'Neill's double-decker concept. It is a coincidence that O'Neill's design was devised to resolve any issues and obstacles pertaining to proper obedience of social distancing guidelines.
Inspired by his own personal memories of riding Argentinian double-decker buses, Jeffrey O'Neill had founded Zephyr Aerospace LLC in December of 2018 and had quickly soon after shared his concept at the Aircraft Interiors Expo in Hamburg, Germany. Social distancing is at the forefront of evolutionary designs currently being considered in various industries, especially travel due to the compact spaces transportation vessels have to work with. The world is rapidly changing, and for our own sake and health, we must change with it.
O'Neill's double-decker seat arrangement gives passengers the option of being able to sit upright with legs extended, in a lounge-like position, or to lie flat out. The upper seats will have a sliding ladder to climb with the ability to retract into a nook when not in use. Each seat will feature a drop-down foot well that will provide more personal space and sleep position versatility. For the lie flat bed alternative, there is a supplemental cushion used to connect the padded seat sections. Semi-private and staggered from their neighbours, the Zephyr seat structure will help to prevent and protect people from COVID-like situations in the future.
View this post on Instagram
Airlines will not have to purchase new planes or do much to overhaul internally due to the seats having been designed to retrofit the existing plane interiors. It requires a 2-4-2 configuration and will have two people sharing a row one on top of the other, similar to the style of a sleek, futuristic-looking bunk bed. "We basically retrofitted a whole other seat on top of another," explains O'Neill. "So, it's essentially two levels, it's not as tall off the ground as people might imagine, it's only four and a half feet off the ground from the entry point to the lower seat to the upper seat."
Additional notable features are the eye-level cubby for personal item storage, large entertainment screens, spacious tray/desk and armrest, built-in electronic outlet charging ports and recessed LED lights. Airline companies will also be able to customize the seats based on their operational needs and product reflection of brand representation. 
O'Neill's prototype has been approved by leading aerospace engineers and they have secured a product development partnership with a reputable seat manufacturer. Zephyr Aerospace is currently in talks with Japan Airlines, Qantas, Delta, Lufthansa, Virgin Atlantic, and Air New Zealand however, there are no commitments just yet as this endeavor is still in its infancy stage. Each seat will cost companies approximately $30,000 to $40,000 but this product forecasts a boost in individual airlines revenue by 30% and can increase capacity by 20%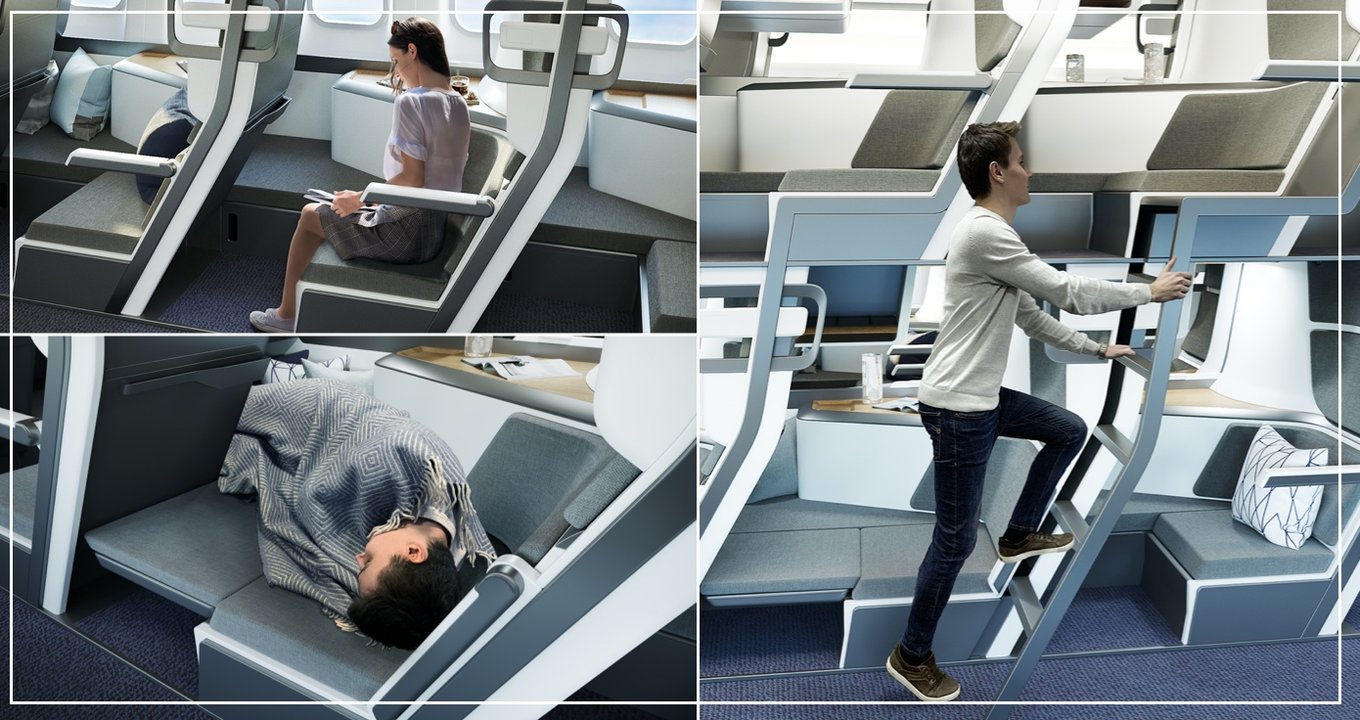 Most airline seats haven't changed since the 1970s, and with the International Air Transport's prediction projecting by 2037 people will be taking 8 billion flights annually, this industry needs some serious attention. "We should not be having these ridiculous discussions about asking permission to recline a seat or get to the bathroom," said O'Neill. "Privacy should be accessible and affordable, and [airlines] should improve their customers' in-flight experience." 
Made with innovative lightweight composite materials, this will guarantee reduced the airlines' direct maintenance costs. "The best part of this seat: it has NO heavy mechanical/electronic components. The entire seat has only two moving pieces inside, so the weight and direct maintenance costs for the airline are significantly reduced! Using advanced composite materials, we can build this seat at less than 50kg per unit."
O'Neill is no stranger to the travel industry, and it isn't his first time at the rodeo. He had founded flyClever; a site that assists users with ticket savings and Black Book Travel which is a handy platform to book travel related services. O'Neill's next step for the Zephyr seat is to perform safety required tests which could take upwards of three years. Budget friendly, mid-air comfort that promises an efficient use of space, lessening stuffy, cramped-tight quarters while preventing future virus-related threats is something worth waiting for.