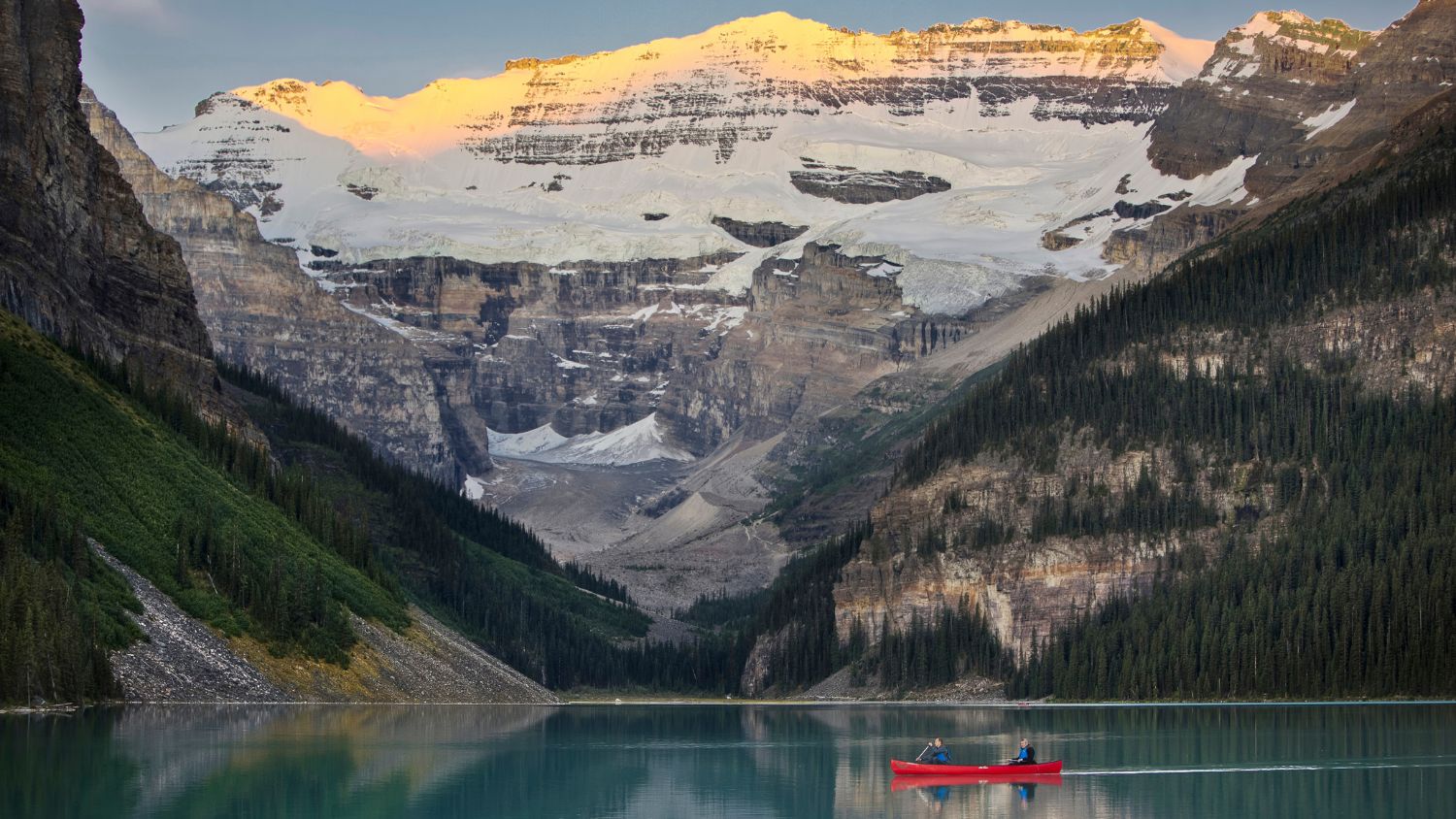 An outdoor enthusiast's guide to the best National Parks across North America, from Utah to Yellowstone to Yoho.
I've spent the better part of 42 years of married life making my wife, Barbara, wait for me to compose the right photo, or change lenses for a better shot. She would stand quietly, no doubt fidgeting the whole time.
Our three-day whirlwind trip to visit national parks in Utah was something else entirely. As we rolled down the highway at Capitol Reef National Park on a late afternoon in April, Barbara turned to me.
"Jim," she said, mouthing the words I'd been waiting to hear for four decades. "Take more pictures!"
After four national parks and a slot canyon in three days, I'm pleased to report that we're still happily married. What's a slot canyon, you ask? In Utah, we visited the cheeky monikered Peek-a-Boo Canyon. This is a remarkable, fiery orange "slot canyon" on the U.S. Bureau of Land Management land a few minutes outside Kanab, and a short drive from Zion National Park. It's a long, narrow gorge or channel that's steep sheer rock walls, and you drive a rented ATV over a series of sand dunes to get there, which is part of the fun.
But I digress. I've been lucky to visit many iconic national parks in western Canada and the western United States. Here's a look at 13 of my favourites, from Alberta to Utah to Yukon, and all are great options for an unforgettable nature experience on both sides of the border. 
ALBERTA
Banff 
I grew up in California and love the Highway 1 drive along Big Sur, but I don't think there's a more jaw-dropping drive in the world than the one that goes from Canmore to Banff and Lake Louise, and then up the Icefields Parkway to Jasper. The mountains are so rugged and so ancient and powerful that I can hardly take my eyes off them. 
If the Canadian Rockies don't make you feel small and insignificant, there's something wrong with your emotional wiring. A canoe trip on Lake Louise might be the most iconic activity in Canada. I also highly recommend renting a canoe on Moraine Lake, which has the same blue-green water as Lake Louise but perhaps even more spectacular mountains. If you're not into canoeing, try a tour boat ride on Lake Minnewanka in Banff. www.travelalberta.ca
Waterton Lakes 
This park features a beautiful lake surrounded by gushing waterfalls and towering, snow-clad mountain peaks. One of the top things to do is to take a boat ride that crosses into the U.S., Waterton Lakes being part of Waterton Lakes/Glacier National Peace Park, which is looked after by both U.S. and Canadian parks officials. 
The park features a couple of nice drives, one to Cameron Lake and the other to Red Rock Canyon. Take a hike up a peak called Bears' Hump for exceptional lake views. The Prince of Wales Hotel sits high on a bluff overlooking the lake as if it's a lord surveying his or her manor. The town also has a good golf course with spectacular mountain views. When I registered to play a few years ago, I apologized to the pro shop worker for not having proper golf attire. "Sir, we only have two rules here," she told me with a smile. "No muscle shirts, and no visible butt cracks." www.travelalberta.ca
ARIZONA
Grand Canyon
"Shadows dance. Red rock high above flowing water. Solitude and beauty." It's not much of a poem, but that's what I wrote down in my reporters' notebook a few years back when I visited the Grand Canyon for the first time. The grandeur of this place, the sheer, mind-numbing enormity, is difficult to grasp. It stretches on for 446 kilometers and is 27 km's wide. The deepest parts are nearly 2,000 metres below the rim. 
The views carry your eyes down, down and down some more, past hills of creosote and pinyon pines to the Colorado River, which is lined with mesquite trees and graceful coyote willows. The colours and shadows in the rock shift and change constantly during the day as the sun slowly makes its way across the sky. Patterns and striations and gradations appear and recede as the river slowly slides west. There's a reason this is one of the most visited national parks in the world. www,visitarizona.com
BRITISH COLUMBIA
Mystic Beach
It's an easy, enjoyable walk through the rainforest on southern Vancouver Island to get to Mystic Beach, where you'll find a pretty waterfall tumbling over a high cliff and falling onto the sand. You'll pass a suspension bridge over a small canyon along the way as you're dazzled by the myriad shades of green all around you. www.hellobc.com
Yoho
Things can get crowded on the Alberta side of the Rockies. Which is why I love the B.C. Rockies and Yoho National Park. Take a short walk to a great viewing point for Takakkaw Falls, which drops 254 meters over a rock cliff. Natural Bridge is a geologic marvel, where a raging torrent of milky green glacial water comes hurtling through an opening under a natural rock bridge. www.hellobc.com
CALIFORNIA
Yosemite
Half Dome is a majestic slice of ancient, grey rock that looks like it was cleaved in half by a heavenly blade, while El Capitan is a granite monolith that is nearly 1,000 meters from base to summit and attracts climbers from around the world. Bridal Veil Falls is a ribbon of sensuous beauty that tumbles 189 meters over a wall of granite. www.visitcalifornia.com
NEVADA
Valley of Fire and Red Rock Canyon
These are two magnificent parks just outside of Las Vegas. Take a break from the casinos and live shows and revel in the natural, desert scenery and towering red-orange rocks in both spots. www.travelnevada.com
UTAH
Bryce Canyon 
The area around Bryce Canyon gives very little indication of what's ahead. But, as we headed from Bryce Canyon City to the small town of Tropic for a bite to eat, we were suddenly confronted with a series of orange and white, chimney-like spires that resemble the Gaudi architecture you find in Barcelona. 
Inside the park, we did the short, easy walk between Sunrise Point and Sunset Point, stopping to admire deep red shards of ancient stone that rise up from the canyon floor. It's like a forest of orange stone trees, sculpted by millions of years of wind, rain, snow and ice. A dusting of snow on the rocks only added to the intrigue. I went back around sunset and it was even more beautiful, the shadows deepening the colours in the rock and small sparrow-like birds darting among the spires. 
The previous day at lunch in Tropic, my wife read a story on the back of the menu about a local rancher named Ebenezer Bryce, for whom the canyon was named. Bryce was apparently not much of a romantic. When asked what he thought of the wonder-world of soaring spires alongside his ranch, Bryce replied, "Helluva place to lose a cow." www.visitutah.com
Capitol Reef
We pulled onto the main road into the park and were gobsmacked by the overpowering range of orange-red rock hills. The rocks here appear to have been thrust skyward with immense force and are both wide and muscular and raggedy jaggedy. 
We sauntered southward in our rental sedan and turned down a dirt road into the Capitol Reef Gorge. That's where it got really interesting. The rocky landscape we had previously traversed was lovely. But this was somehow primeval. The walls closed in around us, and towered high over our heads. Whereas Bryce is filled with tall, thin spires of rock, Capitol Reef seemed like a full-blown blast of testosterone. We could only see a sliver of sunlight above, and I suddenly wished I had rented a convertible. We were only in the gorge for 20-30 minutes, but it was one of the most jaw-dropping drives of my life. www.visitutah.com
Arches 
Barb and I had a fabulous, guided tour of Arches National Park with Chris Tull, an enthusiastic biologist who works with Moab Adventure Center. Arches National Park is a land filled with soaring, rust-coloured arches that rise into a bright blue western sky. Tull told us stories about the forces of water and chemical erosion that formed these graceful masses of stone and stopped to take in the tiny, brilliant yellow and white wildflowers. 
We also stopped to admire the grandeur of towering walls of rock at an ampitheatre-like area called Park Avenue, where I spied a narrow stone column that resembles the head of Queen Nefertiti. At Sand Dune Arch we clambered through a narrow canyon for a few seconds before emerging into a bowl of brilliant orange light, with a solid arch over a sloping piece of smooth rock that formed a perfect natural stage. www.visitutah.com
Zion
We came in from the east, a road very much less travelled, and were immediately confronted by towering, chalky white/crème coloured cliffs with vertical and horizontal lines that looked like some kind of natural graph paper. The road began to dip between the rock walls as it descended into a deep valley, and then a long, long tunnel. When we emerged, we were on a stretch of road that was dwarfed by tall, gnarly peaks streaked with brown, rust and white rock, with patterns and lines and hidden figures that would no doubt delight a lover of Rorschach tests. 
Weeping Rock is the site of a razor-thin, wispy, beautiful waterfall. The water tumbles perhaps 200 feet over a sheer wall of tan and dark-brown Navajo sandstone, and the moisture provides sustenance to ferns and mosses that cling to the rock face for dear life. We sat on a stone ledge under an overhang behind the fall, watching the mist dance in the dry, desert air. www.visitutah.com
WYOMING
Yellowstone 
The granddaddy of the U.S. parks system, Yellowstone was created in 1872. The park is famous for its sulphur hot springs, and you'll often spot pools of brilliant blue water surrounded by yellowish swirls; like a giant icy blue eyeball staring up from the earth's crust. 
Grand Prismatic Spring looks like a primordial eye of hell from Lord of the Rings. Yellowstone is home to Old Faithful, a geyser that spouts boiling water and reaches a height of 30–55 metres. www.travelwyoming.com
YUKON
Tombstone Territorial Park
View this post on Instagram

Only about 1.5 hours from the fun, quirky town of Dawson City is this set of impossibly spiky, sawtooth mountains on the Dempster Highway. It's one of the most scenic mountain ranges in North America. www.travelyukon.com