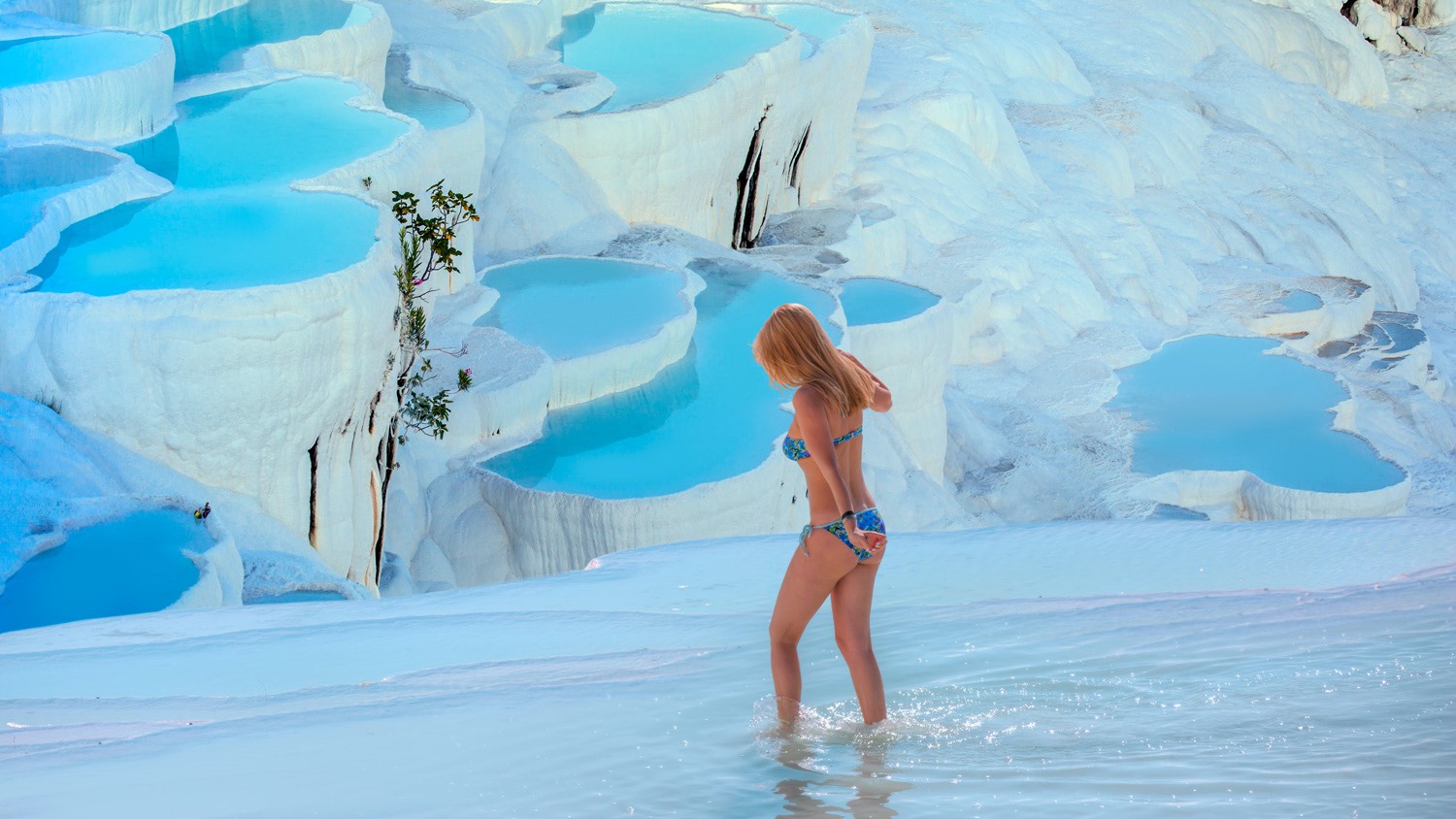 Fascinatingly surreal and almost otherworldly - you won't believe these marvels exist!
From trees that grow at a 90-degree angle in one specific area amidst isolated forest land, to an island that inhabits extraterrestrial-looking flora and fauna that does not grow anywhere else on earth, it is an intriguing task to fully comprehend that we as humans co-exist with such incredible oddities gifted to us by Mother Nature.
Surprising the eye and bewildering the mind, these unusual but enchanting beauties of nature will blow minds and tickle every curious bone in one's body.
1. Travertine Pools at Pamukkale, Turkey
---
2000 year old thermal pools of water can be found contained in terraces comparable to fluffy white cotton bowls in the southwest region of Denizli, Turkey. The heat is caused by hot water bubbles deriving from caves heavy with noxious carbon dioxide gas – they range in temperatures from 95 degrees to boiling. The mythological tale is that of giants who used to do their laundry in the pools, one day left the cotton to dry out in the sun, never to return
View this post on Instagram
2. Devils Marbles (Karlu Karlu), Australia
---
On a conservation reserve in the Northern Territory of Australia, there is a collection of gigantic red boulders that stand around 6 metres high. Formed millions of years ago when an upsurge of molten rock reached the surface creating thick rectangular slabs. Over time erosion had worn away the edges, creating egg shapes. The local Warumungu Aboriginal people believe they are the fossilized eggs of the rainbow serpent deity.
View this post on Instagram
3. Blood Falls, Antarctica
---
An ancient lake that is approximately 5 million years old came to be after ocean water had flooded East Antarctica. Today this lake is known as West Lake Bonney located in Victoria Land. Covered in glaciers, there is rich, red-coloured saltwater resembling blood that pours out of the ice. The water is technically clear however, due to its staggering high levels of iron, it turns red upon encountering air – also known as oxidation.
View this post on Instagram
4. Socotra Archipelago, Yemen
---
An island off the coast of Somalia in the Arabian Sea, has been dubbed "the most alien-looking place on earth." According to UNESCO, 37% of Socotra's 825 plant species are not found anywhere else on this planet. 90% of its reptile species and 95% of its land snails are exclusive to the island and non-existent in other areas of Earth. The marine life on Socotra supports 253 species of reef building corals.
View this post on Instagram
5. Lake Retba (Lac Rose), Senegal
---
In northwest Africa located on the Cap-Vert Peninsula, lies a pink lake 1.2 square miles in size. It has a salt content of 40% and its beautiful colour is caused by the dunaliella salina algae. In it's dry season Lake Retba's salinity exceeds that of the Dead Sea and the rosy hue is more pronounced. A narrow strip of dunes separate the lake from the Atlantic Ocean and magenta bushes grow on the nearby sandy banks.
View this post on Instagram
6. Marble Caves (Capillas de Mármol), Chile
---
In Chile's Patagonia region, located in the middle of the biggest lake in Chile, General Carrera Lake, is the striking marble caves only accessible by boat or kayak. Manipulated over the last 6000+ years as a result from the nearby glaciers washing up against these solid rocks slowly carving out the columns, tunnels and caverns. The mineral-rich glacier water changed the colour of the marbled formations inside the cave to hues of blues, greens, blacks and yellows.
View this post on Instagram
7. Salar de Uyuni, Bolivia - Bolivia
---
Bolivia is home to the world's largest pure white salt flat spanning 4086 squares miles. Underneath the cemented salt are large reservoirs of lithium-rich brine. 70% of the world's lithium reserves are found in Salar de Uyuni. It was once a prehistoric lake long since evaporated under the Andean sun. The rain causes a thin sheet of water on the flats, reflecting a perfect representation of the sky.
View this post on Instagram
8. Caño Cristales River (Crystal Canyon), Colombia
---
This Colombian river located in the Serrania de la Macarena, is an ecological phenomenon that happens nowhere else on Earth. Known as the river of five colours or the "liquid rainbow," this gorgeous body of water has a fast current with many rapids, circular pits and waterfalls. The aquatic algae plant, macarenia clavigera, is what gives the illusion of multiple colours flowing.
View this post on Instagram
9. Crooked Forest, Poland
---
In West Pomerania, Poland, near the town of Gryfino is a cluster of 400 oddly shaped pine trees. Planted in the village of Nowe Czarnowo circa 1930, each pine tree is bent 90 degrees distinctly to the north for 3-9 feet of its trunk and then curving upright for the rest of its 50 foot tall stature. The phenomenon of this bizarre growth style remains an eerie mystery to this day as there is little to no evidence to support how they developed that way.
View this post on Instagram