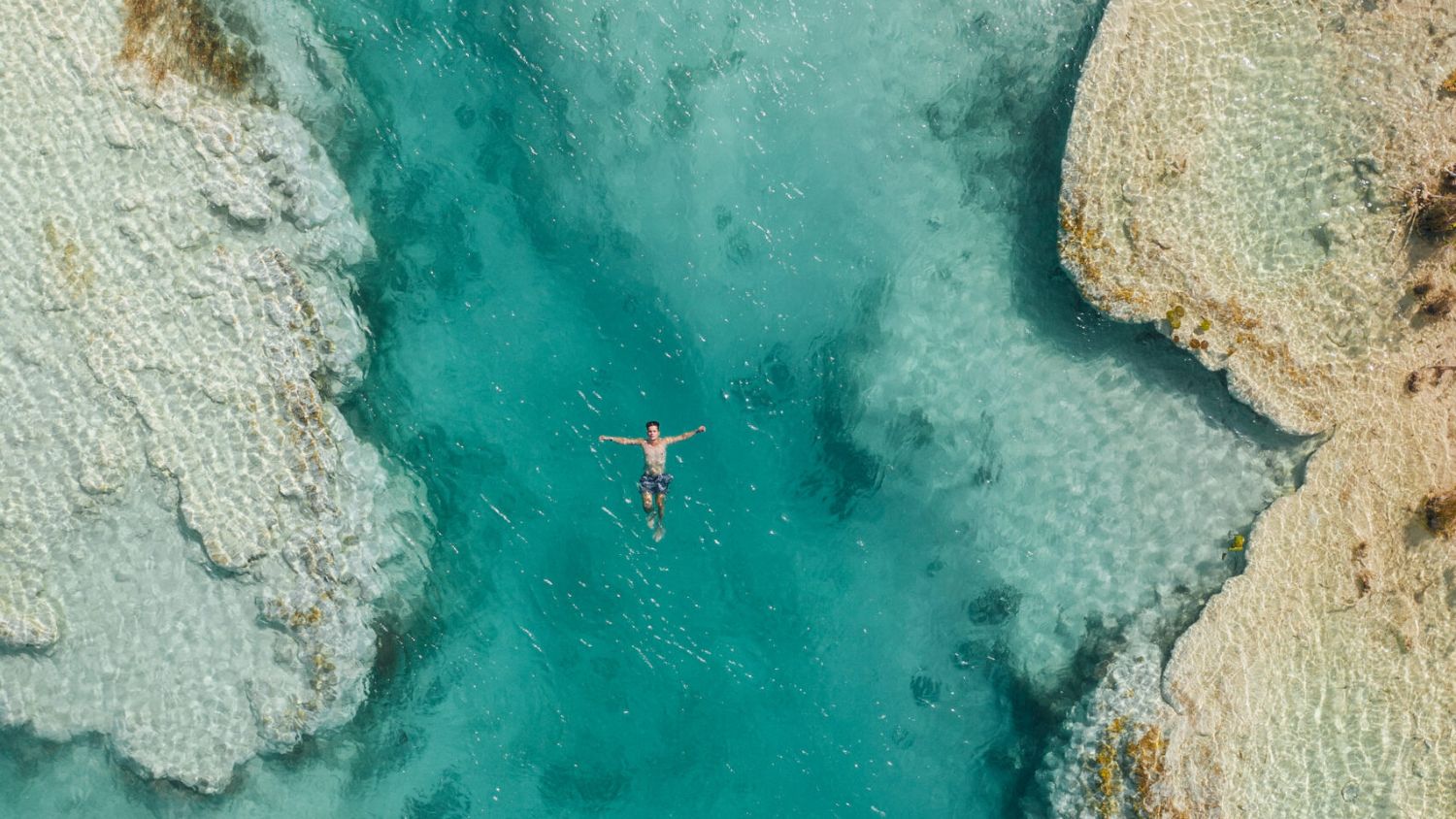 From crystalline lagoons surrounded by eco-chic bungalows to mountaintop villages steeped in mysticism, these are the best small towns in Mexico that are often overlooked by tourists.
Mexico's best cities and beach destinations pulse with an undeniable energy. It's no secret that some of the best restaurants in the world are found in Mexico City, the best resorts in Los Cabos, and the most beautiful nature along the coast of the Riviera Maya. But beyond the most well-known spots in Mexico, the country is peppered with small towns that are supremely beautiful, deeply rooted in tradition, and brimming with treasures waiting to be discovered. From crystalline lagoons surrounded by eco-chic bungalows to mountaintop villages steeped in mysticism, these are the 8 most beautiful small towns in Mexico that are often overlooked by tourists.
Bacalar, Quintana Roo
The ethereal blues of Bacalar's dreamy lagoon is the stuff great Instagram feeds are made of. Laguna de Bacalar is one of the Yucatan peninsula's best-kept secrets — though by now, the secret is well on its way to getting out. The sleepy village that goes by the same name as the lagoon on which it sits is a haven for eco-tourism, where the pace is slower, the buildings intentionally low-rise, and the vibe that promotes small-batch and homegrown. Its eco, boutique properties have gotten decidedly more luxe in recent years, like the bedouin-chic Casa Hormiga and the swanky, Habitas Bacalar, which offers 34 A-frame tented rooms directly overlooking the lake. Still, travelers to Bacalar like to keep things low key. The streets are dark after 9 p.m., leaving a sky strewn with stars and the peaceful sounds of the wind rustling across the water's surface.
Mazunte, Oaxaca
Mazunte, Oaxaca serves serious secret society vibes. Tucked on two small bays, secluded by the wild and rugged coastline of Oaxaca, the beachfront Mazunte is a bohemian hideaway known for its yoga, fresh seafood, fresh-pressed juices, and a touch of New Age charm. The two beaches of Mazunte are Playa Rinconcito and Playa Mermejita, around which you'll find palapa-topped beachfront restaurants serving succulent ceviche and fish tacos. It's a toes-in-the-sand destination, whose visitors show off fully tattooed legs underneath billowing sarongs. But more than just being a haven for dreamcatchers and spiritualists, Mazunte is a top destination for spotting wildlife in its lush jungles and underneath its lapping waves. Visit the National Mexican Turtle Center right in town to learn about the conservation of sea turtles along the Oaxacan coast. Book one of the eight private suites at the palapa-topped ZOA Hotel before heading down to the beach for an impossibly fresh seafood feast at Estrella Fugaz.
Campeche, Campeche
For a capital city, Campeche certainly airs on the side of sleepy. Saturated in pastels, Campeche reads like a timeline of Mexican history. Its colorful, Spanish-style Centro Historic sits protected behind fortressed walls that were meant to ward off pirate invaders. The port city is also perched at the entrance of 7,230-square-kilometer Calakmul Biosphere Reserve, a protected area that blankets the majority of the state. Within its lushness is the archaeological site of Calakmul, a Mayan city that was at its height 1,000 years before Chichen Itza was even on the map. Within the walled city are several luxury boutique hotels, as well as the historic hacienda-turned-five-star stay, Hacienda Puerta Campeche, a Luxury Collection Hotel. Wander over to the zocalo and marvel at its bone-white church while tucking into regional delicacies, like pan de cazon or panuchos de Pavo.
Todos Santos, Baja California Sur
Less than an hour from Los Cabos, but another world away, Todos Santos has been a meeting point for artists and hippies for decades. But recently it has made its mark with the Mexico City society set. The aesthetic is equal parts sandy streets and surf boards as it is oysters on ice with a splash of rose. No matter the end of the spectrum, the vibe here is consistently barefoot luxury and boutique. Adventure travelers come seeking the spectacular scuba, while surfers chase waves at Los Cerritos Beach. Kaftan-clad Bohemians sip cocktails and nibble on tiradito at swanky Oystera before turning in at one of the many sexy hotels, like Guaycura Boutique Hotel, Paradero Todos Santos, or the newly reopened Rancho Pescadero.
Taxco, Guerrero
Surrounded on all sides by jungle-covered peaks, the hillside town of Taxco is a visual feast. White-washed buildings capped with red terra-cotta roofs creep up the mountains from the valley floor, creating a contrast of colors that is simply gorgeous. At the center of it all is the ornate Santa Prisca cathedral, headed by two rust-colored towers and topped with a brilliant dome. Taxco's history lies in silver. The now-empty mines here date back to the 16th century, but the reputation of Taxco silver remains. Visitors come from around the world to buy meaningful pieces, wander the cobblestone streets, and dip in and out of the many art galleries. At just 100 miles from Mexico City, it makes for an easy day-trip or a quick weekend getaway.
Izamal, Yucatan
The state of Yucatan has an embarrassment of riches when it comes to beautiful places. This is the home of Merida, Chichen Itza, and the beachfront town of Progreso. But Yucatan is also home to the village of Izamal, a village that, if nothing else, is known for being thoroughly drenched in the color yellow. Though the Yellow City now shows off a Spanish colonial aesthetic, its roots date back to the Mayan empire and was once peppered with temples that served the Mayan gods. Though today Izamal may be more famous for its Franciscan monastery than its Mayan structures, you can still find evidence of its indigenous past, like the Kinich Kakmo Pyramid, which is just north of the city. 
Zihuatanejo, Guerrero
Zihuatanejo is the relaxed beach destination that is the low-key answer to its flashier neighbor, Ixtapa. The sleepy fishing village is known for its secluded cove beaches, gorgeously turquoise Pacific water, and thundering surf just down the coast. Relaxed restaurants line the beachfront, where guests can sit with their toes in the sand and watch the boats zip in and out of the bay. Just over the hill, the trendy, resort-packed Ixtapa has all the creature comforts, like high-end restaurants and shopping, but Zihuatanejo allows you to slip off into what feels like worlds away. Check into Thompson Zihuatanejo for a palm-fringed beach and gorgeously designed minimalist rooms, or venture a bit outside of town along Playa Blanca for a secluded stay at Marea Beachfront Villas.
San Cristóbal de las Casas, Chiapas
There is something mystical about San Cristobal de Las Casas. Shrouded in mist and surrounded by towering mountains in Mexico's southern highlands, San Cristobal de las Casas is where travellers come to seek something higher. Hikers come to ascend the peaks, while spiritualists come to understand shamanism. The mountaintop village is known for its deeply rooted Mayan traditions, thanks to the Tzotzil Maya tribe that still calls these streets and hills home. Cobblestone streets are flanked with low-rise, colorful colonial-style buildings. The air is spicy with the scent of burning sage. An undeniable air of spirituality permeates the entire city. Be sure to visit the canary-yellow Catedral de San Cristóbal de Las Casas, which stands proudly facing the valley below. Still, San Cristobal is decidedly modern, from design-forward Hotel Bo to the buzzy restaurants along Real de Guadalupe.