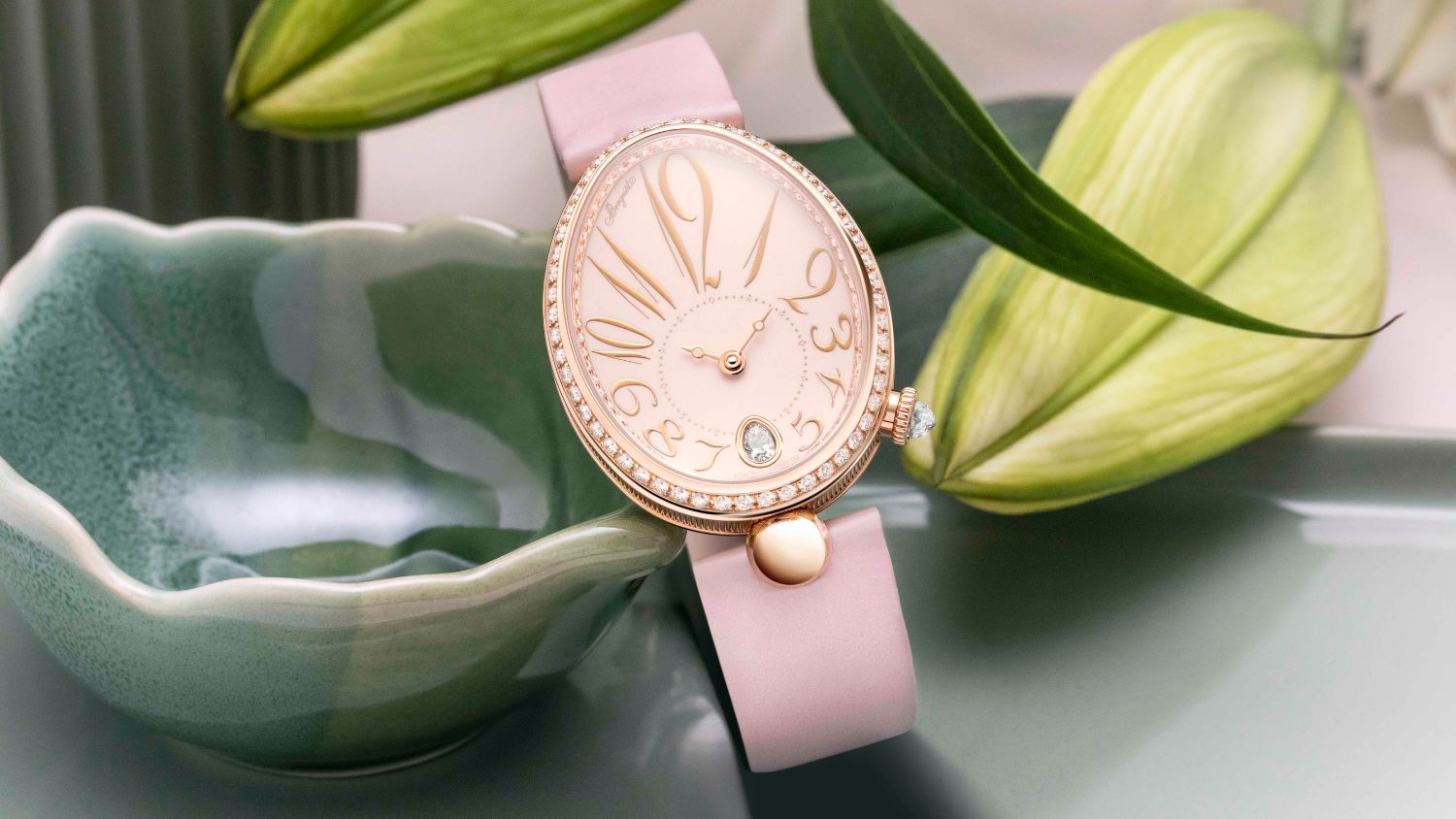 Charting the evolution of Breguet's wristwatch, from its royal roots to its modern complications.
When Caroline Murat, Napoleon Bonaparte's youngest sister, needed to tell the time, she went to a Bonaparte court favourite, Abraham-Louis Breguet. The then Queen of Naples did not want a pocket watch, or a watch that she would have to pin to her gown. She wanted functional jewellery. She wanted a bracelet.
And, so, the first wristwatch was born, aka Breguet's Reine de Naples. It comes as no surprise that the innovation was inspired by a woman, and Caroline was known to be a bit of a fan-girl – as was Marie-Antoinette – when it came to Breguet's creations. In fact, Breguet also designed one of the most complicated watches of the time for Marie-Antoinette, known as the no. 160, a self-winding model that she wore throughout her reign.
Breguet's timepieces and "bracelets" were sported all over Europe, from France and the Kingdom of Naples, to Austria and Italy. In England, Queen Victoria took a Breguet travel clock on her royal tours, and then there's the Duchess of Wellington, whose style no. 3023 is a quarter-repeating, neoclassical model that is currently on display at The Louvre in Paris.
But it is Caroline Murat's "bracelet" that is truly worth celebrating. "Breguet was an artist; a founder neo-classicist in watchmaking and opposite of the more Baroque," Breguet CEO Lionel a Marca tells me during our meeting in Santa Monica at The Fairmont Miramar, during the 2023 Frieze Art Fair. "He was also an engineer and an astronomer." Clearly the company infused the original founder's astronomy leanings into current watch styles, such as the Men's perpetual Classique 7337 and the new 7327, featuring the phases of the moon and starry nights). Time, a Marca adds, is intrinsic to the human experience. "Everyone needs to know the time, and my objective – always a desire of mine – is to show how [through watchmaking] time is passing."
Speaking of time, Breguet partnered with the artist Pablo Bronstein to create ephemeral works – a series of wallpapers, with the final work for Frieze LA, shown this past February at the fair and, of course, inspired by time and timepieces. To my eye, the panoramic artwork's abstract flow was reminiscent of Salvador Dali but, says the House of Breguet, it also reflects Bronstein's fascination with the industrial revolution. The next Frieze x Breguet partnership will include the female independent curator Somi Sim, who, according to the House, is presenting an exhibition of artworks she's chosen centred around the different notions of time.
Apropos, as the Reine de Naples was created, in a way, by a woman for women. Caroline ordered it in 1810 and received it in 1812. It's said that the strap was akin to a finely wrought gold thread.
What a Marca brings to the table now, he says, is the ability to facilitate, to put together, these iconic legends and styles like Reine, and present them to the modern watch wearer, collector, aficionado.
With the Reine de Naples, a Marca understands that it was Caroline who defined the form of the watch. "The shape has not changed," he says, "but it might possibly evolve." Baroque, as a Marca defines it, "is not clean, it's heavy; we wanted something clean, and innovative," he adds. The numerals are Arabic, a detail that has been maintained in the new iteration of the watches. Although an original from the 1800s is yet to be found, the watch was relaunched early this century, using notes from the substantial and carefully preserved Breguet museum archives, which are located in Paris and in Zurich.
Fit for a queen, if we do say so ourselves.
The Reine de Naples No. 8918, in light rose, $46,200; the men's Classique No. 7337, $54,600; both Royal de Versailles, Toronto. breguet.com/en