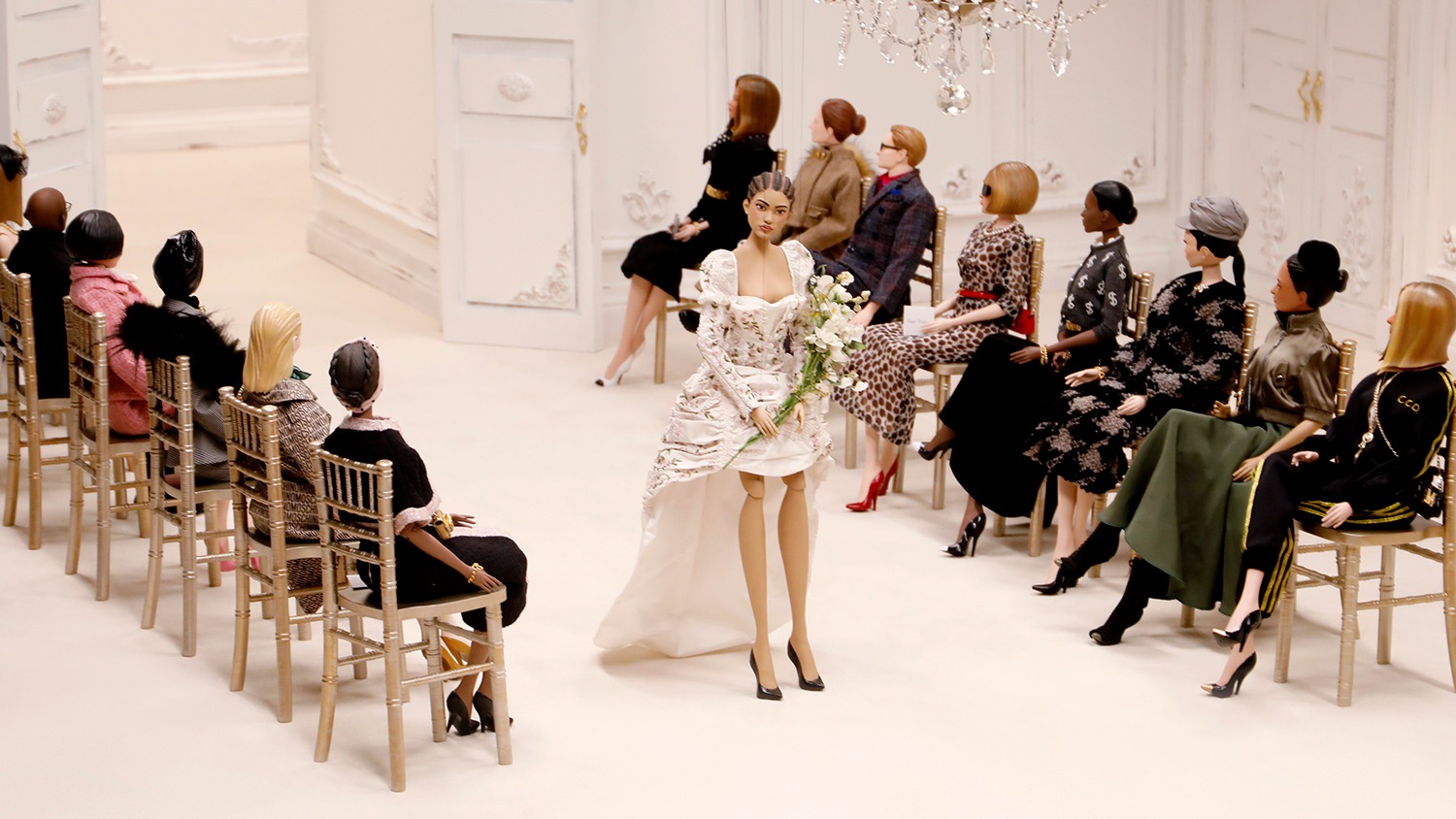 Moschino's Creative Director Jeremy Scott presented the brand's Spring-Summer 2021 collection with marionettes walking the runway.
Jeremy Scott, the Los Angeles-based fashion designer and creative director of Moschino since 2013 has made it known that while his body had been in quarantine, his kitschy imagination continued to run wild and free. "I'm a creative person who is extremely used to lots of people, travel, all these different things going on and to have everything just stop, I had to think about how to create and deliver the emotion of my work," said Scott to Variety.
COVID-19 has turned the world upside down, putting a stop to yearly live events such as Milan Fashion Week but this did not intimidate the genius working wheels of Scott's mind. Not long after gathering his thoughts and looking at the current situation as an opportunity as opposed to an obstacle, the grandiose idea to debut his new luxury bags collection using marionettes was born.
Scott had sought out the assistance of Jim Henson's Creature Shop, requesting forty marionette models for forty looks and doppelgangers of the world's top fashion editors and journalists to fill the front rows such as, Anna Wintour (Vogue), Edward Enniful (British Vogue), Angelica Cheung (China Vogue), Nina Garcia (Elle), Hamish Bowles (European Editor for American Vogue, Anna Dello Russo (Vogue Nippon) and Vanessa Friedman (The New York Times). Scott even had his own "mini moi" created by the Henson crew, sporting a crown and a Moschino t-shirt that says, "I don't speak Italian, but I do speak Moschino."
Theatrically intricate, the 7 minute and 39 second short film-like spectacle of fashion titled, "No Strings Attached," was produced by Alex Winter, a lifelong friend of the Jim Henson family – yes, the same Alex Winter who played Bill from Bill and Ted's Excellent Adventure. It took over three days to shoot with the final costs of the production exceeding typical funding for your traditional runway show.
View this post on Instagram
"It's much easier to do a show with live models and put clothes on them in a traditional size, turn the music on – and go. I directed the film, it was my concept, so to make it all happen in this timely fashion has been one of the most amazing and challenging creative endeavours that I've ever gone on." Scott stated. This was not Scott's first time to the puppet rodeo as he had worked with Jim Henson's company before, having dressed Miss Piggy for the 2011 release of "The Muppets" movie.
After Scott had finished designing his new SS21 collection screaming romantic boldness, he had each garment meticulously duplicated by hand. Every single piece was scaled down using the exact same fabrics and detailed embellishments to fit the proportions of the puppet bodies. Highlights of the new Moschino line includes intricate beading, corsetry boning, tulle underskirts, ruffled tops, cascading ball gowns, wrap dresses, golden rose embroidery, dramatic collars and capes, infused with light greens, browns, pinks, dusty blues and teals.
View this post on Instagram
He drew his inspiration from post-World War II puppet shows in France – Théâtre de la Mode was a travelling fashion exhibition featuring couture contributions from over sixty Parisian designers. Its purpose was to raise money for war survivors in addition to keeping the fashion industry alive and relevant. He was also influenced by the thought of depression-era movie goers, and how they would spend their last pennies to watch a film as to escape their sorrows, however fleeting.
"If I can transform that reality, suspend it for just a moment, so that my guests are transfixed by the show – that's my goal. I feel like it is more important and pertinent and necessary more than ever."
If you don't follow Jeremy Scott on Instagram, perhaps you should – he offers sneak peek clips of what happened behind the scenes (and seams) during the filming of what he describes as having been a 'labour of love.' "The best thing I could do for everyone who is stressed about the election, the pandemic, social unrest, and the future was to give the gift of fantasy and take us away from all of it for a few minutes," he said. "Let us enjoy this little fashion world of ours."
If you love fashion as much as we do, Filly Flair has more fashion advice for you, be sure to visit their website!