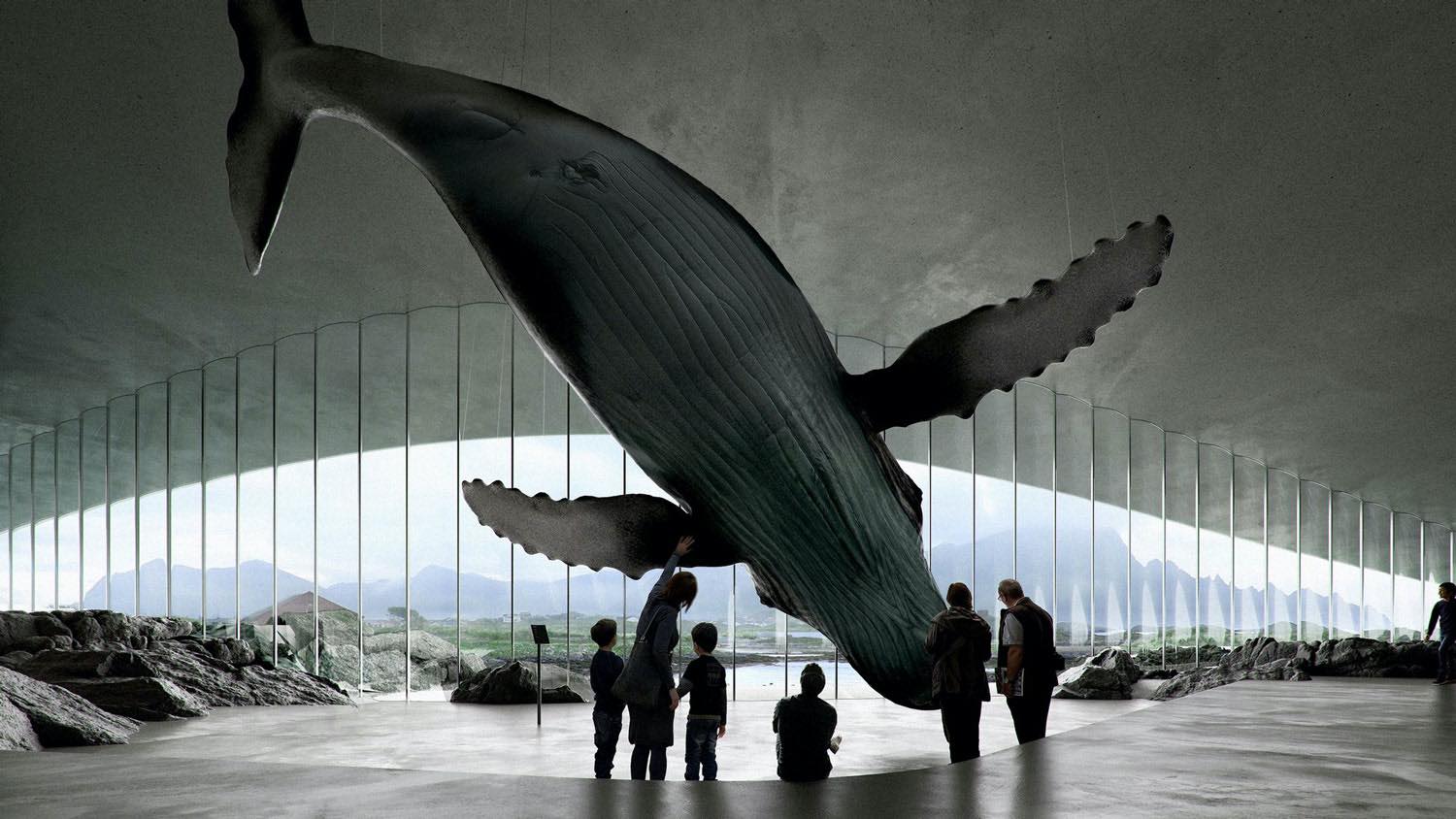 A world class museum with unparalleled whale-watching viewpoints, The Whale, will aim to create awareness and inspire learning as it pertains to whale conservation and environment.
Situated between the ocean and the sky on the fringe of the Andenes coastline 300kms north of the Arctic Circle, is Norway's upcoming new whale-watching museum. Set to open to the public in 2023, on the island of Andøya in the remote community of Andenes, it's anticipated to become one of their most popular tourist attractions. 
Designed by Danish architectural studio, Dorte Mandrup, The Whale, had won the competition amongst a slew of fierce European architect contenders such as Bjarke Ingels Group and Snøhetta, to name a few. A massive fin-shaped structure looking as if it's emergence from the ocean had been suspended, frozen in time, and designed to appear as though it had been 'lifted by a giant'. "The landscape above and under the water is one continuous skin, making the surface of the water the only division between above and below." Mandrup explained.
The Whale, with its floor-to-ceiling windows, will allow visitors to feel submerged into the building's natural surroundings as they learn more about marine life at various viewpoints and educational sectors. Fun fact; in early 2020, construction had been temporarily halted due to having discovered an ancient Viking settlement mound – the largest found of it's kind in Norway.
Andøya's deep sea canyon is exemplary for spotting the large-toothed sea creatures as they tend to come close to the shore to feed. The canyon helps whales to navigate during early migration patterns. From June to August, it's rather common to spot sperm, pilot and minke whales – and in the winter, orcas and humpbacks can be seen on their migratory journeys.
The internal space occupying the cavity of the belly of this beautiful beast will feature remains of bronze killer whales, a 50ft humpback, additional whale-related artifacts, and exhibitions to illustrate the incredible scale and similarities between humans and whales. A café and a gift shop are slated to be included in the implementation of the development plans as well. And the easily accessible roof paved with stone and lined with railings will feature a tide pool and campfire.
An innovative and cultural experience making the story and history of whales accessible to all, not just marine mammal enthusiasts. Mandrup hopes The Whale will be an unforgettable experience for visitors, which will 'inspire and open a way for a meeting between human and whale, culture, and nature through art, science, and architecture'. 
For more information, visit the museum's official website.