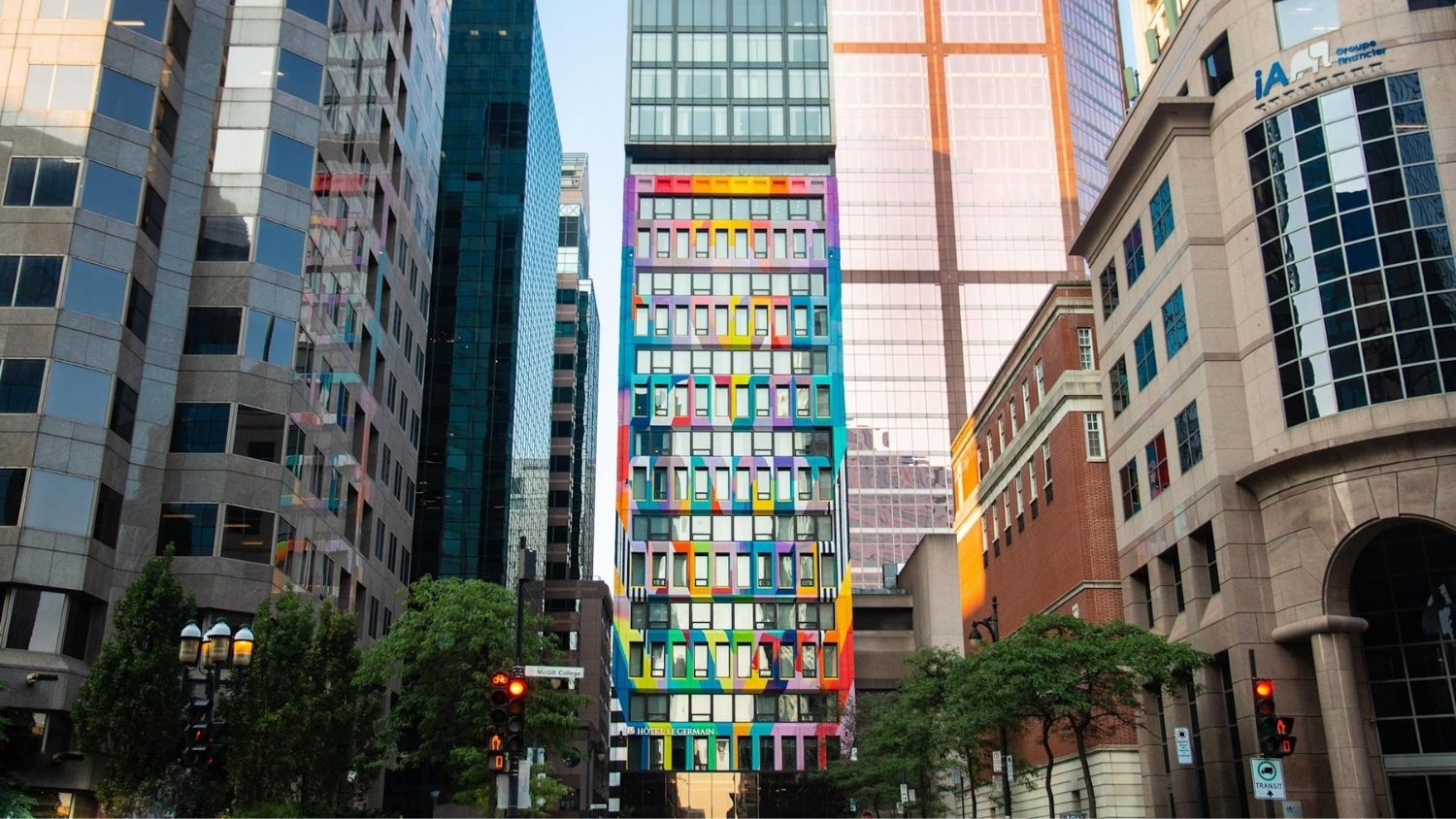 Montreal has a brand new rainbow-coloured building.
Le Germain Hotel Montreal breaks new ground once again by unveiling a major project collaboration with Mural, North America's largest urban art festival.
Following its official reopening after extensive renovations, Le Germain Hotel Montreal pursues its innovative relaunch by bringing an unexpectedly elegant touch to downtown Montreal. Guests of the hotel will now experience an exceptional stay at the heart of the mural.
This initiative is part of the 2021 Mural Arts Program presented by the City of Montreal to revitalize its various neighbourhoods. Also with the purpose of contributing to the revival of the downtown area, Le Germain Hotel Montreal offers Montrealers and its visitors access to beauty, creativity and intensity, at a time when art provides solace and gives hope for a desired return to normal.
"It's important for us to participate in the cultural and commercial revival of the downtown area. By using the hotel's facade as an artistic showcase, we hope to restore the value of the downtown area and encourage people to visit and keep coming back," explains Christiane Germain, co-president of Germain Hotels.
As part of the MURAL festival of public art, Canadian artist Michelle Hoogveld created a giant mural on the front and on one side of the hotel. The work, called ''Dazzle My Heart'', brings a much-needed touch of color in downtown Montreal.
Here's what Michelle Hoogveld had to say about that impressive gig.
BEFORE
Originally from Calgary, Alberta, Michelle Hoogveld decided to settle in Montreal after visiting the city back in November 2020. She remembers knowing immediately that she had to come and live in Montreal for the next few years.
It was also during that visit that the artist met the organizers of the MURAL festival who just a few days after offered her to be part of an ambitious project: to decorate the Le Germain Hotel Montreal with a huge colorful mural.
''They asked me if I was able to produce a design in less than 24 hours, she recalls. It was a very tight deadline, but the project was exciting. Since I love Le Germain Hotel Calgary, I was sure to love Le Germain Hotel Montreal. The challenge was unique and I knew I had to make it happen!''
So how do you create such an impressive design in such a short time? ''I usually set my work up as a grid and turns out that Le Germain Hotel Montreal's façade is also a grid. That's how the idea to create a color gradient in sections came to me, so each section would be a transition to the next,'' explains Michelle Hoogveld, whose artwork is characteristically very geometric and colorful.
Once the project was accepted by all parties, Michelle packed up all of her stuff and left Calgary to settle in Montreal in March 2021, just in time for "mural season" and already a project to work on.
DURING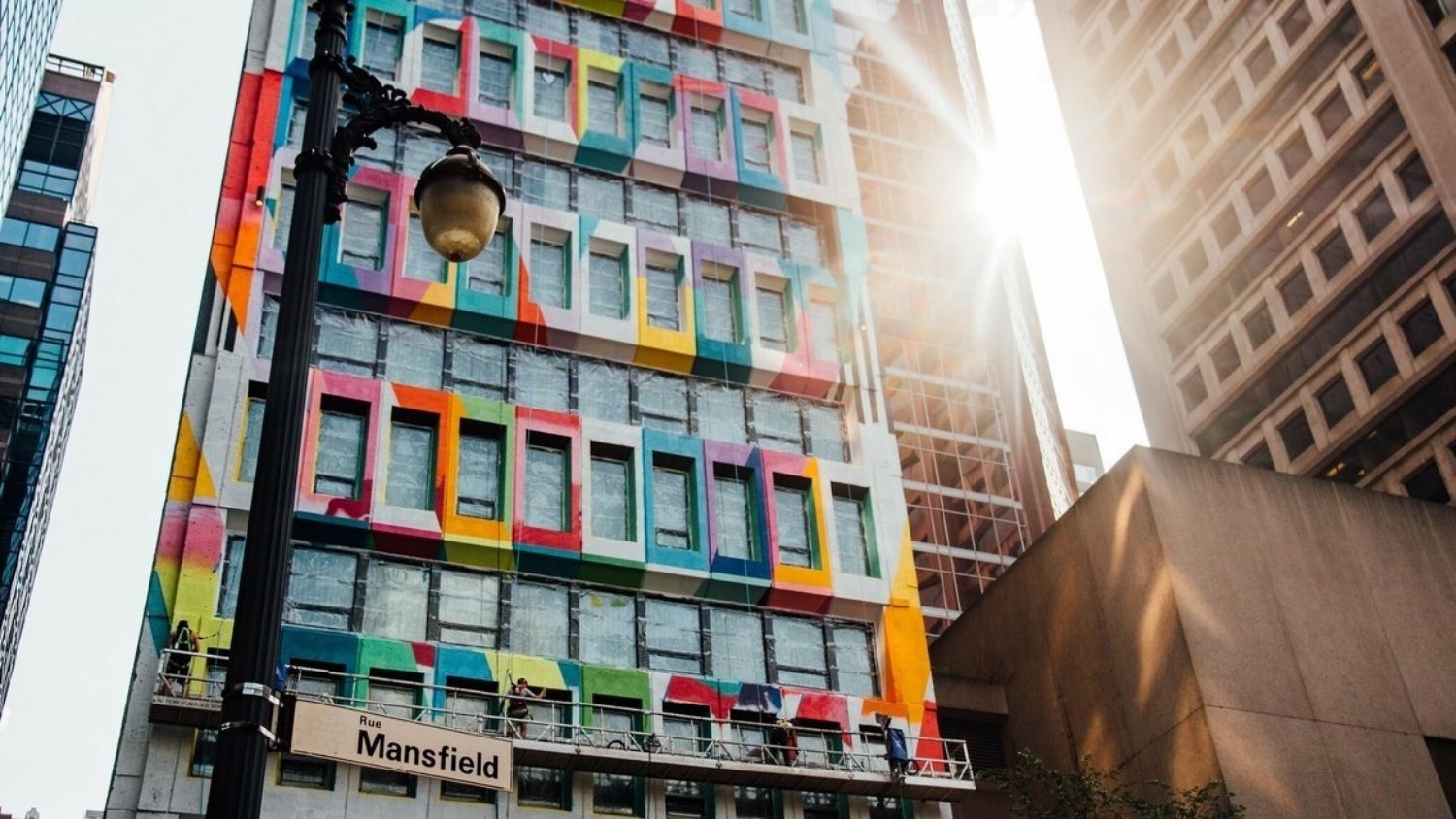 Creating a piece of art of this magnitude takes a lot of preparation, so Michelle Hoogveld moved to Le Germain Hotel Montreal a week prior the beginning of her project.
''It allowed me to soak up in the energy of the hotel and experience the best it has to offer. It made me bring new feelings to the art I was doing,'' explains she who uses colors to convey her emotions.
''Dazzle my heart" is not only a large-scale artistic project, it is also quite a logistical accomplishment for MURAL Festival as well as a great physical effort for the muralist.
The height of the mural being 171-foot-tall, Michelle Hoogveld had to work for the first time on a sling stage suspended from the rooftop of the hotel. She usually works with a forklift. She also had to deal with whatever weather Montreal had to offer: heat, sun, wind and everything in between.
The muralist painted more than 80 different colors to Le Germain Hotel Montreal's facade in order to create ''Dazzle my heart''. The side of the hotel is black and white in a ''razzle dazzle'' pattern, hence the name of the artwork. This pattern was once used as a camouflage technique on warships. Michelle Hoogveld's entire portfolio is based on this pattern, which she reinterprets to suit her moods and colors envy of the moment.
The artwork also features a heart, but it is difficult to see it, she admits. However, the heart shape is very important to the concept: "My art always comes down to the emotional reaction we have with colors. You never know how the colors will make you feel, it creates unexpected emotions. Colors are kind of a symbol of who we are as humans."
View this post on Instagram
AFTER
So, what awaits Michelle now that her work on Le Germain Hotel Montreal is completed? ''The rest of the mural season," she admits, laughing! She will be on the road all summer painting art works in the United States and in Europe before returning to Montreal in the fall and finally getting to enjoy her new city.
"There is a joie de vivre in Montreal that was tangible even during the pandemic. It's as if Montrealers are always ready to make the most of their day. The city gives off an energy that makes you feel alive and it immediately connected with my soul."
To book your stay at Le Germain Montreal, where you're "just steps away from boutiques, museums, businesses and restaurants and a pleasant stroll from the sensational festivals and events of Quartier des Spectacles," visit the hotel's website and get away to an oasis of tranquility amidst the city's vibrant bustle.
Follow Michelle Hoogveld on Instagram to discover her other projects.