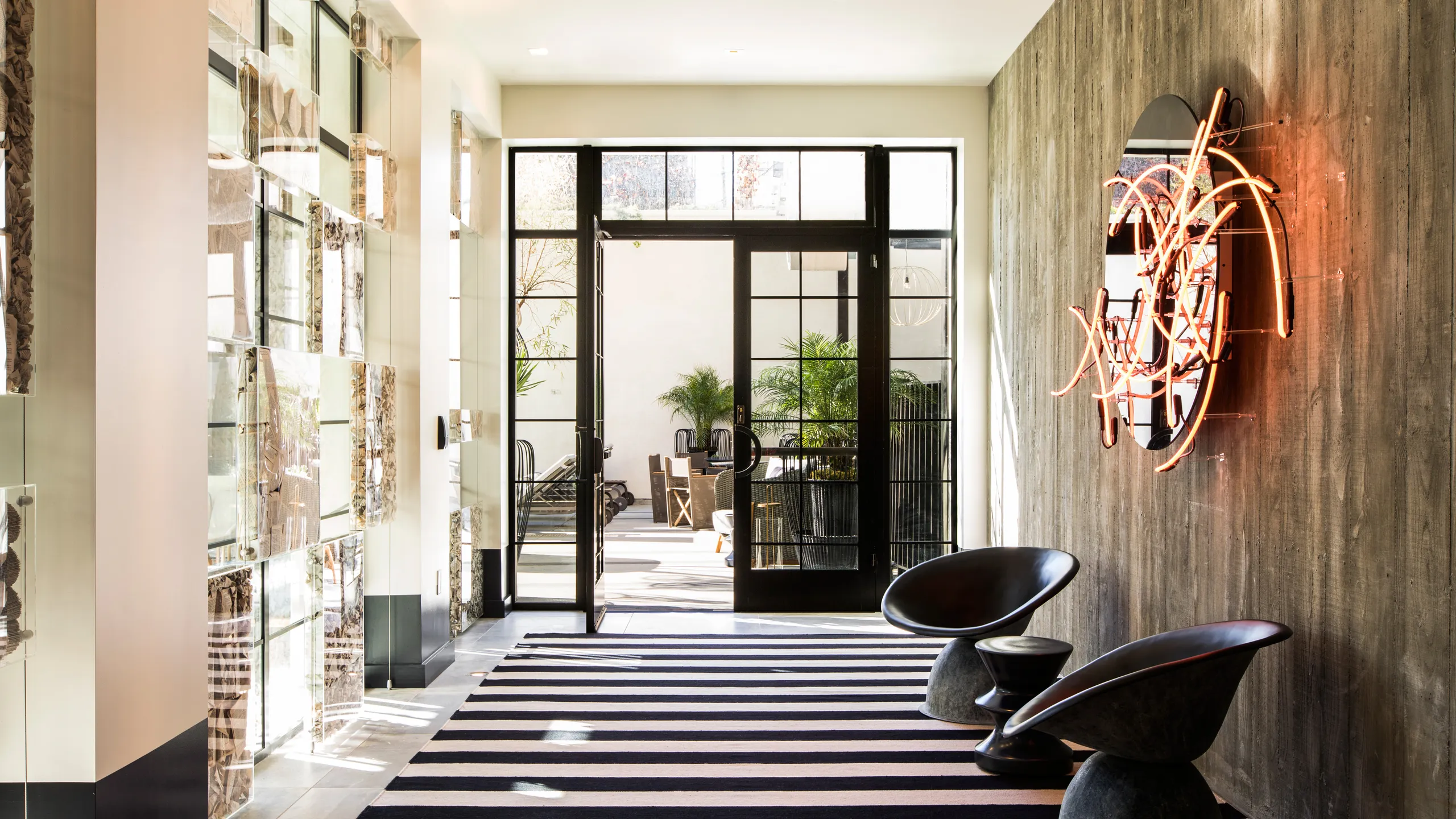 West Hollywood is a designer's dream with shops, architecture, and style
At first, the stretch of La Peer Drive between Melrose Avenue and Santa Monica Boulevard doesn't strike a visitor as the most obvious base for a glamorous Los Angeles visit. There's a lumber store, an upholstery place and—of course, this is L.A.!—a film production company that doesn't look like much from outside. But the Kimpton La Peer Hotel, which opened its doors in 2018, is, in fact, at the epicentre of Los Angeles chic.
Steps from the most of-the-moment fashion and design boutiques on the continent, the 105-room boutique property sets out to be something of a salon and crashpad for the best of Southern California's creative culture. The tiled entryway on the Art Deco building gives it a keepsake-box feeling, while the gorgeous, art-filled spaces by Icelandic Californian Gulla Jónsdóttir are as delightful as they intimate, with a lobby full of playfully comfy furniture looking out onto an elegant terrace bar and lounge.
A visitor could easily spend hours and days soaking up sun and cocktails by the pool, imagining the Hollywood deals and indulgent dinner plans being made all around them. While Kimpton La Peer is right in the middle of the TMZ (L.A.'s "thirty-mile zone" where so much celebrity gossip occurs), the place is amazingly devoid of attitude; the paparazzi—one night during my visit there were half a dozen of them outside the nearby celebrity haunt Craig's—might as well be on another planet.
La Peer is the new kid on the hotel block in West Hollywood, but it makes a great metaphor for the city itself: an easygoing and stylish solution to the conundrum of visiting Los Angeles.
Sure, the second biggest city in the United States has lots of attractions, beaches, great shopping and fantastic eats. It's long been a destination for starstruck movie fans. But there's that nagging problem: L.A.'s a sprawling, traffic-jammed city where the cool is spread out. Visitors need to have a clear idea of what they're going to see and do, and how they're going to get there. For example, while the best galleries, such as The Broad in downtown, the Getty Villa Museum in Malibu or the new Marciano Art Foundation in Central L.A., are free, they all require advanced, timed tickets and are miles and miles from each other. Los Angeles stubbornly remains an insider's city, where a visitor rarely just stumbles onto fun.
The exception: West Hollywood. A tiny municipality of about 37,000 people, covering less than five square kilometres just east of Beverly Hills, WeHo is maybe the only place in Los Angeles where you can go out for a walk and, without trying, find a great place to eat or drink. Located midway between western beach communities like Santa Monica and Venice, and rapidly gentrifying downtown L.A., WeHo's a hop, skip and Uber from most of L.A. cool.
Until it was incorporated in 1984, WeHo was mainly known as a lightly policed stretch of Sunset Boulevard and Santa Monica Boulevard, the place you could find booze during prohibition, where speakeasies stayed open late. Marilyn Monroe, who liked a good party (perhaps too much), lived here in the early 1950s. Charlie Chaplin's former acting studio, now repurposed as the intimate V Wine Room, was also here.
Starting in the 1940s and '50s, WeHo also became a place where gay and lesbian people could be themselves away from the watchful eye of the overzealous LAPD. Over time, the LGBT connection also made WeHo a magnet for all sorts of creative types, whose ingenuity and business acumen lured rich and famous shoppers and partiers from staid Beverly Hills and other parts of L.A. The late interior designer Phyllis Morris, famed for her high-end custom furniture, launched her career here in 1953 with her Poodle Lamp, which she delivered to clients in her convertible pink Cadillac. Morris's daughter Jamie Adler now runs the company and is in the process of taking it to the next level with a real-estate deal that could transform WeHo.
"I've lived my whole life in West Hollywood," Adler tells me one night over cocktails and sushi at Catch LA, a scene-y rooftop spot with a view of the grandly chunky red, green and blue Pacific Design Centre, where many of California's top designers have their HQ. Adler is one of the principals behind the Robertson Lane project, a proposed mixed-use restaurant, hotel, retail and event space complex that would create a pedestrian lane between La Peer and North Robertson Boulevard, a street that's already home to fashionable restaurants and boutiques.
The project makes Kimpton La Peer's location seem extremely prescient. There's even talk of turning a stretch of Robertson Boulevard into a pedestrian zone—a daring proposition for L.A., but not so crazy in progressive, pedestrian-loving WeHo. The creative problem-solving that makes West Hollywood such a fun and easy destination also ensures that it's an ever-changing one. And in trend-driven L.A., that's exactly what visitors expect.
WEST HOLLYWOOD ESSENTIALS
EAT
An upscale bistro for the avocado-toast crowd, The Henry has quickly become a neighbourhood haunt since it opening in 2018. It's got the cocktails and vegan options you'd expect in WeHo, but they also work magic on ahi tuna and wagyu beef.
View this post on Instagram
View this post on Instagram
Hollywood stars and star makers hang out at Cecconi's on Melrose, but the modern-day Italian on the menu is equally attention-getting. Side note: What might be the cheeriest ever Damien Hirst artwork hangs in the private dining room on the way to the washrooms.
View this post on Instagram
Short of getting invited to a mansion hanging off the slopes of The Bird Streets neighbourhood, the rooftop of The London offers one of the best views of L.A.'s west side—and the east side on a good day. The hotel's poolside Boxwood on the Roof restaurant has just the right mix of scene, cocktails and raw-bar bites.
DO
View this post on Instagram

Walking takes too long, driving is a pain. If you want to see West Hollywood and neighbouring Beverly Hills up close and personal, take a guided electric bike tour with Bikes & Hikes LA. The aerobic and green approach will make you feel better about your unhealthy obsession with celebrity gossip. bikesandhikesla.com