You're off to tie the knot and spend your blissful honeymoon on a beach soaking up the sun and the sand – or you're a guest at a wedding at a sexy, warm-weather destination (or even a gorgeous hotel with a fab pool), and want to make sure you look just as chic on the catamaran cruise as the beachside rehearsal brunch. 
Bikini? Board shorts? Full-coverage or body positive? "When it comes to choosing the right swimwear, it's important to consider your body shape and the style that makes you feel comfortable and confident," says Yasmine Hamdi, Social Media Coordinator & Brand Ambassador at Bikini Village.
If you're pairing a string bikini top, for example, with a full-coverage bottom, it's key, says Yasmine, to consider the proportions of the two pieces. Her tip? Choosing solid colours and similar patterns for both pieces can be a good idea to create balance.
We connected with Yasmine Hamdi for more of her top tips and bathing suit picks on what to pack for a hot-weather destination wedding or honeymoon, and how to wear them. PS there are even his-and-her styles – chic, coordinated sets that say you're in this together. Isn't that romantic?
Bold Traveller:
What should every bride think of when it comes to buying a suit for a destination wedding? 
Bikini Village: Think about your comfort level. While it's important to feel confident and stylish in your swimsuit, it's also important to make sure you're comfortable enough. You certainly don't want to spend your entire holiday worrying about your swimsuit riding up or falling off.
Expert pick: Sea Level Spinnaker white one-piece swimsuit, $190.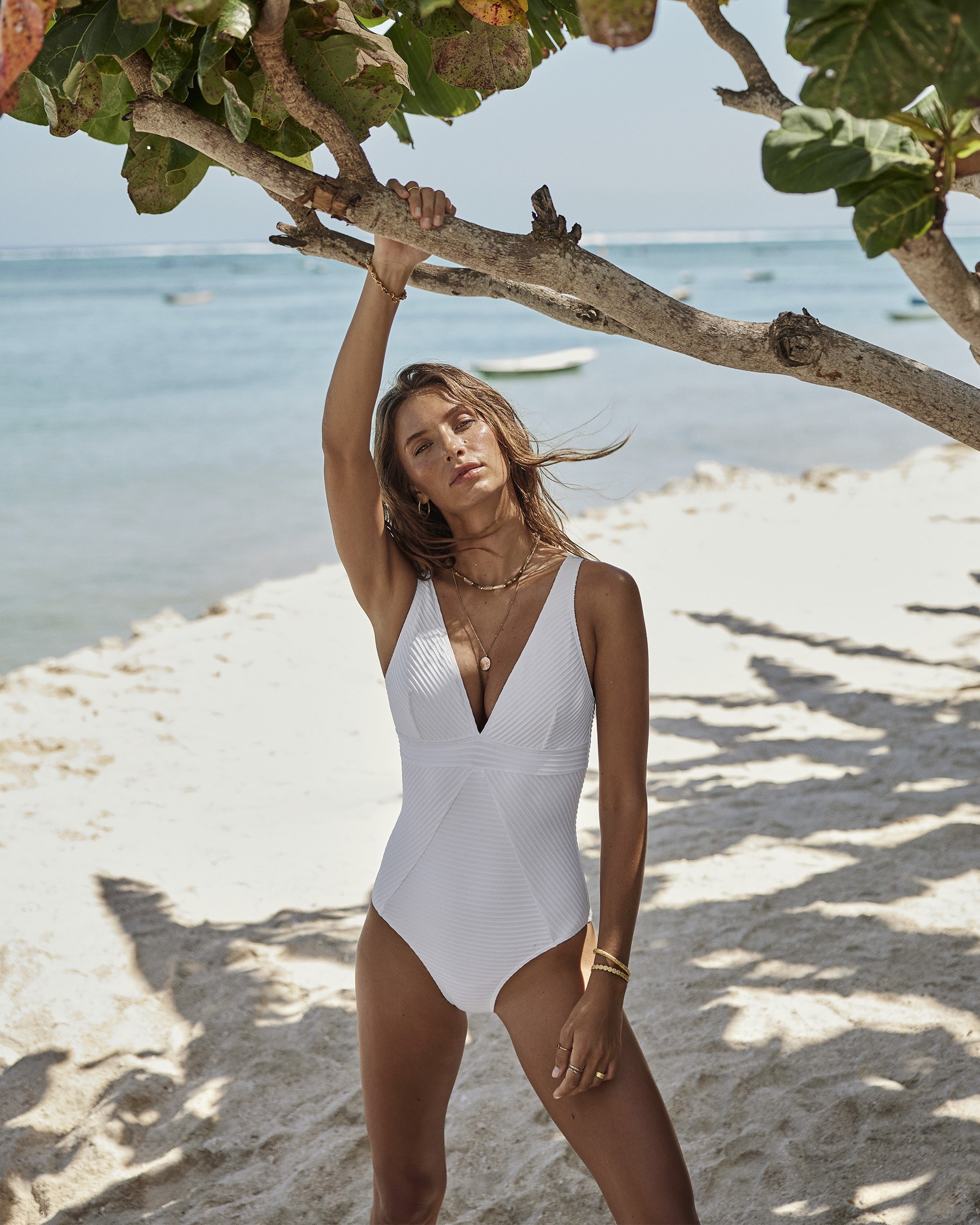 Why we like it: The clean white tone is on point for a bridal getaway; pairing with white shorts or a bright pareo wrap give it style mileage; and the deep-V neckline elongates the silhouette and draws the eye upward.
BT:
What are the key trends to look for in swimwear, and especially in bikinis, now?
BV: Swimwear trends are constantly evolving, and this season we're seeing some exciting styles hit the beach. Crochet details are a big hit, adding texture and a boho-chic vibe. Cutouts are another popular trend, creating an edgy yet flattering silhouette. Lace details and floral prints are also in, adding a touch of femininity to beachwear. Additionally, earth tones are having a moment, with natural colours like warm browns and greens being embraced for their versatile and understated look. As always, it's important to choose swimwear you feel comfortable and confident in, so you can enjoy your time in the sun with ease and style.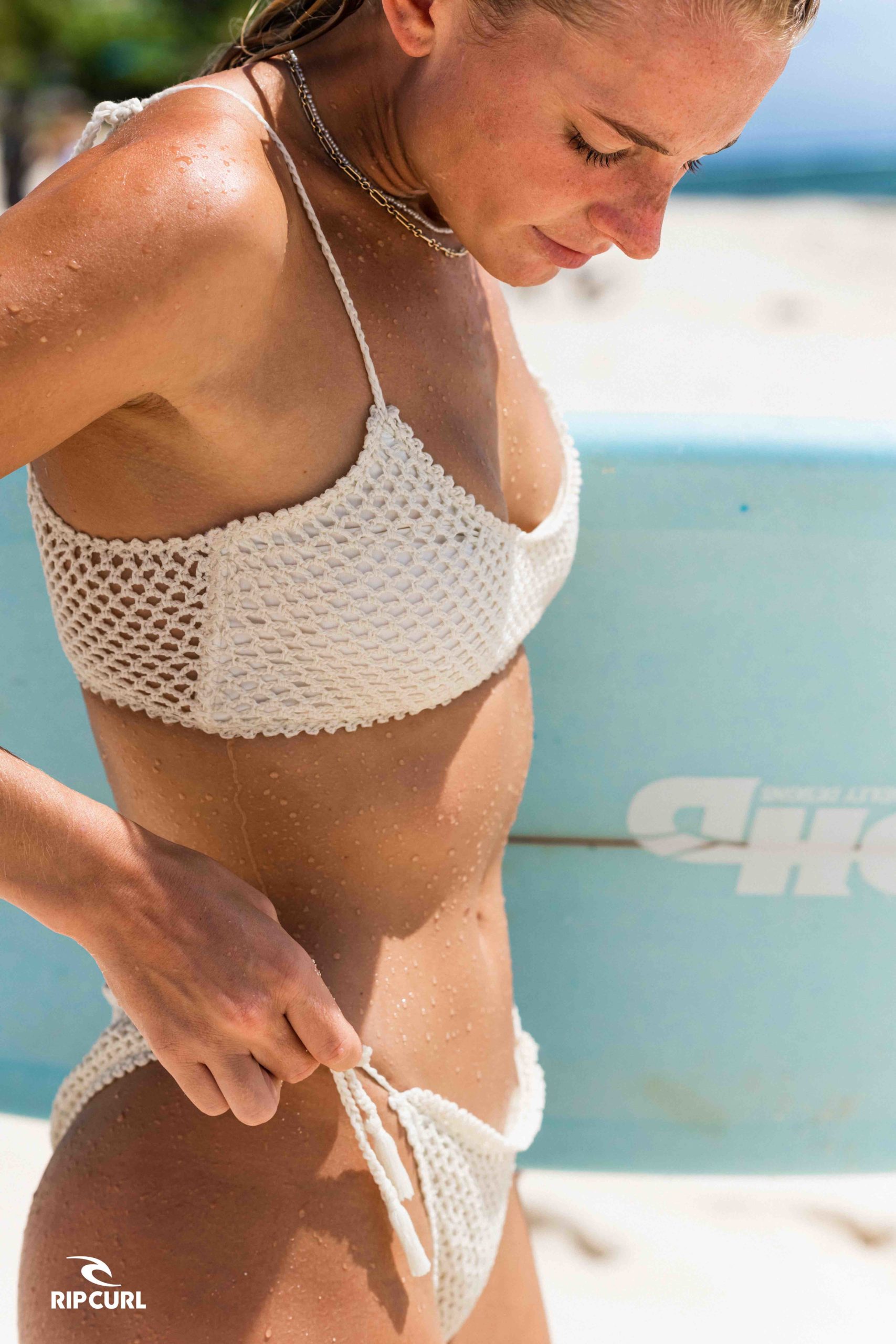 Expert pick: Rip Curl Ocean Together crochet bikini top, $99.95; bottom, $84.95.
Why we like it: Great coverage from top to bottom, even with the open weave; the tassel ties at the shoulders and at the hips add a feminine, boho-chic detail and a flexible fit; and the bralette-style top does double-duty, easily slipping under a white shirt or blazer for evening. 
BT:
Are there certain styles that suit and support more voluptuous silhouettes – and also, to help accentuate and add shape for those of us that aren't blessed with curves?
BV: When it comes to finding swimwear that flatters different body types, certain styles can help support and accentuate curves. For more voluptuous figures, swimsuits with thicker or adjustable straps, as well as underwire, can provide the support needed for a fuller bust. 
To accentuate and add shape, swimsuits with gathers and knots at the waist, as well as high-waisted bottoms, can create the illusion of curves and add a little volume where needed. 
Expert pick: For the voluptuous, try the Miracle Illusionist swimsuit, $254; to add curves, try this highwaisted bikini from Kulani Kinis, top, $70; bottom, $66 – and get him a matching pair of volley shorts, $96.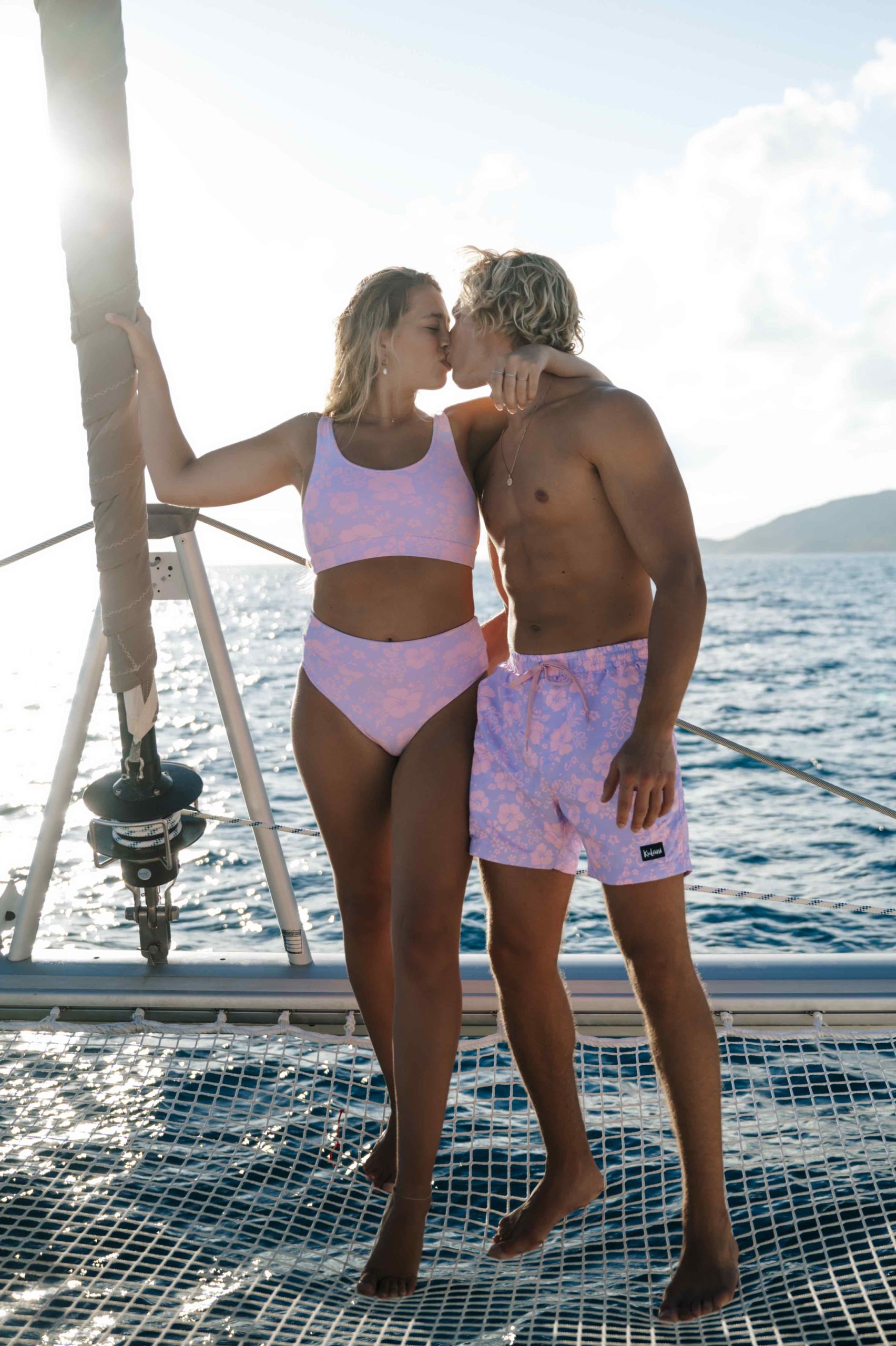 Why we like it: For the curvy girls, this white suit has a sexy deep-V and full-support halter-style neckline, to show off shapely shoulders; and Bikini Village carries a wide selection of D-Cups and up. Sporty types will appreciate the high-waisted Kulani Kinis bottom, and the fuller, bralette style top. And who doesn't love a matching pair?
And don't forget the accessories!
"Don't be afraid to play with accessories to balance out your look," says Yasmine Hamdi. A wide sun hat, for example, can help create a more balanced silhouette, while a statement pair of sunglasses can draw attention to your face and add some extra flair to your beachwear ensemble."
The essential guide to caring for your swimwear:
To keep your swimsuits looking their best, there are a few things to keep in mind:
Avoid throwing them in the washing machine, as this can cause damage to the fabric and delicate details. Instead, hand-wash with a gentle detergent and cool water;

Always hang your swimsuits to dry in a shady spot to prevent fading and to keep their shape;
Never, ever leave your swimsuits damp and balled up in a beach bag for a prolonged period of time. This is a sure way to create a funky, musty smell that will make even the bravest beach-goers turn and run. Wash and dry as soon as possible to keep swimsuits fresh and ready for your next adventure.